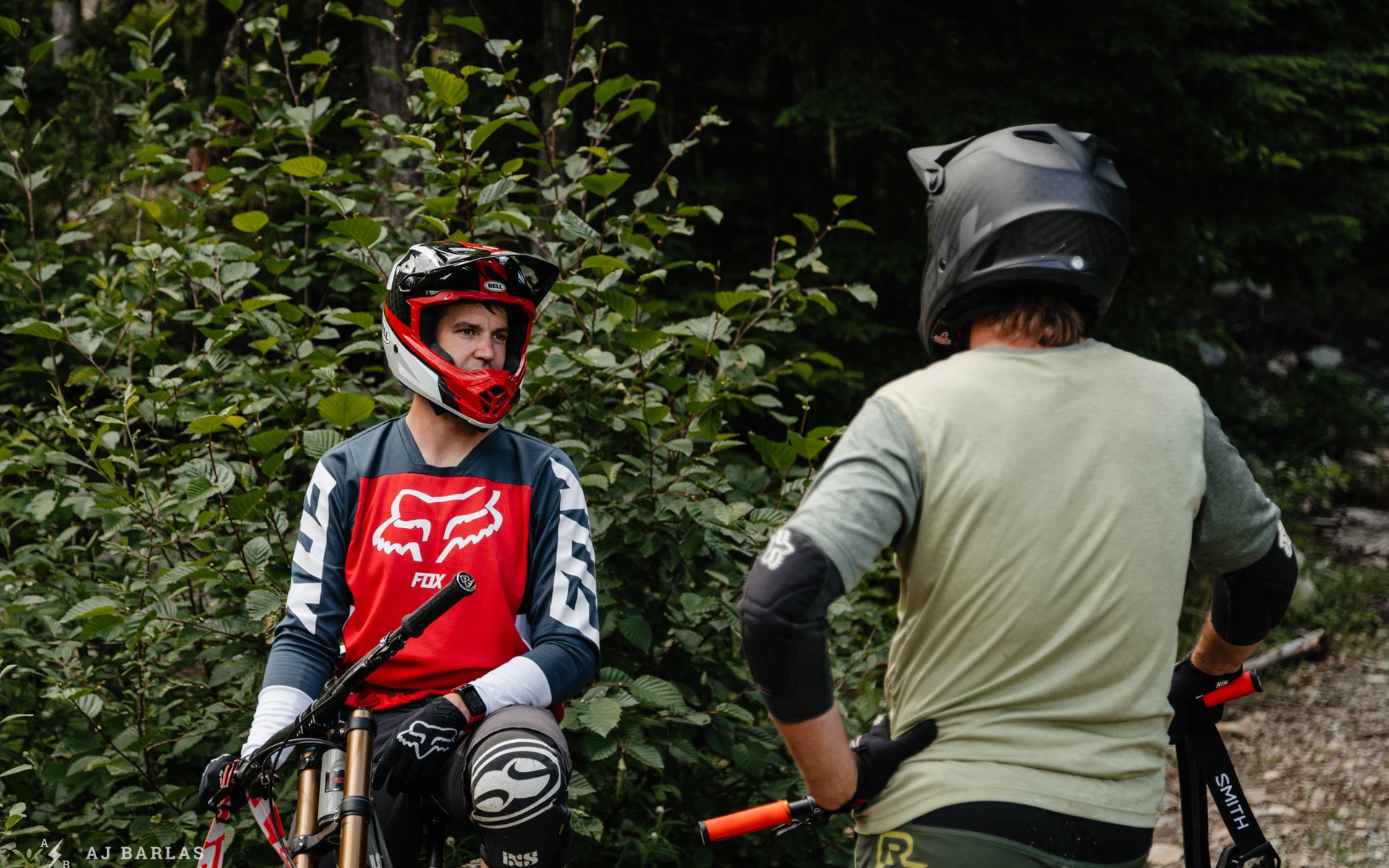 Getting the most out of the Santa Cruz V10
Suspension Testing with Fox for Masters World Champs
Article #4 in the World Masters Prep Series
The Santa Cruz guys got me in touch with Fox suspension guru Ariel Lindsley. Ariel is based in Whistler for the summer to help ride and develop the next generation of Fox products. I've ridden with Ariel a number of times before. Not only is he knowledgeable about suspension, but also a total shredder. Ariel, AJ and I all met up at Ariel's shop on a Saturday morning.
The first step was to write down all the settings I'd been using. The last time I'd ridden the bike was the Canada Cup at Silver Star and I'd set it up with baseline suggestions and then moved the settings a bit to my taste over a few days of riding and racing. Fox has some great baseline setting resources that I used:
I was fairly happy with my settings and the only minor complaint was that I was struggling a bit with confidence in the front end, and felt like I wasn't turning the bike as well as I could have.
Bike setup notes:
Maxxis Assegai 29 x 2.5 DH tires front and rear with Cush Core. Front pressure 21.5 psi, rear pressure 27.5 psi.
4 tokens in the Fox 49 fork
550 lb/in spring on the Fox DHX2 shock with 1 turn of preload
Recommended Fox Settings (Clicks from closed)
| Fork Pressure (psi) | Fork LSC | Fork HSC | Fork LSR | Fork HSR | Shock LSC | Shock HSC | Shock LSR | Shock HSR |
| --- | --- | --- | --- | --- | --- | --- | --- | --- |
| 76 | 6 | 10 | 4 | 3 | 5 - 8 | 5 - 8 | 5 - 8 | 5 - 8 |
Initial Settings Measured in the Morning (Clicks from closed)
| Fork Pressure (psi) | Fork LSC | Fork HSC | Fork LSR | Fork HSR | Shock LSC | Shock HSC | Shock LSR | Shock HSR |
| --- | --- | --- | --- | --- | --- | --- | --- | --- |
| 70 | 8 | 10 | 5 | 5 | 6 | 11 | 7 | 10 |
After checking all the settings, we dialed the bike back to what I had before, and headed up the hill for a lap. Ariel was initially surprised by the low fork air pressure, and I noticed my fork pressure reading was less than I remember setting it to. I thought maybe the fork was losing air, or maybe the shock pump I used was reading high. More on this later. I picked my test track to be Upper Joyride to Schleyer (crossing over in the rocks) to Middle Canadian Open to Lower Canadian Open. This is probably the gnarliest, most committing line on the hill, but also one of my favourites. It has a good mix of elements with a number of severe compressions, rough sections, and a variety of corner types.
The first change was adding two clicks of Low Speed Compression damping to the fork to keep it riding a bit taller, and I liked the change. Ariel thought my fork was probably a bit soft, so the second change was to up the fork air pressure from 70 psi to 75 psi. I immediately liked this change as well, and the fork felt more like when I last raced it. The firmer fork gave me more confidence in the front end of the bike, and gave me a good platform to push against in the corners. The stiffer front end meant I could keep my weight further forward in the corners while still balanced between front and rear. I thought this might hurt my ability to turn the bike but instead it allowed me to ride further forward and more actively weight the front tire and in fact I was turning the bike better. I thought harshness might be the trade off, but the rough test track proved me wrong. If anything the V10 was using its travel more effectively. All wins so far.
We kept moving in the same direction to find the limts. We upped the air pressure again to 78 psi and the Fox 49 and V10 were coming alive. In the severe compressions the fork was sitting taller, allowing it to use more travel to eat those compressions. I was gaining confidence in the front end, and starting to really push the bike through some of the scarier steeper sections.
With an increase in air pressure we tried slowing the High Speed Rebound by 1 click to 4 open from closed. I didn't like this change as much and I felt like the fork wasn't recovering enough out of the holes so we reverted back to 5 open on the next lap.
Once again the fork air pressure was upped by 2 psi to 80 and the fork felt perfect. I noticed a bit of traction loss in some sections, but my overall confidence was much higher. I can see why the World Cup guys ride such stiff forks.
Although 80 psi seemed like the perfect pressure, we upped the air pressure again to 82 psi. Initially this felt too harsh, especially on some of the high speed brake bumps on the flatter trails in the bike park. However on the steeper trails, like the test track, the front end was perfect. I'm not sure what the Mont Sainte-Anne track is like, but it's good to know that I should be somewhere between 80 and 82 psi depending on the track.
Last item of business was the seemingly wandering air pressure in the fork. I discovered that pressure can move more than I'd thought due to temperature. I had set the fork pressure at the hottest time of day at Silver Star and it was a cool morning when we checked it at Ariel's shop. I started carrying a digital gauge with me and to check my pressure more frequently. Moral of the story is; try to set your air pressures at as close to race temperature as possible. If that isn't predictable, set up your fork at a moderate temperature to hedge your bets.
It was a fascinating day learning from Ariel about Fox Suspension; how the Fox 49 / DHX2 work, and how to get the most out of my Fox suspension. Upping the fork pressure and adding a bit of low speed compression damping improved the bike for me. We left the rear shock where I had it because Ariel thought my settings here were spot on for the spring I was using. I've since experimented with different settings on the shock, but reverted to the settings below. A huge thanks to Fox and Ariel for taking the time to help me out! I learned heaps!
Final Settings (Clicks from closed)
| Fork Pressure (psi) | Fork LSC | Fork HSC | Fork LSR | Fork HSR | Shock LSC | Shock HSC | Shock LSR | Shock HSR |
| --- | --- | --- | --- | --- | --- | --- | --- | --- |
| 80 - 82 | 6 | 10 | 5 | 5 | 6 | 11 | 7 | 10 |
---
In the next installment we'll find out how Tim did at old man World Championships at Mont Ste. Anne!