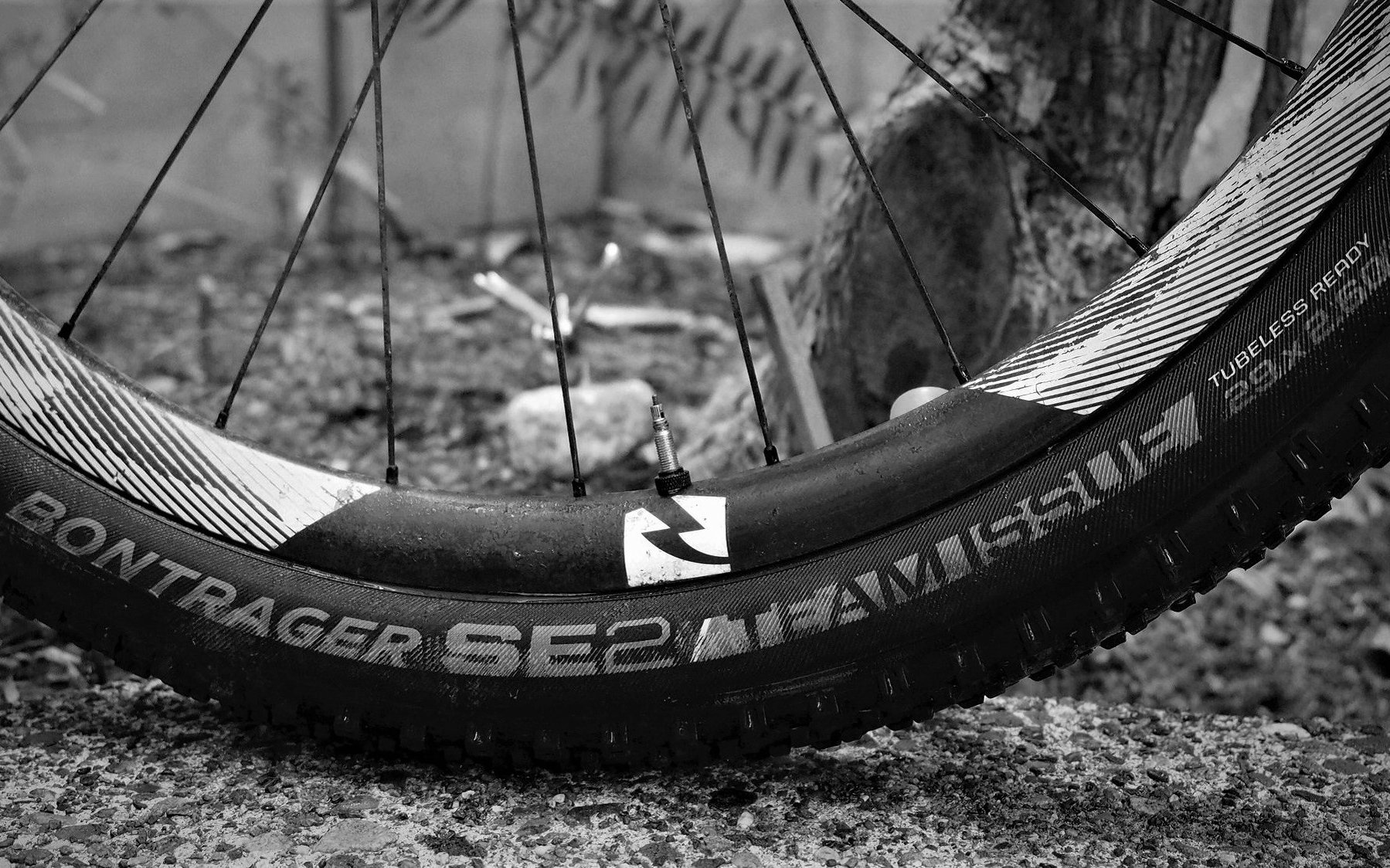 2 Minute Reviews | Editorial
The Surprising Bontrager SE2 29x2.6" Team Issue TLR Tire
Chorus: "You HAVE to try this tire!"
Me: "But, it has tiny side knobs."
Chorus: "Right! But it's AMAZING on the trail."
Me: "I don't know. Looks like an XC race tire."
Chorus: "Get the big version with the freeride casing! You'll love it!"
Me: "Didn't that Larsen guy quit XC racing to take up Triathlon?"
Chorus: "Who?"
And that's the gist of how my friends Chris and Steve upended my view of Shore-worthy mountain bike tires by convincing me - and I truly mean convincing me - to drop some coin on a 26" Maxxis Larsen TT 2.35" Supertacky tire for the back of my Balfa Minuteman. 
It wasn't light but baby did it ever roll quick. Climbing traction was shockingly good and braking traction made no sense whatsoever. I was never a true convert, returning to knobbier shoes in the worst of winter, but memories of that tire have me salivating every time a beefy, low profile, high volume tire is released.  

And then the Bontrager SE2 Team Issue TLR tire in 29 x 2.6" happened. 
SE2 vs XR2
After my middling experience with the XR2 - previously known as the Chupacabra - the SE2 would not have been a tire on my list of rubber to try. But, after riding Bontrager's XR4 & SE4 back-to-back the search for a well supported, high volume, fast rolling tire was on. 
The XR2/Chupacabra is a fast rolling, supple, example of an XC tire blown up to a larger size with its 120 TPI casing and 62a/60a rubber. To borrow Rocky Mountain's nomenclature, the SE4 is the 'BC Edition' of the same tire. It's rolling 60a/51a rubber with notably improved grip when the sport-surface gets greasy or slabby, and the 60 TPI casing helps provide a crucial increase in support - especially at lower pressures where a 2.6" tire functions best. 
The SE model tires also feature beefed-up sidewall inserts and a nylon sub-tread insert to improve puncture protection which is appreciated storming dusty rocky trail sections. Bontrager calls it Core Strength. I will gladly pay the 200+ gram weight penalty, per tire, on every ride for the improvement in performance and reduction in trailside issues. 
Riding the SE2
I've been running the 29x2.6" SE2 as a rear tire with a 29x3" SE4 up front. I've taken it down a variety of my North Shore favourites like Pipeline and Executioner on Fromme - for example - and rolled out impressed every time. It just doesn't make sense how much braking traction those little knobs deliver out back on my hardtail or my 120mm suspension bike. 
Lean the tire over and the cornering grip defies explanation, until it doesn't. While not comparable to a 3c Maxxgrip DHR2 around corners, the SE2 rolls like slightly overfed XC rubber climbing pavement, gravel, or singletrack. 
The fastest and loosest steep I stormed pulling the SE2 behind me is called Lower Back Eddy in Terrace, BC and it was when I blasted out the exit that I decided to forgo taking off the SE2 for the winter. This thing is distilled shenanigans at  20-22psi. 
Here's the fine print. I'm running smaller rotors out back and big rubber up front which is going to affect my braking bias, I'm already predisposed to enjoy tires like the Slaughter and Rock Razor - although the SE2 is my favourite of the bunch, and I'm still throwing my wheelset with a pair of e13 LG1r tires on my dually anytime I'm going to be riding over my head. 
I'm also not an evangelist trying to convert anyone from their massive knobbed rear meat. Any rider who thinks they're going to hate hitting highly technical trails on the SE2 definitely will. 
For high-volume, fast-rolling, hit-taking, trail-snaking, rubber the SE2 Team Issue TLR is a brilliant tire for the micro-knobby convert or curious. It's the biggest tire-induced grin I've had since my first ride on that 2.35" Larsen Supertacky. The SRP is 85 USD | 110 CAD - which is surprisingly the same amount - and the tire can be acquired through your preferred Trek dealer. You can also check it out on Trek's website.