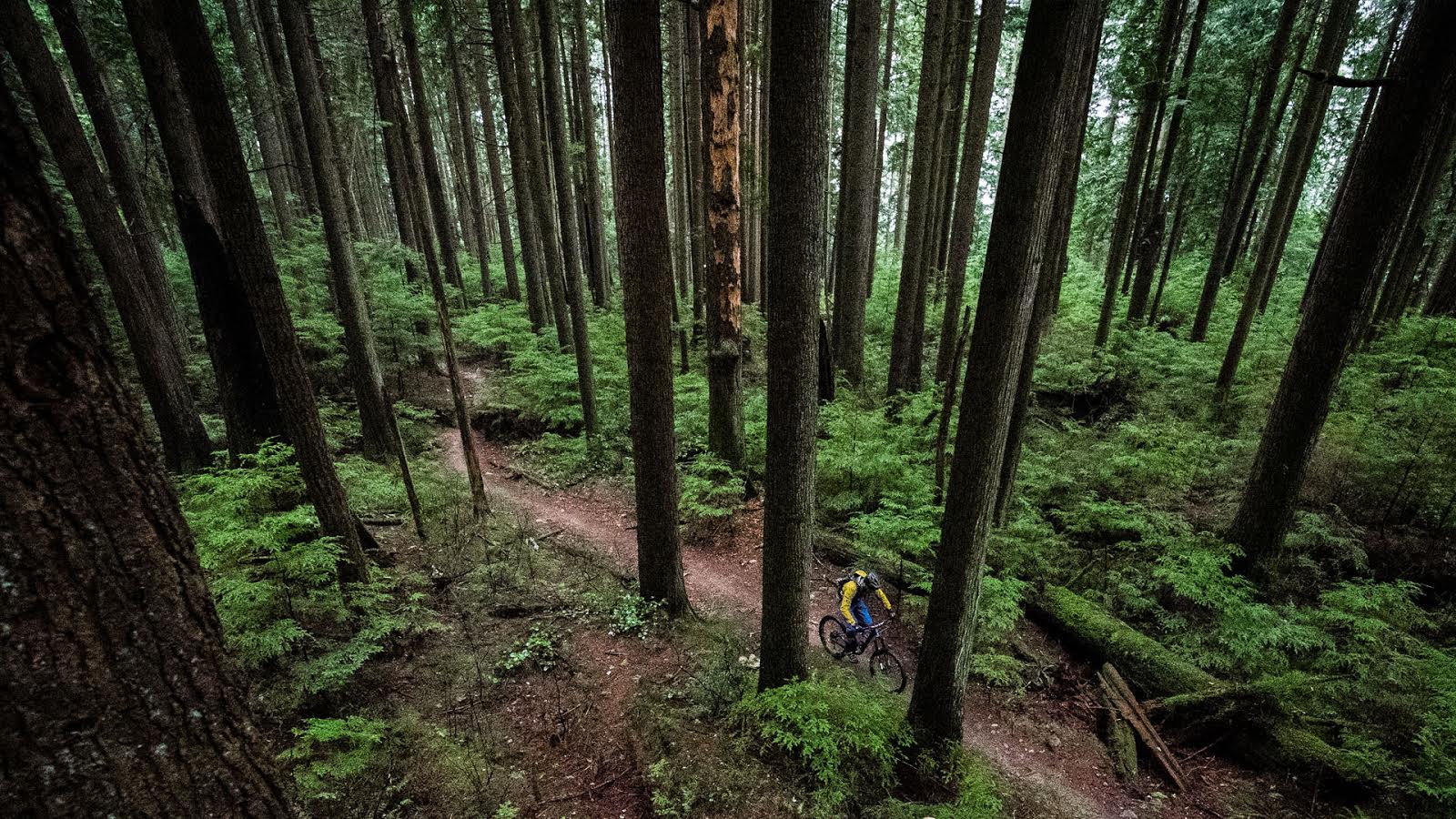 7 Reasons Not To Hate Super Boost Plus
Super Boost Plus is Better
Super Boost Plus is rad, recycled and re-imagined. It's better than non-Boost. It's better than Boost. And, that – ladies & gentleman – is how it should be when a new 'standard' is released.
What is Super Boost Plus? In a nutshell its the 157mm DH standard hub width that has existed for over a decade. Paired with the same cranks you run on your current non-DH bike. The only truly new component in the mix is a chainring with less offset.
Q-Factor
Another way to think of Super Boost Plus is to take your DH or Freeride bike with an 83mm BB shell and a 157mm (or 150mm) rear end and then drastically improve the Q-Factor for most riders.
The tread, or "Q factor" of a crank set is the horizontal width of the cranks, measured from where the pedals screw in. The wider the tread, the farther apart your feet will be. It is generally considered a good idea to keep the tread fairly narrow." – Sheldon Brown
Super Boost Plus shares the same cranks and, therefore, the same Q-Factor as both Boost and Non-Boost drivetrains based around a 73mm BB shell.
Super Boost Plus uses a standard PF92, PF30, or BSA bottom bracket shell and the SRAM or RaceFace direct mount cranks you may already own. The only difference up front is the chainring offset. Oh, and that's lighter weight because less offset. Boom.
Pivot Bicycles' Chris Cocalis credits their Les Fat fat bike with the discovery. Pivot wanted to produce a fat bike with the narrower Q-Factor that racers preferred for efficient pedaling. At the same time the average fat bike rider was demanding clearance for 5″ tires, rather than the 4″ width racers use, which necessitated a wider rear end.
The end result lends itself beautifully to Super Boost Plus. The bottom bracket hasn't changed, the ISCG tabs are still where they're supposed to be, and you can use a standard width MTB crankset you already own. The only difference is that where Boost offsets the chainring outboard by 3mm, Super Boost Plus offsets the chainring outboard by another 3-4mm (6-7mm total compared to 'standard').
The Super Boost Plus Super Info Graphic.
Oh, and for all the guys I know that still love the front derailleur (I did a quick count and there are a lot of you old-and-moldy types) by offsetting the chainring, or spider in this case, and going with the 157mm rear hub, Pivot nails the super short chainstays program without eliminating front derailleur compatibility.
Before Boost
If you haven't been following along from home. There was a time, not long ago, when rear hubs generally came in one of two widths. DH bikes, and some freeride bikes, used a 150mm wide hub with a thru-axle. Almost all other bikes used a 135mm wide hub with a quick release (QR).
In an effort improve stiffness on some full suspension frame designs, generally those without solid rear triangles, some brands started selling bikes that combined the 135mm spacing with the 12mm or 10mm thru-axle design found on DH bikes. These 135mm thru-axle designs are a royal pain when it came to removing and re-installing the wheel. This is due to the fact that the hub itself doesn't interface with the frame and so it floats around once the axle is removed.
The Pivot Mach 6 using 142mm spacing. The hub axle interfaces with the frame to capture the wheel in place even before the thru-axle is installed. Photo: Kaz Yamamura
Enter 142mm hub spacing. 142mm shares the important dimensions – disk rotor spacing, cassette position, hub flange position – with 135mm but uses a wider hub axle that interfaces with the frame the way the hub axle on a QR hub works. This way the wheel is captured in its proper position before the thru-axle is inserted through the dropouts.
What 142mm is to 135mm, 157mm is to 150mm. The captured hub axle of 157mm is much faster to deal with as a mechanic or rider compared to the floating design of 150mm. Best of all. Many 135mm and 150mm hubs are convertible to 142mm and 157mm. Its always good when bikes can be improved, even marginally, while maintaining the backwards compatibility that many of us love.
Boost
148mm Boost spacing is an entirely new hub width with a different rotor position relative to 142mm (135mm) or 157mm (150mm). There are companies like Wolf Tooth making adapter kits to transform some 142mm hubs to Boost but for the most part the rage surrounding Boost 148mm spacing stems from the absence of forward compatibility. That fancy carbon 142 rear wheel may be useless on your new bike.
Surly, being cheeky as usual, is offering some of their new frames with Gnot boost. 135mm, 142mm, and 148mm compatibility. I still miss the simple days of a bolt on 135mm hub.
Boost didn't come out of nowhere to ruin bicycles and, contrary to popular belief, it wasn't conceived to offer the two main benefits we realize today: tire clearance and short chainstays. When Trek introduced Boost 148mm spacing the goal was to provide a large boost in rear wheel stiffness via wider spoke flanges so that riders on 29'ers with aluminum rims could realize some of the benefits of carbon-rimmed 29″ hoops without the price of entry.
The goal was to get as much stiffness as possible without negatively affecting the aforementioned Q-Factor.
Super Boost 157mm
When I referred to Super Boost Plus as "recycled" and "re-imagined" I meant that as a compliment. Where 148m Boost is an entirely new spacing requiring hokey adapters or a new hub, Super Boost 157mm uses a standard that's been around for years.
In fact, one of the most exciting things, for me, about Super Boost Plus is that it presents a use for all those high-end 150mm and 157mm hubs floating around on DH and Freeride bikes. While Pivot ships bikes with Super Boost hubs that have wider flange spacings than what you'll find on 150mm or 157mm hubs*, any 157 hub will work. Or any 150mm hub that can be converted to 157.
With 26″ wheels on DH bikes rim stiffness was not an issue so even spoke tension ruled the day. With Super Boost Plus the spoke flanges have been moved to increase wheel stiffness. Otherwise, all the important dimensions (brake position, cassette position) are identical and your old 157mm (or 150mm convertible to 157mm) hub works perfectly with Super Boost Plus.
Why Not Super Boost Plus?
Pivot released two new models recently. The Firebird and the Switchblade. The Firebird uses Boost. The Switchblade uses Super Boost Plus. What gives?
Pointing at the Switchblade on display Chris says: "I could not build this bike without this spacing." Simply put, to clear 27 x 3.25 tires with short 428mm stays, Super Boost spacing was esssential. Bonus points for the front derailleur compatibility for those that prefer it. Massive increase in rear wheel stiffnesss – to more closely match Boost front wheel stiffness – is an added benefit.
I get why race-weenie XC bikes will be staying with 142mm back ends, but for everything else why not Super Boost Plus with the boost in stiffness and no change in Q-Factor? Rocky Mountain has proven that you don't need to run a solid rear end to achieve max heael clearance.
The Pivot Switchblade is convertible between 29 and 27 Plus wheels and it boasts chainstays that are remarkably short at 428 mm. The 2016 Trek Remedy has 445mm stays, Yeti's 5.5 has 437 and the Santa Cruz Hightower has 434 or 435 depending on geo setting. Chris Cocalis says he couldn't have built this bike, with clearance for 3.25″ tires, without Super Boost Plus.
Chris Cocalis can definitely see a day when all Trail, All Mountain, and Enduro bikes use Super Boost 157mm spacing. With the Firebird a 148mm Boost setup provided everything Pivot needed in terms of stiffness, stays, and clearances. In the future the frame could easily be updated with a Super Boost Plus rear end with no negatives. Why not now?
Simply put. The Switchblade couldn't exist without Super Boost Plus. The Firebird could. With all the vitriol directed by riders towards 148mm Boost spacing I can see why Pivot wouldn't want to jump on the grenade of 'change for change's sake'
It does make me wonder why 148mm instead of the existing 157mm in the first place?
---
Should Boost 148 have been skipped altogether? Could it have been skipped?