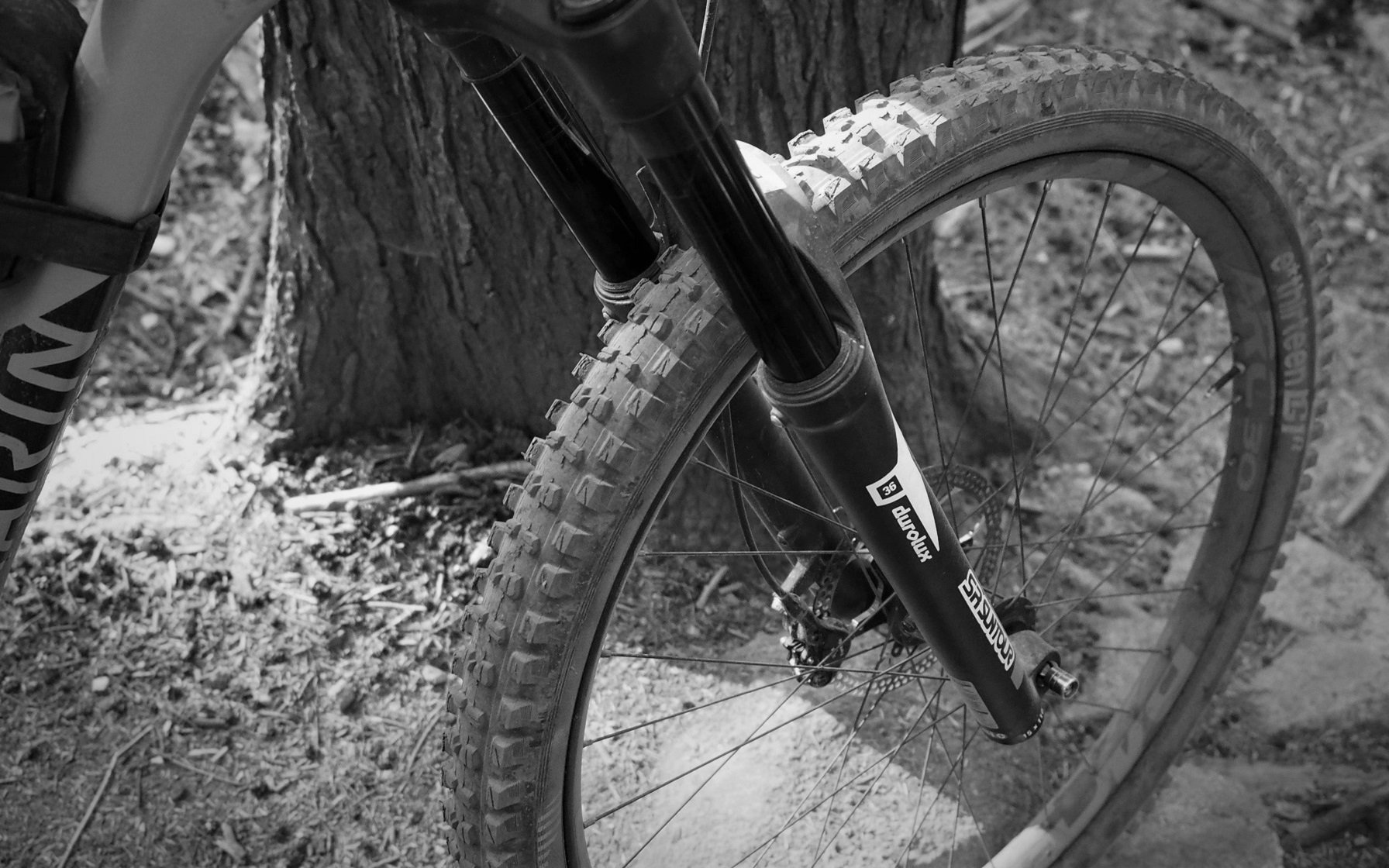 REVIEW
SR Suntour Durolux RC2 29'er Fork Reviewed
Durolux²
Putting a bunch of hours on the SR Suntour Durolux 29 wasn't at the top of my list. I had plenty of ride time on the 27" R2C2 version, including a full teardown, and it was an okay-turned-good experience when I factored in a handicap for affordability. 
Within a few rides, and after a bit of tuning, I was seeing the Durolux platform in a whole new light. The new RC2 damper is simpler to set up and feels much more fluid than R2C2 I'd ridden previously. In my experience, with three dampers over two forks, it's a huge improvement. 
With fairly open damper settings, lots of progression in the air spring, an über-stiff chassis, and smooth sliding, the simple-to-service Durolux 29'er quickly became one of the best suspension experiences I've had. 
Cam started the test of this fork on his Yeti 5.5 and then was pulled away to another project, so my first step was to drop the lowers, lube up the seals, and lower the travel. One of my favourite features of Suntour's forks is how easy it is to drop the travel, or more accurately the axle-to-crown height, to whatever number I like. Suntour calls this a 170mm, 160mm, or 150mm fork but the truth is that if a custom 29'er dirt jumper product calls for a 100mm 29'er fork that can take a sh*t kicking just keep clipping in spacers. Adjusting travel is a 5-minute job with zero-mess. Once I added a bit of bath oil to the lowers. I ran the fork at 160mm, 150mm, and 140mm travel for this test. 

Chassis Talk
I'm ambivalent to claims of increasing stiffness for stiffness' sake but when I say the Durolux 29" is the stiffest 29'er fork I've ridden - torsionally and laterally - I truly mean that as a compliment. For heavier riders pushing long travel 29'er forks two issues come up regularly. The first is creaking crown steerer units (CSUs)* and the second is unexpected harshness under certain loads in certain trail situations. An example of one of these situations would be riding fast through technical terrain that's fairly flat relative to a modern long-travel 29'er head angle where a fork feels harsh when called on to telescope. Another is braking hard in steep terrain with a fork high in its travel where suspension seems to have a large increase in stiction. 
*The CSU consists of the stanchions, crown, and steerer tube that are pressed together.
I was talking to James OC, who heads up motorsports service at SuspensionWerx, about this phenomenon and he was quick to theorize that the creaking CSUs that plague many forks in markets with highly technical terrain are actually a symptom of chassis flex. As the stanchions flex rearward under heavy loads, for example braking down steep descents or the front wheel smoking an object at speed, the amount of stiction as they telescope through the bushings in the fork lowers increases phenomenally. 
According to OC the solution is simple. Suck up the extra weight, make the stanchions stiffer, and improve fork performance and resiliency at the same time. It's an easy theory to test with products hitting the market like Fox Racing Shox's 36mm Marzocchi Z-1 and 36A Performance forks which have such thick stanchions they use that brands 34mm internals. The Durolux also meets this criterion. 
Going back as far as 26" wheels, SR Suntour has been developing the long-travel Durolux single crown forks and as part of that process they've been tested under some mean-ass riders like James Doerfling, Garett Buehler, Ryan Berrecloth and, of course, Brett Tippie, which means there is a significant chronicle when it comes to durability. 
I put Brett's personal mechanic, Dave McInnes of BicycleHub fame, on the spot regarding his experience with Durolux CSUs. The CSU on one fork made a tiny bit of protest after a year-and-a-half getting Tippied but the noise was 'barely noticeable by today's creaky CSU standards'.
I know a few riders frustrated enough with chassis issues that they'll pedal happily carry a little extra weight. 
Tire Clearance
Once removed to give them a good twisting without the crowns and axle, the Durolux lowers don't stand out compared to other forks like the 36 or the Lyrik, suggesting the crowns are the biggest contributor to the fork's impressive stiffness The lowers do however supply an impressive amount of tire clearance. I rode this fork with both a Maxxis DHF 29x3" tire and a 29x3" Bontrager SE4 on a 40mm ID Race Face rim and there is tonnes of daylight all around. With the ease of travel adjust the Durolux is a great option for a rider looking to beastify a mid-fat bike like Trek's Full Stache. 
For most of the test period, I've run more regular sized tires up front as I prefer them in the summer on the Shore when speeds get higher and trails get dustier. I've been running both a 29x2.5" DHF 3c and a 29x2.35" e13 LG1r. 

Negative Spring Swap
The internals of SR Suntour's top-end forks aren't as flashy or expensive looking as the competition but in addition to getting the job done pleasurably, they are easy to work on. And, more importantly, Suntour actively encourages customers to tackle their own service with a range of service videos. 
Running about 90 psi with the damper fairly open I found the Durolux was extending un-sagged which meant that the coil negative spring was being compressed in its fork-contained war with the air spring. All it takes is a socket set and some Loctite to set that right with a 10 USD negative spring upgrade. Suntour sells a softer and firmer rate on their website and the swap is as simple as dropping the lowers. 

At about 185lbs I noticed an immediate improvement in the initial characteristics of the air spring in my fork. Suntour ships a medium rate spring but a light is available for riders who don't get full extension at the air pressure they need for their weight. If I had one piece of feedback, I think that Suntour should offer one heavier rate as well. I think the stiffness in a long travel 29'er platform, and performance gains from the stiffness in some situations, is going to attract some large people. 
Damper Improvements
The new, simpler, RC2 damper is a world of improvement over the R2C2 damper in the 27" fork I tested, here. I appreciate that the new model is an easy drop-in piece for existing forks. In addition to being simpler through ditching the external high-speed rebound adjustment, the new damper feels less restricted or more open even with the damper adjusted for more support. 
In my experience, when it comes to damping there are two kinds of animals. The first resembles forks like Fox and X-Fusion that feel quite damped when set-up properly and then open up out on the trail. The other is a fork like this Durolux or a RockShox product that generally likes to be run more open using an increased bar height and fast rebound to keep the rider in attach position. 
I ran the damper on this fork very open. Out of five positions of high-speed compression (HSC), I ran the knob at one-and-a-half. From open, I had 2-4 clicks of low-speed compression (LSC). The rebound was set fast so the fork could recover and it also helps it ride a bit higher without overpressurizing the air spring or adding a pile of LSC. 
With a regular tire, sag was about 23% when paired with my CCDB Coil shock but I would run more on the front of my hardtail. With the Plus sized SE4 at 17psi, I found running closer to 20% sag, with the same damper settings, made the tire and fork suspension work more seamlessly. 
The chassis provides excellent tracking and the damper and air system work in tandem for optimum traction. The Durolux damper is nowhere near as fancy as other premium-level forks but the fork is fantastic on the trail. 
Axle Analysis 
It's really easy to use, has proven durable, and simplifies production of the lowers but I just can't fall in love with the Q-Loc axle system. Some riders love a quick release but I always ride with tools and I'll gladly forfeit that extra thirty seconds to fish out a 5mm or 6mm hex when changing a tire. I already run a thru-axle out back and I get way more rear flats.
I don't think it would be hard for Suntour to offer an axle and end-nut system to work with all their high-performance Boost forks. Combine that axle system with black-on-black graphics and this fork would look so much meaner & cleaner. 
Final Thoughts
Like every non-Manitou fork on the market, I think an adjustable hydraulic bottom out system would be a winning addition to this fork. In theory, the new RC2 damper is not as adjustable, advanced, or interesting as the previous R2C2 damper but it's easier to set-up while providing a better on-trail experience. 
It's easy to adjust air volume and adjust travel. Comparatively, every service job on the Durolux is easy and requires few, if any, specialty tools other than a flush-face socket. I'd love to see Suntour follow other brands and switch both top caps to be compatible with a Shimano cassette tool. 
At 750 USD, or just under a grand Canadian, this is still a premium fork and if I had to pick some upgrades I'd like to see the aforementioned tool-required axle system and some fresh black-on-black graphics.
Even putting the price aside, the Durolux is one of the best suspension fork experiences I've had. As of today if I was buying a long travel 29'er fork, this would be the one. The ride quality is superb. It has a solid chassis, the finish is durable, parts support is good, it's highly adjustable, and it's a big improvement over the previous model thanks to the fresh damper.
Add in the price, the reputation for creak-free CSU performance,  and the fact that it's easy to work on at home and I think the 29'er Durolux, with the new RC2 damper, is a great long-travel option for most riders. 

For more information please check the Durolux 29'er here.