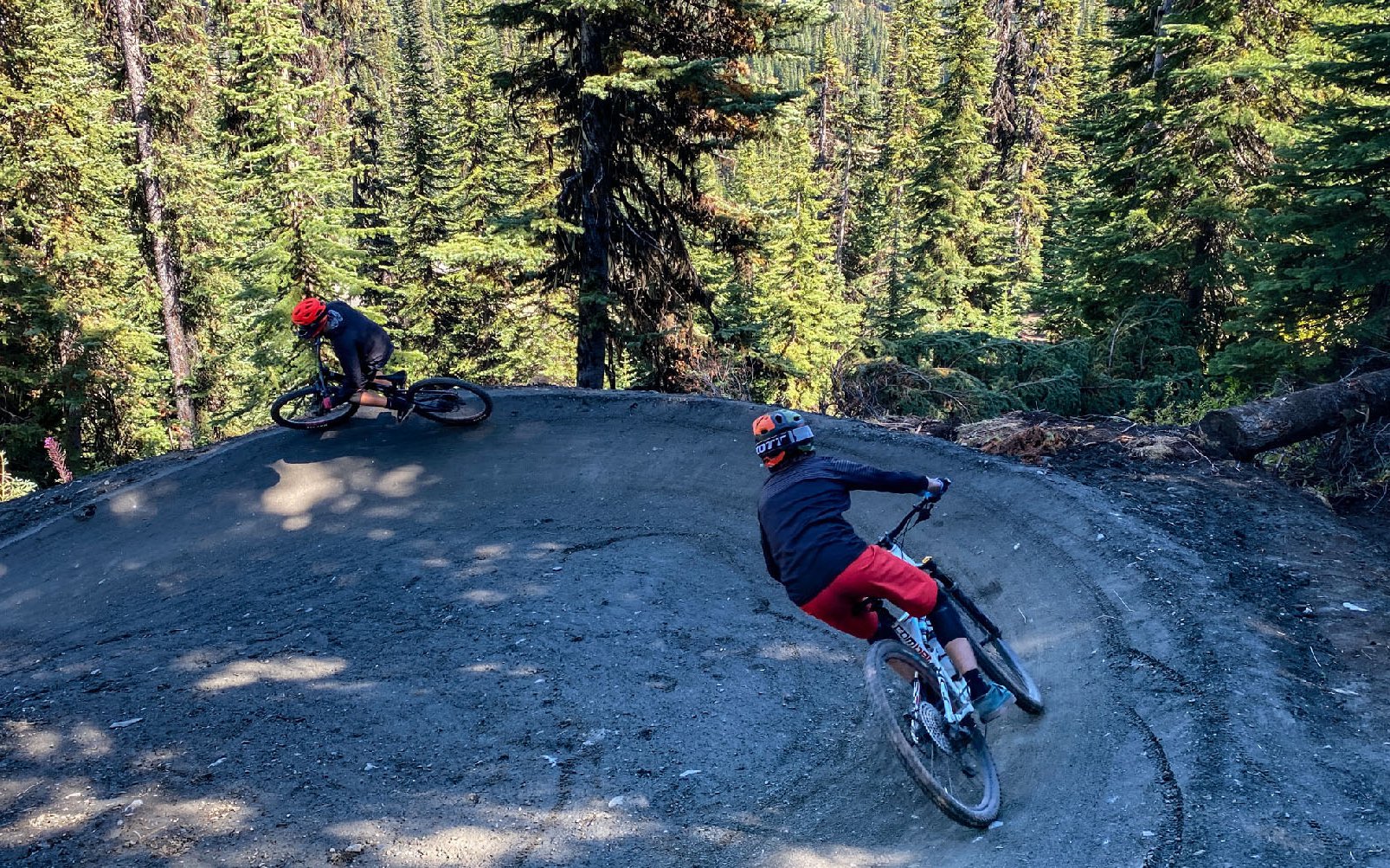 Bike Park Bliss
Sun Peaks Bike Park with my Son and his Buddy
My plan all along had been to take a trip to Sun Peaks to continue my son's late and poorly executed mountain bike education but we were initially thwarted by the nasty fire season. The Embleton Mountain Fire was threatening the only paved road leading to the mountain and the bike park was closed when we had hoped to go. At that point fires in the Okanagan weren't as Luca and I and his friend Alec we headed to Silver Star and had a great day. Sun Peaks was closer to where we were staying (in theory at least) and I'd been hearing great things about the trail building going on there, so when a window opened we jumped through, this time with Luca's friend Max.
It took me a long time to build my trust up, but I've finally come to believe google's directions, particularly when traffic is an issue. I've learned their acres of supercomputers use real time data to determine the best route for a given time. Occasionally, I think I know more than these unfathomably fast and accurate machines, and sometimes I even win, but never by much. All this holds true in the big city at. least, but I assumed that, if anything, accuracy would improve when choosing a backwoods route to our destination; Sun Peaks Resort. As the crow flies Sun Peaks isn't far at all from our family cabin in Scotch Creek on Shuswap Lake, maybe 40 kms or so. Unfortunately if you want to get there on paved road you need to first go all the way to Kamloops, which is about 90 kms, and then you've got another 60 kms from there for a total driving time of 1:45.
I knew a reliable back road route that takes about an hour, but I'd heard about even shorter routes, so when the Google suggested one immediately, I assumed it would be great. There were not provisos about summer travel only or recommendations to have 4wd at your disposal; this was Google's route without reservation. The road seems pretty goo and the boys and I were keen on an adventure anyway. The road began to get rougher and narrower, but it wasn't too bad, at least it wasn't until it disappeared. We hadn't driven by any options to turn left but our route was behind us. Luckily I still had service and satellite view gave me a route that would allow us to rejoin Google's increasingly suspect dirt road. Once we were back on track it got narrower and rockier and steeper. Soon I had to drop into 4 low and the truck was getting some deep redneck pin striping applied. The baby heads soon turned into Andre the Giant heads and eventually buffalo heads.
Have you ever stubbornly pushed forward despite the rising sensation karma was going to crush your dreams? That familiar feeling was strangely absent on this day and we pressed forward blissfully, laughing as it continued to get rougher and steeper.
When it finally became ridiculous we jumped out to see what we were in for ahead. Rather abruptly, our road had become a path that would have been narrow for 700 mm bars. Luckily we weren't the first to have suffered this fate and there was a spot to bang into a few trees and turn my Tacoma around. The boys weren't worried and the three of us were having a blast, despite our bike park hours slipping away. We eventually steered toward my proven route; the Macgillvary Lake Forest Service Road. It didn't take us an hour and forty five to get there though; our shortcut was a full 3 hour tour. Thanks Google.
When we arrived we discovered we hadn't lost the day; Sun Peaks runs the lifts in the bike park from 10 am to 7 pm until September 7th. We still had 7 hours to get acquainted with the trails. The boys had never been to Sun Peaks but I used to get there every summer - and I loved the place. Back then I didn't have the usual bike park infatuation for jumps and berms, like I do for Whistler and Silver Star. Sun Peaks for me used to be about big DH runs and some of the steepest terrain around. I also used to love Sugar, a long technical black diamond trail with lots of surprises. It had been years though and I didn't know what to expect from the serious trail investment Sun Peaks had been making.
We were told to check out the new top section of Bermalade, a blue flow trail with lots of jumps, and Sweater Vest, an all new trail that came highly recommended. We found navigating the top of the mountain a little tricky, and the signage definitely could have been better, but eventually we found our way to Sweater Vest and it was a mind melter. Huge fall away berms and big changes of elevation for the length of the trail. It was as close to a roller coaster as any trail I've ridden. The Boys loved it was well and we went back on our second lap to hit it a little faster. Some of the jumps on Sweater Vest were a little big for a blue trail but they were mostly tabled so it wasn't too intimidating.
After riding the bottom sections of Bermalade, we were jonesin' to check out the new, long upper section. If it was anything like Sweater Vest we were bound to be keen. We asked a few lifties but they weren't mountain bikers and couldn't help us, but they described their bucket hat-wearing colleague who'd give us beta when he rotated back to the top. Sun Peaks has some XC trails from the top that wind down to the bottom and we needed to follow one of these to get to the new start of Bermalade. Once we'd found it and navigated the early tech section we were in flow heaven. The berms were sometimes technical and beautifully radiused, but the jumps were next level. The take offs were steep but predictable and the landings were nice and long so everyone could have fun. In fact I was amazed at how many expert level riders were lapping these blue flow lines, or I was until I got a few laps in myself.
I used to be okay in the air and lately I've been improving again, and this was just the boost I needed. The jumps weren't intimidating but your technique had to be pretty good hit tranny and the boys and I were getting better with each lap. Luca was getting more comfortable on the FrankenCamber, despite. the atrocious geometry and his buddy had rented a bike when his Code lever self-destructed so he was loving it. I felt responsible for Max's safety so I stayed ahead of him most of the time and kept my speed below full throttle. Injuries and bike parks go together like poison oak and rashes and I was nervous about the boys getting banged up, and a little concerned about my old bones as well.
I would have loved to have taken the boys down Smitty's Steeps (my favourite bike park trail anywhere) but I wasn't sure they were ready for it so I decided to give them a taste of Sugar. We used to hit Sugar almost every day we rode Sun Peaks because of the variety and challenge and it still has excellent flavour. We came upon a move I remembered from back in the day but I'm not sure I'd ridden it in the past. I was seeing it with new eyes this time around though and I asked Luca to get a shot of me. As you can see below, he obliged.
When I pushed back up to give it second shot, I was surprised to see Max follow me. I hadn't seen anything that made me think the move was over his head, but this was also the first day I'd spent riding with him so I was a little nervous. I rolled through it again and grabbed the camera from Luca so I could get shots of Max. Unfortunately he surprised me and I wasn't ready to shoot. And in fact that turned out to be fortuitous. Max negotiated the jump up onto the platform just fine but before he got to the drop on the other side he seemed to grab a mitt full of front brake, catapulting him over the edge in a heels up, head down orientation. Luca and I stood there mouths agape for a moment before coming to Max's aid. Although he had hit hard he had managed to roll out of it well and avoid being clobbered by his rental bike.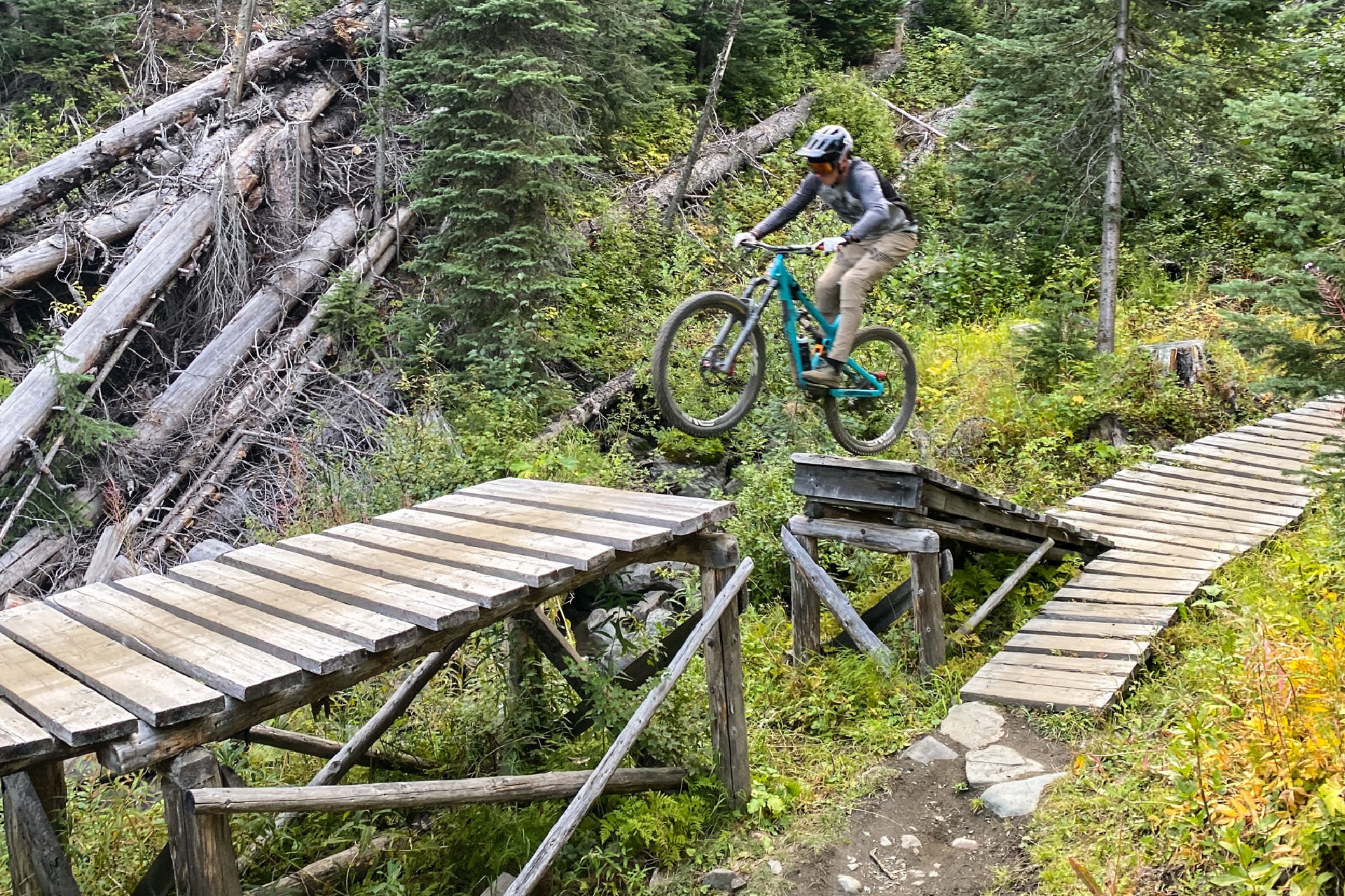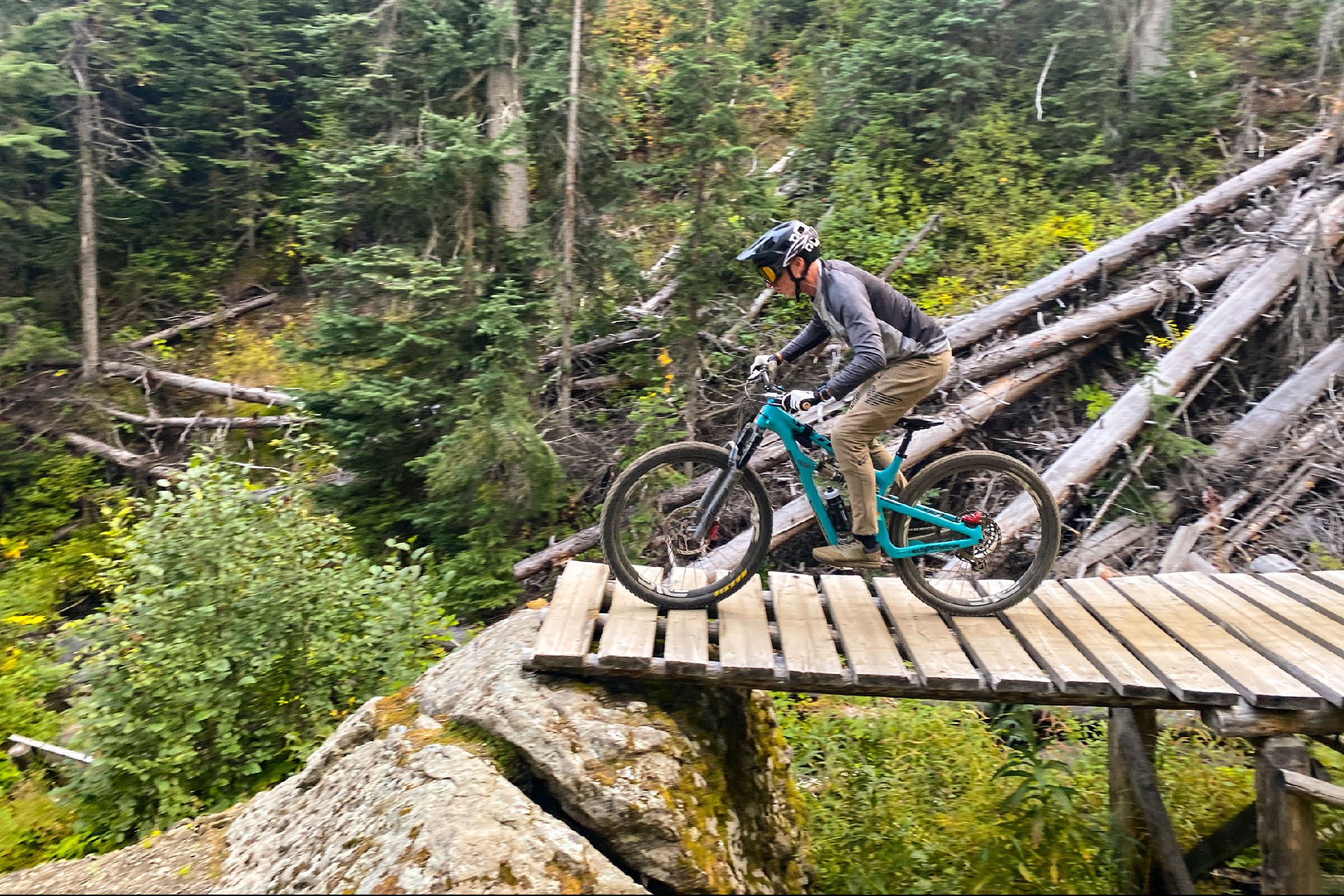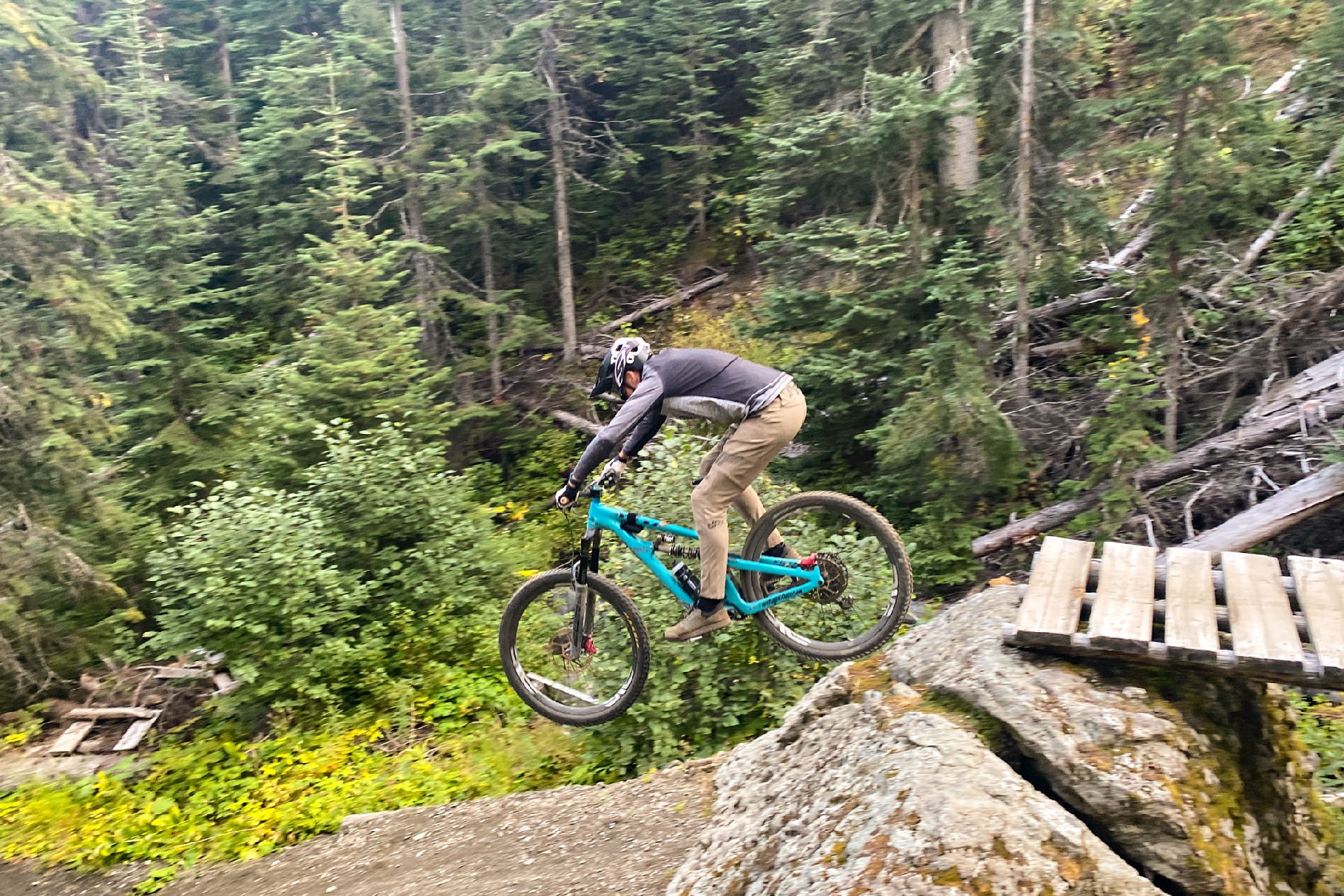 Max seemed to be okay once he dusted himself off but I adjusted my expectations for the rest of the day. We were having a blast on Bermalade and there were sections of Canada Line (another blue flow line) yet to explore so we kept lapping and jumping.
To finish our final lap, I set the boys loose on Sun Peaks' excellent dual slalom track. It was in great shape and there is nothing like side by side ripping. All day the three of us. were getting better and better in the air and despite fatigue setting in none of us. wanted to stop. The excellent builders at Sun Peaks had seduced us with blue flow that is an excellent stepping stone to more challenging boosting. I can't wait to get back there next year after only scratching the surface during our excellent day out. Once we packed up and got back in the truck we took my trusted route, and made it back to the lake in 61 minutes.
Thanks Google.
Sun Peaks Stats
595m vertical drop (1952')
44 trails (65 kms)
Dirt Jump Park
Progression Park
Dual Slalom Track
I assumed I'd be writing this article when the park was done and dusted for the year, but Sun Peaks is open daily from 10-5 until September 26th. If you can make it there, run don't walk.