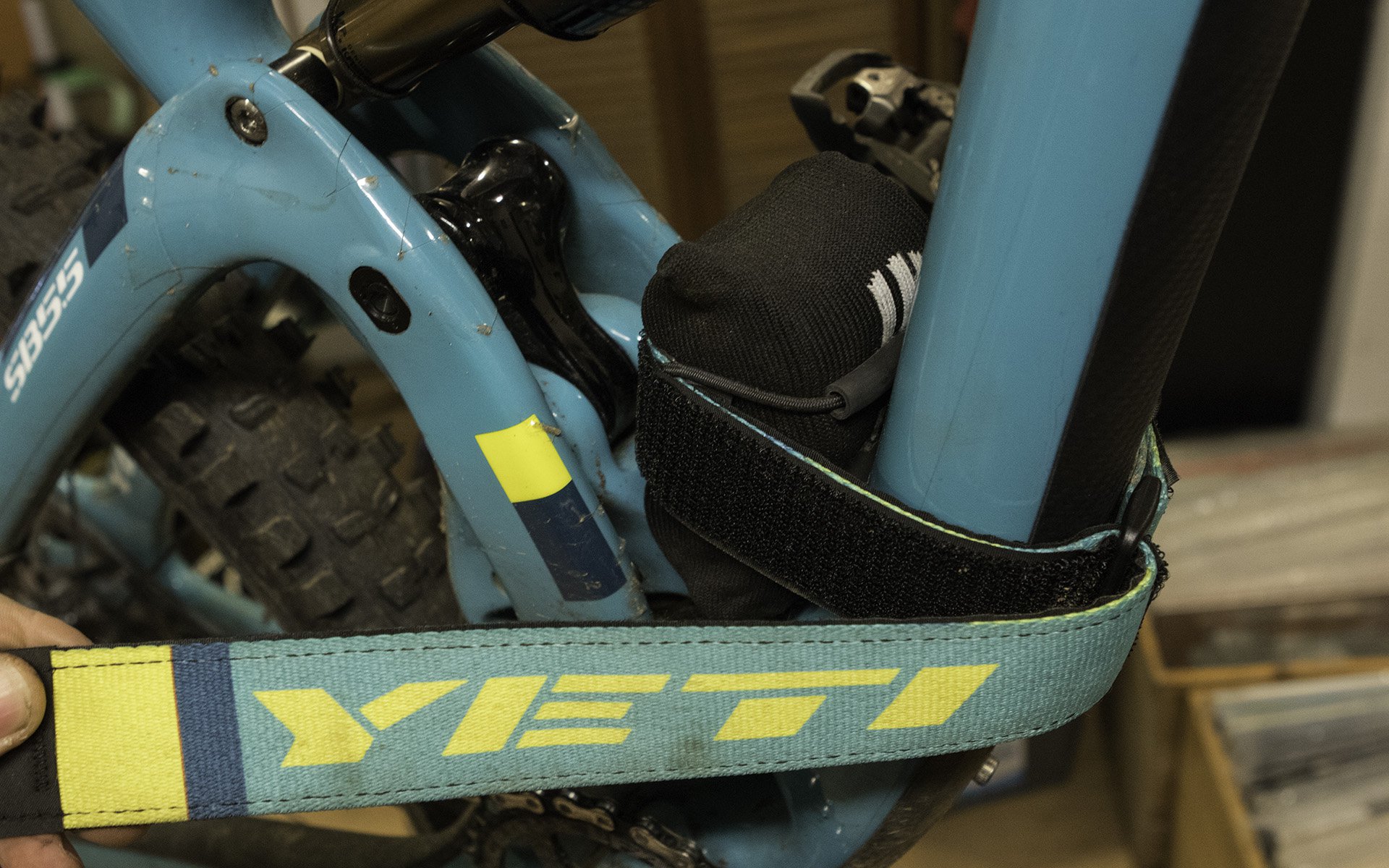 Product Review/Intro
STRAP IT ON! Gear to Help Ditch your Backpack (etc.)
We Mountain bikers seem to be either hanging on to what we've been doing for ages or making wholesale changes. Getting rid of the hitchhiker on our backs has been a big trend over the past couple of years, and it's not as easy as it sounds. "Be prepared" is the motto of the Boy Scouts but it's also woven into the ethos of mountain biking. Most of us ride with enough tools and gear to fix the repairs that can be anticipated, like punctures, broken chains and spokes, and bent derailleurs, as well as bits to MacGyver the unexpected snafus. Fixing everything from a shattered rim, a broken lever clamp or a saddle that's been ripped from its rails is all possible with the right gear in your pack.
I used to be one of those riders who had tools to fix most anything but I began slimming down even before I escaped the strap monkey. Now' it's even more crucial to efficiently carry what I need and jettison the rest. Luckily we live in the age of ingenuity; no problem is too far on the fringe or too insignificant thanks to startups staffed by fresh-faced entrepreneurs jaded by the Silicon Valley experience. Let's start with tube storage.
Backcountry Research makes a strap with colour matched accents for the make and model of bike I ride; a Yeti Turq frame; the Mutherload Frame Strap. That would have been enough for me but it's even functional. On my SB5.5 the tube holder fits right in front of the bottom bracket junction, but you could also mount it on the top tube. The strap holds the tube to the bike but but little elasticized loops, with rubberized sections, keep it in place. There is more than one way to configure the strap to do the job, but only one way to make it look perfect, so I chose that one. There's a lot of velcro so you can cinch it down and once it's on there I forget about it. Or at least I do now. The Mutherload Strap is made in Bozeman Montana and it will run you 20 USD.
Enve sent us home with a couple of cool products after a launch in Monterey before Sea Otter. One of them will likely make you laugh when you see it. It's called the Tubesock, and that's exactly what it is; a sock for your tube. Whether you are throwing them in a backpack or waist pack or strapping it to your frame, tubes can take a beating and get covered in mud or dust. The Tubesock slides over to both protect it and keep it clean. It also looks much cleaner on your bike. I never thought much of it when it was given to us (thanks ENVE!) but now I love it. Tubesocks do not come in pairs and they cost 4.80 USD
If you have a Specialized you've got a nice chunk of storage in the SWAT locker as well as a water bottle cage, but the rest of us have to figure out how to haul spare clothing and a few tools. My solution has been to wear a bum bag. Unfortunately my bum bag has to carry water as well because the under downtubee bosses Yeti adds to the frame are useless to me because I bust bottle cages on logs or rocks on the very first ride. Every time. I've also lost pumps I tried to attach there.
Mission Workshop has begun making what they call a 'Waist Pack' but even from a super hip company it's really just a bum bag. A very nice bum bag, but still... Like other Mission Workshop bags, the Axis Waist Pack is waterproof, made from sturdy materials and made in the US of A. There are some dividers inside but nothing groundbreaking. The waist strap is nice and wide but it doesn't have auxiliary cinches to really lock things down. This is NBD if you aren't carrying much but if you toss a water bottle or other heavier items in there I'd be worried things would bounce around too much.

A bonus included in this particular bum bag is the deployable multi-tool from Fix Manufacturing. The company introduced a belt buckle that stored a multi tool (actually three different ones for different sports) late last year and someone had the excellent idea to tweak it for use on the belt of the Axis bag. With 17 tools, if you include the 'tire lever' and spoke keys it packs a decent punch and only lacks a chain tool from where I sit.
Lezyne has a few ideas brewing to get gear off your back and onto your bike. One that caught my eye was the Drive tool that. The tool itself isn't revolutionary but being able to strap it to your seat post (if you have enough showing) or elsewhere, is pretty trick. You can strap Lezyne's Tubeless Repair kit on as well.
The last item on my list isn't about storage or repairs, it's about frame protection. Trail debris and riding on the tailgate of a pickup can bruise your frame pretty easily. I've taken to plastering 3M protective tape on my frame but it's not really enough for the downtube. Fortunately Lizard Skins makes carbon-look armouring that is incredibly tough. In fact, despite the look, it's made of leather. It's nice and thick and the shock absorbing qualities should protect your frame against most impacts.
A few companies are using this product as the original equipment frame protection which means shipping them from the U.S., where they are made, to Taiwan for the install. It's a bit like shipping watch parts to Switzerland from Kazakhstan; things don't generally move in that direction.

Lots of the ways to sort this stuff out don't cost a penny. Let's hear some of yours...