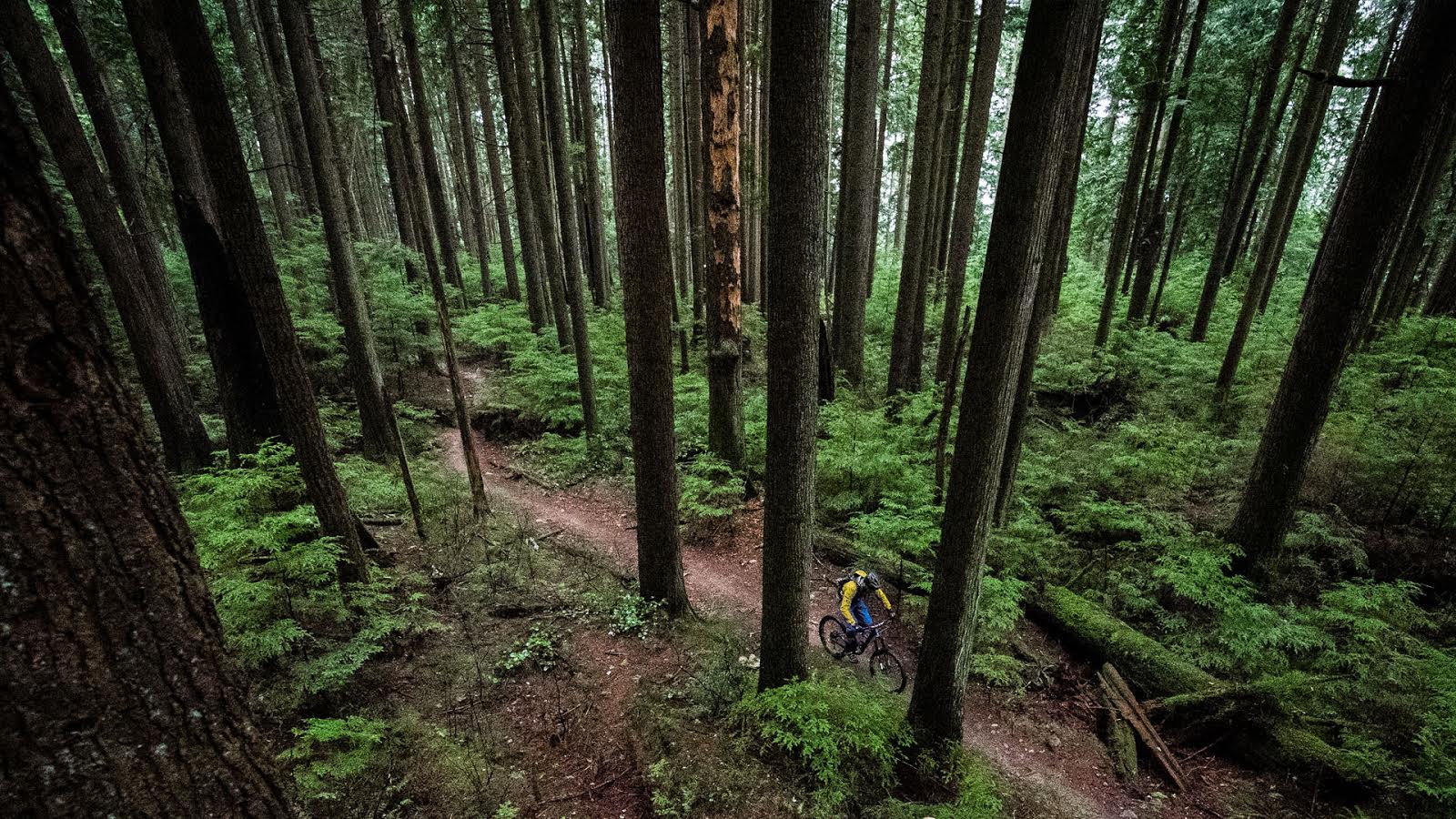 Stevie Smith Interviewed in Vegas
Despite coming into 2014 as the the man to beat, it wasn't a banner year for Stevie. After an early season ankle injury, doing a massive gap in Rotorua, Stevie returned to race to sixth place at Fort William. And then he badly  injured his other ankle practicing for Mont Ste. Anne, the very next race. Despite his misfortune Canada's most decorated downhill racer is amped and optimistic about 2015. Here's what he had to say from Interbike.
---
Jon Harris (NSMB) – First of all can we have an injury update?
Stevie Smith – I'm doing good. It's getting closer to me being able to ride my bike. I'm on my road bike, putting a little pressure on my foot and doing some physio so it's good. So back training soon on the bike. Even with my crutches I'm still able to go to the gym every day and work on my upper body. Most people are finishing the season tired and i'm more keen than ever.
JH – What was your injury exactly?
Stevie – I basically just crunched it. Hit it on a rock and the toes came up and jarred it and it broke. The two bad breaks were the talus, it had two bad breaks, and the rest of the foot had 14 fractures throughout the heel and the metatarsals.
So no more big gaps for you?
I'm going to ride the exact same way. I'll be doing big gaps for sure. I'm not going to be pussy and think I'm going to injure myself every time I do something.
Have you compared notes with Bryceland?
He sent me some photos. It looks pretty bad. I'm not sure his exact deal but a long surgery and not looking good.
So you mentioned the road bike. How many pairs of bib shorts do you own?
Haha. Probably 8? Something like that.
Let's talk about World Championships. Do you think you might start doing some training runs chainless? Did you see Neko's run? What do you think was going on there?
It's hard to say. Knowing that maybe he had to carry speed he was on the brakes less and riding smoother. And the pressure was off. It's impressive. I've ridden that track and you definitely have to pedal. Right out of the second woods there is a full on flat bit that you have to pedal across. But the rest of the track doesn't have much pedalling. I'm very impressed that he could put together a time like that.
Has it been interesting for you watching the season. Were there some surprises for you?
I'm pretty bitter watching the races. I don't even really like watching it. It sucks. It just makes me feel negative and want to be there. But it's cool. It has been a different season. There's no dominator. There's been a bunch of guys. I just wish I could have been a part of it. Everyone's riding at such a high level.
It's interesting watching the ebb and flow. Gwin was on it for a couple of seasons and then Bryceland won his first race and then seemed to be on fire.
That was like me last year. You always want to win but winning a World Cup takes that little bit of confidence. Confidence you really don't know about. You can't gain that from training or from your diet. But until you start winning races you don't get that feeling that you can win races. And then you win a race and you think 'that wasn't that hard. I can do that all the time' and you start working off that. And obviously Bryceland got that this year which is cool to see.
Do you have some fun planned in the off season or will it be all training?
I do. I'm going to be doing some filming with Anthill for their newest movie. The Unreal Movie. And then there's a race in Bali. I don't even know what the race is called. And then I'm going to Thailand for a couple of weeks. I'll probably not even take a bike. Just some running shoes and doing some training and relaxing there.
Have you been to Thailand before?
I haven't. I'm looking forward to some beaches and some big hikes. And then I plan to go to New Zealand now that they have a Crankworx there. I need to race a bit before I race a World Cup. It's not a problem getting me back up to speed. I can start riding and in three days be back up to speed – just as fast as when I left. It's just being able to do that in a race run. Getting that race experience. That mental preparation.
Is there any race in particular you're looking forward to?
The first one.
Does your mom still shuttle you for old time's sake?
She hasn't for awhile. She doesn't like my big truck. I still see her a lot though.
How much help is it being sponsored by Redbull when you are injured?
Yeah. It's huge. Basically whatever I can think of I propose it to them and they are absolutely down for it. I've never been shut down with an idea. Even when I broke my ankle I went to book my flight home from Mont Ste. Anne and it was $2000 and they said 'no problem. we'll take care of that. Anything that can get me fixed and back at it they are down for it.
If you were fit would you have done Rampage this year?
I think yes. The only reason I've been worried about doing it in the past is hearing so much drama about people riding other people's lines. There's so much mumbo jumbo with that old venue that they're using there's no way for a first timer like me to go there, do well and not ride other people's lines. I could build a shitty line that makes no sense and make sure it doesn't go on other people's lines but there's no way I could do well. But I was excited about this year and the new site.
Are you going to go watch?
No way. I gotta get ready for filming.
The new bike has a lot of little changes. They shortened the stroke on the shock, moved it down to the downtube and lowered the centre of gravity. How quickly do you notice when you jump on it the first time.
It's like anything. it's a lot of small changes that affect the big picture. I have no idea how to design that stuff. That's all Dave Weagle. We do a lot of talking back and forth, Lots of suspension testing and we're looking for certain characteristics that we can't achieve sometimes so he goes to the drawing board to figure it out.
Do you enjoy that process?
I do. I really like testing. We're still working on that bike so I'm pretty excited to get fit again and finalizing some stuff on it.
Devinci has done an outstanding job in the last few years.
It's just cool to go from a Wilson I won a World Cup Overall on and go to a bike that goes another level above that. It's the same thing Bryceland said when he hopped on his new bike. What felt fast before isn't fast anymore.
Do you test on your home track or go further afield?
It's good to do both. We spend a lot of time in San Remo, Italy which is really rocky and fast with sharp edges. It's really good for suspension stuff. At the same time I love doing it at home because I know exactly how every bump feels on every bike there. So when I change something I can feel it really easily. This fall we'll be testing on my home trails but as we get closer to the season we'll be changing up the locations.
Thanks very much Steve and good luck with your recovery.
No problem!
---
Stevie also told us that he'll be clearing up some unfinished business with that gap in Rotorua before returning to the start line on April 12th, 2015 in Lourdes, France.