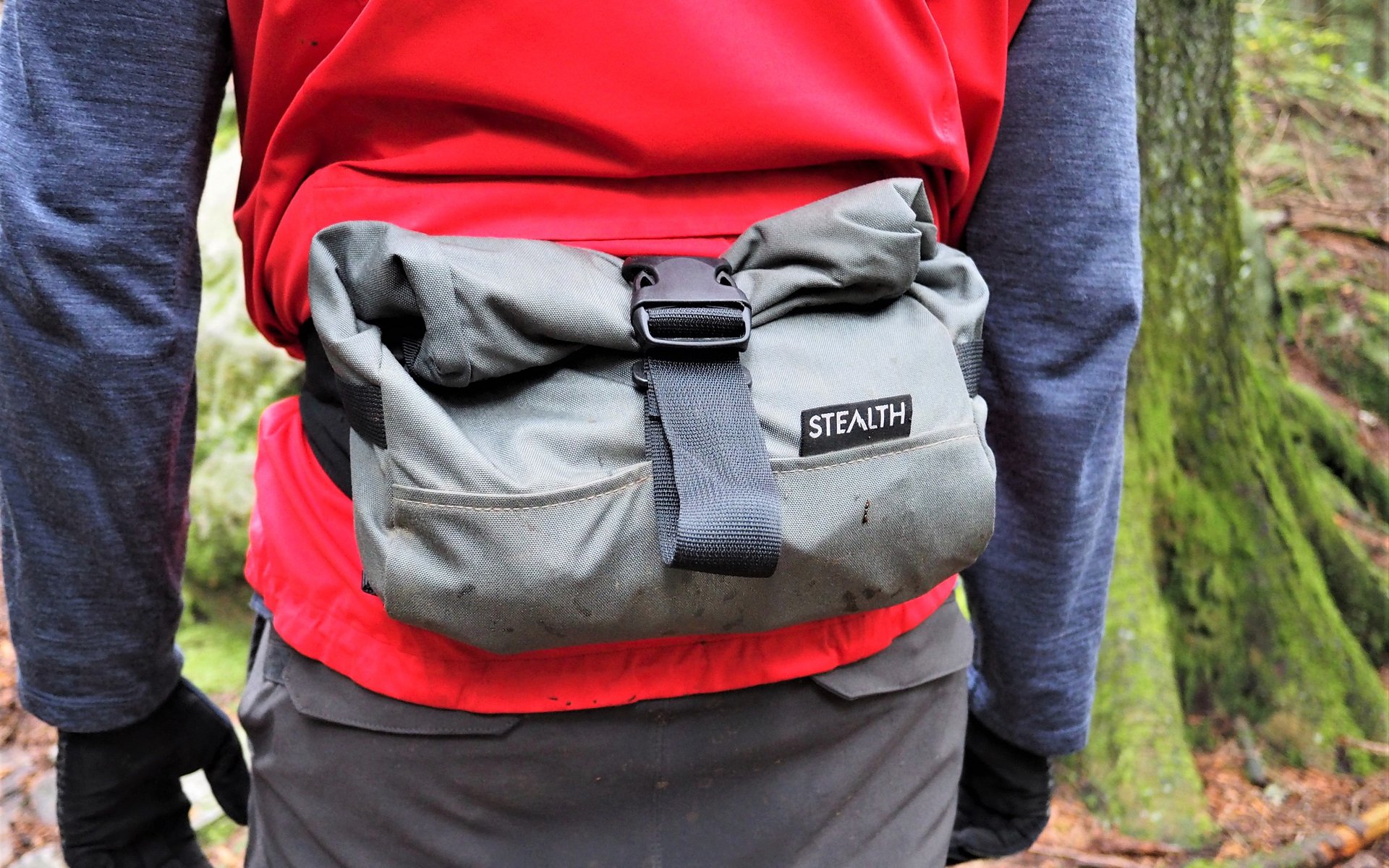 REVIEW
Stealth Bike Bags - Hightop Hip Pack Reviewed
Made In New Zealand
New Zealand has been in the news a lot this year and whether it's climate change or gun control, their display of comparatively rational pragmatism on the national level is impressive. Rather than allowing the absence of flawless solutions to grind crushed glass into their national dialogue until they have agonizing bowel-cramps, they're engaging with problems in real-time and tweaking the designs as needed.
How's that for a segue. Stealth Bike Bags is approaching design in the same way. Michael Trudgen, wearer of all hats at Stealth, manufacturers all his products in New Zealand with a plethora of stock options and accessories, semi-custom upgrades, and a full-bespoke program that answers the question "can you make me...?" with "most likely, yes. Send me an email and we can discuss your ideas."
The Hightop Bum Bag I've been testing can hold up to 4 litres of gear. Michael stocks it in black and produces it in fourteen other colours, including this grey, as a semi-custom upcharge with a brief waiting period. The packs start at a very reasonable, 75 USD*.
*Prices based on approximate NZD to USD exchange without 13% VAT taxes.
The Hightop is highly weather-resistant but the unsealed seams mean it's not waterproof like the Shower Pass RainSlinger or my Porcelain Rocket Dumpling. Stealth ships bags all over the world and folks are using Hightops for all sorts of adventures so for the wet-weather riders there is a 26 USD option for a waterproof insert that velcros into place.
I've been out in some torrential days and I'm in love with the insert. All my crap stays dry and I can cycle my soaked gear into the hip pack between the waterproof insert and the pack itself. I appreciate being able to strap my wet jacket securely to the outside of the pack when the sun comes out. I despise having to mix my dry gear and tools with soaked stuff.
The Stealth is available with the aforementioned welded waterproof insert, a bottle holder, an external zippered pocket, and a few different strap options for external carrying but my favourite removable accessory is the EVA-foam and plastic, and aluminum strut reinforced back panel.
It's slightly contoured in a way that I never notice, except to say that all my loads feel perfectly packed no matter what order I've thrown my camera, EDC, pump, tool, and etc into the bag whilst charging out the door. It's so lovely that I'm thinking of ways to add a similar piece to other hip packs.
I've ridden home a few times with a six-pack and a bike lock stuffed in the Hightop but that kind of weight is absolutely better distributed in a backpack. Still, my collection of tools, gloves, camera, and etc is fairly voluminous and decently heavy and this bum bag handles it comfortably and, thanks to the cinch system, silently for hours.
The manufacturing quality is tops and while cat-camo isn't currently an option there are a number of much brighter colours available. I love custom stuff, Michael is interested in making custom stuff, and that sounds like a match made in heaven. The problem is I can't think of any changes I'd make.
Check out the 75 USD Stealth Bike Bags roll-top bum bag the Hightop. An excellent piece of kit, made in New Zealand, by a guy named Michael.