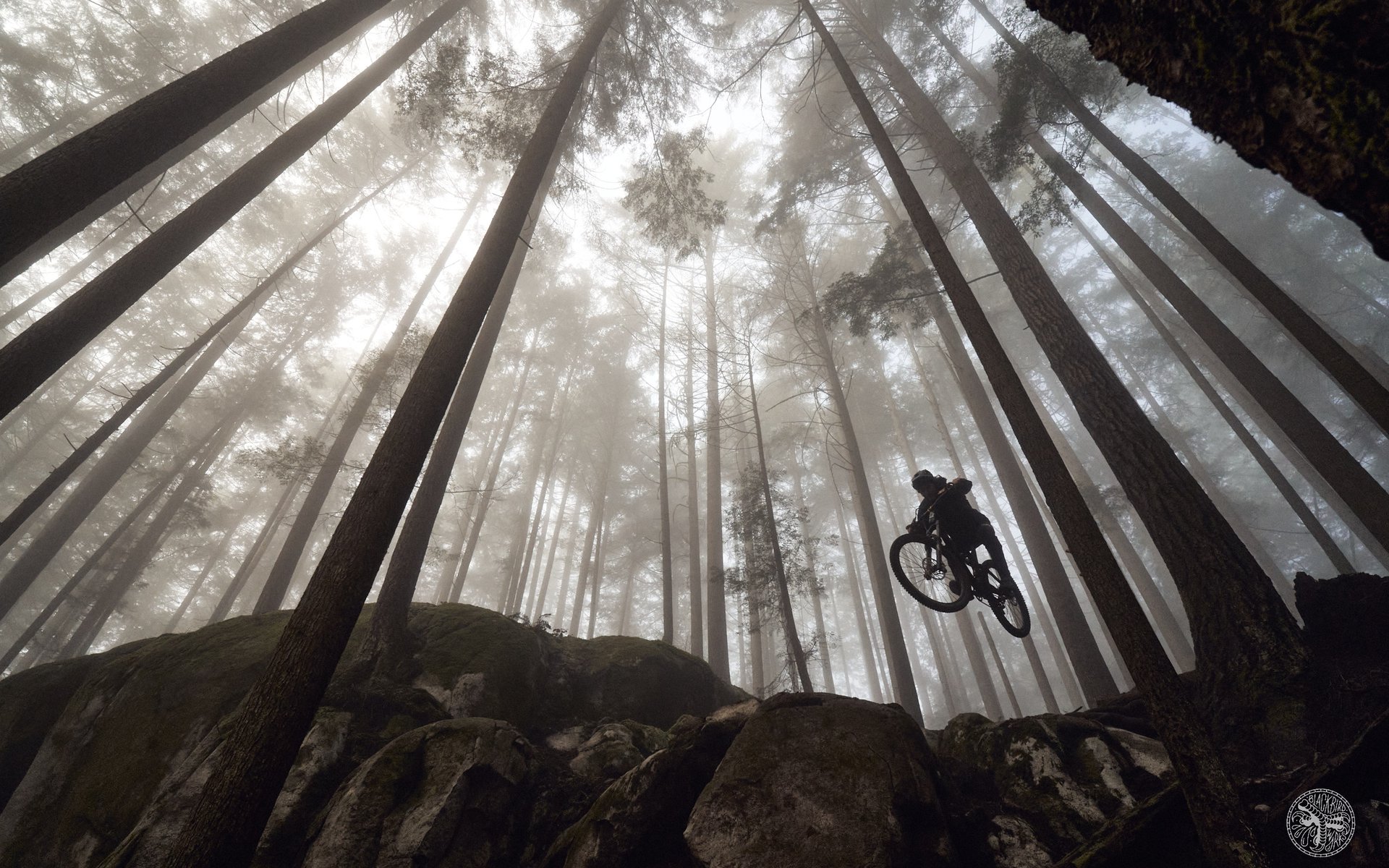 EDITORIAL
Starting A Discussion Of Mountain Bike Culture
Polite Pomposity
Look at the hubris on this guy. Doesn't he know that significantly better writers have attempted to congeal some sense of shared circumstance out of our love of bicycles and riding them off-road? Did he think that maybe some of them even managed some sort of cycling culture coagulate without hiding behind alliteration, hyperbole, sarcasm, and upcycled mansplaining? It's probably true. There are hundreds of thousands of 'mountain bikers' playing Pan all over the world on endlessly variable terrain. I've ridden only a fraction of it. And that fraction has mainly consisted of the technical side of our favourite activity, with or without a forest canopy: the North Shore, Moab, Sedona, etc. In spite of that, I have some generalizations about my perspective of our kind to share with you.
I've been mulling this idea over since writing Survival Of The Fattest in March 2017. It's evolved from an 'explanation' of the culture of mountain biking for the uninitiated - riding for the non rider - to a discussion between my friends and me as we pedal up gravel forest roads to plunge down Shore single track. I'm a decidedly Tech-C rider in a sea of fragmented categorizations and it's in that ever-expanding mountain bike universe that I'm looking to say something about the glue that binds me to my fellow riders.
I Am Because I Say I Am
As a cis-gendered WASP, it took me a long time to come to terms with the idea that the mountain bike community isn't a wonderful all-inviting reflection of society, or at least the part of society with enough treasure to surmount the financial barrier to entry. It was a long time ago now, but the first mountain bike course I took, as a teenager, was with a woman named Joan Jones. My terrifying first experience on a steep and janky trail was with my high school counselor, Tanya Gilchrist. I had my first ever endo right at the start of a trail called Elevator and she laughed at me - in a nice way. The first professional rider I met was Allison Sydor. So fast. The first good sales rep I met while working in a shop was former pro racer and lifetime shredder Elladee Brown. And the first amazing trail builder I met with their own signature style was Boundary Karen. All rad, confident women who obviously owned being mountain bikers.
I've had a lot of conversations since then. I'm not really qualified to say a lot more than that, but it's worth scrolling through what local riders Alex Sinanan and Sanesh Iyer have to say about their experiences. Listen to any woman who's been involved in trail building and what you hear may surprise you - or sadly, it may not. There is a lot of good work going on, however. For example, Judy at Colour The Trails is doing epic advocacy in the outdoor sports world, but the fact this is necessary dampens my image of our activity some.
I'd still say that the most commonly shared characteristic of mountain bikers everywhere is that they've claimed that mantel for themselves. You don't even need to own a bike. I've seen fully grown folks come back from their first time coasting down a green trail, on a borrowed rig, who were instantly hooked, and became riders on the spot. Of course, keep with it long enough and eventually you'll pay the entry fee - stitches, a break, etc. - but in the meantime, if you think you're a mountain biker, then you are one. And whatever that means to you is great.
Suffering With A Smile
The act of mountain biking is an assembled series of farcical accomplishments. The true exuberance of cleaning that teeter-totter, mastering a rooted climb, or sticking that sniper landing is set against the fact that you're an adult doing any of those things on a stupidly expensive bicycle in a forest. Who gives a shit? Other mountain bikers. But they're all in on the big silly joke too. Think of any time you've explained a friend's mountain bike injury to a non-rider. You reach the crescendo where they stack it into the ground and find your excitement met with a look that screams "this sounds stupid."
If you're not certain what I mean, show Jordie Lunn's Rough AF 3 to a random collection of bikers and non-bikers and listen for the distinct tonal difference between how the two groups say "OH F*CK" around the 50-second mark.
At the same time that mountain biking is silly, it's also really hard. And that's the best thing about it. Insert your preferred version of a quote about how it doesn't get easier, you just go further & faster. Hitting the ground hurts, sometimes a lot. Lactic acid burns and the pain in your legs before you round the top of a climb is a strange brew of physical and mental trauma. You keep doing it, so clearly you love it more than you hate it. Riders enjoy working themselves to exhaustion. I love when I'm on a trip and everyone is whinging about their day 2, or day 3, or day whatever legs being sore. There's always a degree of triumph no matter how genuine the stiffness and discomfort.
You simply can't be weak sauce and ride mountain bikes. Or, as I tell my kid much more often than she likes to hear, "if you're going to be dumb, you've got to be tough."
Mechanical Aptitude Acquisition
We all know people who shouldn't work on their own bikes. We all know people whose bikes need to be worked on. The two categories don't overlap as much as one might hope. Still, whether your personal experience and aptitude extend to overhauling suspension, adding a bit of sealant to your tubeless tires, or knowing that your bike is making an unhealthy noise, it is impossible to be a mountain biker and not acquire some level of mechanical aptitude. That is the ability to learn from other peoples' experiences - or your own - as the brains and motors behind your machine. To reason through what you're experiencing so that you can fix your bike, or explain it to the person who is going to fix your bike.
I've worked in shops and turned wrenches long enough to be consistently amazed at the general aptitude of folks who ride mountain bikes compared to other people I interact with in my life. I've regularly seen riders who've never tightened a bolt correctly identify where a creak is coming from on their bike, and why, and I've also seen people unable to conclude that their shopping cart won't move forward when they push on it because one of the wheels is jammed. If your brake is seized, or your rotor is so bent it won't pass through the caliper, you're going to fix it or get it fixed, or you won't be riding.
Now, you don't need to be a nerd to be a mountain biker. But I know that I have plenty of great company in people who were drawn to the activity by the blending of the physical and mental effort required to ride a bicycle on trails as well as the technical knowledge to maintain and tune the most beautiful machine ever created.
Responsibility
I love the dual personalities of mountain bikers when it comes to tools on the trail. The expectation is that everyone will carry what they need to get them out of a trailside jam but there's a ready willingness to share their pump, multitool, or experience to help out another rider in need. Diligently carry your own food and water, but when you're bonking at the halfway point on a ride, don't feel bad when a friend hands you their spare snack or bottle. There's a responsibility to look after yourself and also to look after your friends and fellow travelers.
Most of the riders I know are accountable to themselves. Their bike and protective equipment are in good working order and when they come to a section of trail that challenges their skills, bike, or confidence, they take a measure of conditions and the folks they are with. Commit or eat shit. If you don't see yourself riding out the bottom, don't drop in at the top. When stuff goes sideways either with an injury or a mechanical that ends a ride, it's the exception, not the rule and in those instances everyone carries water. Often even random riders rolling by will stop to help however they're needed.
Trail maintenance, too. Most of the trails I've ridden were built and maintained by volunteers, or by volunteer-run associations using grants and donations to fund professional trail crews. It's true that not every rider lifts a shovel, buys a membership, or makes a donation. These are all easy things to get involved with though, so if you're feeling like your contribution has been underwhelming it's easy enough to make up for it. If you have a favourite trail, start by getting in touch with the builder and getting your name on their mule list. Even the most persnickety solo-building perfectionist needs grunts to carry material sometimes and the only thing better than riding your favourite trail is knowing you put some sweat into it.
Even if a lot of riders don't live by a no dig no ride philosophy, can you name a user group that puts as much energy into advocating for the right to volunteer time improving community-owned assets?
Rolling
As I've been battering this around, some of my friends, who are even more cynical and sarcastic than I am, have congratulated me on putting in this grand effort to pump our collective tires with a January puff piece extraordinaire. Mountain bikers, yay!
Trying to capture some generalities about mountain biking and mountain bikers, like the activity itself, is hard and silly. But we're certainly more than individuals out doing our thing. I also think there's a community beyond what's convenient for marketing and that said community has a lot in common.
I suppose it's also possible that I'm romanticizing an activity that has been an important part of my identity for a long time, and projecting what I love about it onto everyone else pedaling their way through the woods. In which case, it's a dank, damp, dark, and dreary day in January. Enjoy.