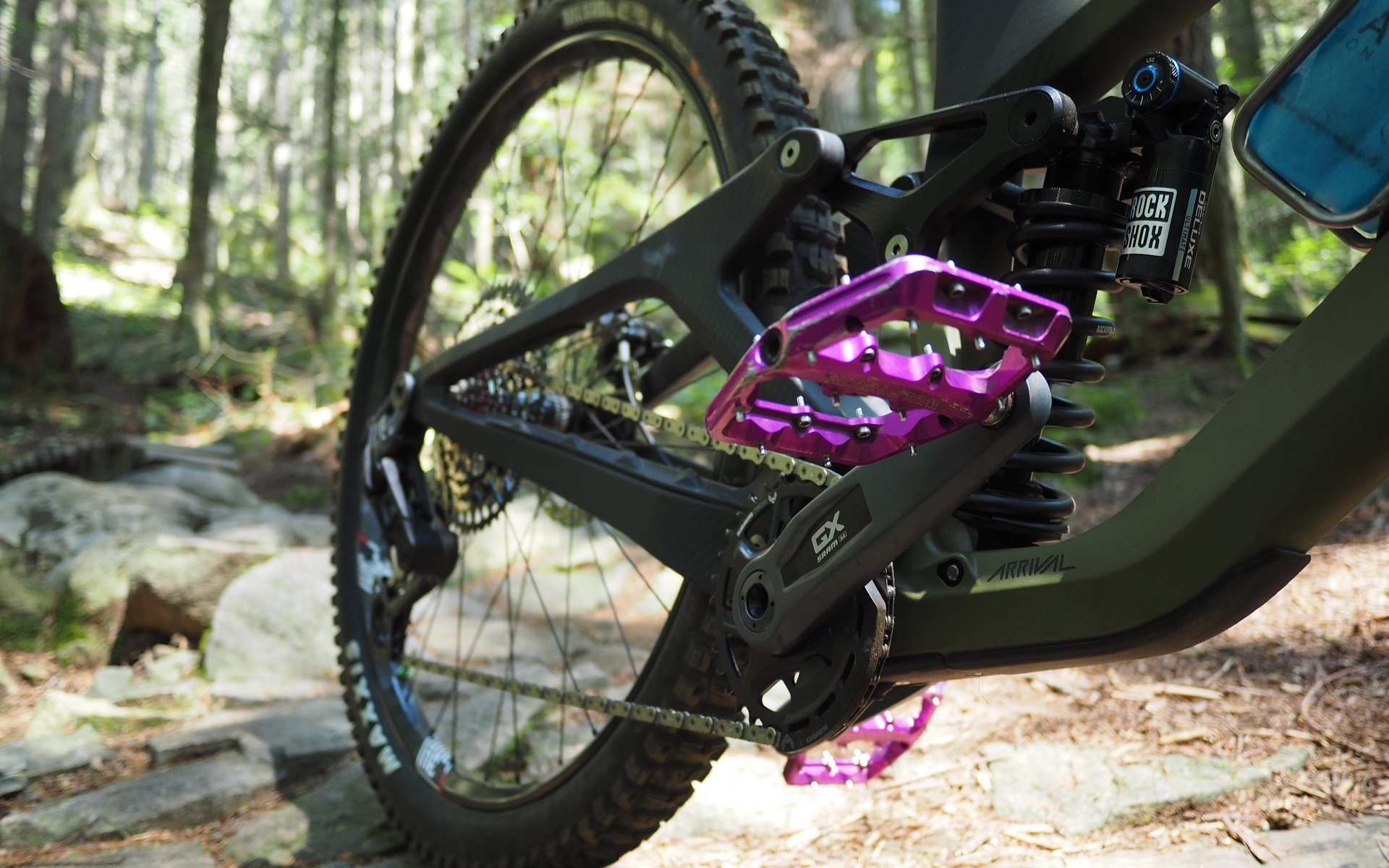 EDITORIAL
SRAM's Potential UBG
Chain Guarding
The most exciting thing about SRAM's updated Eagle AXS shifting, now called Transmission, is the addition of a BMX-style chainring mounted bash guard. Not because the current crop of narrow-wide rings from any number of manufacturers isn't ridiculously durable, but rather for chain protection.
Regardless of the cause, I seem to be coming across a lot of prematurely trashed chains lately. Some are obviously missing rollers from being smashed, but others are less obviously binding due to individual links being smooshed. I'd guess it's down to some combination of bikes being lower, riders going faster, trails being drier and jankier, or maybe it's some other factor I haven't considered. Regardless of the cause, a bash guard is the perfect money-saving and potentially ride-saving solution.
SRAM's take on the classic warhorse component is quite elegant in using their current beefed-up 1x rings as both structure and mounting bracket. The teeth and chain are protected, and any hit hard enough to actually damage the chainring would have blown up both an unprotected ring and chain anyway.
Speaking of blown up, my imagination was captured by this quote from SRAM's Stephanie Raulston that was buried in the T-Type release. From something that comes from simple origins - bolting a four or five-bolt aluminum plate in place of a big chain ring on a mountain bike triple crank - her team clearly put a lot of thought into it:
"With the bash guards, we 3D printed a tonne of them had a bunch machined and just tested, tested, tested. We had to build test fixtures and we were trying to figure out a good way to see how it actually worked on a bike. So, we built a giant crash-your-chainring-into-it thing with Home Depot lumber." - Stephanie Raulston, SRAM
There are a number of factors to this design that are quite appealing. The bash guards are inexpensive, lightweight, and transferable from ring to ring. When removed SRAM has gone to lengths to make certain that their absence is not noticed aesthetically. Folks who almost always ride either with their left or right foot forward can just run one. Also, they can take a beating, as can the ring they're attached to. In addition to protecting an expensive chain, I even find they help my bike glide over high-mark impacts. Like trying to pop over a log or rock.
But perhaps best of all, there are plenty of brands making nice chainrings that could easily be programmed to include SRAM's bash guard mounting dimensions as part of the layout of their spurs.
UBG
It's true that SRAM's bash guard compatible rings only work with their 8-bolt chainring interface, but what's stopping other chainring manufacturers from machining their spurs such that a SRAM bash guard, or their own guard using SRAM's mounting pattern, could be installed? This has occurred to me a few times lately, installing rings that use RaceFace's CINCH mounting standard.
My frame doesn't have ISCG tabs so a bash-taco is out of the question unless I want to start playing with ISCG-to-BSA bottom bracket adapters. I do have an excellent CINCH compatible Wolf Tooth BashSpider, but I love the idea of every premium-level chainring from Absolute Black, to Chromag, to Hope, to Garbaruk, to Wolf Tooth, to Race Face, to OneUp and, of course, Shimano simply being compatible with a Universal Bash Guard.
There is a barrier of course. As part of their Eagle Transmission process, SRAM received patent approval for their design. I don't pretend to know faeces from feces when it comes to patent law but considering BMX bash-sprockets and the many bolt-on half-bash setups I've seen locally over the years, I'm clearly missing what's special. I mean, the bash guard itself is special. It's awesome. But I'm missing what's special enough to make it patentable.
Maybe the way the chainring and bash guard interface together, as opposed to the bash simply being bolted in place? Either way, as with the widely adopted Universal Derailleur Hanger (UDH) it would be great to see a Universal Bash Guard (UBG) standard. Protecting chains, chainrings, and frames.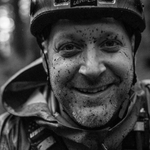 Andrew Major
Height - Steve Buscemi-ish
Wait - Patiently
Ape Index - T-Rex
Age - The same as DOS
Favourite Trail(s) every week - Pipeline (thank you Ken!) to Lower Crippler (thank you Andy!)
Favourite Song(s) this week - I'm Your Man. Nick Cave (covering Leonard Cohen)
Favourite Colour - Cosmic Lilac
Bar Width - It depends
Reach & Stack & ETT - It depends
Crank Length - 175mm except when it's 170mm
Wheel Size - Hot For Mullets