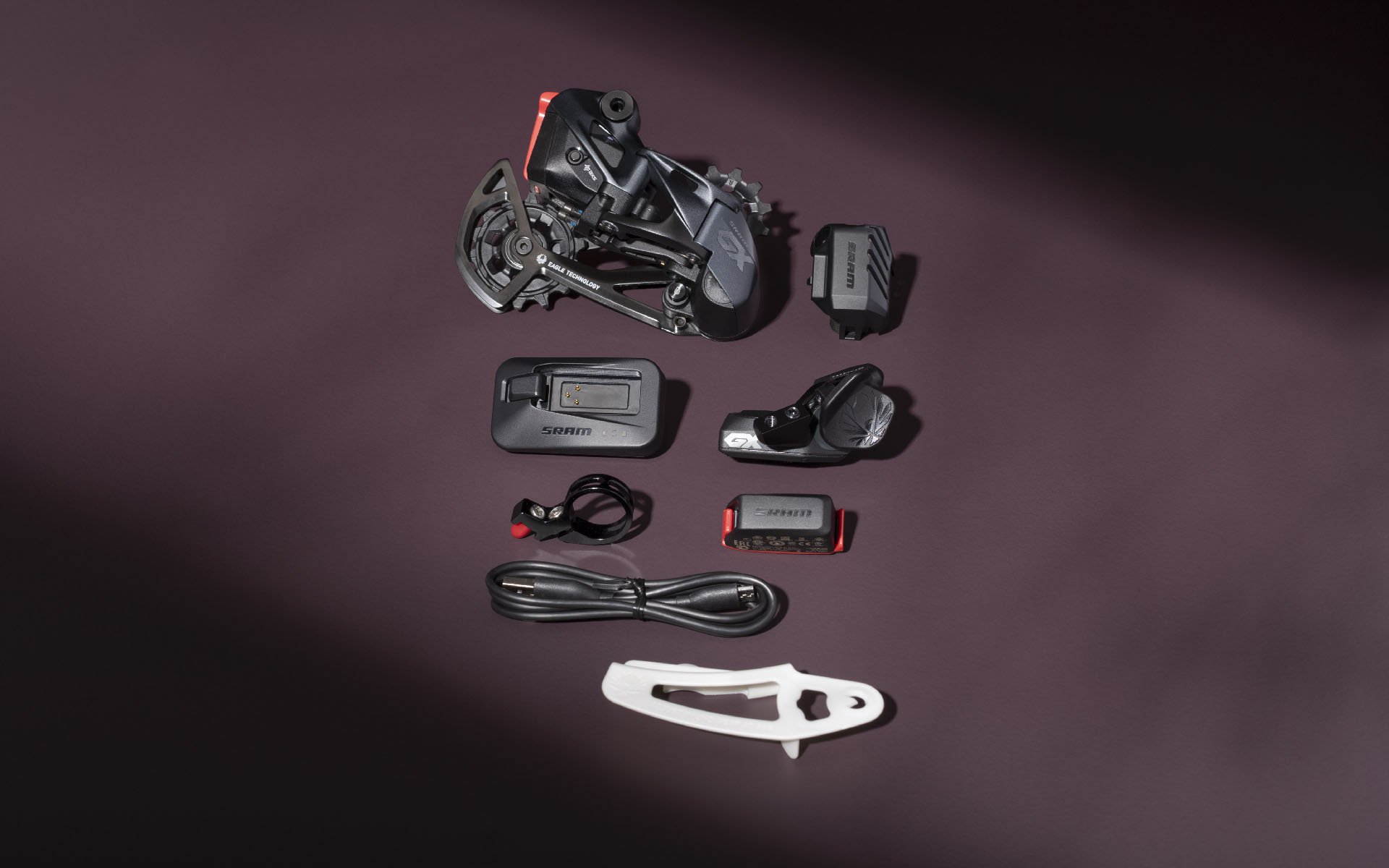 Product Release
SRAM's GX AXS is here (and we've been riding it)
You didn't need to follow Nostradumus on instagram to have known the trickle down of AXS was on the way, and 778 days since the intro of the XO and XO1 versions, GX is here. During that time there have been no mishaps, data leaks or hacked systems as far as I know and AXS has worked as well as SRAM's very optimistic advertisement. It hasn't put cable or housing manufacturers out of business, the prohibitive price tag has made sure of that, but AXS has managed to win a legion of fans all the same.
Dollars and Grams
If you are already sure you're keen on SRAM's AXS drivetrain and you only want to know the difference between the XO1 and GX versions, I'll make this article very short for you. The answer is the upgrade kits are separated by 64 grams and 200 USD. The GX rear derailleur weighs 64 grams more and the upgrade kit costs 200 USD less (600 USD vs 800 USD). The shifters are identical, aside from the finish and the GX wordmark on this version, so every one of those grams added, and sheckles saved, lives in the rear derailleur. Which is a long-winded way of saying I have yet to notice a single difference in performance between the XO1 and GX versions of AXS. GX works every bit as well as XO1, aside from those 64 grams of unsprung weight at the rear of your bike, and this princess hasn't felt that pea at all.
On my scale, the GX AXS rear derailleur weighs 454 grams (a full pound) while the XO1 version is 390, both with the battery attached but without the new cover, which weighs all of 10g. The XX1 version is another 15g lighter at 375g but the carbon outer cage isn't recommended for the rowdier riding most of our audience tends to appreciate. This is certainly a relevant point because smashing an AXS derailleur is an experience I'd only wish upon unrepentant bike thieves.
Financial Considerations
If catastrophe srikes near home and you aren't in a hurry to get back on the trails, the hit will only be a monetary one to the tune of 370 USD. If you are travelling somewhere with your bicycle, like people used to do, you'd better hope you've chosen a true mountain biking mecca, because only the biggest and most well-stocked bike shops are going to be able to pull an AXS derailleur, of any level, off the shelf for you.
Part of the financial decision-making process involves calculating how you'll deal with an unexpected future calamity. It's not entirely like buying a used Lotus,* where mechanical, hydraulic, and mechanical failures are inevitable, but it's similar in that any failure that occurs will be expensive and you'll likely have to special order the replacement parts. You are also unlikely to be able to bodge a fix in the hinterland, and it is likely to be more difficult than patching some part of a conventional cable-actuated system.
*Lots Of Trouble Usually Serious
Built Tough
A proviso is that my experience with recent SRAM derailleurs, on my bike and those of others, has led me to believe they are likely the strongest rear changers ever made. Give one a tug from the bottom of the cage and you may see what I mean. While my experiences have been good, I don't have the same impression of Shimano's 12 spd derailleurs, and I've personally witnessed several spectacular impact-related failures. These anecdotal experiences aren't statistically significant but I'm pretty confident about which brand would win a tug-o-war. Everything can and will break however, and I'd want to be certain I could swallow that hit before investing in an AXS system.
Below - the Overload Clutch in action as well as some well-laid out info from Peter Matthews
AXS Upsides
Despite the doom and gloom, I'm a reasonably big AXS fan. I particularly like the no-brainer element of downshifting (to an easier gear) using the AXS system. Neither the speed with which you hit the button nor the pressure you use has any influence on the outcome of the shift, unlike a cable actuated system. Just click and go. Shifts are fast and precise and simple. I wouldn't yet say I prefer it to the smooth action of Shimano's recent 12-spd systems, particularly the XT or XTR versions, but I feel like I'm still getting used to AXS, particularly the shifter paddle, which doesn't mesh so well with my stubby thumb. It works fine and I make shifts happen easily, but rather than nestling into a comfortable hollow it seems like I'm always shifting with the pointy corner of either the top or bottom of the paddle. I may get on better with the alternate rocker paddle but I haven't tried one yet.
There are other elements of AXS I appreciate as well. The overload clutch, which disengages the motor in the event of an impact, allowing it to move more freely, is a bit of brilliance. Beyond protecting the servo that does the shifting, it protects your derailleur and hanger from damage. Immediately afterward it recomposes to the gear it was in pre-impact. The cage is slightly shorter than those found on its cable-actuated cousins for a little more insurance - but only about 5mm by my reckoning. And of course there's installation. You can easily have an AXS derailleur and shifter ready to ride in less time than it takes to swap your saddle. It's much less frustrating as well. I don't use a Garmin or Wahoo device on my rides so I haven't taken advantage of AXS web but I'd be interested in seeing my shift data out of curiosity. On second thought, I may not like to see how much time I spend n my 52t ring.
---
My son was peppering me with questions about my preferences just today and I told him if I was voting with my own dollars, I'd likely steer them elsewhere; to suspension, braking or wheel components, where a significant performance boost accompanies increased investment. It looks like you'll be able to get a complete GX drivetrain (cranks, chain, derailleur, shifter and bottom bracket) for a little more than the price of a GX AXS derailleur alone. I would likely point my cash there or to Shimano's smooth shifting but reasonably priced XT group. In the age of $1400 cell phones that are upgraded every couple of years, I'm not surprised by the cost of this wireless shifting system or that there are so many riders keen to step up and experience the magic of AXS. I'm not fully in that camp though. I'll continue to be the guy who buys last year's phone used and scours Craigslist for deals, but given the opportunity to ride AXS, I'm not about to remove it. Even though that's a quick and easy job.