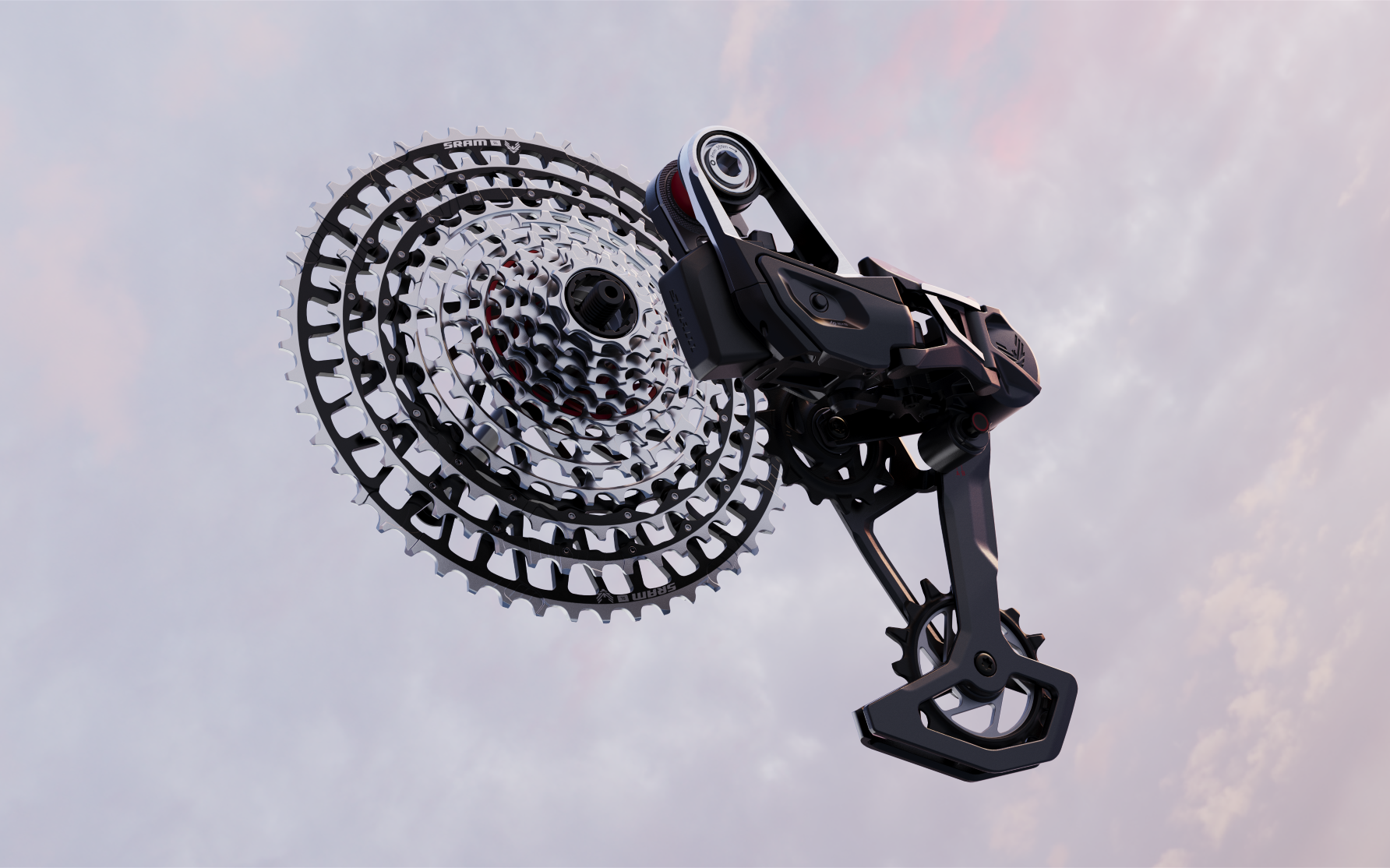 PRODUCT RELEASE
SRAM Transmission Has Arrived
It's no secret that SRAM has been the first to move on a number of technologies over the past few years, but few seem as planned out as the Transmission - first with the introduction of the SRAM UDH standard, and now the elimination of the derailleur hanger all together. We've got an in-depth look at the whole system here, and below is an overview of everything as told by SRAM.
During a 6-year history of Eagle and 11 years of the dedicated 1x drivetrain, we've refined the facets of the system we control. Even with this legacy, we wondered whether a new level of performance was possible, not just for SRAM's benefit, but to help riders and improve the ride as a whole. So, we rethought the entire interface between frame, wheel, and drivetrain. Eagle Transmission is a first-of-its-kind approach to the mountain bike drivetrain that sets a new bar and new expectations for the whole system.
This is the dream delivered.
Eagle Transmission has been designed and engineered into tangible technology for the world's most demanding riders. Built around the universal constant of the wheel axle itself, Eagle Transmission is a radically robust, fully integrated and interdependent wireless transmission that literally changes how we ride. It simplifies, strengthens, and extends lifespan to new limits. It uses no derailleur hanger or adjustment screws and lets you shift flawlessly under maximum power. Eagle Transmission drops a seismic shift on what it means to shift a mountain bike.
Derailleurs
SRAM's new Transmission derailleurs come in three different spec levels - XX SL, XX and XO. The XX SL series is aimed at pure cross-country racing: sporting a carbon fiber pulley cage, a Magic Wheel lower pulley that keeps spinning if an object becomes lodged, replaceable outer links and a b-knuckle cover in an exclusive colourway. The XX series receives replaceable skid plates to enhance dependability in high-pressure racing environments, the Magic Wheel lower pulley, and improved chain management features compared to the prior generations of the derailleur. Finally, the X0 derailleur is aimed at riders looking for the ultimate in robustness with common parts being user-serviceable, additional protection for the b-knuckle, and the option to upgrade to the XX's skid plate.
All three derailleurs feature a hangerless interface, sport an overload clutch, and most notably no adjustment screws. They install and pair via the AXS setup routine that is familiar to anyone who's used AXS previously.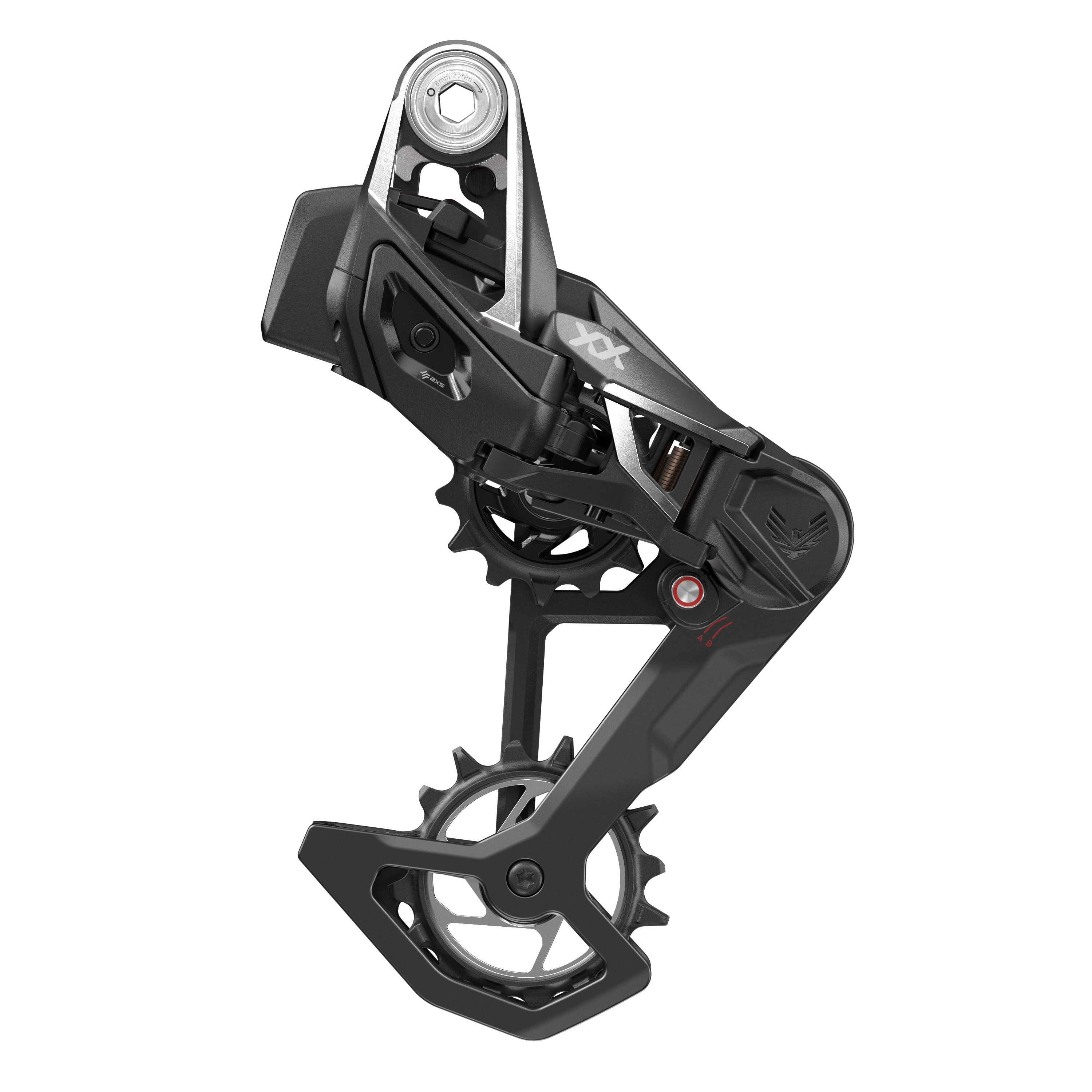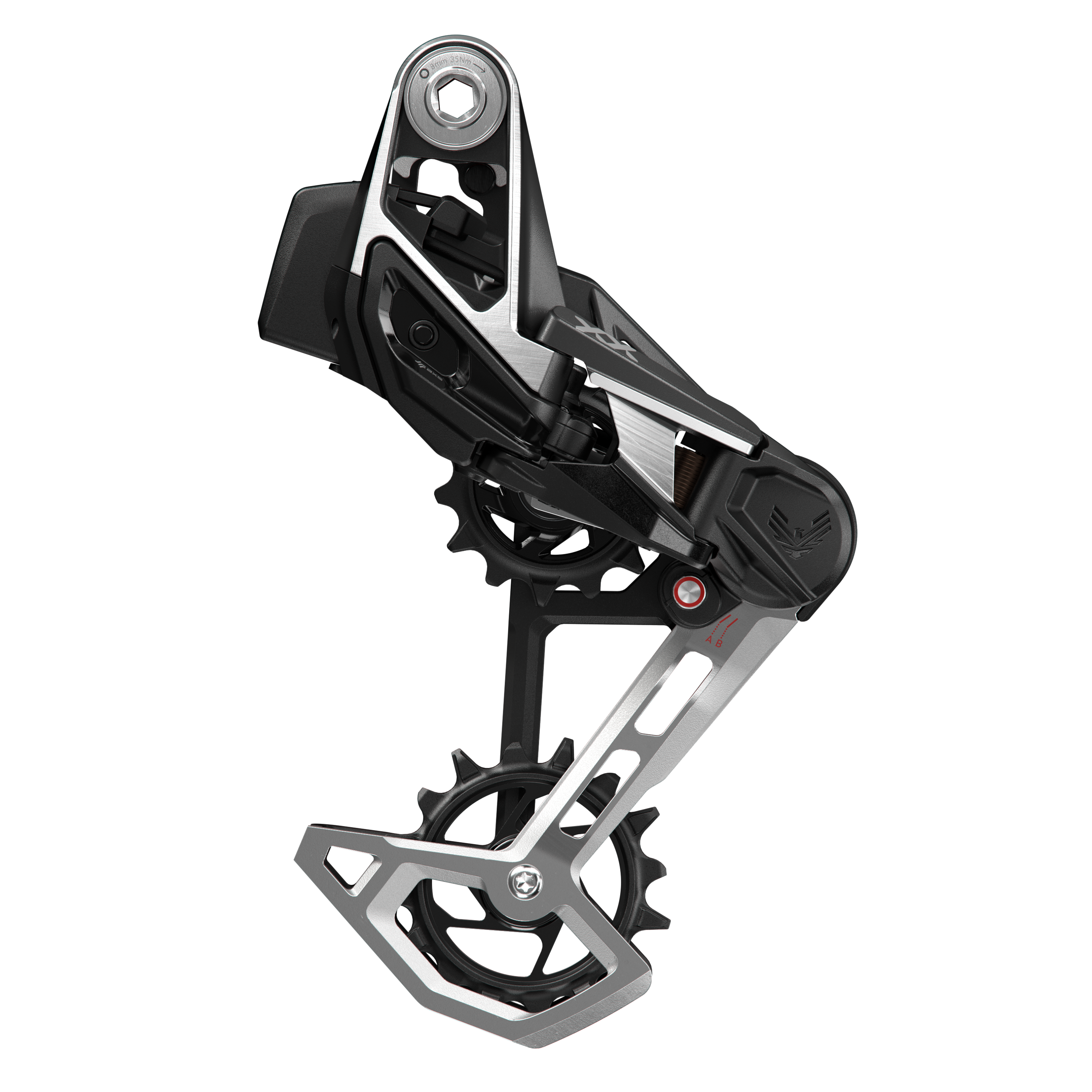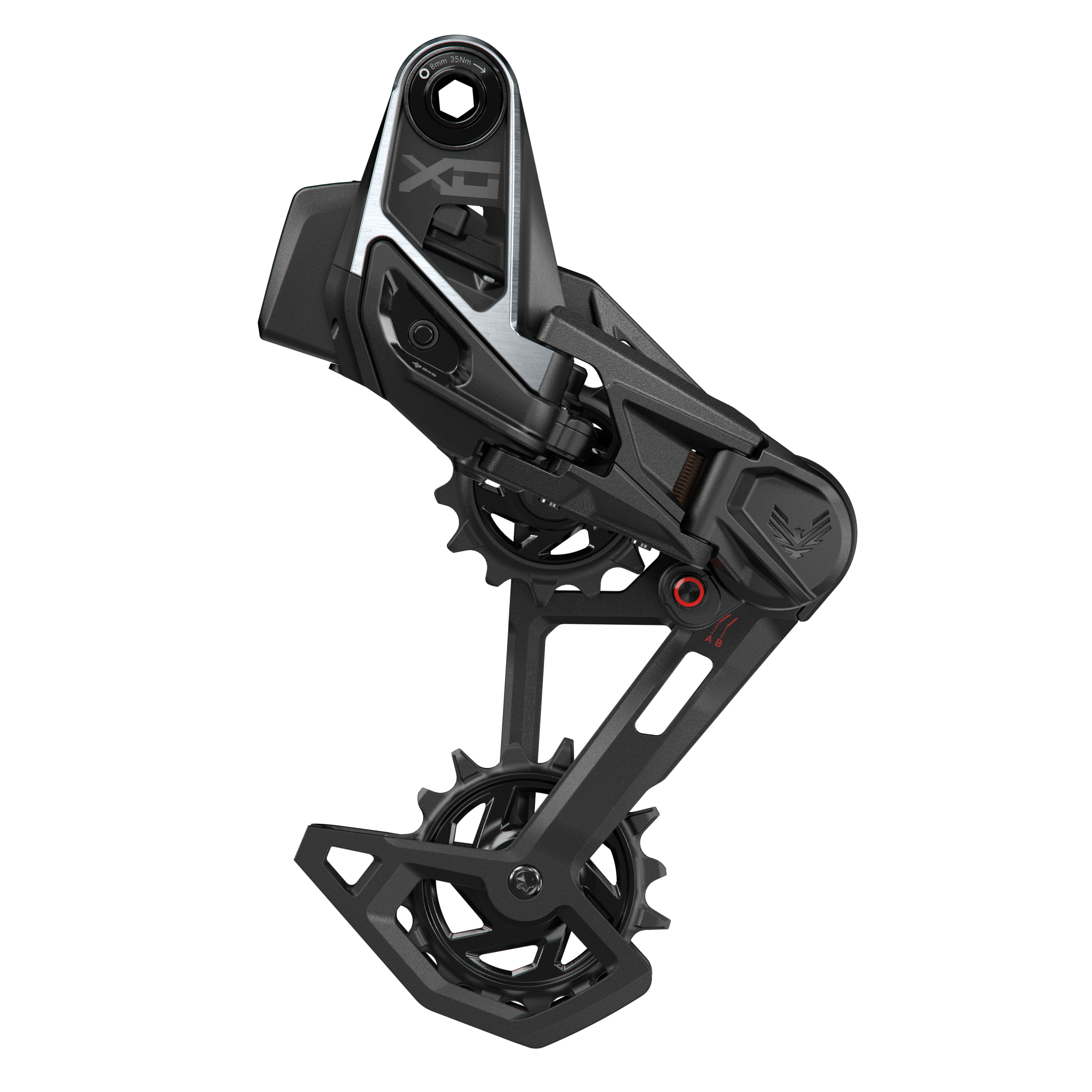 Controller
The AXS Pod transforms the crucial act of rider inputs into a vastly more personal experience for all of your AXS controls. Pod offers lighter weight than Eagle Ecosystem AXS Controllers, updated ergonomics and a vastly superior range of adjustability. Featuring a "click and fire" two-button design, with an intuitive action that requires the ideal amount of rider input to activate. Plus, it allows riders to personalize button assignments through the AXS App and features lever caps with subtle grip. With a unique flippable design, AXS Pods can be mounted left- or right-handed it's one component, with a world of possibilities.
Cranksets
Again coming in a trio of spec levels, the XX SL and XX flavours of crank set are built around the SRAM DUB standard and carbon fiber arms. The XX crank gets a foam core, while the XX SL continues to pare grams and is ready to mate with a power meter. The X0 arms are made of aluminum, and is likely the "most advanced aluminum crank set that SRAM has ever made."
All three cranks are direct-mount, with the XX and X0 sets also having the option of mounting a bash guard to add a layer of protection to the drive train.
For riders sporting a motor on their bike, SRAM has also crafted a trio of e-bike specific crank set assemblies, again at the XX SL, XX and X0 levels.
Riders wanting to know exactly how many watts they're putting down will find dual-sided power meter crank sets at the XX SL and XX levels a spindle option at the XX level, and single-sided options at the X0 level.
Cassettes
The trio of cassettes in the new Transmission line all sport a number of revisions from previous 12-speed sprockets put out by SRAM. The XX SL cassette is made up of 2 parts: fully machined body for gears 4-12, and an ultra-lightweight aluminum spider for gears 1-3. The XX cassette gets the same materials and process for the 4-12 gears, but has stamped steel 38t and 44t cogs pinned to an aluminum 1st gear. The X0 cassette gets a nickel plating for increased durability, and is fully E-MTB approved.
All three cassettes feature a setup cog for foolproof setup, 55mm chainline compatibility for better chainlines, optimized gear steps on the low end of the cassette for improved shifting, and XD driver compatibility.