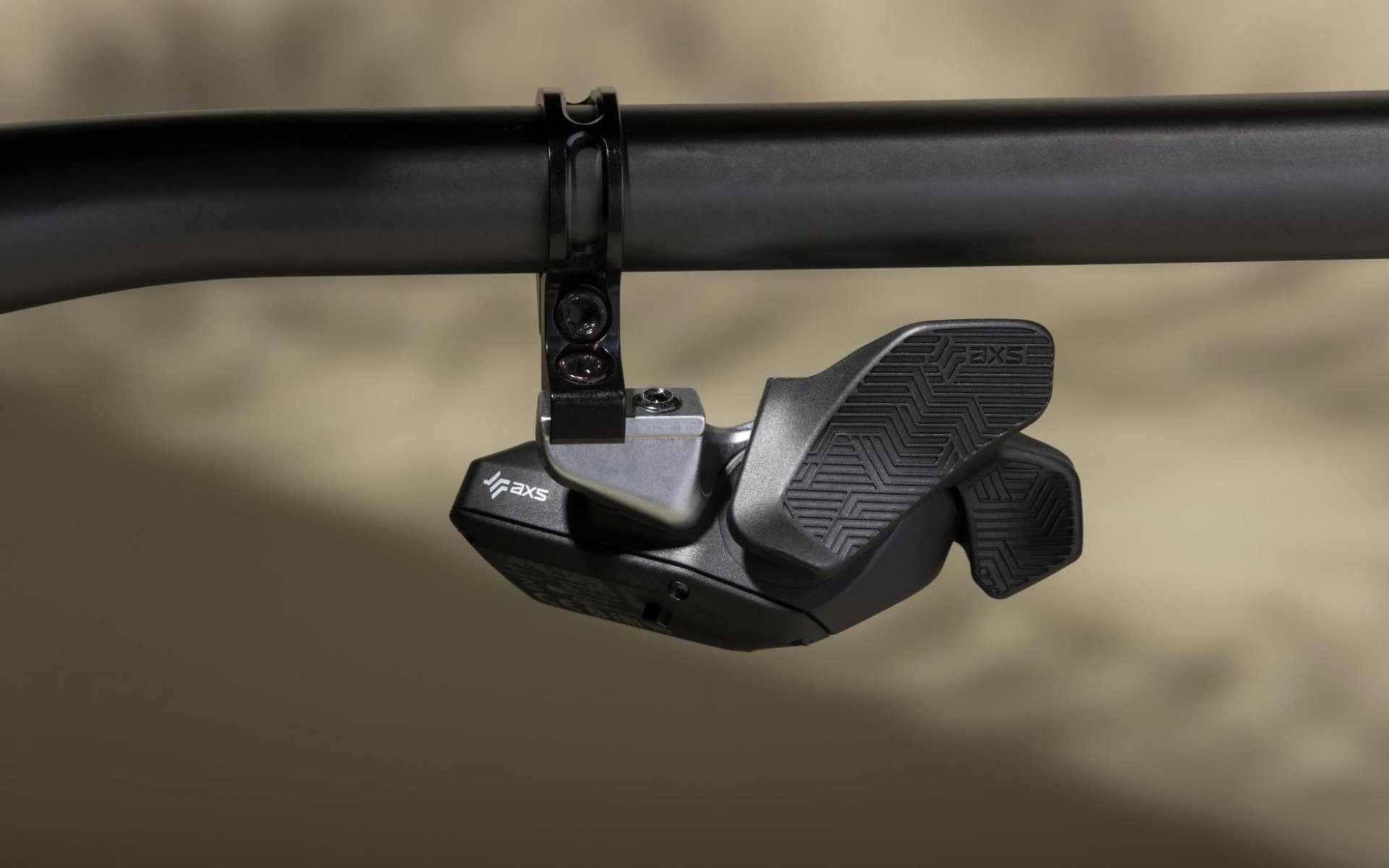 PRODUCT RELEASE
SRAM Releases New Rocker Paddle Shifter for AXS
If you've ridden AXS, or your bike has it, you know: it shifts a bit differently. In the early days with it, now and then you have to think before you shift. Once you remember, it's fast as a greased weasel. But it takes a while for shifts made in anger to land as fast as you know they could.
SRAM knows this. And recent history suggests they're willing to release incremental improvements to their products as they develop them - at a reasonable price. And, for the second time this year, they're rolling out a mid-year product 'release' - and I used floating air punctuation because we gotta keep this in perspective. But, it's a nice little quality of life improvement, and it's yours for $20 - which is a trifle of a price to pay for a little experiment with your AXS setup that just might make it work way better for you, like it did for me. Just like the revised Debonair spring did.
Today, SRAM is releasing a new rocker paddle that can be retrofit to a SRAM AXS shifter in less time than it takes to take off a sweaty pair of knee pads. For your $20, you get a molded black piece that looks and feels like the existing AXS shifter paddle, except it's quite different. The original's flipper-like shape is replaced by a flipper of a different flavour as well as a thumb pad that is exactly where your thumb wants to go when it's told to do something - fast! For me, that's an emergency downshift, but if you prefer quick access to an upshift, you can re-program the buttons to your liking.
It's fast to mount - simply remove the keeper bolt that holds the original paddle in place, pop off the old paddle, add the new rocker paddle, and screw in the bolt. Done. Except in my case. The Ergon GE1 grips that I run have a thick collar, and it was interfering with the throw of the new paddle's upshift tab which is at the top of the paddle. I was able to move the shifter inboard so it would clear that tab, but it is worth noting that you may have to play around to get everything into position.
Out on the trail, it was a bit of an adjustment to go from the original AXS paddle to the new one, but the new one is certainly closer in function to the other shifters we're used to - whether SRAM or Shimano, the new thumb pad feels familiar, and I'm certain that means faster shifts and easier adjustment periods. There have been several moments when my body took over shifting duties from my mind, and that's s great feeling that goes way beyond good shift performance.
And there's not a lot more to say about it. You could ask why they didn't come out with a shape like this originally, but given how amazing AXS is, and how many technological barriers it crossed, it seems like a revised ergonomic profile is the kind of refinement we should expect.
SRAM AXS Rocker Paddle Pricing
| | | | | |
| --- | --- | --- | --- | --- |
| PART # | DESCRIPTION | MSRP USD | MSRP EUR (incl. VAT) | MSRP GBP (incl. VAT) |
| 00.3018.289.000 | EC AXS SRAM Right Hand Controller with Rocker (Includes Discrete Clamp) | $200 | €200 | £200 |
| 00.3018.290.000 | EC AXS SRAM Right Hand Rocker (Includes Lever, Spring, Pivot Pin) | $20 | €20 | £20 |