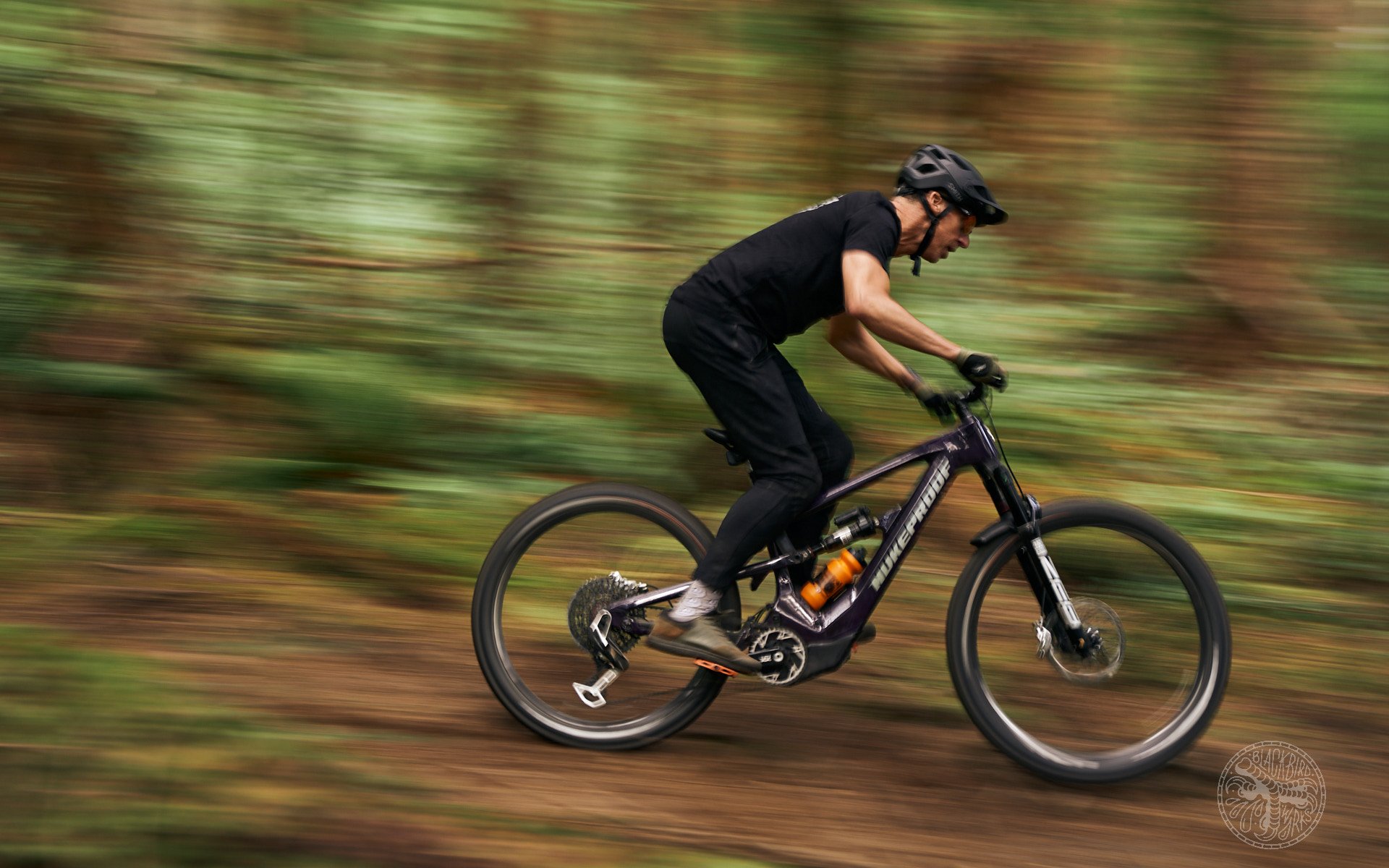 First Ride Review
SRAM Introduces Powertrain eMTB System
I guess we should have seen it coming. Just like we should have seen T-type coming. The idea that SRAM was producing a universal derailleur hanger as some sort of philanthropic endeavour seems a little farfetched in retrospect. It does mount more securely and improve the performance of every derailleur that gets bolted to it, SRAM or otherwise, but it's clear this was more than just benevolence. UDH has benefits for everyone, and that's great, but that now seems more like a bonus feature; SRAM wanted bikes to be UDH-ready so they were also Transmission-ready. That's not a slight. That's acknowledgement of a savvy business move.
And now we see what Transmission was really about as well. Again, it's a system with benefits for any rider who wants to drop the cash and experience shifting that actually improves under load, but it's also clear that integration with an electric motor was always part of the plan.
And SRAM Powertrain certainly is integrated. If you have the pods that control SRAM's AXS derailleur and seatpost, you have what you need to control the Powertrain system. The pods are used to dictate what mode you are in, turn Auto Shift on and off and adjust that system on the fly to mesh with your preferred cadence. The parallel nomenclature is not coincidental; Transmission was designed with Powertrain in mind.
None of this is sinister or unethical, and the order of releases, first UDH, then T-Type, and now Powertrain, had to happen in that sequence. For consumers looking for an intuitive, easy to use and understand eMTB motor, battery and controller system, SRAM Powertrain looks like a solid solution. Still, having the wool pulled over is never a good feeling, even when getting duped may be in the best interests of some of us.
SRAM Powertrain Highlights
Brose drive unit - 90 nm peak torque, 680-watt peak power
Two power modes: Rally and Range.
Two batteries available: 720 Wh (4.1kg/9lbs) or 630 Wh (3kg/6.6lbs).
720 Wh battery charges in 5 hrs, 630 Wh version charges in 4.5 hrs.
All controlled by SRAM Transmission shift pods (no extra controller needed).
Bike manufacturers can mount the battery to be removable or semi-fixed.
Auto Shift will select gears based on data collected by the system and can be adjusted to suit your preferred cadence.
Coast Shift allows you to manually force a shift while freewheeling by turning the chainring for you in times when pedaling isn't wise.
AXS Bridge Display provides power mode, battery life and Auto Shift mode info.
Available 250 Wh range extender.
Current brands featuring SRAM Powertrain: Transition, Nukeproof, Propain and Gas Gas (models not yet released).
A SRAM Motor?
Chris Mandell, SRAM's North American PR Manager (and much more) was pretty clear that this motor is made byBrose.* The name is right on the side of the power unit, beneath SRAM's word mark. In terms of hardware, apparently it isn't radically different to other Brose motors. Which may mean it's identical. SRAM's contribution was in software, controls and integration, making the motor interpret inputs in a way that best suited the company's goals, and making it all work with Transmission.
*Pronounced Bro-suh
Inaugural Brands running Powertrain
There are four bike companies spec'ing the entire Powertrain system: Transition, Nukeproof, Propain and Gas Gas. None of these models have been released yet but I can tell you I was very impressed with the Nukeproof Megawatt I tested the system on. It handled the first wet conditions of the fall really well and had a very natural and balanced feel. More importantly, it never held me back.
Integration
Unlike Shimano, Bosch, or even other Brose motors, Powertrain can only be used and controlled with SRAM Pod controllers. Every other system I know of has a controller that is independent of the drivetrain and seatpost. You could still use a cable-actuated SRAM or possibly even Shimano drivetrain (this may need some tinkering), but you'll still need at least the right side SRAM pod controller and you won't get Auto Shift or Coast Shift unless you have Transmission. You can get away without the left hand shifter, if you opt for a cable-actuated seatpost, because the button on the display will change the power mode, which is all the top left hand pod button is responsible for.* It's clear, however, that SRAM wants you to be using Transmission if you are riding a Powertrain bike.
*without the left hand pod, it seems you would also lose access to Push mode, which helps you move the bike uphill in situations where pedaling isn't an option.
How Many Modes do you Need?
You might be wondering how you can control modes when there is only one pod button left over once you have accounted for your seatpost and the up and down shift buttons for your rear derailleur. The remaining button, on the top left hand side pod, does the mode controlling while you are on the trail. This works because SRAM has only programmed two pedaling modes into the system: Range and Rally. You can guess what each does immediately, unlike the modes in the Fazua motor used by Transition and Santa Cruz (Breeze, River, Rocket and Boost). There is also a walk mode, which SRAM calls Push, that is engaged by holding down the same upper left side Pod button.
This is probably the biggest departure most riders will notice, considering some other bikes have as many as five modes and none that I've ridden have fewer than three. I know many riders who use all of them on most rides, and some who rarely use the most powerful mode.
If you are in Rally and you hit the top left pod button, you'll switch to Range, and vice versa. This is easy and intuitive, but it seems to me many riders will want more. While Range is the lowest power mode, and is clearly positioned to give you longer battery life, on he bike I rode it wasn't set to an equal level to the lowest power mode on other systems I've used, like Shimano's Eco. Instead it was somewhere between Shimano's Eco and Trail modes and not dramatically less powerful than Rally. Once the app is available, riders will be able to tune both modes up and down with Rally mode being tunable between 550 and 680 watts and Range mode between 70 and 540 watts. Most riders will be able to figure out where they want their two modes to be, and in a pinch, if range anxiety kicks in, you will be able to use the app to tune that lower mode to help get you home. It won't, however, be as easy as clicking a button once or twice, or even three times.
Riding Powertrain
I only had one day to ride Powertrain but we managed to suck the marrow out. Deniz had injured his shoulder the day before so instead of joining us for the ride and snapping photos as we went, he was on foot. We met him on lower Seymour to get some product and riding shots and afterward began climbing to the top of the mountain.
Riding Auto Shift
On the way up I tried the Auto Shift function. The system uses real time data to determine the best gear for the situation, based on your personal cadence preferences, which can be adjusted on the fly. Engaging the system is easy; a long hold on the upper right AXS pod button turns it on in the medium setting. If you'd like to adjust the target cadence up or down, you long-hold the lower right controller and then use either button to increase or decrease the value between 1 and 3 levels. This means you can be + 1 to +3 or - 1 to -3 from the M cadence value, meaning there are a total of 7 cadence levels.
The first section we rode was the Baden Powell from Indian River road to the outhouse on Mt. Seymour road, part way up the mountain. The climb is a series of punches with lower angle sections in between, and this pattern is relentless. As Chris pointed out, the system can't anticipate what is coming; it is only aware of what is happening in the present so you can easily find yourself in the wrong gear, at least momentarily, as the terrain changes. There is a solution, however.
At first I needed to train myself keep my hands off the shifter so I just put up with those wrong gear moments. Once Chris reminded me of the override function, I began to use it, shifting in advance of steep sections and any time when I felt the gear selection didn't match the terrain we were coming to or had already arrived at.
Part of my struggle was a symptom of SRAM's AXS post line up, that still fails to include a 200mm or longer post, so I had the 170 set too low to deal with the effort required when pushing a gear that was a little too big. Once I pulled out my tool and raised my saddle, things improved, until the descent when I lowered it again.
As Chris was explaining Auto Shift, and how you could override the system when it doesn't match the situation, it made me think of cruise control in a car. Or at least older cruise control, since so many new cars have adaptive cruise that will brake when you follow too closely behind the vehicle ahead. They won't however, automatically speed up when you need to pass or accelerate for some other reason. Fortunately, any touch of the gas or brake temporarily overrides the cruise, just as hitting the shifter does when Auto Shift is on. This combo of manual and auto works well, but I'm not sure it was better than controlling the shifting myself in a situation where the pitch changes rapidly and frequently over a significant distance.
In other situations Auto Shift worked well, even downhill. A bonus when descending is that you can also use Coast Shift. If you are hurtling downhill and rapidly approaching a punchy climb, you can use the pod shifter and change gears without pedalling, since the motor will turn the chainring for you. This will be particularly useful if the descent is challenging and you are unable to turn the cranks effectively or are afraid of banging a pedal. The Coast Shift function can be used when Auto Shift is turned off as well but it must be enabled on the app, which I wasn't able to use at that point.
A SRAM Advantage
The biggest plus I see about choosing a SRAM system versus some others on the market is after sales support. SRAM has been ramping up their ability to provide service locally in many parts of the world including here in B.C., meaning your bike or motor shouldn't generally need to be sent somewhere far from where you live, should you require some technical or warranty service.
More on the Ride
In terms of power delivery, Powertrain has a less abrupt engagement on the first pedal stroke than most others I have tried. This is likely a positive for newer riders of eMTBs, or when grip is compromised, but I have become used to a quick ramp up and I feel like I can use it effectively in spots where it's tough to get going. Traction was a stand out for Powertrain though on a couple of tough climbing sections.
Overall I was impressed with the manners of the system and, independent of Auto Shift, found it very easy to get along with. There was lots of power when I needed it and the delivery felt natural and smooth.
I didn't charge the bike so I can't comment on the plug and as far as the display goes, unlike other systems, I never looked at it while riding.
Powertrain Pricing
There was no information on what this system costs at this point, for several reasons. The first hurdle is that the bikes that will be spec'ed with Powertrain this year haven't been released yet and, even if we had those numbers, there would be embargoes on that information for now. Beyond that, a SRAM/Brose motor won't fit into a frame designed for Shimano or Bosch motors. Each has its own size and shape and they aren't interchangeable, meaning these are not generally aftermarket products. It's even difficult to price out the difference between this motor and an equivalent bike with another motor, because SRAM Powertrain bikes will be spec'ed with T-type, which means they will already command a hefty premium over a comparable bike with a cable-actuated drivetrain. We do know that this will be a premium spec, even within the pricy world of performance eMTBs.
Just Riding Along
This sounds like a lot, but the system works pretty seamlessly. You can leave Auto Shift off, and stay in either Range or Rally if you like, and just ride your electric bike normally, but with the advantages of SRAM's Transmission, which are ideal for the added power of an eMTB. The Brose motor, notably also adopted by Specialized, is acknowledged as one of the best available and I was impressed by its performance. I was also surprised by how quiet it was, at least on the Nukeproof Megawatt I was riding, which may have isolated the sound better than some others. It's certainly not virtually silent, like the lower-power TQ motor on the Trek Fuel EXe, but it's very subtle when you aren't putting in a big effort, and when you are, it's more of a whirr than a whine. I found it less unpleasant than most.
While there is nothing earth shattering here, it all works very well and I'm looking forward to getting more time on SRAM's Powertrain system in the future.
SRAM Powertrain