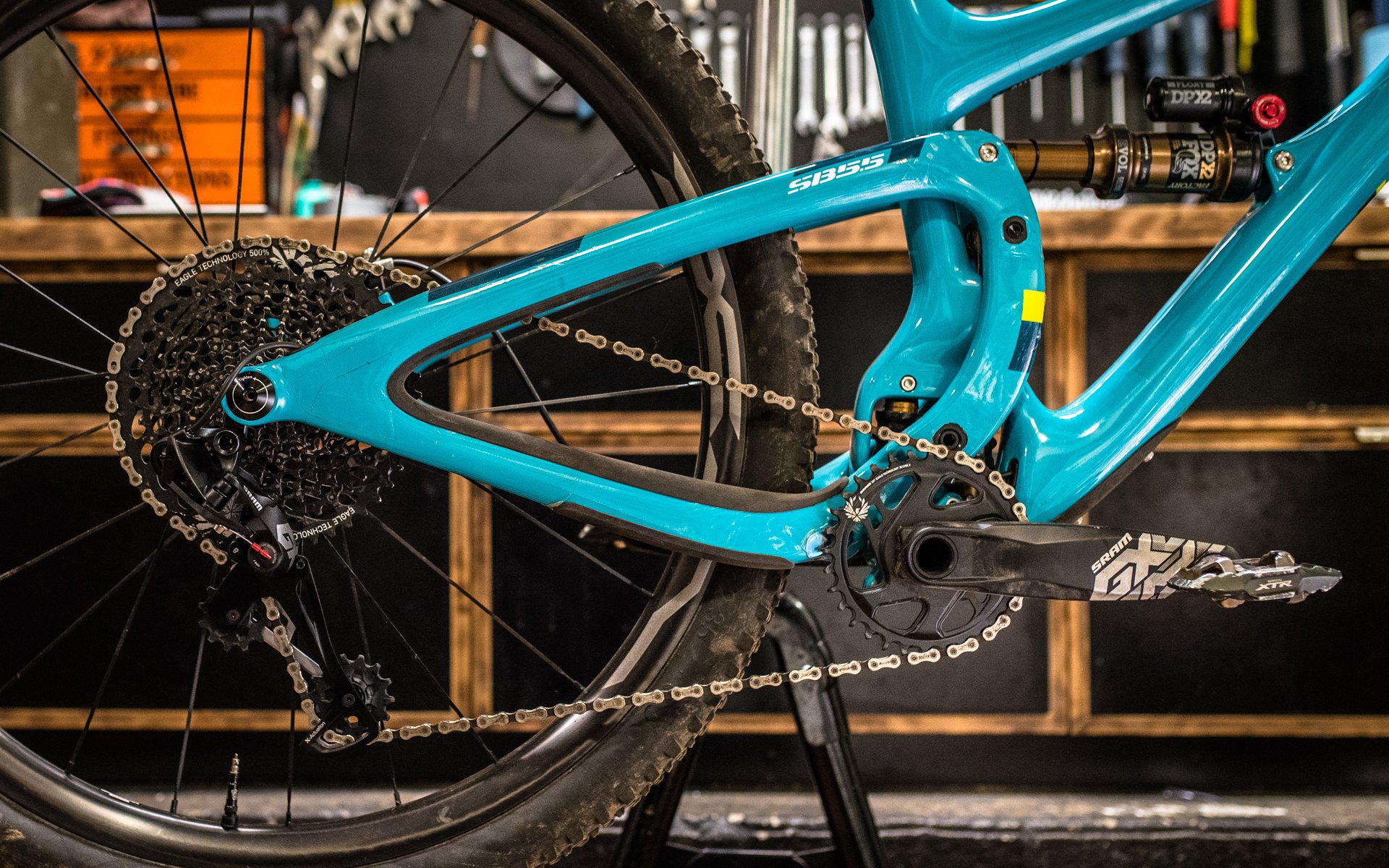 Long Term Review
SRAM GX Eagle Drivetrain; Over the Long Haul
Eagle came in to the same reception most new products get these days; a hail of criticism and cries of "grow some balls" or "if you can't push a 42 get an E bike." This sort of high brow commentary generally stays on Facebook, rather than below our articles, but resistance was strong here as well. The legitimate and understandable anger many riders feel about the continuous wheel size and standard changes mountain bikes have gone through in recent years blinded them (us) to certain realities. Many of those who claimed a 50t was ridiculous missed the fact that you could put on a bigger chainring and get a better top end - you big-legged monsters! Unfortunately logic was no match for fury on social media.  
But then a funny thing happened; Eagle turned out to be really good. Not really good like SRAM's original 1x drivetrains. Substantially better than the original XX1. It is quieter thanks to an improved chain with flush pins and plates (made in SRAM's facility in Portugal), a new cassette, and a radical new chainring tooth design*. Shifting is smoother and chain retention is better because of a clutch that is 20% stronger, you can now pedal backwards without the chain derailing and the upper pulley is no longer narrow wide so it can't de-sync. The chain also has a stronger quick link (PowerLock in marketing speak) that holds things together better than before 

* Which was not the product of drunken whittling
SRAM told the world that durability was a design priority, and some people were unhappy with first generation 1x longevity, but many of us have been surprised by how impressively durable and long lasting Eagle has turned out to be. Those who complained that the cage hung down too low missed the fact that it sits at about the same level as a comparable XT lower pulley.*

*we missed that too
The one legitimate complaint many riders had was all about the Benjamins. XX1 and XO1 Eagle are pricy bike bits. An XX1 Eagle cassette alone will sting you for 420 USD while XO1 is 360 USD.  While GX Eagle isn't cheap (195 USD/cassette) it's a comparative bargain, assuming it works as advertised. For some perspective, you can pick up an XTR drivetrain for 410 USD* online depending on your choices. For the same XX1 Eagle components you're looking closer to 1400 USD, XO1 will set you back 1200 USD, while a GX Eagle drivetrain can be had for 495 USD.**
*Currently out of stock in that configuration
**Note that Shimano tolerates the sale of grey market parts that have been purchased through OE channels for much lower prices while SRAM holds all retailers to the price you'd pay in your local bike shop.
I've put a few months on SRAM's lowest-priced and newest Eagle drivetrain. In fact I've ridden it long enough for the cranks to become obsolete. In the course of testing other bikes, I haven't spent as many hours as I'd hoped on GX Eagle, but it has given me the opportunity to compare it back to back with XO1 Eagle, which is half a step below the top of line XX1 version, on a Santa Cruz Hightower. 
I did have one mishap with GX1. I was riding a particularly loose and loamy trail and a stick caught in my rear wheel preventing the cassette from freewheeling. This caused the chain to yank the derailleur back while pulling the cage forward as the chain became shorter. This was accompanied by the sound of a typewriter being fed into a woodchipper. I feared the worst but a few tugs allowed me to continue my ride with 8 of the twelve cogs still serviced by the bent changer. I was astounded that nothing was broken (kudos also to the hanger on the Yeti) and similarly surprised by how much force it took to bend the derailleur back to 95%. This is an incredibly strong incarnation of Tullio Campagnolo's invention. 
While I managed to get it to a serviceable state on the stand, I couldn't bend the parallelogram back to perfect so it was replaced by an XO1 for a time. I immediately noticed there was nothing to notice. The 220 USD version was indistinguishable from the 110 USD version on the trail. There is a weight difference of around 12g or the weight of a AAA battery. The XO1 has forged aluminum components and a titanium spring (vs. steel on GX) but my experience has made it clear that the GX version is impressively robust.
Shifting is light and precise and responsive even under power. The system is as quiet as higher-priced Eagle drivetrains, and much quieter than Shimano XTR, and it also seems impressively durable. I was talking to a mechanic at a local shop today and he told me that his hard riding boss used to go through 2 or 3 drivetrains a year when he used Shimano but it's been over a year since his swap to Eagle and he's still riding the same bits without issue. Thus far I've experienced no loss in performance and no noise increase after months of use. 
What to say about the cranks? They aren't DUB so there isn't much I can say because shortly this version will no longer be available. These cranks are available in both 24mm and 30mm axles and I wondered, since I didn't install the cranks, if SRAM had begun supporting 30mm spindles and PF92 bottom brackets. I just pulled them though and they are 24mm and the bottom bracket is spinning smoothly. Stiffness has been good and to my eyes they are decent looking as well. The cranks weigh 610 grams with a 30 tooth chainring and no bottom bracket. 
Overall GX Eagle weighs about 240g more than XO1 Eagle (before DUB cranks are factored in) and costs less than half as much. Performance however is virtually identical. Like the other Eagle drivetrains, shifting is quiet and precise, the range is all you will ever need and the components are tough and long wearing. If weight is more important to you than cash then stick with XX1. For the rest of us GX1 is the ticket.
Click here for details on the individual components...