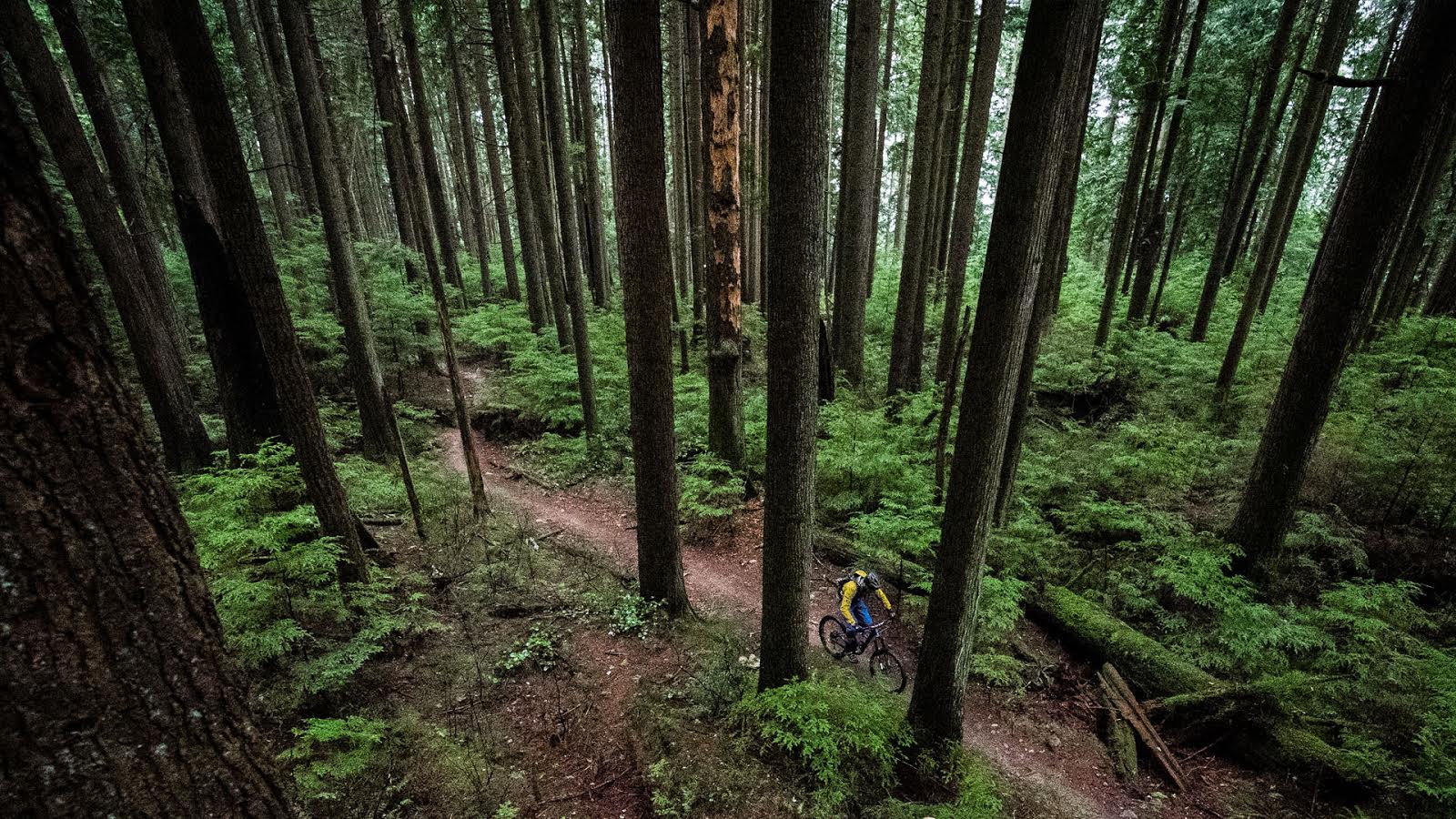 Transition Patrol Carbon vs. SRAM Eagle
SRAM Eagle has come to roost and it brought with it a tasty looking Transition Patrol Carbon. One of the most talked about new bikes of 2016 meets SRAM's latest entry in the drivetrain wars.
I've spent some time on our latest long-term test platform to dig into the more technical elements, like the SRAM ROAM 60 wheels and Lyric fork. Below you'll find some first impressions of the bike and SRAM's top-end componentry and suspension.
The HUGE 50t cog Eagle cog is impossible to miss. The second thing I noticed about Eagle is that you can spin the cranks backward to your heart's content with no derailing in any gears. I cannot understand how losing your chain backpedaling doesn't drive you NUTS but apparently I'm in the minority that is positively gleeful to see SRAM kill my number one issue with 11-speed drivetrains from both Shimano and SRAM.
The third thing I notice about SRAM Eagle is the LONG ass derailleur cage. Thank goodness for 27.5 wheels because on a 26″ bike this thing would practically drag on the ground!
The derailleur's cage is relatively low profile but clearance between an expensive, expansive, drivetrain and technical trail features can be a game of millimeters. I have been worried about tagging the SRAM Eagle derailleur catastrophically. Transition's Patrol Carbon does not use BOOST spacing so we do get a tiny bit of extra rear end clearance compared to many bikes that will be shipping with 12-speed.
Also speaking of Aesthetics. The teeth on the new SRAM Eagle X-Sync chainrings look like someone tried to anodize over the results of some drunken whittling. But hey, whatever works right? (NOTE – We want to make it clear that we don't actually believe the tooth design was a result of whittling, neither drunken nor sober. That was meant to be comic relief. The design was the result of analysis of thousands of worn X-sync rings and is designed to " to work perfectly with the new Eagle™ chain to increase chain retention and overall pedaling efficiency, while decreasing friction, noise and wear" according to SRAM. – Ed.)
First impressions on the actual shifting function of Eagle are very good. Take SRAM's 11-speed drivetrain and add an additional gear ratio is probably the simplest way to describe it. Shifter ergonomics continue to be very good and I like the option to run the paddles close together.
Thanks to the well-proven Horst Link suspension design the Transition Patrol Carbon is a very easy bike to set up. I can't think of a bike I have felt so immediately at home on. I prefer 25% sag, which is much less than recommended, with 20% sag in the Lyrik with two tokens.
The more active suspension design is much more efficient in climb mode for smoother ascents. Other bikes I've ridden recently climb quite well wide open. This is what the shock technology is there for and I'd much rather have to fiddle a knob once in a while and have ripping fun downhill performance than a bike that tries to compromise towards efficiency in the name of running the shock open all the time.
I understand that internal cable routing it here to stay. I know you probably just rolled your eyes and muttered "really, is anyone still whingeing about that?" but can we agree that it seems a lot of companies are still figuring it out?
Transition has gone with a fashionable, low-profile, approach where many companies are now choosing gigantic bolt on windows for access. The indenture and position of Transition's exit point is at the headtube and already I am seeing some light touch marks on the frame. A little bit of clear 3M tape is a very easy solution but this appears to be an issue that could be have been dealt with in the design phase.
It doesn't take more than a ride to start to appreciate why there are so many fans of Transition's new bikes. They're simple to set up and fun to ride. Really fun to ride. I will be very interested to read Tim's long term review after a solid season of thrashing.
Having eliminated range as an issue, SRAM Eagle has the potential to push the last of us front derailleur hold outs over to 1x. Yes, it's more unsprung weight compared to a 2x system; however, it is a simpler system that frees up space for bike designers and allows them to optimize suspension to a narrower range of ring sizes. That's not to say there is any hurry to replace your perfectly function 2x drivetrain if you haven't already, but maybe front derailleur compatibility will cease being a concern with your next bike purchase?
Look for follow-up reviews from Tim Coleman, Pete Roggeman, and myself as we dig into the componentry, test some new 'standards', and ride the piss out of it while Dave Smith takes pictures.
---
Ready to Transition to Eagle?