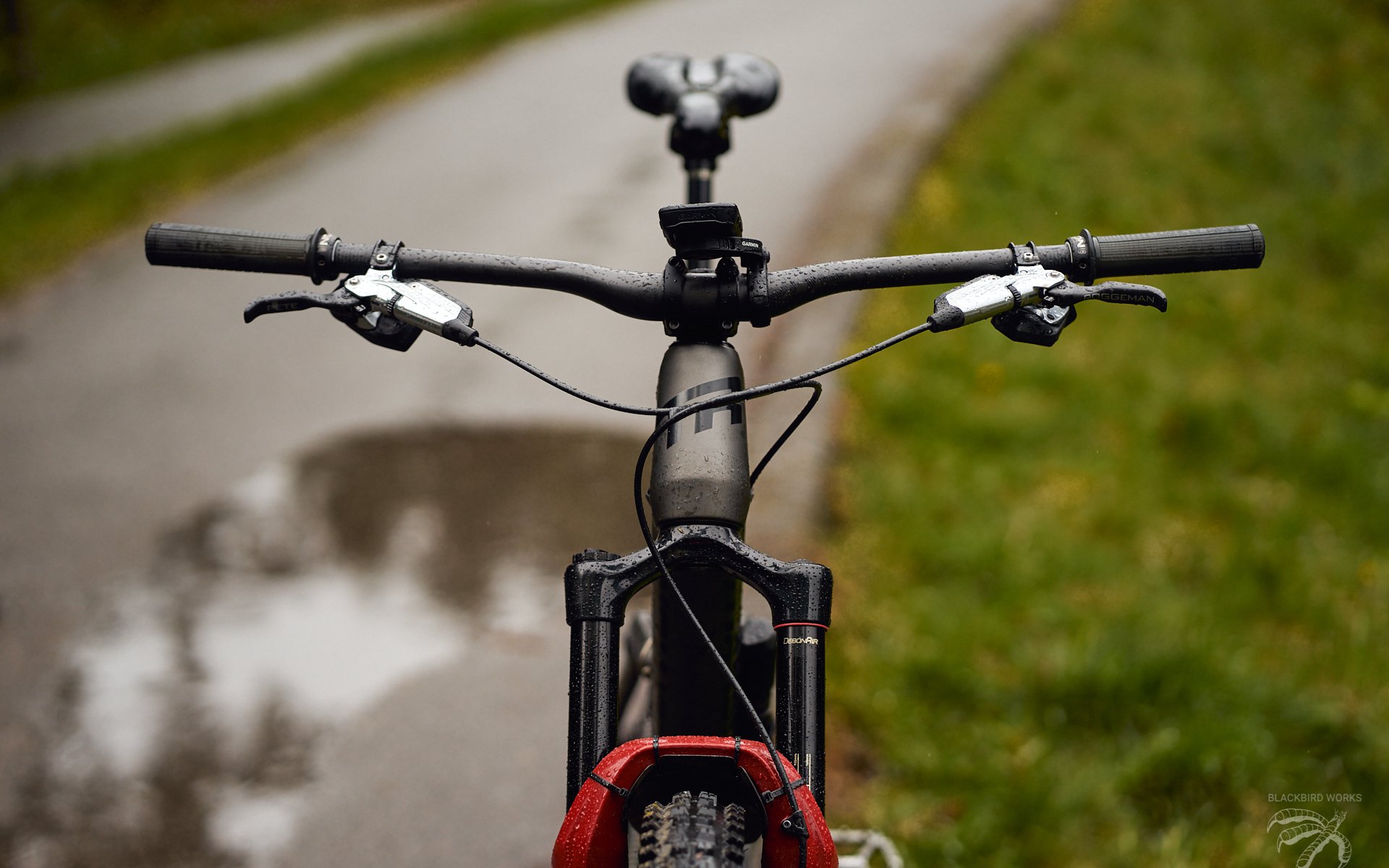 LONG TERM REVIEW
SRAM AXS: a year of wireless shifting
When SRAM released its XO1 and XX1 Eagle AXS wireless drivetrains - as well as the RockShox Reverb AXS Dropper post - reactions were predictable. On one hand, it was celebrated as a marvel of technology. On the other, it was predictably expensive, and detractors pointed out that cable-actuated shifting and dropper posts worked fine, thank you very much. Better than fine, in fact: in early 2019 SRAM was still the dominant 12-speed drivetrain player with fantastic 50-tooth talent across all price levels from XX1 all the way down to NX, and Shimano had released (if not yet delivered) its mighty 12-speed XTR group, whose XT and SLX cousins were only a matter of time. In other words, the MTB drivetrain landscape was in a pretty sweet spot, and now here was SRAM telling the market that they'd raised the price ceiling with tech that most people didn't need.
That didn't mean they didn't want it, however. Somewhat surprising to me was hearing that while SRAM could also easily predict the market's reaction to AXS, they really had no idea about how well it would sell. They needn't have worried.
Electronic shifting was nothing new to mountain bikes, and SRAM had already brought wireless shifting to its road groups by that point, but still - seeing a bike for the first time without shifter or dropper cables (or hoses) was memorable. Years of improvements in internal cable routing and therefore bike aesthetics (to the despair of mechanics everywhere) still didn't prepare me for the first cockpit I saw with two brake cables and nary another wayward black tube disturbing the peace at the front of the bike. #cableporn fanatics rejoiced even if they were forced to exchange more for better.
The first ride was, of course, very interesting and informative. You can read about my first impressions with AXS to get the longer version, but the main takeaway was that if SRAM had set expectations high for what AXS could do, I quickly realized that not a single word of what they'd claimed was bullshit. It was every bit as good as their breathless PR led us to believe. That first ride, however, was a very controlled environment - I was riding with North Vancouver-based SRAM marketers Tyler Morland and Ross Measures, on a bike they'd set up, and they were there in case anything went wrong. The true test would have to wait until I got a group installed on a test mule and gave it a proper wringing out over a longer period of time, complete with lots of abusive behaviour like putting it away dirty, or doing the opposite by pressure-washing it, shifting poorly, shifting under load, running the battery down...you get the idea.
That mule was a Mk 1 Transition Sentinel that ably served as an AXS test bed for several months. And then we got word that a new Sentinel was on the way, so I ported the build kit over to the new chassis. I didn't build the first Sentinel, but I did put the second one together, which gave me a chance to experience first hand how incredibly easy it is to install a SRAM AXS Eagle group onto a frame. It goes like this:
Bolt on the shifter - 1 minute max (even if you drop a bolt on the floor and have to look for it).
Set the positioning of the paddles - 2 more minutes, give or take.
Bolt on the derailleur and run the chain - call it 3 minutes.
Set three limit screws and pair the shifter and derailleur together - 5 minutes max.
Use the trim function on the shifter (if it's even necessary) - 1 more minute
Go and ride.
That's, uh...12 minutes. And when I moved everything over to the new Sentinel, I didn't have to touch the limit screws or the trim, but I did need to tweak the B-tension, which is super simple with SRAM's new handheld guide - in fact it takes all uncertainty out of the job. You do, however, need someone else to help you do it quickly and accurately. Conclusion: Eagle AXS is both far quicker, and easier to set up than cable-actuated drivetrains.
Many AXS owners won't care about the install and how easy it was, but I still think it's worth noting. And that does bring us to SRAM AXS's cousin, the RockShox AXS Reverb which now holds the crown for being the easiest thing on a bike to install other than grips, maybe.
Install shifter.
Install saddle onto post.
Put post into frame. Tighten clamp bolt.
Pair shifter and seat post (as easy as pairing bluetooth headphones to a phone, but no app required).
Why am I bothering to explain how easy this all is? Because in the case of the AXS Reverb, you wouldn't be crazy if you decided to run one post across multiple bikes - you would only need to buy an extra shifter, and then just make sure the post is paired each time you move it over to the other bike. And the AXS Reverb is good enough that some people will be considering this, unless their budget simply allows them to pop for a whole other post.

...if SRAM had set expectations high for what AXS could do, I quickly realized that not a single word of what they'd claimed was bullshit. It was every bit as good as their breathless PR led us to believe.
SRAM Eagle AXS in Action
I've had plenty of time to gather my thoughts about AXS over about a year on the group. We've already covered the fact that SRAM's claims were legit: shifting is faster with a much lighter action than cable-actuated Eagle shifters. It's also more accurate: pop the button once and the chain jumps up or down the cassette. Pop it twice or three times in rapid succession and the chain is in place before your thumb returns to the bar. Hold the button - same thing: multiple shifts are executed with ease and perfect accuracy. These are all settings you can play with in the accompanying app, but in my experience you'll do that once or twice and then not go back to it very often. Decide which button you want to correspond to an upshift or downshift, or whether or not to enable multi-shifts when you hold down a button, and off you go.
Battery life is plentiful. I've let the derailleur's battery run down once - it took months to do - but otherwise I just top it up for 20-30 minutes before or after a ride while I'm doing something else, and don't have to think about it otherwise. Except that one time the derailleur battery mysteriously died. It had worked fine, then I gave it a top-off charge, and the next day it didn't wake up. Unfortunately I didn't realize the problem until I got to the trailhead. This left me in an awkward position on a ride, as it meant I had one battery to split between the rear derailleur and the post and I had to do some swaps to accommodate the issue. Solution for future: I keep a spare charger in my truck so I can always top off a battery if I show up with a dead unit at the trailhead. Alternately, both owning a carrying a spare battery is sensible. The other precaution I now take is to make sure to check my battery before leaving on a ride - and while it's a legitimate complaint that it's another thing to worry about, I would contend that it just becomes part of your pre-ride routine, like checking brakes and tire pressure (just press the small button on your derailleur or seat post - green means you're above 50% charge, solid red means below 50%, flashing red means it needs a charge).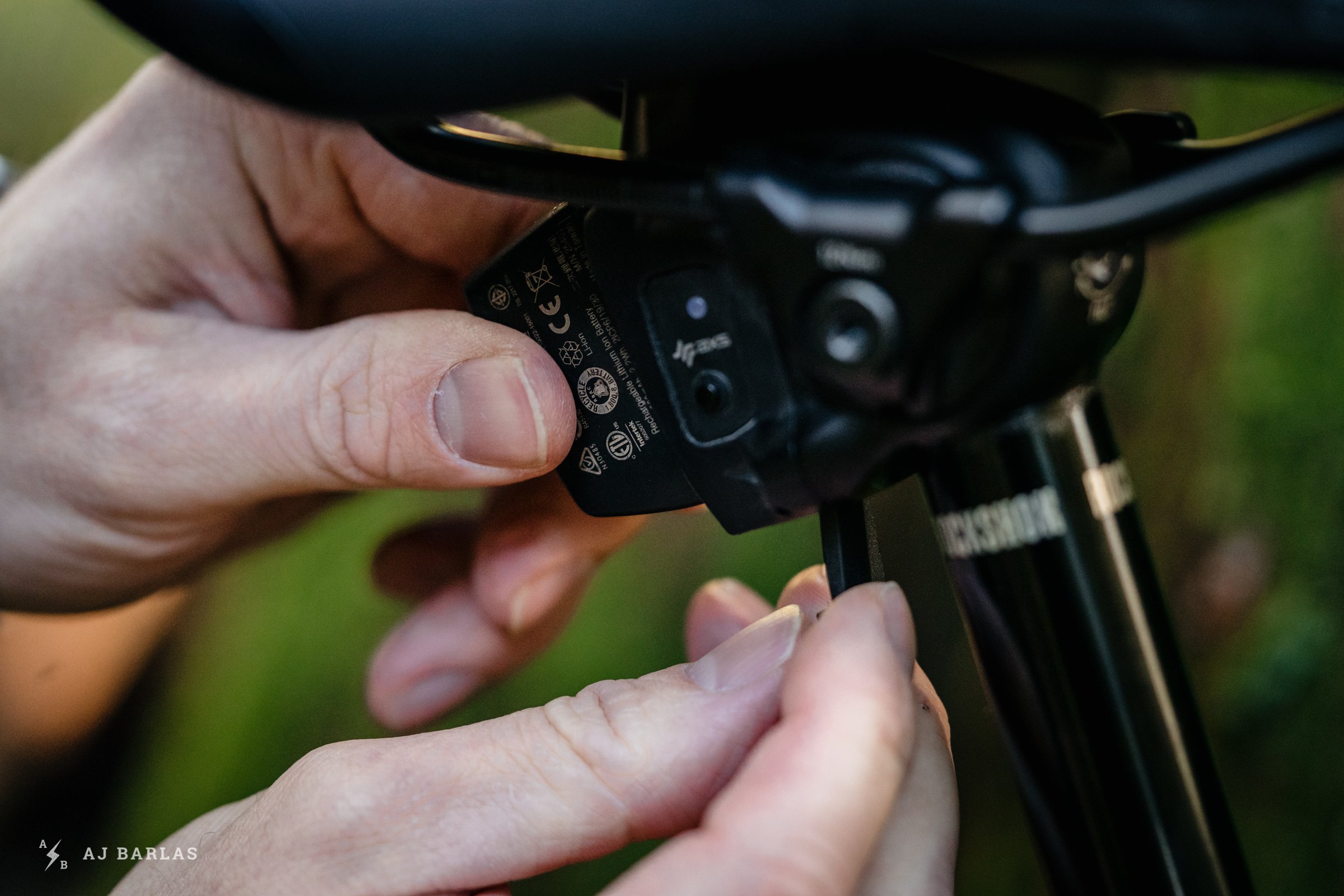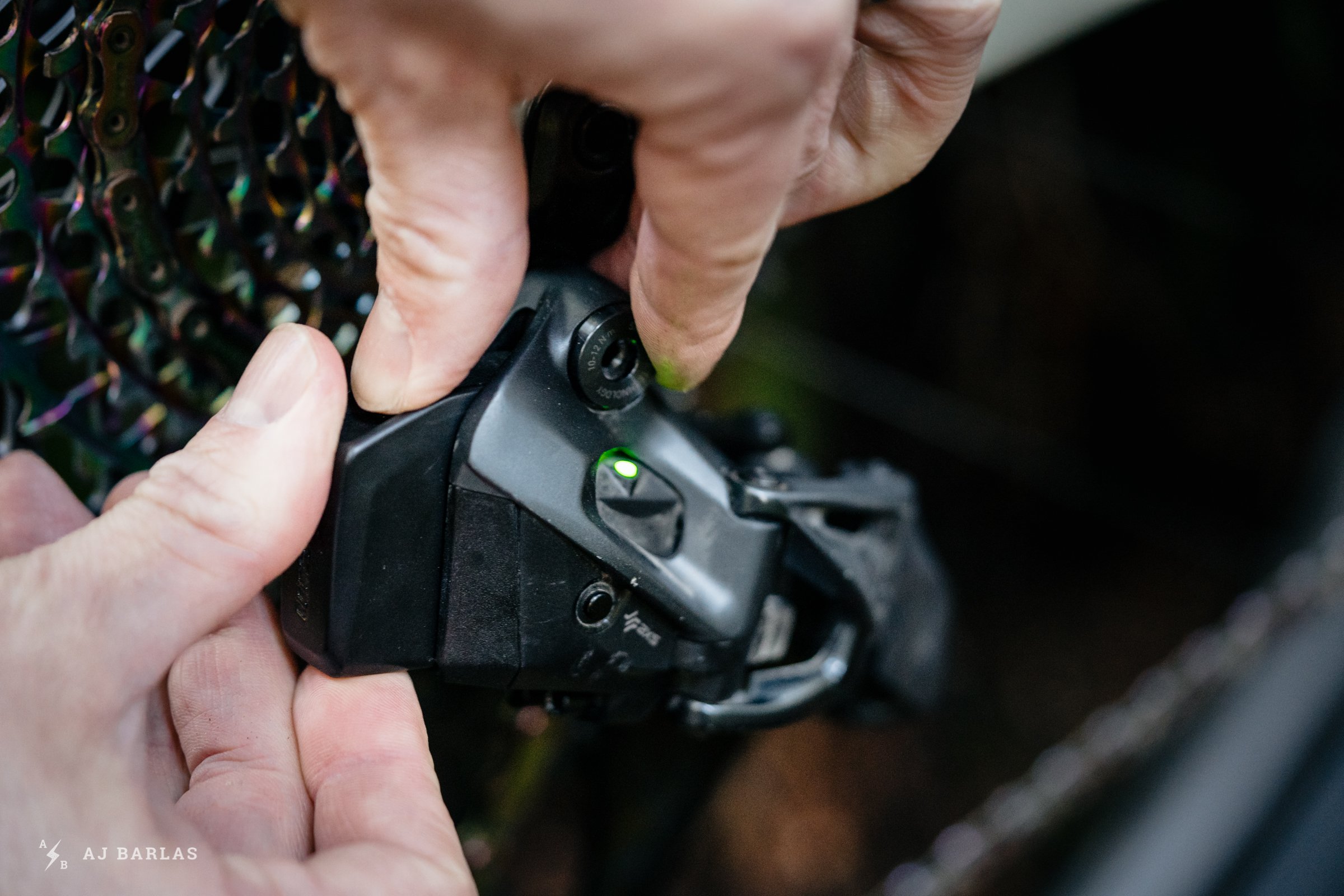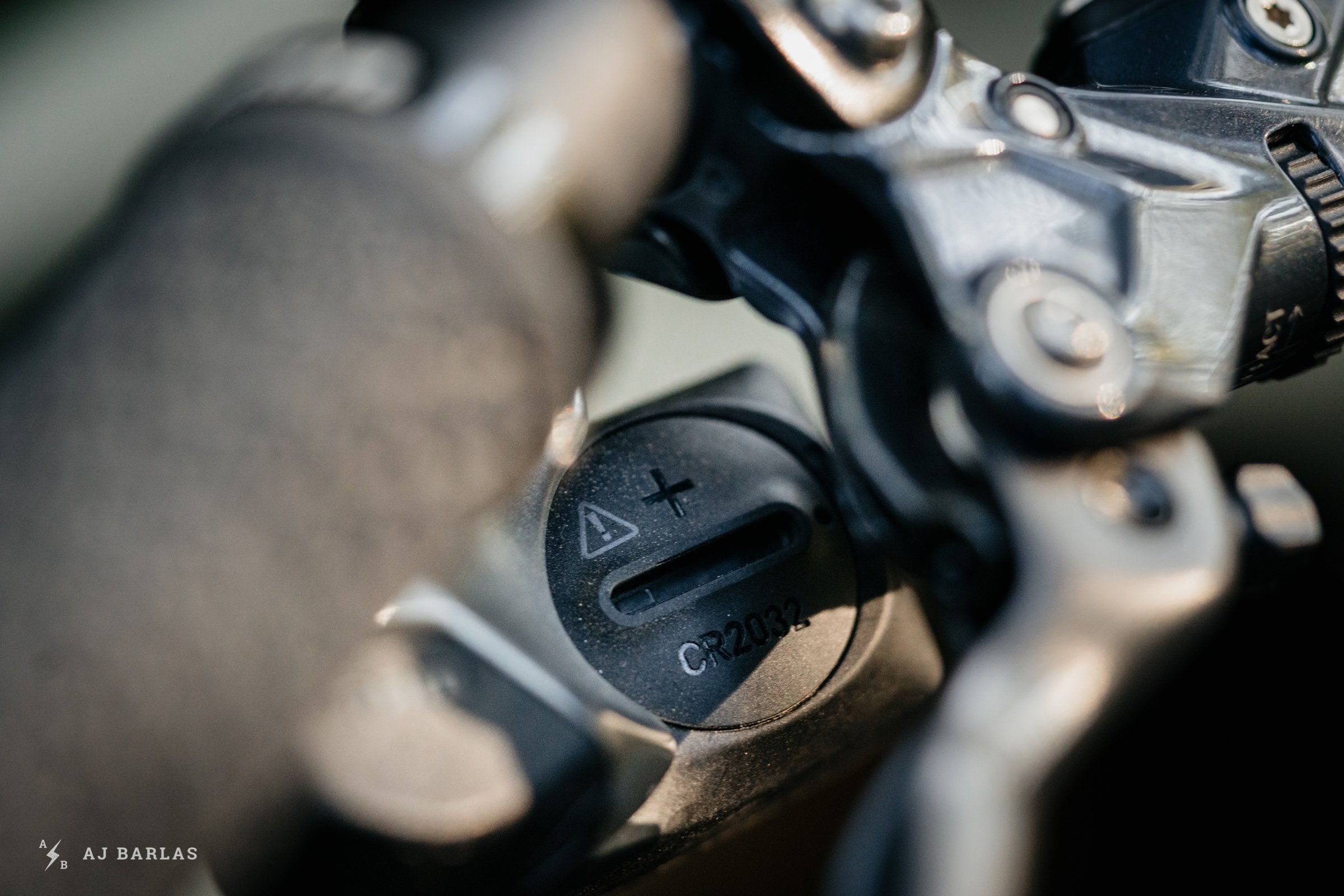 If the speed and accuracy of AXS in use is clear, one thing that needs to be noted is that the ergonomics of the shifter take some getting used to. At first, my brain that was well-conditioned to transition easily between SRAM and Shimano drivetrains had a bit of trouble remembering where to press with my thumb to shift up or down. This resulted in a few mis-shifts and occasional hilarity. Getting used to it was a matter of only a few rides, but it's important to note that the AXS paddle is different than the shifters we're used to. SRAM recently released a revised AXS rocker paddle that only costs $20, which I prefer to the original.
So Eagle AXS is fast, accurate, removes visual complexity from your bike in favour of technical complexity, and is certainly a net performance gain for those willing to fork over the $1900 US MSRP for an entire XO1 Eagle AXS groupset, or $1,000 for an upgrade kit consisting of AXS derailleur, controller, charger and battery (although you're likely to find discounted Eagle AXS pricing online, at least on complete groupsets including crank, BB, and cassette).
One huge glaring red flag is the risk of smashing that $700 derailleur on a rock and ruining it. Fairly concerning, I'd agree, and perhaps the one place I thought a long-term test might expose a glaring weakness in Eagle AXS. But SRAM's engineers cleverly included an overload clutch. What that does is detect an impact from the side and automagically moves the derailleur inboard. You can replicate it yourself by giving the derailleur a sideways whack (be a bit careful). Right before your eyes, it'll pop in towards the cassette, and then pop back out again. Of course you could still smash the hell out of it and cause terminal damage, but have a look at the condition of my AXS derailleur in the photo below. It's taken a beating and still shifts perfectly. I don't know if that's worth $700 or not - but I can say that I'm really impressed with how durable that unit has turned out to be, and that I would have likely had to replace it once or even twice if it were a GX or XO1 derailleur.
Conclusion
After a year on SRAM Eagle AXS, I am continuously struck by how well it works. It has been used hard, never babied, and has not complained once. The only issue I've had was the one time the battery seemed to crap out mysteriously - and a quick visit to the charger fixed that. Otherwise, it has shifted with remarkably consistent speed and accuracy, and the durability of SRAM's XO1 components - chain and cassette most notably, but also the remarkable AXS derailleur - is well intact.
The cost of bleeding edge technology is always hard to swallow, and although I'd argue that Eagle AXS is actually not that much more than a XX1 or XO1 groupset when you factor in the technology that's included (or the fact that you can get an entire XO1 Eagle AXS groupset for $1,520 US online right now), the reasons not to spring for AXS aren't hard to conjure: existing high-end drivetrains are already incredibly fast, accurate, and durable. We're not lacking for performance even as we go down from XO1 to GX. For some, however, the technology is fascinating. Nothing about AXS changes which camp you belong to: it may contribute joy to your rides, whether you appreciate the cleaner looking bike, the faster, more accurate shifts, or the knowledge that robots are riding shotgun. Take heart if this isn't you, however. If you live to min/max your bike's performance, your money is better spent elsewhere, but then, you already knew that.
Is it for you?
I can't wholeheartedly recommend that everyone buys it, obviously. But that doesn't mean I don't recommend it. It's a marvel of technology that works as advertised. For first generation technology, that's a remarkable achievement. Marrying finely-tuned wireless tech with the rigorous demands of technical mountain biking is a bit of an insane ask, frankly, but it's also a direction more and more brands are exploring as they seek a new edge in the progression of our sport. Not many will be able to execute the feat that SRAM has pulled off with AXS. I share your hope that they figure out a way to trickle it down to lower price points, but that also is not as simple as trickling down tech in other bike components, because it's not a matter of swapping out higher-end materials for lesser ones - it's the technology that costs a lot with AXS.
You definitely don't need robots doing your shifting for you, and I don't feel sad when I switch back to a bike that doesn't have AXS equipped. But if the technology intrigues you and you can afford it, I can say with confidence that you won't regret it.