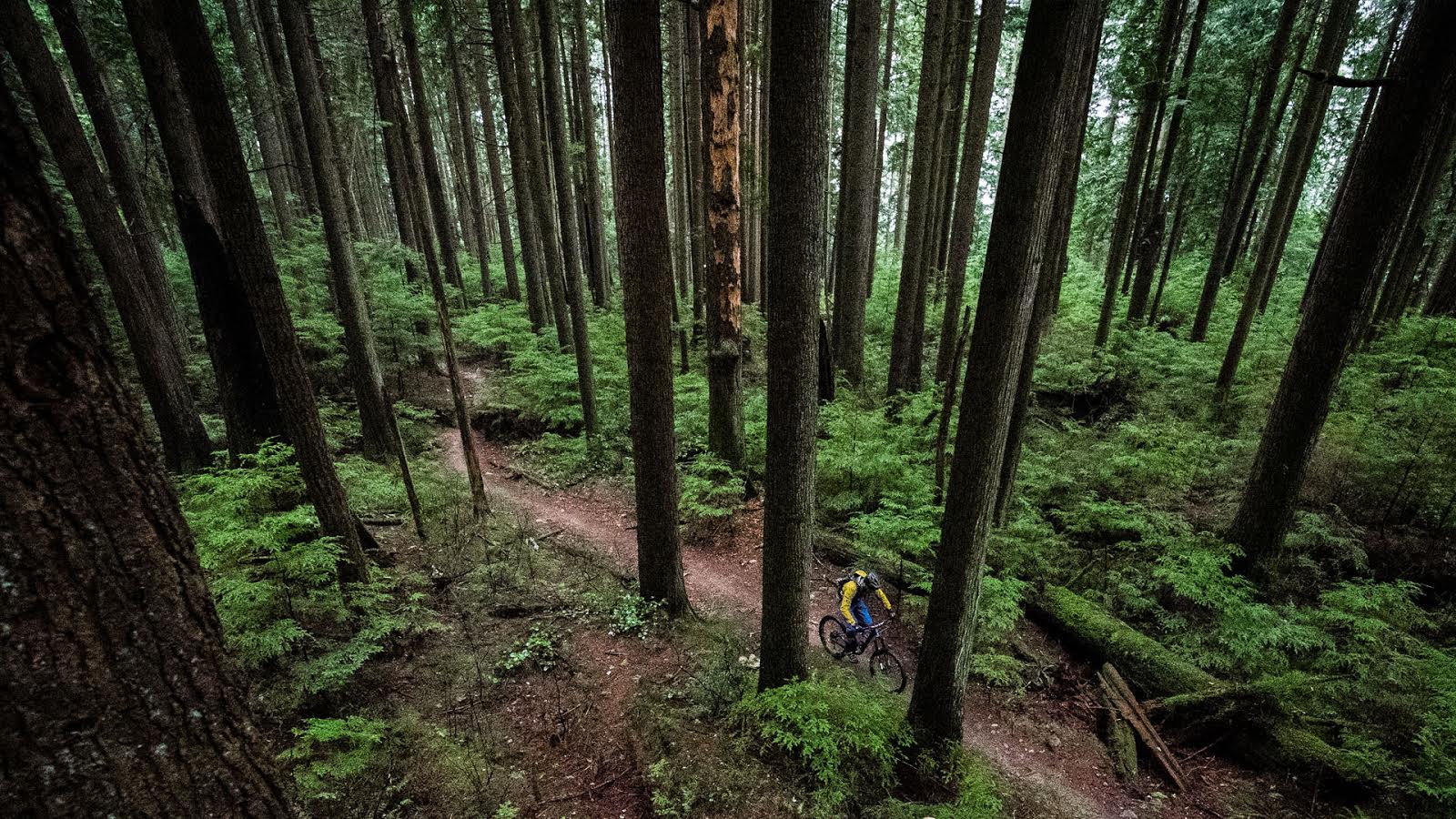 SR Suntour Auron RC2 – Reviewed
For us oldtimers, SR Suntour has a history. For me, that history is not a good one. When I started riding bikes, the good ones came with Shimano. The ones that the poor sucker down the street rode came with Suntour.
Those who go back a long way in the bike business will tell you that Suntour was a real innovator, but they really stood apart because of the level of quality and durability of their products. The Auron tested was the 160mm travel, 650b wheel RC2 (a rebeound damping adjustment as well as high and low speed compression damping) variant.  It uses a 15mm axle with an innovative, easy to use and functional quick release mechanism.
But other older oldtimers look back on Suntour as an innovative company with revolutionary products. Refinements to rear shifting via finessing of cog design. Improvements to freewheel removal. Introduction of smaller bolt circles to mountain bikes. Twice. They invented the thumb shifter, for goodness sake.
The point I'm trying to make is that history is a strange thing and you probably shouldn't worry about it a whole lot when selecting modern mountain bike components. Enter the SR Suntour Auron fork, in its RC2 15QLC2Ti 27 with 160mm of travel variant (I believe it's a relatively easy internal change to go from 160 down to 150). Which will most likely prove to be neither an early 90's reject cycling component nor a mid 70's cycling innovation.
Cable routing and retention gizmo is simple and tidy.
First Holding Impressions
This review came about largely because the powers that be got sick of me complaining about the crappy OEM forks mounted to the front of test bikes. It was an effort to shut me up. Opening the box up, their plan seemed like a good one. This is a really well built product. Everything feels significant and looks like it is worth more than it is. The knobs (Hi and Lo speed compression, rebound) are all made of metal and have nice, firm detents. The cable routing is clean and the axle is a technical masterpiece.
On the less visible side, you have a sealed, easily swappable cartridge damper in one leg, and an air spring in the other. Without the steerer cut, it weighs within a scale calibration error of 4 pounds (confirmed by others…just not by me) depending on your options. All for around US$700 (tracking down a firm MSRP on forks seems to be tricky). If you're looking for a nice fork to hold and fondle, look no further.
Axle closed…
Axle closed. It takes a few minutes to figure it out. But just push and twist and you're good to go.
First Riding Impressions
Unfortunately, these happy vibes did not carry over to the first ride. To cut a long story short, out of the box, the fork is way, way too progressive. Bottomless like a fiery pit into the depths of hell. Set the fork up with a reasonable amount of pressure and you won't use the last 1/3 of the travel. Set it up to use full travel and you've probably sagged through half your travel.
Fixing it up
So a quick e-mail was sent to Suntour and a quick response was received. Trim 10-15 mm from the spacer under the top cap. Give it 60 psi or so. Back the high speed compression right off. Set the low speed compression at 5-6 clicks in. See how it goes.
I was surprised that this little trim could make so much of a difference, but it really did.
And then…
And then I never touched it again. It felt great and meshed with my riding style and fork preferences. Supple enough (for me) off the top on the small stuff. Enough oomph to handle the big hits without unnecessary bottoming. And stiff enough to not really notice. It got the job done with no fuss and no muss and is a huge, huge improvement over the lower dollar OEM…ummm….stuff that came off two separate bikes (from two separate fork manufacturers). Comparing it to other forks, directly before this test I spent time on a high dollar, new-and-improved Fox 34. The very one described here. The Auron easily holds its own in comparison, but manages to be a good US$300 cheaper.
Which leads to my giant caveat. I have not ridden the new Pike, which seems to be the consensus pick for this style of fork, so I have no comparison to the market leader in this segment. Sorry about that. From Morgan's comments in the above linked article, it sounds like I may be missing out on a world of plushness. But this fork will keep US$300 in my pocket.
Everything feels substantial and well built.
We'll use another awkward transition and digress into a discussion about fork testing. Shit – testing in general actually. Having to put my judgement of a product down on (Internet) paper scares me. It's easy to come up with a "good" or "bad" verdict on a product. It's a lot more difficult to figure out the cause of said verdict, and then write about it in a semi-coherent fashion that can stand up to the hordes of Internet shit tossers. Some products lend themselves better to quantifying these differences, but my honest opinion is that it's really hard to do an effective job of testing suspension forks without access to world cup level suspension telemetry equipment, or at the very least access to several well tuned forks that you can ride back-to-back-to-back down the same trail under the same conditions.
Ya, you can probably describe which fork feels better on the small bumps. And you can probably figure out if the fork is bottoming harshly. Or if the damping is way off. Outside of these extremes, it is harder to quantify, and almost impossible to see. So, to me, fork testing becomes about eliminating negatives. Does it ride low in its travel? Does it bottom out unnecessarily? Is it harsh on small bumps? Does it flex like a noodle? Is it devoid of adjustment? Is there any other weird shit going on? So I deem this product to be good because it subjectively answers no to all of those questions. For me.
This is a big tire and there is plenty of room for more.
The not good
So yes, this is a good fork. But what should Suntour do to make a great fork? Suntour talks about serviceability, so I'd love to see some detailed maintenance and tuning information to go along with that. There's no info yet on the website and you're kind of flying blind if you need to figure any of this stuff out.
Next, the sweet spot for compression settings seems to be closer to the open end of the spectrum, leaving a lot of clicks on the table. Suntour claims 2015 forks are coming with softer springs inside the cartridge, which is supposed to do just that. Other reviews have harped on the lack of plushness through the initial stages of travel. Like I said, I'm fine with it. Suntour claims to have a softer negative spring which hit sometime in 2014, so this should probably solve some of those complaints.
Lastly, changing the size of the volume spacer had a huge effect on the fork (I took 12 mm off and could probably shave a bit more and still be happy). But there's no going back. Suntour really needs to jump on board the travel chip bandwagon so that you can play around with this a bit. And it might be a difficult pill to swallow for consumers to know that their first ride will probably suck and they'll have to get out an exacto to rectify the problem. The stock set-up should be better.
In conclusion Should you buy this fork? It's built well, works great and looks nice. It will easily outperform your lower spec OEM fork and can hold a candle to much more expensive forks. If you're shopping for a 150 or 160mm travel fork and cost is an object, the Auron should make your list for consideration.
---
After the two-horse fork race in recent years it would be great to have players like SR Suntour in the game. Will they be able to challenge Fox and Rock Shox?