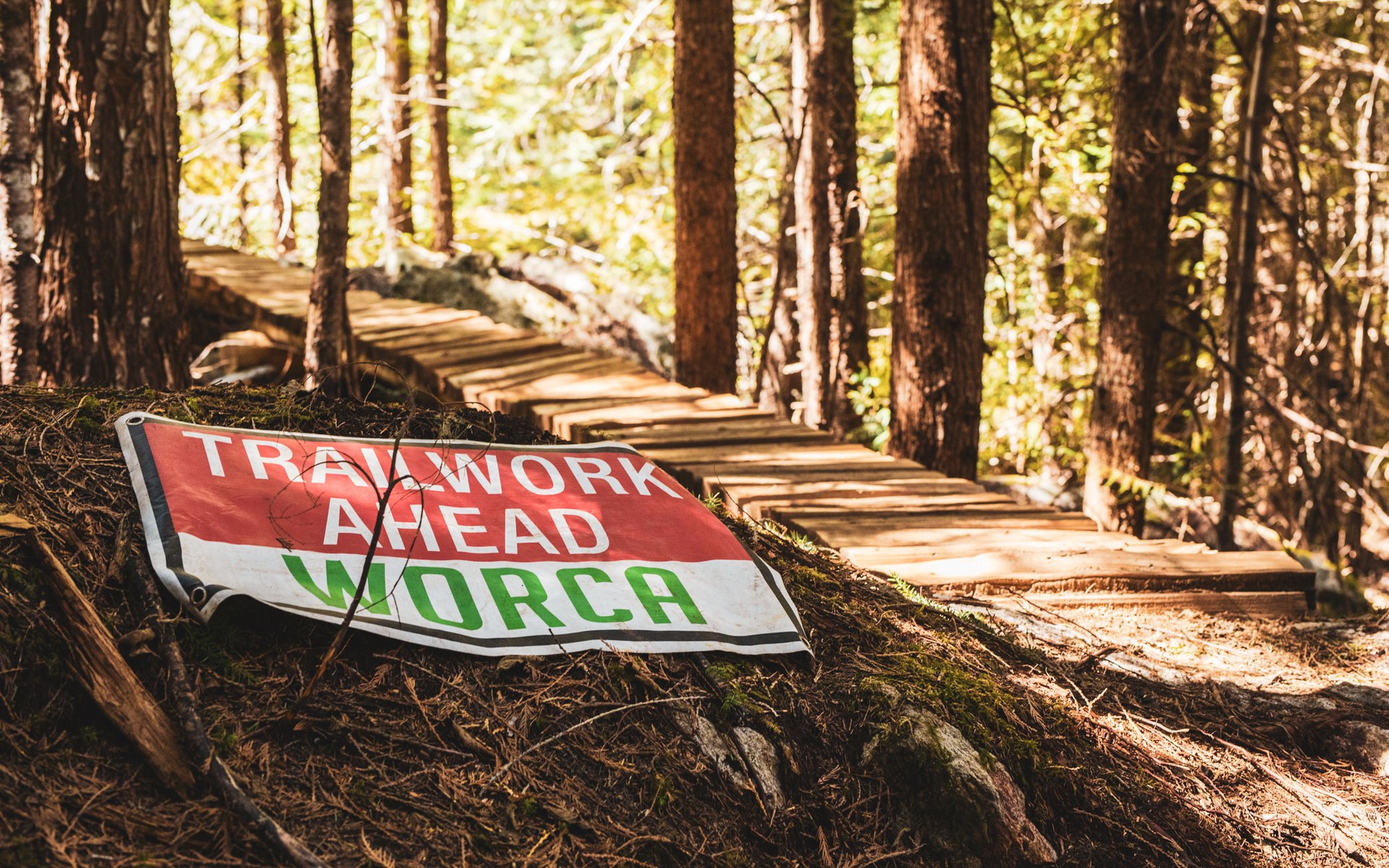 EDITORIAL
Spring Trail Riding Etiquette
Whistler Spring Etiquette
It's unusual on the North Shore to have to fully put away your bike in the winter season. Sure, there's some snow that falls, and there are times when riders should take a break because the rain and slush make the trails vulnerable to damage, but in a number of areas surrounding the mountains of Vancouver and even on trails at higher elevations in this region, the trail networks experience winter to its fullest. Snow and ice cover the ground, concealing those familiar trails until the early spring warmth penetrates even the deepest layers. We wait, catch wind of certain sections becoming rideable, and some dig areas out, and even trek through knee deep snow to enjoy a small ride on bit of dirt. In actuality, these actions do more than just scratch an itch to ride, they can cause long-term damage to trails, creating unnecessary work for trail associations.
The Great Melt is underway in Whistler, freeing lower trails that we've missed since late fall and providing the perfect opportunity to exercise proper spring riding etiquette. While spring riding has been in full force in Vancouver for quite some time, it doesn't hurt to brush up from time to time on how to handle the changing of the seasons. What actions satisfy Queen Elizabeth-level trails, and what exactly is proper spring trail decorum?

"Riding in spring in Whistler is a peculiar thing. We're so full of bike nuts, people that are super keen, willing to go through a lot of pain to get the goods." - Dan Raymond, WORCA Lead Trail Builder
On a warm, spring day I sat across from Dan Raymond, Head Trail Builder with WORCA (Whistler Off Road Association) while he worked on one of the first few trails to emerge from under snow, to chat about none other than spring trail riding etiquette.
As a rider himself, Dan understands the keeners around town. But his words of wisdom are not to be taken lightly; they can help trails have longevity and ensure that the surrounding area also stays healthy. Riding on trails too early and through snow can cause trenches, new braids, and damage to the surrounding flora. Digging out trails might seem like a better option but it's not. The earth not being able to drain properly can make muddy sections that end up requiring maintenance anyway. Dan says the number one thing we can all do is to exercise patience and let nature do her own work on her own clock.
But what if a rider encounters a small amount of snow on a trail? According to Dan, best practice is to look closely and identify where the trail naturally runs and plot this course. Deviating from the trail can lead to new braids and lines.
As the snow melts or even when the spring rains come, puddles form. Should you come across a puddle or wet spot, take a few moments to look around and see if drainage is clogged. A quick few scoops can often unclog the necessary exit and allow for the puddle to be on its merry way.
And finally, one way you can help trail associations know which trails need work is to post trail updates on Trail Forks. This signals right away what needs to be done and where, eliminating the need for trail crews to go looking for suspected issues. Tree down? Post it! Huge puddle? Post it! Damaged wood work? Post it! You get the point I'm sure.
Dan's final words on spring trail riding etiquette: No, Lord Of The Squirrels is not open. - Hailey Elise
---
North Shore Spring Etiquette
As Hailey mentioned, the Shore is in full swing at this point, but as last night's freak thunder storm demonstrated, Mother Nature has some kept wild weather in her reserve arsenal. Since early April, it's been unusually dry, making for some prime riding conditions, but there are still things to think about in areas where the snow has already melted.
One of the most important considerations, is to be aware of trail work that is under way. If there is a sign at the top of the trail asking you to select another route, please respect the builders' wishes. If there is work being done but the trail is still open, at the very least slow down and say thanks, or even better, stop and lend a hand for 15 minutes. It's also important to be aware of the effect adrenaline can have on your awareness. When I've been working on trails I've noticed consistently that there is a huge difference in how riders respond when you are working at the top rather than the bottom of the trail. When riders have just dropped in, they are still in a state of normal awareness of their surroundings, but several minutes of riding at the limit narrows our focus and causes us to disregard things we'd normally be attentive of, like paid and/or volunteer trail builders. Fortunately it's possible to short circuit this tendency when we pay attention to it.
In a perfect world, trails would be just moist enough so dirt packs well on dig days, and then a little drier afterward so dirt compacts well, but the weather on B.C.'s south coast is as predictable as a chimpanzee on crack. On those unlucky days when it pours on some fresh work, it's worthwhile to avoid that area until things firm up. Otherwise some masterful trail work could be reduced to rutted peanut butter.
The final element we should all consider is COVID related. I'm not talking about social distancing or appropriate masking; I'm referring to trails that are busier than they have ever been. Much of this increase is due to brand new riders, but there are also more hikers on the trails than I can recall seeing before. It's as though it took COVID for people to realize there are trails in the mountains above our city, which is kind of weird.
Now that the word is out, those of us with experience on the trails can lead by example, and provide some gentle guidance to new trail users about appropriate trail use, neighbourhood behaviour, and most importantly, how to interact productively with other trail users. Say hi, be nice, act courteously, and be welcoming to the new trail riders in our midst. With a little luck our actions will rub off and our relationships with land owners will continue to improve, giving us more opportunities to play in the woods.
And remember to choose your wet weather trails wisely. - Cam McRae
If you have more helpful strategies, for wherever you live, please let us know in the comments.