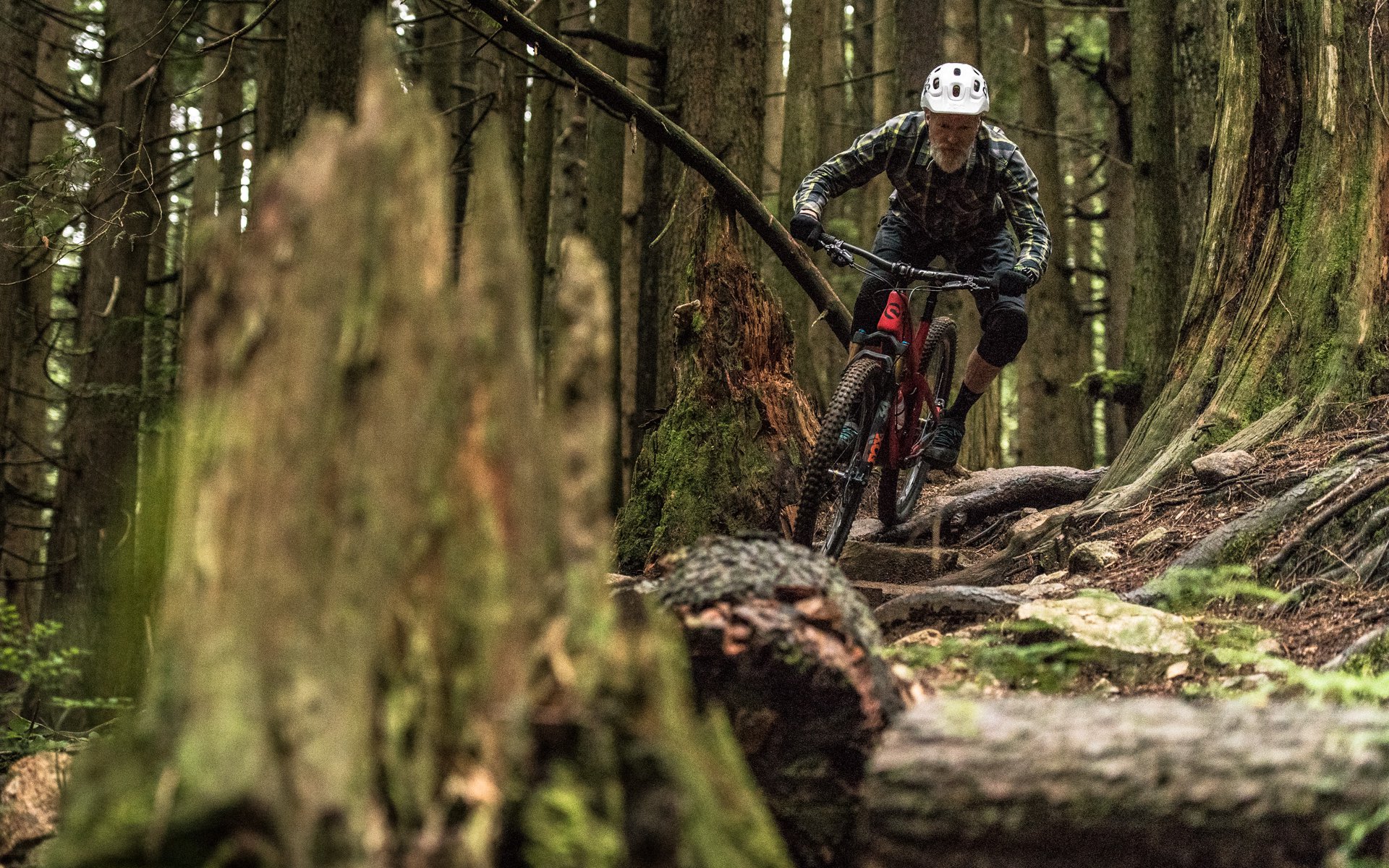 Long Term Review
Spot Mayhem 29 on the North Shore
I've had a solid summer aboard the Spot Mayhem, traversing the Sea to Sky corridor - negotiating Northshore knar, sessioning Squamish slabs, and brapping Whistler bikepark. My typical bike of choice lies on the "Enduro" end of the spectrum, and I was initially wary of how a shorter travel trailbike would fare on the steeper, chunkier trails I typically inhabit, but this thing has put a smile on my face from day one. Punching well above its weight, the Mayhem was a pleasant surprise. Check out our First Impressions installment if you're looking for a bit more detail on component specs. The bike in our hands comes with Spot's top tier "6 Star" build, with a US retail price of $8700. Now let's get on with the review.
Wheelset
The Mavic XA Pro Carbon hoops held up well given their light (1590g advertised) weight. I pinged the rims a few times, with no adverse effects, and they retained their tension for the duration of the review. A couple small wiggles developed, but nothing that couldn't be straightened with a couple quarter turns of the spoke wrench. Though stiff, these wheels have a bit of compliance, lacking the harshness of some other carbon hoops I've ridden. While the 26mm internal rim width isn't fat by current standards, they do support your typical trail-oriented tire width just fine. 
Rubber
I found the Mavic Quest Pro 2.35 tires to be on the light side for our part of the world. While not a terrible tread pattern and compound for moderate trail riding on harder surfaces, there's just not enough knob to provide support when pushed aggressively, and things get pretty sketchy in soft and wet conditions. I swapped the front tire for some proper rubber in short order, and burned through the Mavics on the rear. 
Brakes
I generally like the ergonomics, power, and modulation of the Guide ultimate brakes, but the 180mm front / 160mm rear brake rotors are simply too small for the extended / steep / hairball descents that populate this part of the world. I'd be dialing in the pad engagement adjustment prior to dropping into consequential lines to make sure I had enough brake for sustained powerfist puckering. To their credit, the brakes never faded appreciably, but upsizing rotors would be on my short list of prioritized upgrades. Of course, if you inhabit flatter topography, this may be a non-issue for you.
Drivetrain
Not much to say about the XX1 Eagle drivetrain that hasn't been said before. It's the current state-of-the-art in full range single ring drivetrains, and the gilded gruppo did its job remarkably well. And I'm not ashamed to say I made good use of that 50t cog. Despite the lack of a front chain retention device, I experienced not one chain drop.  
Corporeal interfaces
The seating and cockpit components are pretty dialed. While the Raceface Next 760mm x 20mm rise carbon bar seemed a bit narrow on paper, and the 60mm Raceface Next stem a bit long, both felt spot on in practice. Take note: all the cool kids are running (slightly) narrower bars these days. The ODI Vans slip on grips were a bit of a departure from the typical lock-ons. I actually prefer the additional vibration absorption of a non-plastic cored grip - as long as you can keep them stuck on. These have stayed in place so far, despite not being glued or wired. I have no critiques regarding the the seating dept - the WTB Silverado Pro saddle was decently comfy, and the Fox Transfer Performance Elite (150mm travel) dropper post performed its prescribed duties effectively.  
Frame bits & bobs
For a first generation design, Spot has the frame details fairly dialed. Hose routing is on point (I like the externally routed brake line), and wear areas have been well protected - with the exception of a bit of chain rub on the swingarm above the chainring. The matte red paint is impressively impervious to scuffing; still looking near showroom fresh after a few months of hard riding. I'm genetically incompatible with packs, so the two water bottle mounts are a much appreciated feature to me. All pivots and associated hardware stayed tight for the duration of the review, with no evidence of undue wear. 
Fork
I was decidedly underwhelmed by the last Fox 34 I rode (a 2015 Float FIT CTD). The current incarnation, the Factory 34 Float with the FIT4 damper, is a different beast. Despite its short 130mm travel, and relatively slim girth (which is somewhat emphasized by the frame's beefy head tube junction), this fork holds its own when things get rowdy. The air spring and damping are on par with the 36 - supple yet well supported, with a nice progressive air spring curve, and a good range of adjustability. I was also impressed by the lack of significant chassis flex despite the big wheel leverage. I set it up on the firm side to keep a bit on reserve for bigger hits, but it never felt harsh. With limited travel, the upper body does get a workout diving into bigger chunk, but the diminutive fork fared much better than expected.
Shock / suspension
Rear sproinging duties are carried out by a Fox Factory Float DPS Evol shock. The 57mm stroke lies on the lengthier end of the spectrum for 130mm travel, which seems to help thermal management; damping remained pretty consistent on extended pinned descents - fairly impressive for a non piggyback shock. The Float sports a 3 way compression lever, but it stayed in full open for all but road grinding trail approach use. 
The Living Link suspension platform is a short link 4 bar design with a twist - the lower link is comprised of a short carbon fiber leaf spring that pivots off the front triangle, but is rigidly bolted to the swingarm. In lieu of a swingarm pivot, a degree of link flex is required as the suspension cycles through the travel. As I mentioned in the First Impressions article, this arrangement affords a bit more lateral rigidity as well as a couple fewer pivot bearings to maintain, but more interestingly, also allows shock spring rate modification - maximum link flex occurs at around the sag to mid-stroke region, providing additional support. As such, the bike has excellent pedaling characteristics (resists wallowing), and is fabulously poppy. This equates to an energetic, sprightly ride. Really fun, in other words.  
The suspension has a fairly accentuated U - shaped leverage ratio curve - higher leverage off the top, affording suppleness, lower ratio through the middle, providing support / reducing wallow, and an aggressive leverage ratio at end stroke, partially offsetting the inherent spring rate ramp of an air shock, making the last bit of travel more linear than many platforms. For less aggressive riding, this can have the effect of making the bike feel like it has more travel than more progressive designs (this felt subjectively "deeper" than a 135mm travel Stumpjumper I rode recently, for instance). However unless you're running higher pressure and/or larger than stock volume spacers, you're going to be hitting hard bottom on a fairly regular basis on big hits. I'm a relatively pinner 165lbs; with the installed (0.2 CI) volume spacer, and sag on the lower (25-30%) side, the shock was stroking out more frequently than I liked. Doubling the spacer volume to 0.4 CI bumped up the end ramp to more acceptable levels, though the bike still bottomed fairly hard on bigger drops - albeit not frequently enough to motivate me to swap spacers again. I recognize this isn't a freeride bruiser, but the bike feels so generally capable and confidence inspiring, that it's hard not to occasionally venture into that territory. Heavier or aggressive riders may end up sacrificing a bit of plushness stuffing the can full of necessary air and spacers. 

Here's the geometry numbers:
| | | | | |
| --- | --- | --- | --- | --- |
| Frame Size | Small | Medium | Large | X-Large |
| Eff. Top Tube Length | 22" (560mm) | 23" (585mm) | 24" (611mm) | 25" (636mm) |
| Seat Tube Length | 15" (381mm) | 17" (432mm) | 19" (483mm) | 21" (533mm) |
| Eff. Seat Tube Angle | 75.7° | | | |
| Actual Seat Tube Angle | 73.9° | 73.9° | 73.9° | 75.7° |
| Head Tube Length | 4.3" (110mm) | 4.7" (120mm) | 5.1" (130mm) | 5.5" (140mm) |
| Head Tube Angle | 66.7° | | | |
| Bottom Bracket Drop | 1.2" (30.5mm) | | | |
| Est. Bottom Bracket Height | 13.6" (345mm) | | | |
| Wheel Base | 45.2" (1147mm) | 46.2" (1174mm) | 47.3" (1202mm) | 48.7" (1236mm) |
| Front Center | 27.9" (708mm) | 28.9" (734mm) | 30.0" (762mm) | 31.0" (788mm) |
| Rear Center | 17.3" (440mm) | 17.3" (440mm) | 17.3" (440mm) | 17.6" (448mm) |
| Reach | 16.0" (406mm) | 16.9" (429mm) | 17.8" (453mm) | 18.7" (476mm) |
| Stack | 23.6" (599mm) | 24.0" (609mm) | 24.3" (618mm) | 24.7" (627mm) |
| Standover | 27.7" (703mm) | 27.9" (708mm) | 28.1" (714mm) | 28.3" (720mm) |
Climbing
As is expected of a 130mm travel bike, this is pretty effective on the ups. The steep seat tube angle places you in a nicely balanced position to put the power down on punchy climbs. This bike has a fairly aggressive anti-squat curve; in conjunction with the additional mid stroke support of the Living Link, It's a ripper when pounding the pedals, generating forward momentum at an impressive rate, while still remaining supple enough to track rooty techgnar. As such, I was never compelled to flip the shock compression lever from the most open setting. The feeble knobs of the Mavic tire was the biggest limitation to this bike's steep climbing prowess. This is certainly one of the better climbing bikes I've ridden.
Descending
Feeling subjectively slacker than the listed 66.7°, the head angle is a nice balance of stability and precision, and was more confidence inspiring on steep lines than expected. The lower center of gravity of a short travel bike certainly helps. The times I felt under biked, even when riding some fairly committed trail, were surprisingly few. Of course when the speed ramps up and the hits get harder, and you're bouncing off bump stops, the limits of the small bike become obvious, but the bike makes good use of it's limited travel. The low chassis stance also contributes to the bikes' cornering prowess, and the lively, well supported suspension, in conjunction with light weight (28.6 lbs as tested) is conducive to pinning it everywhere. The Mayhem moniker is apropos - it's a bit of a hooligan on the trail. 
Park
I was expecting to get punished by Whistler's late-season child swallowing braking bumps, but the Spot was more forgiving than any 130 mm bike has a right to be. Big wheels certainly help here. Light weight and mad pop make for a really fun jumping machine with impressive boosting capabilities. I'd feel guilty flogging this thing in the park on a regular basis, but the fact that it's reasonably effective in this environment was a nice surprise.
I try to refrain from gushing on reviews, but I really like this thing. The fun factor is pinned, which is an impressive task with 29" hoops. It allows impressive feats with small travel, and has really opened my eyes to what smaller bikes can be capable of. It's not going to offer the big hit capability of a long travel enduro rig, but for much of the terrain many of us typically ride, the greater efficiency of something like this makes for an all round more fun and effective steed. Sometimes less can indeed be more as the slightly reduced pace in big chunk can often be more than offset by boosted speed and playfulness everywhere else. Out of the box I'd certainly be swapping tires and brake rotors, but everything else is on point. For the steeper, chunkier terrain I tend to ride, I'd be tempted to try bolting on a Fox 36 fork in 140 or 150mm travel; I think it'd be beastly good, but I'd have a hard time giving the bike back. As it sits this is an impressive debut from a relatively small company. 
The Mayhem is also available frame only from US$3199.
For more on the Mayhem and Spot Bikes click here...