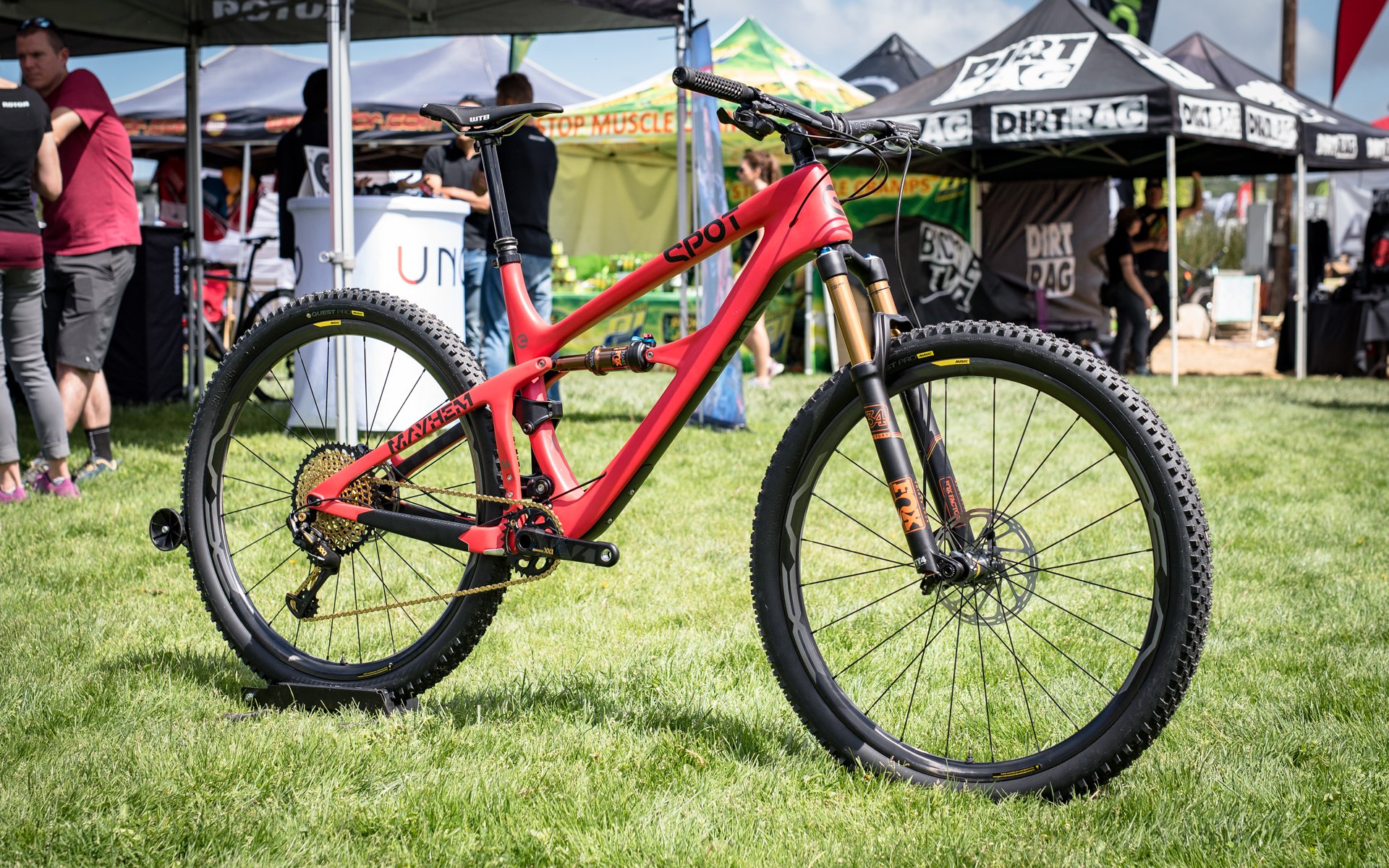 Former Vancouver Brand Reborn in Golden Colorado
Spot Mayhem 29 and 27+
Spot Brand began in Vancouver. The company was known for handmade chromoly hardtails that spanned everything from dirt jump to XC. They also served up cool soft goods and stickers. I happen to know this because I purchased a 1986 Volvo 740 wagon from the founders, Michael Golinski and Jessica (then Golinski... maybe she has a different name now. Sorry) The brand was sold and then sold again before being snapped up ("almost on Craigslist" was the quote) by Avid Brake  founder Wayne Lumpkin. 


Wayne wasn't in attendance but his son Andrew gave us the beta on the current incarnation of the brand. The senior Lumpkin wanted to do something that improved on what is currently happening in suspension rather than simply follow the herd. The result of that approach was the Living Link suspension system which employs a carbon leaf spring in place of a lower linkage. From here I'll let Spot describe what's happening: "At rest, the Living Link™ is relaxed, with no stresses imposed. As the suspension compresses, the carbon leaf spring flexes. When the rear axle reaches a point approximately halfway through its travel range, the leaf spring reaches its maximum flex. As the rear axle reaches full compression, the leaf spring relaxes again. The result is a spring contribution to the suspension system. Consider it a boost of superpower when you most need it on long technical climbs."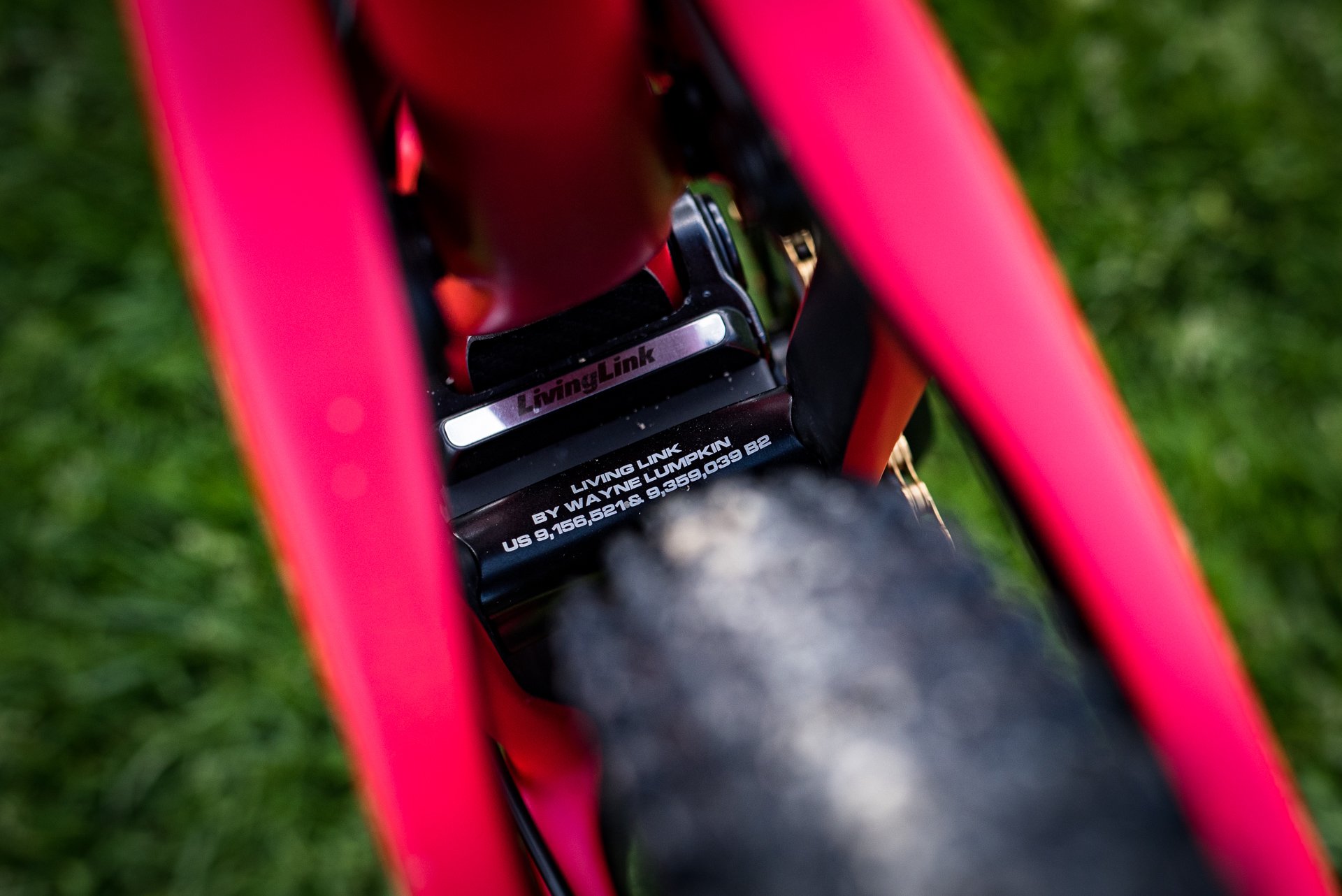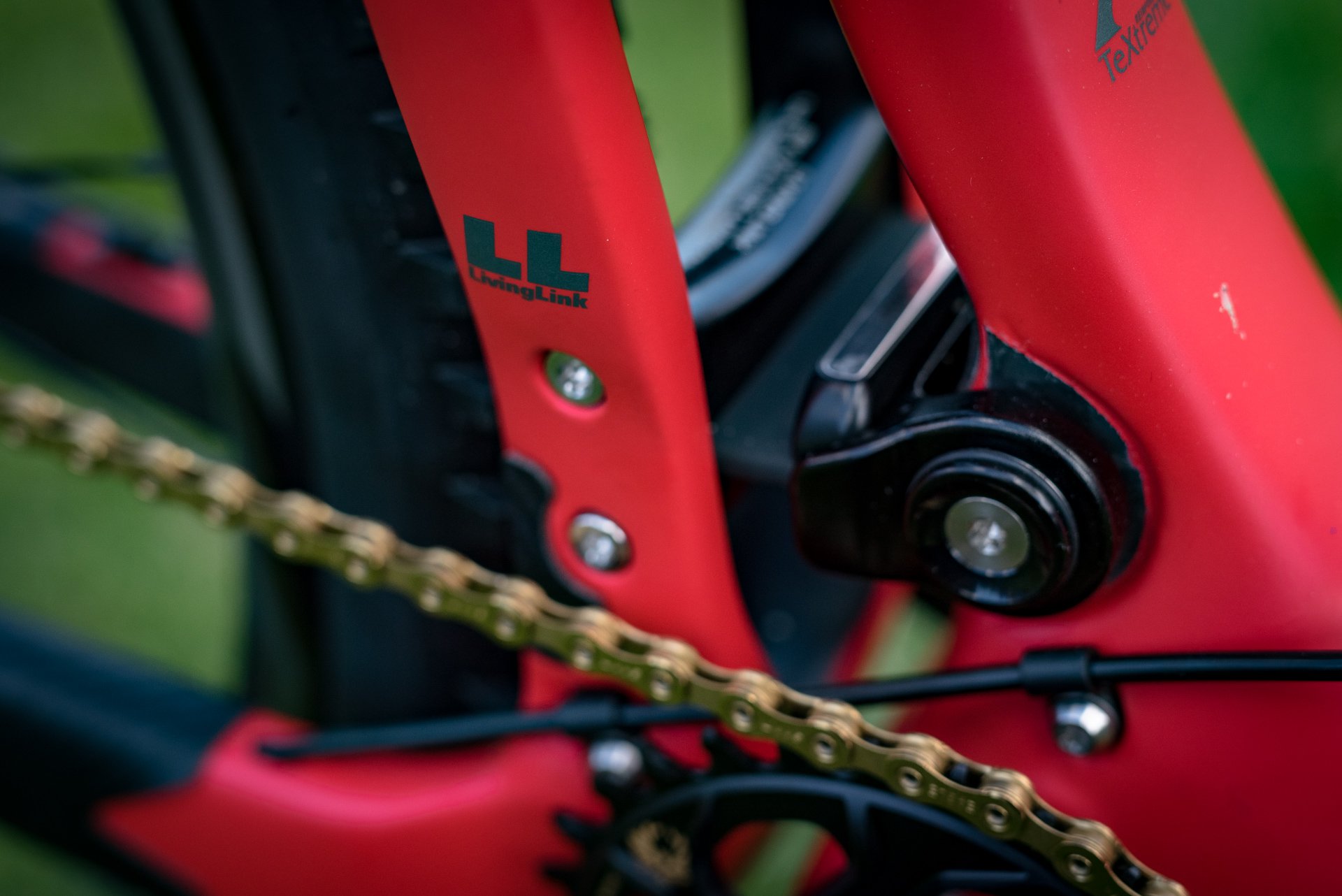 One advantage of the leaf spring is that it entirely eliminates the pivots that would be subjected to the most water and mud and require the most maintenance. The link is said to improve stiffness as well. Like a metal ruler from drafting class, the link is flexible in the vertical axis but very stiff horizontally. Beyond that it can apparently support something like 12,000 lbs without failure.


It sounds interesting and the bike is also beautiful in person, but eyeballing it does very little to help me understand what's going on with the Mayhem. What is more clear is material quality of construction. Spot uses Swedish made TeXtreme carbon fabric that is said to have the highest strength to weight ratio available. 
The frame only price is US$3299 and completes are available as well.
We will be getting a tester shortly. For more on the Spot Mayhem click here...