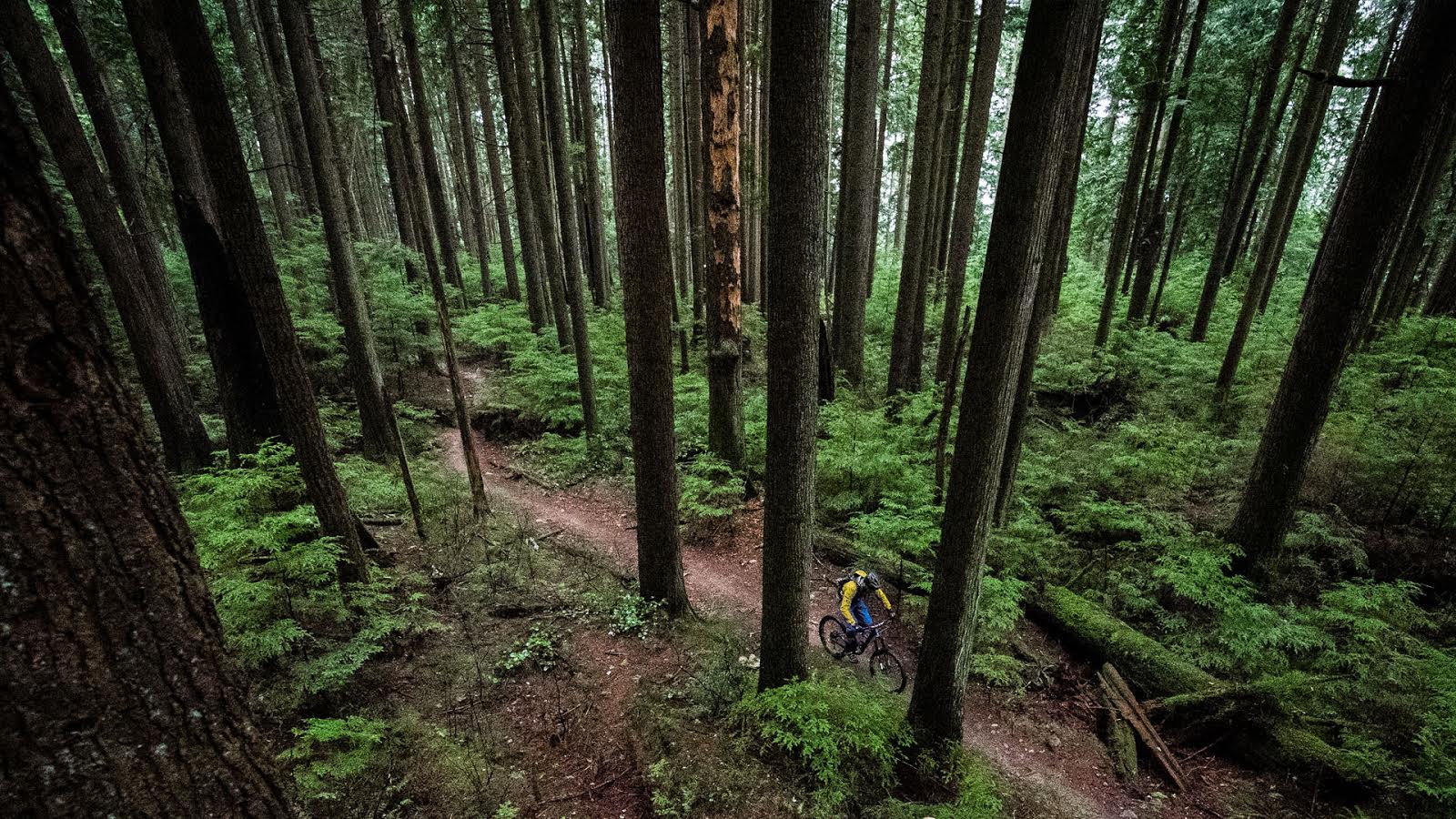 Spoiled like a Hilton Grandchild
Let's create a scale to measure the impact unlimited access to money and privilege can have on people. Call it the Spoiled Brat Quotient. We could put a child who is dirt poor, yet content and thankful, at one end of the scale, and Paris Hilton at the other. Most of us would sit somewhere in the middle – if we are talking about life in general. But if the subject is mountain bike trails…
Riders here on the North Shore might break the scale. When you look at our access to hundreds of premium single track trails right here, many of them creative and challenging gems, boosted by our proximity to the spectacular riding in Squamish, Whistler, Pemberton, the Sunshine Coast and the Fraser Valley, it's a bit obscene. We'd rank as spoiled as Paris Hilton's children – if she ever decides she needs a human accessory.
The North Shore, and each of the aforementioned riding areas, is improving quickly and dramatically, thanks to the hard work of volunteer advocates and builders, and landowners who see the value of mountain biking. Things are awesome.
And yet things are awful.
This has been a challenging year here on the Shore. We've had the Tineke Kraal sabotage case, a violent conflict between a hiker and a mountain biker that captured mainstream media attention, a summer drought that made trail work impossible, and a bitter feud, since spilled over to the internet, between two of the most well known trail builders and advocates in the area.
And then someone messed with Upper Dale's Trail.
I'll admit that the last time I rode the original Upper Dale's, earlier in the summer, I thought it sucked – and I reported this on our trail conditions board. NSMB.com adopted Dale's for two years, aided by experienced trail builders Todd 'Digger' Fiander and Jerry Willows, and a bunch of hard working volunteers. We made a lot of headway on the trail, but the upper section kept getting washed out. We tried everything but in the end we couldn't keep it from becoming a stream during the sort of heavy rain we get regularly. Subsequent adopters didn't have better luck.
I'd heard the rumours and seen the vitriol online, but I hadn't ridden the new Upper Dale's myself. All I knew was that it was machine built. Comments I saw online were not positive, and I imagined a soul-destroying, crushed gravel path, but when I talked to riders I know, skilled and experienced riders, they raved about it.
I was puzzled about what to expect, but once I dove in I knew I liked it.
Paddy Kaye of Joyride Bike Parks was hired to build a new line for Upper Dale's. If you haven't heard of Paddy, you may have heard of Crankworx. Paddy built the first ever slopestyle course for Crankworx (originally called Joyride) and recently he's been put back to work building the line for Red Bull Joyride.
To replace Upper Dales, Paddy took his machine and sculpted 300 metres of berms. Joyride put in a total of 300 man hours, including the finish work done by hand. Some of the berms are long and lazy and a few are short and quick, forcing you to change direction dynamically. These aren't easy, beginner berms – and in my view they are a blast to ride. Or I should say they are a blast now that I have the skills to ride them.
I was hooked from the moment I rode my first North Shore trail. The tech challenge lit my fuse and kept me coming back. I liked steep, winding trails and those with stunts aplenty, even though I was terrible at the balancing and hucking required. I was so enamoured with this riding style that I shunned everything else. Berms would have been boring to me then. I needed more to keep me focussed. And I didn't have the skills to ride berms fast enough for them to be fun. My self from 1998 would have written this section of trail off and – if there had been internet forums to beak off on – I would have been the loudest Ahole (actually that might give me too much credit. There are some remarkably talented and snide mountain biking Aholes on social media and on forums like ours – and some, I assume, are good people).
When I reflect on local government (Metro Vancouver in this case) hiring one of the most skilled and experienced trail building operations in the world, paying his firm for their services on our behalf, and asking him to build a section of trail that will be fun for mountain bikers of (almost) all levels, and how this is being met by some mountain bikers, I actually get it. I was one of those spoiled Aholes. And I have been one of those Aholes recently as well, regarding some new work that has replaced sections I liked, with sections I don't love. And it's pretty lame.
I'm not saying we shouldn't have opinions, nor that those shouldn't be expressed, but saying things like "I'm with you.that trail is horible (sic)" is beyond ridiculous. In most areas having a single purpose-built mountain bike trail – that can be ridden legally – would be a dream come true. Having a section like Upper Dale's, that is truly a blast for most riders, is unfathomable. In Marin County, the birthplace of our sport, most trails are illegal for mountain bikers, and most that aren't are sterile and joyless.
It's become cliché to say mountain bikers are a tribe, but recently it's become a toothless cliché. Our ranks are becoming more fractured and infighting, like we've seen around here lately, continues to weaken our position.
I realize some new section of trail may not mesh perfectly with your view of mountain biking, and it may even have destroyed a move that fed your ego and made you happy. I've had it happen as well and it does indeed suck. But the suck pales in comparison to what we might have poured on us if entire trails are decommissioned.
To be clear, we aren't talking about a trail that fits some bureaucrat's vision of trail riding in a park; this is a legit section of steeply banked corners. It compares favourably with some of the trails at Silver Star, a berm lover's paradise. My buddies and I liked it so much we did two laps back to back – and all of us are first and foremost Shore riders. The new section bears no resemblance to the original trail, that much is true. And I can understand some objections and grumbling about that, but calling it a "heinous crime" on the internet? You have to be kidding me.
Asking mountain bikers not to be dicks on the internet is like asking Donald Trump to let an attack slide, but speaking with a more unified voice will become increasingly important in the struggle to maintain access to the wilderness and trails we love. Perhaps all of us should gain some perspective before we complain that our trails aren't exactly the way we like them (or our yacht isn't big enough).
Let's suck it up buttercups. These aren't first world problems; these are the problems of the 1%.
---
Have you ever complained when a mountain bike trail (a good one) was made for you and paid for by the government?