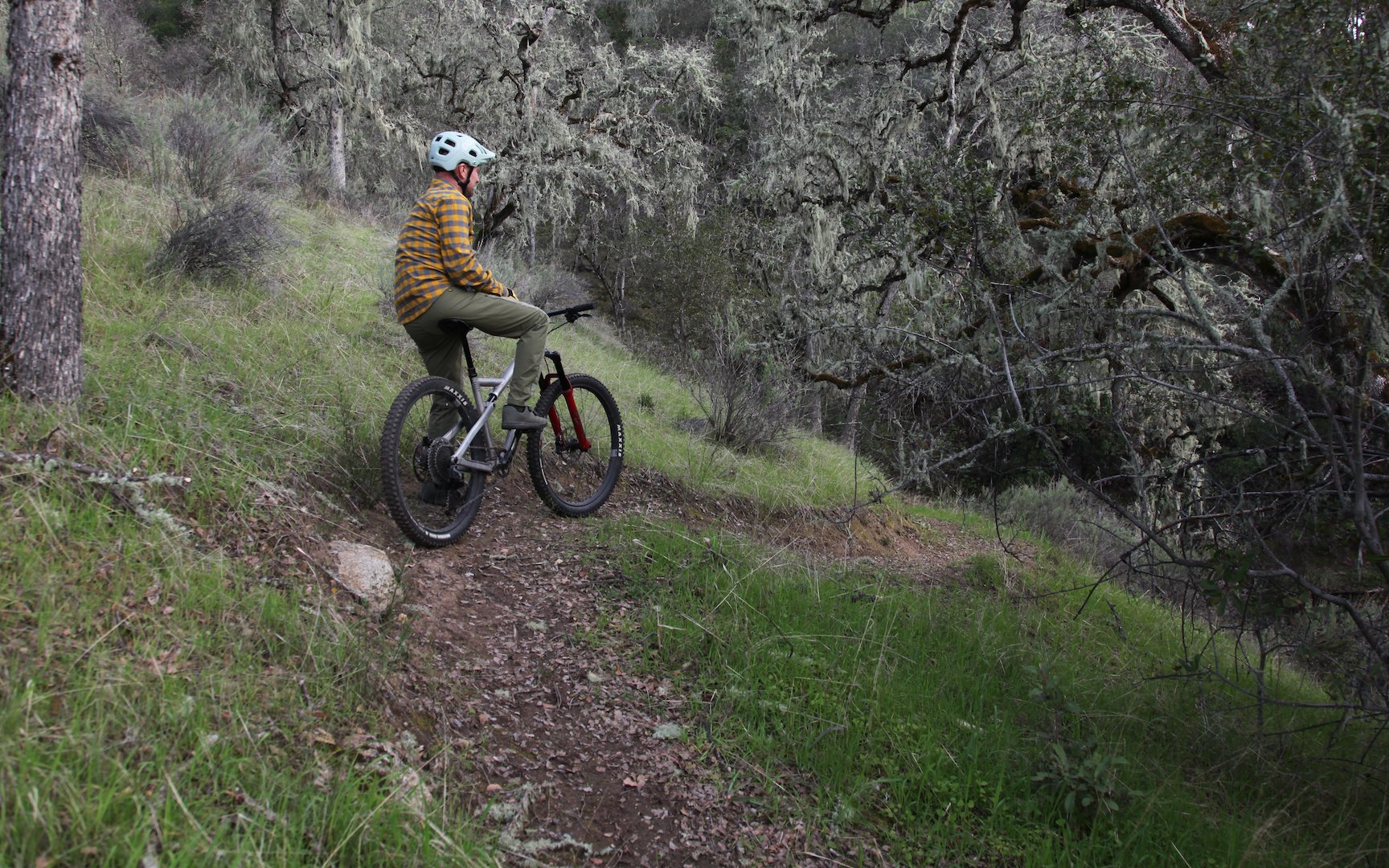 REVIEW
Specialized/Fjallraven Rider's Hybrid Trousers
Growing up in New Zealand, going to high school at the dawn of the 1980s meant that you got pretty damn used to wearing short pants. All the time. School uniform rules dictated that in summer our uniform included grey cotton shorts of a specific brand and hemmed well above the knees. In wintertime, hems crept down an inch or two to somewhere slightly below mid thigh, and material was a grey serge wool.
None of us complained much about it, since we were all in the same boat; skinning our knees when grass slides got a bit gravelly, burning the insides of our legs while ripping around before class on our dirt bikes that we'd poached across the paddocks to the edge of school, trying to ignore the frost on the ground every winter morning that wasn't bucketing down rain but wondering why we couldn't actually feel our legs for months at a time...
Jumping from that upbringing to hiking and then mountain biking, long pants just weren't really something I thought about when it came to being active. I had been wearing short pants my entire life and was having trouble enough coming to terms with the new trouser-friendly reality of adulthood in America, let alone contemplating something other than letting the legs breathe when it came to any sort of exertion.
Old habits die hard. It took me at least two decades to accept that knee warmers are a good thing, and that so are knee pads when it comes to riding in sharp places. So, no surprise here, I was really late getting the memo about long riding pants.
Blah blah blah... Anyway, I finally let go of my past stubbornness about five or six years ago, and started wearing "trousers" as part of my mountain bike attire. But since I don't go full-send, I couldn't get my head around dressing full-send. But I couldn't wear hiking pants either, although I did dabble with a pair of Kuhl lightweight ripstop Nylon things that were great until they, umm, ripped. That led me to a succession of cycling-minded pants, ranging from Club Ride to Ketl to Patagonia, usually bequeathed to me without much thought during some random industry/media product bombardment. I generally loved them all, because this whole wearing pants thing felt like such a novelty.
Then I saw these subtle beauties last fall, and for the first time in my entire life, I coveted some velocipede-specific long pants. Behold, the Specialized/Fjallraven Rider's Hybrid Trousers!
Okay, the name is a handful. But these pants are rad. In a subdued way. The Specialized/Fjallraven Exchange is a collaboration between the Swedish outdoor apparel brand and the bike company in Morgan Hill, California that gets kinda lofty in stating its premise and also manages to spit out some items of clothing that are possibly the most awesome and simultaneously terrible things I have ever seen. I'm not really sure what the end game is with this collab (personally, I suspect Erik Nohlin at Specialized has some bike riding Swedish homies working at Fjallraven, and they all wanted some safari suits to ride in, and bam!), and it's loosely marketed toward the adventure/gravel/reformed fixie/other cycling population, but I don't really care either. I dig these pants.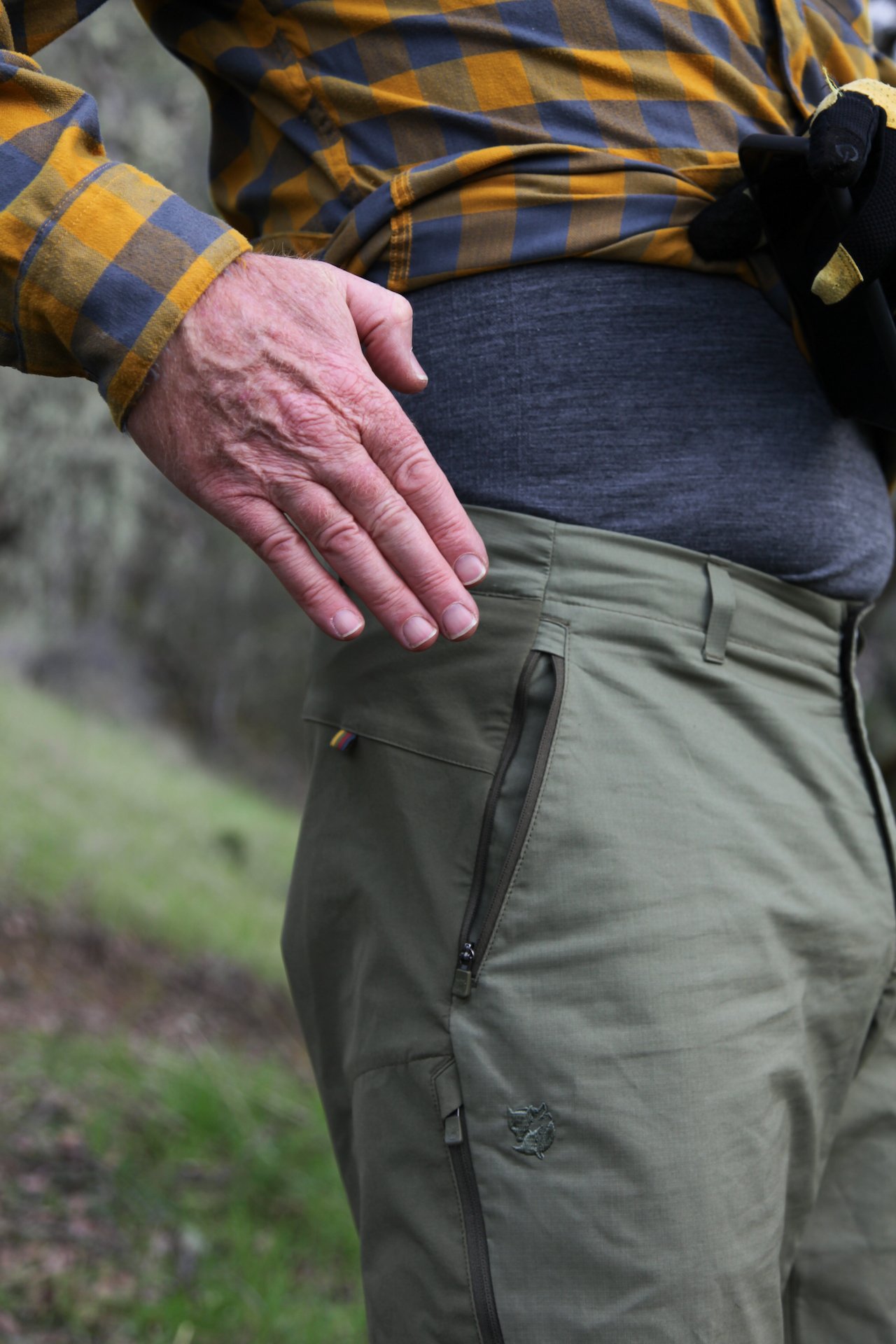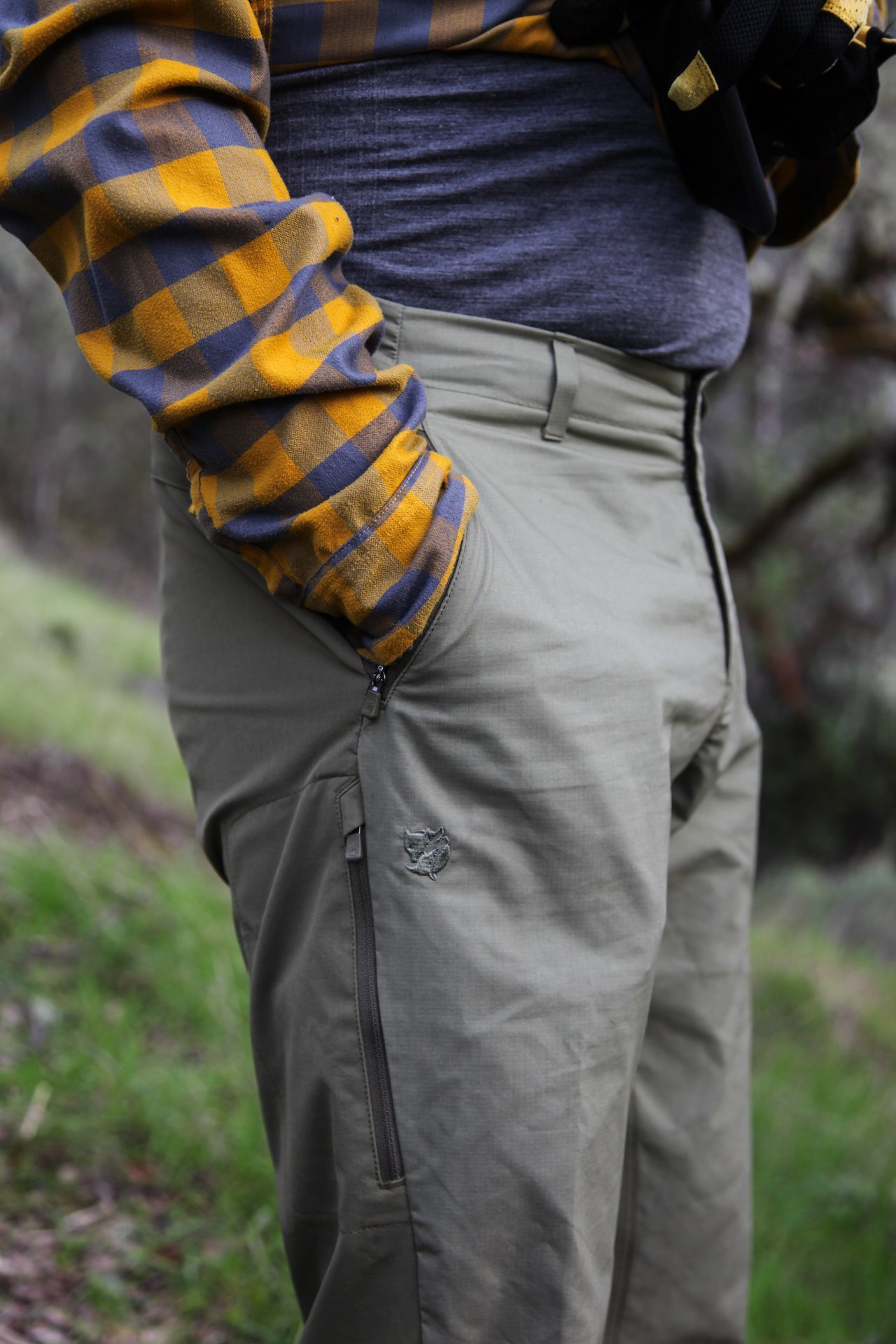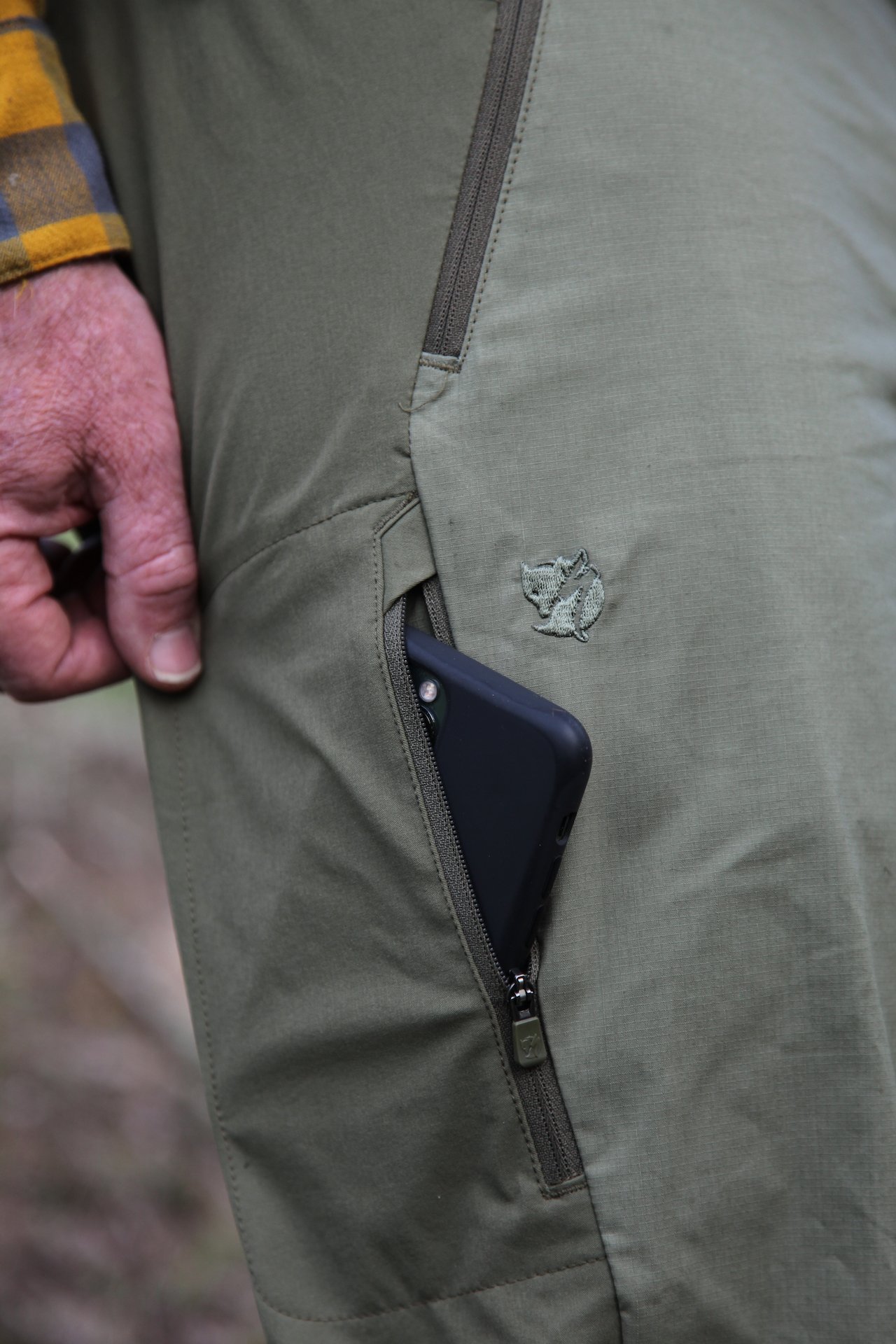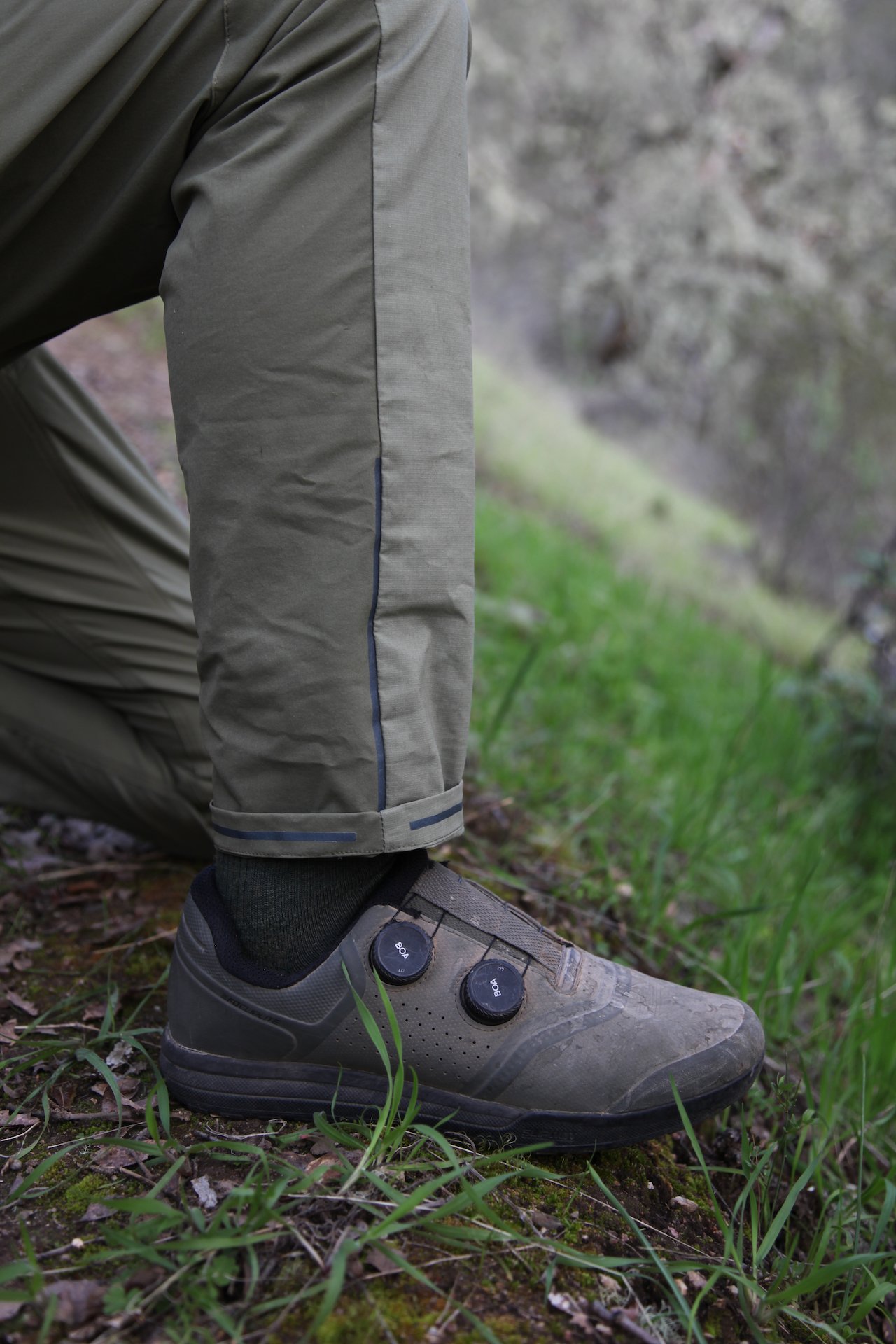 It is entirely possible that we all have a very different idea of what is rad and what is not rad. Our personal arcs of radness do not really need to match each other. That said, here is why I think these trousers are rad:
Color: (Yes, this matters!) They are available in this unobtrusive color, somewhere between sage and olive, referred to on the Specialized website as "green". This color naming convention alone earns these pants an A+ in my book. Around here, this shade of green makes the wearer blend in real well with all the oak moss and sage. These are visually very, very quiet trousers. Sometimes, this is important.
Materials: Fjallraven's G-1000 Eco Lite fabric is a blend of recycled polyester and organic cotton, with ripstop threads woven in, lightly waxed for some degree of water resistance. It's super light, it flexes and moves really well, it breathes. It's not waterproof; allegedly it can be further waxed to improve water resistance, but it's still not intended as foul weather gear. However, when used to make the front half of these, it's sweet. It won't keep you toasty warm on a snow day, but it does a decent job of minimizing windchill and handling tire spray and you won't cook your brains out once the thermometer starts to climb.
Features: Blissfully few of these. Nice deep diagonal pockets on both front hips, as well as zippered, vented thigh pockets big enough to swallow an iPhone 12 with enough room for some car keys and a gel pack or two and a wad of cash. Nice rubber tips on all zipper pulls. Belt loops. Subtle reflective piping on the lower outside of each leg, as well as more reflective piping that can be revealed by rolling up the cuff.
Fit: A broad swath of "semi-elastic" material runs around the backside of the pant waist leaving the front side of the trouser smoother and more comfortable to various stomach, errr, profiles. Articulated knee seams and a slim cut keep do a good job of accommodating my chicken legs. I'd describe the fit as super comfortable slim-normal; not baggy at all but nowhere near skinny jean turf either. They stay up well when pedaling, even when wearing slippery bib shorts underneath.
Finish throughout is very nice, superb stitching on all seams, subtle but nice styling touches in the mashed up Fjallraven/Specialized logo. They look kinda classy, which is something I have never really aspired to, but it's also something I never really thought I'd say about any piece of bike apparel.
Things that might bat against the S/FRHT (for the sake of brevity):
The cut is a bit snug for knee pads. I can get my slim Pearl Izumi pads in, or Specialized Atlas pads, but I can feel them. "Real" pads would in no way fit inside this cut.
These aren't exactly designed for crashing in. I mean, you can, I have, but they might be a hair underbuilt for regular and repeated soil sampling.
They're on sale on the Specialized website right now, but that doesn't mean they are cheap. $110US gets you trousered, down from $160US. That puts the S/FRHT on the same dollar landscape as something like Dakine Thrillium pants, which are definitely a lot more "engineered." The Dakines, in a head to head comparison, would be a much more appropriate item of attire for going full send.
But since I'm not really very sendy, these'll do juuuuust fine by me. They've become my go-to riding kit from fall into this winter, for everything from sloppy mountain bike rides to chilly groad sessions. I feel like I am invisible, in a good way. Now I gotta figure out how to justify one of them field suits...