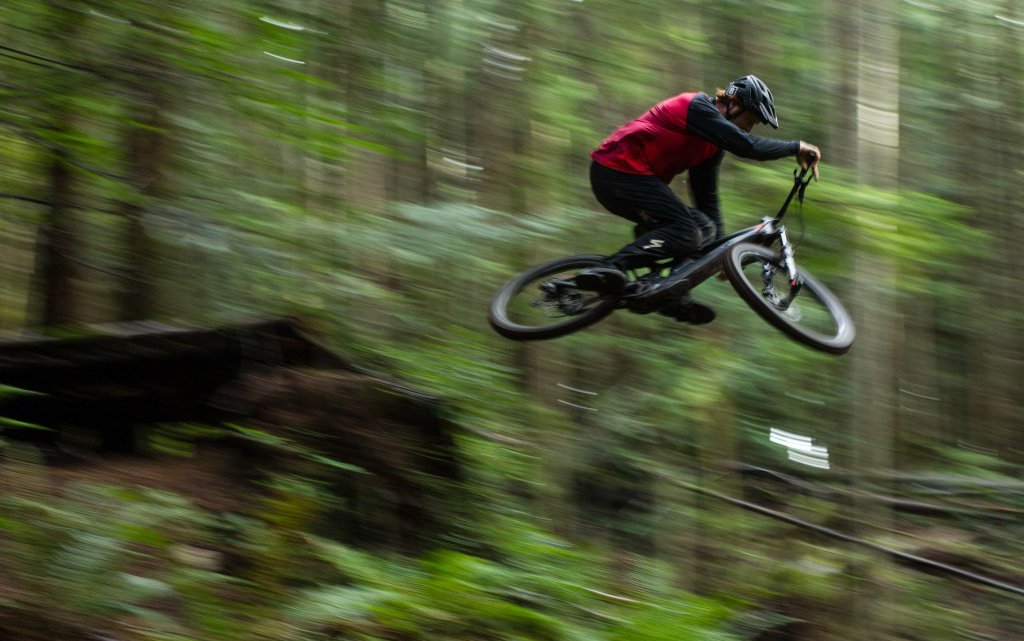 EDITORIAL
The Tale Of Turbo Levo Man

Levo-Man, Levo-Man, climbs whatever Geoff Kabush can. Spins a gear, any size. Battery power on his side. Look Out! Here's Turbo Levo-Man.
The One vs. The Many
In much of the vastness of North America, access issues complicated by electric bikes (pedelecs*) will be non-existent. Some of the first mountain biking I ever did was on trails shared with dirt bikes where I saw another rider, motorized or otherwise, once out of every twenty rides. The trails saw so little traffic and required such advanced moto skills that passage could only be noticed temporarily and only when the ground was most saturated. 
Unfortunately, at the risk of sounding like a mountain bike snob, I think these machines raise concerns about the future of mountain biking in almost all the places I have any interest in riding , locally and pocketed throughout Canada and the USA. I'm not talking about the emotional reaction they produce in many riders, myself included - but rather the somber assessments of respected trail advocates about how these machines could affect hard fought access and the reaction from trail builders. In other words, the soul of this sport.

Is he strong? Listen bud, he'll pedal through the thickest mud. Is it still a mountain bike? No throttle or the like. Hey, there… There's Turbo Levo-Man.
If you are waiting for a 'yeah, but' that's because this isn't really a piece about e-bikes. It isn't about easily procured software to trick speed limiters and boost power output. It isn't about the difference between an ahole with a Smart Car and an ahole with a Porsche. I'm not intending to split hairs between the different types of e bikes on the market and debate which ones should be allowed or not-allowed. This isn't about how in a few years the motors and batteries will be all but invisible in carbon and aluminum frames. 
This is a piece about one e-bike. A red one. The man who rides it. A large one. Cynicsm, ownership, appropriation, culture, forgery, beauty, corruption and friendly hellos. This is my tale of Turbo Levo Man. 
Turbo Levo Man
It's Snowmaggedon 2017 and the lower trails of Mt Seymour are an oasis of dirt in a sea of white. It seems that I'm stopping to catch my breath and catch up with someone I know at every trail crossing and I've modified my ride plans in favor of a more social evening. Generally this is a sport of friendly-loners*** and there seem to be an infinite number of interesting people to meet on the trails. 
I'm at the junction of Penny Lane, Good Sir Martin and Severed Dick trail, a spot where I will see Turbo Levo Man more than once in the coming months. I recognize his bike instantly from as far away as I can see. Being a bike nerd and tuned in to the latest-and-greatest it seems is both a blessing and a curse but the hyper yellow on candy red finish and the albatross that doubles as a bottom bracket shell are dead giveaways.  
I inhale slowly. Two of the guys I'm chatting with are vehemently, maybe venomously, anti-e-bike. On the internet and in conversation. 

The thrill is insane. As he climbs like a plane. Straight up Penny Lane. He arrives in no time.
"Up to 530 watts of additional power." Turbo Levo Man's facial expression was screaming 'BULLSH*T, BULLSH*T, BULLSH*T to the marketing department's claim that the bike would "make climbing nearly effortless". Suddenly he slows down considerably and as he finishes the last punch I notice that the bike is silent rather than 'quiet'. I've ridden enough pedelecs to tell the difference. 
He's leaning on the trail sign post catching his breath when one of my anti-e buddies pipes up. Oh boy. 
"That's a bitch of a climb eh?"
Turbo Levo Man nods and it's smiles and friendly banter all around. After a minute he excuses himself and goes off pedaling up the trail. I watch him. Some distance up the trail he suddenly sits up a bit and accelerates. It's notable how much faster he is going as he disappears around the first corner of Good Sir Martin. 
Laughing I inquire if anyone noticed that Turbo Levo Man was riding an e-bike. This is the first time I've asked this question and I'm the only one who notices TLM's big battery boost. 
When Life Is A Beer Commercial
I've only exchanged brief salutations with Turbo Levo Man so for all I really know he's a zero-f*cks-given kind of guy. And sure, the whole cutting the motor before riding up to a crowd of people should kick start Spidey senses. It's just that he seems like an okay dude rather than one of the four electric-men of the bikeocalypse. 
I have no concrete information on why he purchased a pedelec. Maybe he bought into the marketing that e-mtbs are some how an evolution, rather than a bastardization or appropriation, of mountain bike culture? Maybe he's an ex-rider looking for an accessible way to re-introduce himself to a sport he's long loved? Maybe he's one of the old, sick or disabled people that are held up as the reason e-bikes should be accepted en masse as if investing in their development and accepting them onto hard-won trail networks is somehow altruistic?
I guess I should grow a set and ask next time I see him. 

Levo-Man, Levo-Man Throttle-less e-bike Levo-Man. Access rules? He ignores. Action is his reward. To him...
Maybe he just bought into the beer commercial?
The Coastal Crew hucking, ripping, railing and rocking e-assist sleds down an awesome trail near the Coast Gravity Park. Professional athletes enjoying a Bosch-sponsored high alpine cheese plate party while a Gary Fisher voice-over waxes poetic about the birth of mountain biking and "uphill flow". Wade Simmons having a "mind blowing" time in the South of France taking in incredible scenery while riding up 400 years old staircases. Wow. 
On the North Shore I can't help but notice the pilots never seem to match the promotion.
Cynical Sales
No matter how unfit I am I achieve a great deal of satisfaction out of cleaning technical climbing sections, and completing 'epic' rides, under my own steam. Most folks I know feel the same way. 
Oh sure, we'll cheat a little bit. Carbon rims, cranks, bars, single wall tires up front and any other trick to cut the fighting weight of our bicycles. Eagle for when the vultures are circling. When the sun sets a big part of the magic of mountain biking is the fact that it's powered by meat-engines. Oh sure, twice the trails can be ridden for half the effort with an electric motor between your legs but at the end of the day it's a fraction of the accomplishment for a fraction of the effort. 

...life is a great big bang up Wherever there's a plug-up You'll find Turbo Levo-Man.
As I write this I feel like the Jehovah's Witness standing outside the Shoppers Drug Mart at the corner of Penny Lane and Severed Dick trying to save Turbo Levo Man's soul, or at least experience , when it comes to riding the trails we share. I don't believe that this one sinner is having any impact in terms of access or erosion and he certainly seems friendly and slow enough that he's not burning our relationships with other trail users. 
My issue is that someone has cynically sold him an experience that is a forgery. Can he truly be part of our community without riding the trails himself under his own steam? I wish whoever sold Turbo Levo Man his bike had pulled him aside and said "dude, it's going to suck at the start but pedaling a bike under your own steam will give you a way bigger reward in every way in the long run." Maybe they did?
I wonder sometimes if Turbo Levo Man knows what he is missing? Having traded a percentage of his mountain biking experience for faster lap times and easier hill climbs. I can only conclude that he does not. 
*Defined in this case as bicycle-shaped-objects where pedaling is assisted by an electric motor.
**The bike happens to be made by Specialized but it could just as easily be a Trek Powerfly, a Scott E-Genius, a Rocky Mountain Powerplay, a Cannondale Moterra or any number of other companies. 
***Apologies in advance to 'that guy' who is always angry that I'm labeling him as part of a 'tribe'.