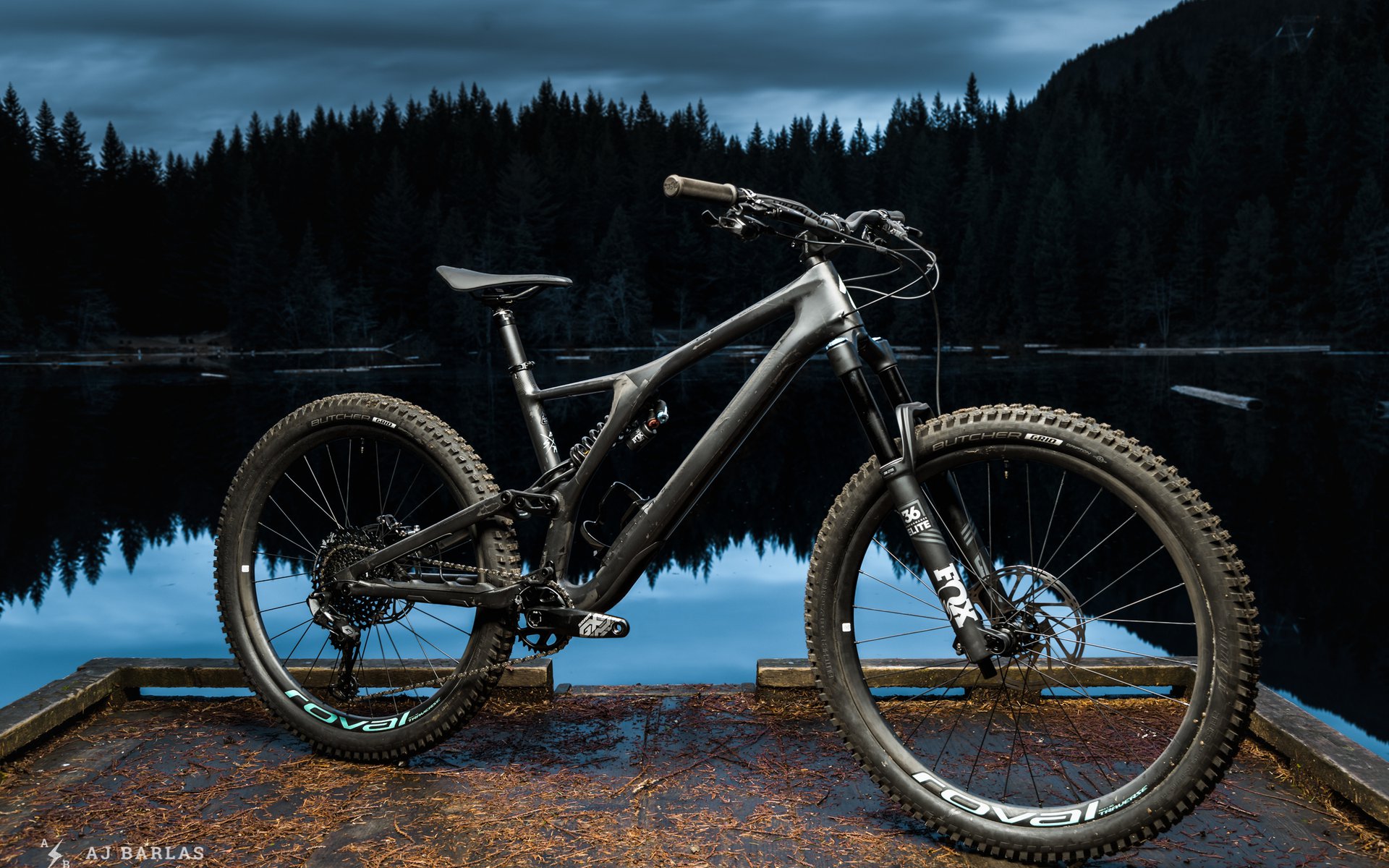 FIRST LOOK
Specialized Stumpjumper EVO Carbon
Anytime Specialized updates the Stumpjumper, it's news. This has been true since 1981, when the first Stumpy came on the scene. Like Porsche's 911, the Stumpjumper is a platform with many variations, against which many other manufacturers compare their own bikes. In 2018, Specialized released three different versions:
Stumpjumper ST (short-travel): 120mm (29er) and 130mm (27.5) in alloy and carbon;
Stumpjumper: 140mm (29er) and 150mm (27.5), in alloy and carbon, and
Stumpjumper EVO: same travel as the Stumpjumper but with longer, slacker, lower geo - in alloy only
There are women's tunes as well, which feature the same geometry but lighter shock tunes and differences at the contact points. And as much as the line looked wide and deep, it was pretty clear that the Stumpjumper EVO was a bit of a toe dip; no carbon version, two sizes only (S2 and S3, rather than four sizes like the other models), and, since I only mentioned it one other time in this sentence - no carbon version. Not that it was disppointing. Quite the contrary. The lone spec version of the 2019 Stumpjumper EVO was notable because, in addition to the alloy frame, it boasted a sensible and affordable parts spec, and came in at 4,770 CAD / 3,600 USD. If Specialized's fingers were crossed about the reception it would get, they needn't have worried for long.
Still, we all wondered when the Stumpjumper EVO would be released in carbon. The answer is now.
Specialized Stumpjumper EVO Pro Carbon 27.5 / 29
Let's start with two key similarities between the EVO Pro and the Comp. First, the new Carbon Stumpy EVO Pro comes in both 29 and 27.5 inch wheels, with corresponding travel measuring 140 and 150mm, respectively. Like the alloy version, there is only one trim level, unlike the alloy version, that trim level is the Pro - which is a step up from the Stumpjumper EVO Comp at every line item on the spec sheet.
The other notable similarity is that the carbon EVO shares the exact same geometry as the alloy version, a flip chip with high and low positions, and the same two size options: S2 and S3. So Specialized obviously felt that they nailed the numbers on the EVO the first time around for this generation. Here's a refresher on those numbers:
2018 Specialized Stumpjumper EVO Pro 29 Geometry
Frame size:
S2
S3
Reach:
445mm
475mm
Top Tube (Horizontal):
599mm
635mm
Stack:
619mm
623mm
Seat Tube Length:
400mm
450mm
Head Angle:
63.5º
Seat Tube Angle (Effective):
76º
75.6º
BB Drop:
47mm
Chainstay Length:
443mm
Front Center (mm):
781mm
813mm
Wheelbase:
1,220mm
1,252mm
Fork Offset:
44mm
Trail:
138mm
2018 Specialized Stumpjumper EVO Pro 27.5 Geometry
Frame size:
S2
S3
Reach:
465mm
490mm
Top Tube (Horizontal):
615mm
647mm
Stack:
601mm
610mm
Seat Tube Length:
400mm
450mm
Head Angle:
63.5º
Seat Tube Angle (Effective):
76º
75.6º
BB Drop:
33mm
Chainstay Length:
440mm
Front Center (mm):
790mm
820mm
Wheelbase:
1,228mm
1,258mm
Fork Offset:
37mm
Trail:
137mm
So, we have identical geometry, two sizes available, and one trim level. After that, pretty much everything else is different between the Stumpumper EVO Comp and the new Pro version.
The EVO Pro has a full carbon frame, with the same asymmetrical design, a threaded BB, enclosed cable routing, and yes, that glorious SWAT door in the down tube, which was enlarged with last year's roll-out of this bike's cousins. The next thing you'll notice is that for the EVO Pro, Specialized decided to spec a coil shock - the Fox DHX2 Performance Elite, to be specific. Up front, suspension is handled by a Fox Float 36 Performance Elite at 150mm for both the 29 and 27.5 inch bikes. Both sensible, appropriate spec choices for this bike's intended use.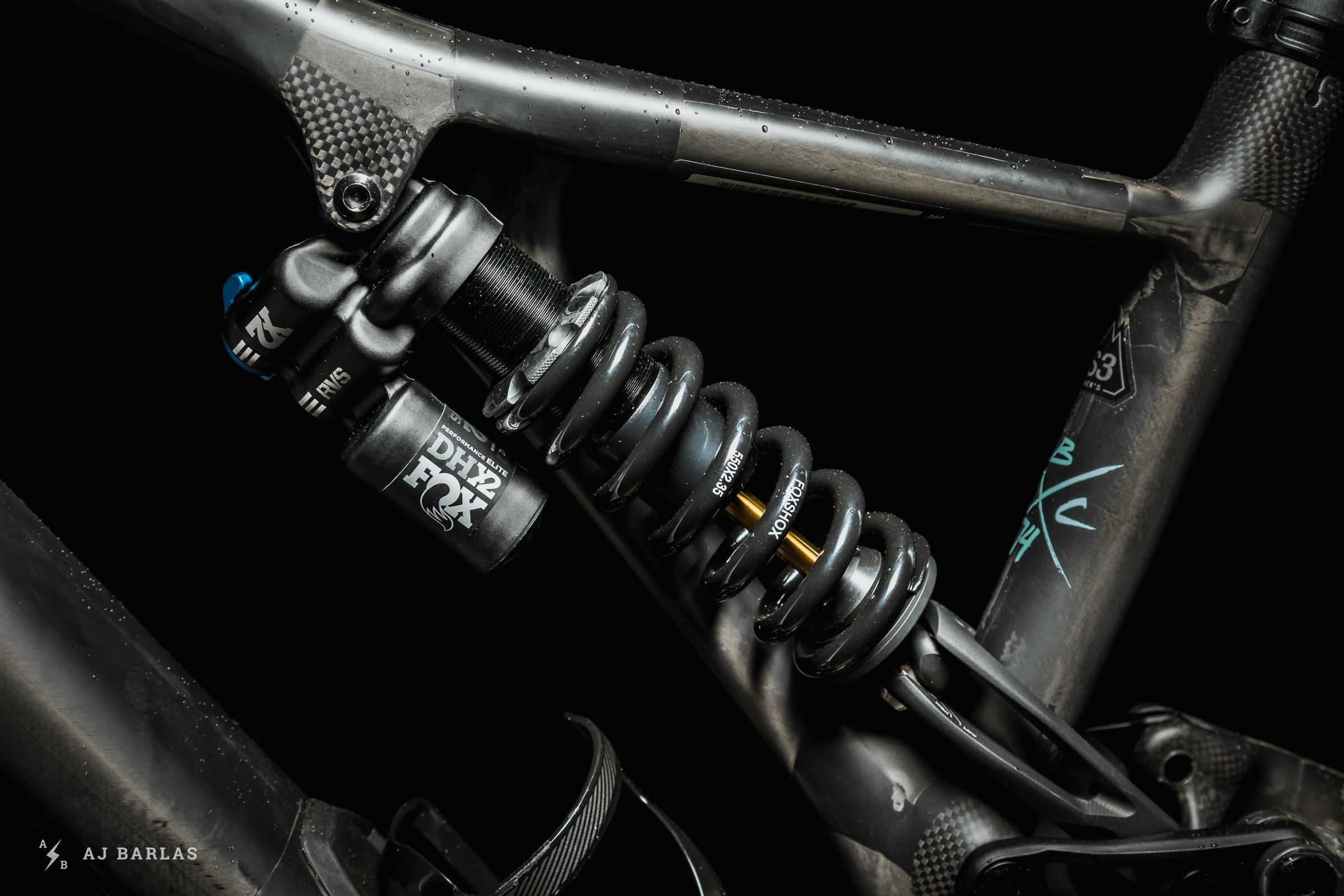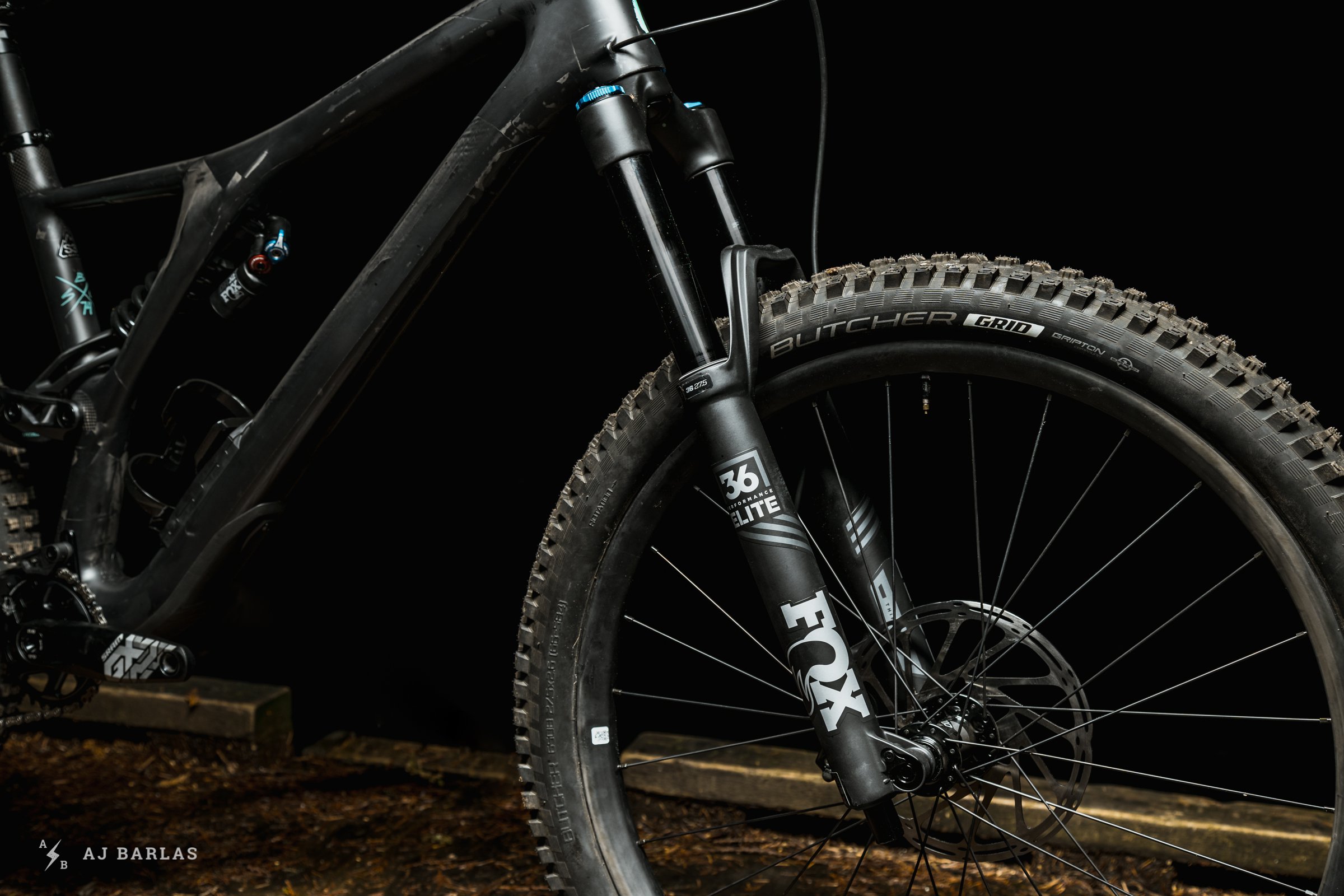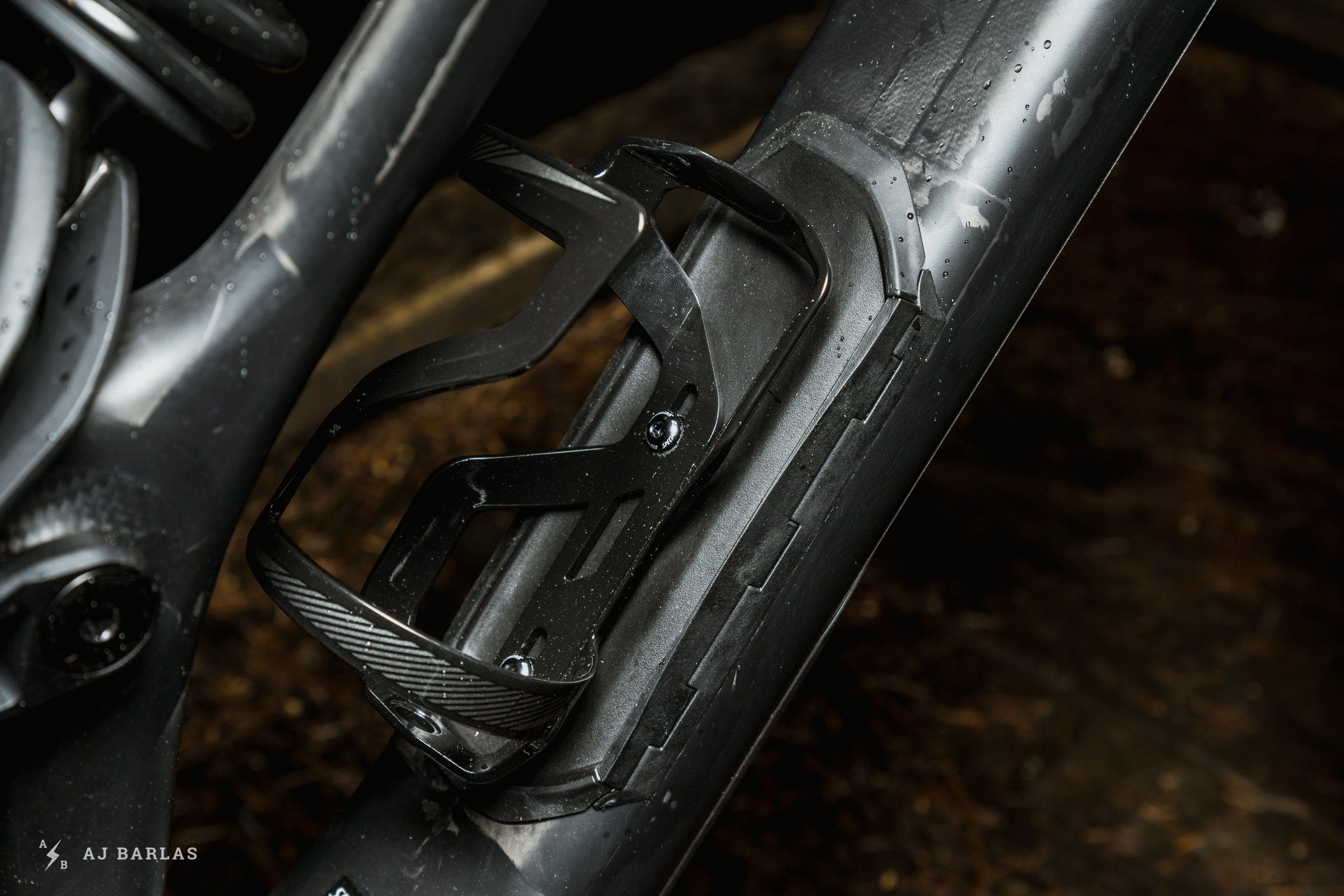 As you run through the rest of the spec, you only find more excellent, if unsurprising, choices. A complete SRAM GX Eagle group is the people's choice for reliable shifting and that sweet 10-50t cassette. It's amazing how quickly we've gotten used to 12 speeds and a 500% gear range from a single ring. Slightly more novel but no less excellent are SRAM Code RSC brakes with 200mm rotors front and rear.
More interestingly, Specialized spec'd Roval Traverse Carbon wheels, which have 30mm internal width rims, 28 spokes front and rear, and DT Swiss 350 hubs. Specialized Butcher tires at 2.6" front and rear give a stout patch of traction and bitey knobs. At 1200 USD / 1400 CAD, these are a budget-friendly carbon wheel. Still, as we'll see below, they were spec'd at the expense of going a little higher in cost with the suspension, which could make for a good debate over your next post-ride beer.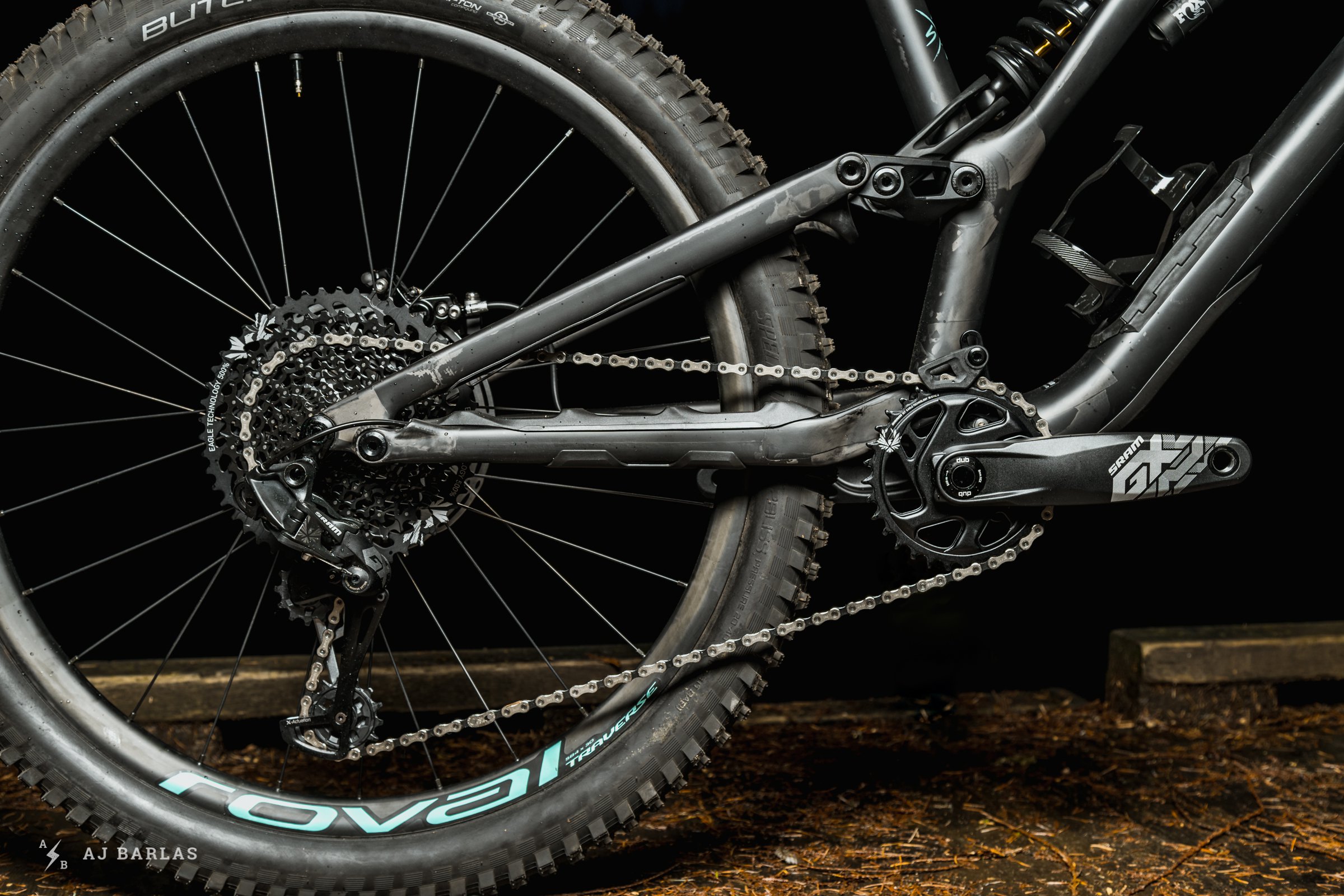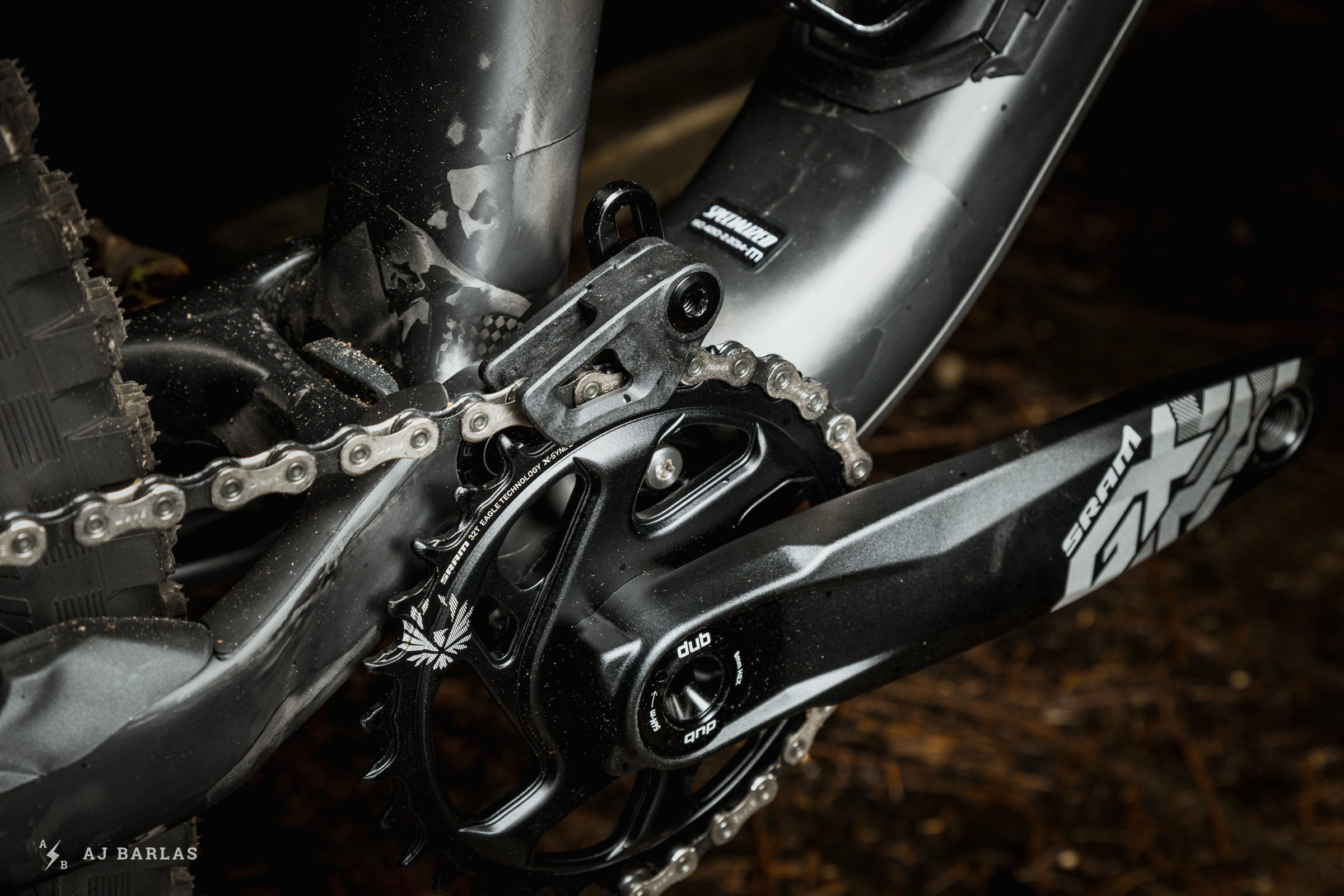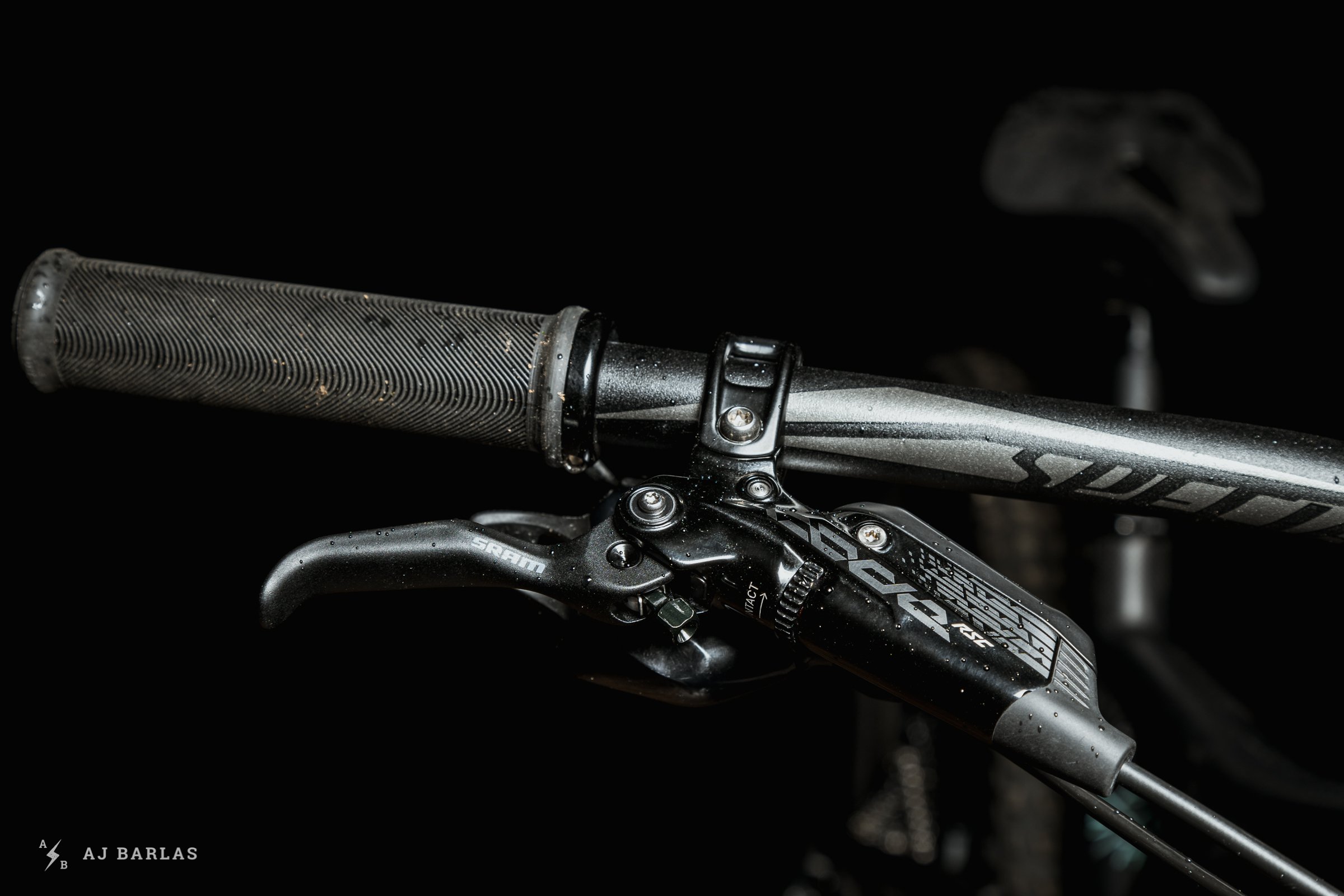 Other notable bits: that SWAT multitool that pops up from under the stem cap, and chain stay protection that does such a good job keeping things quiet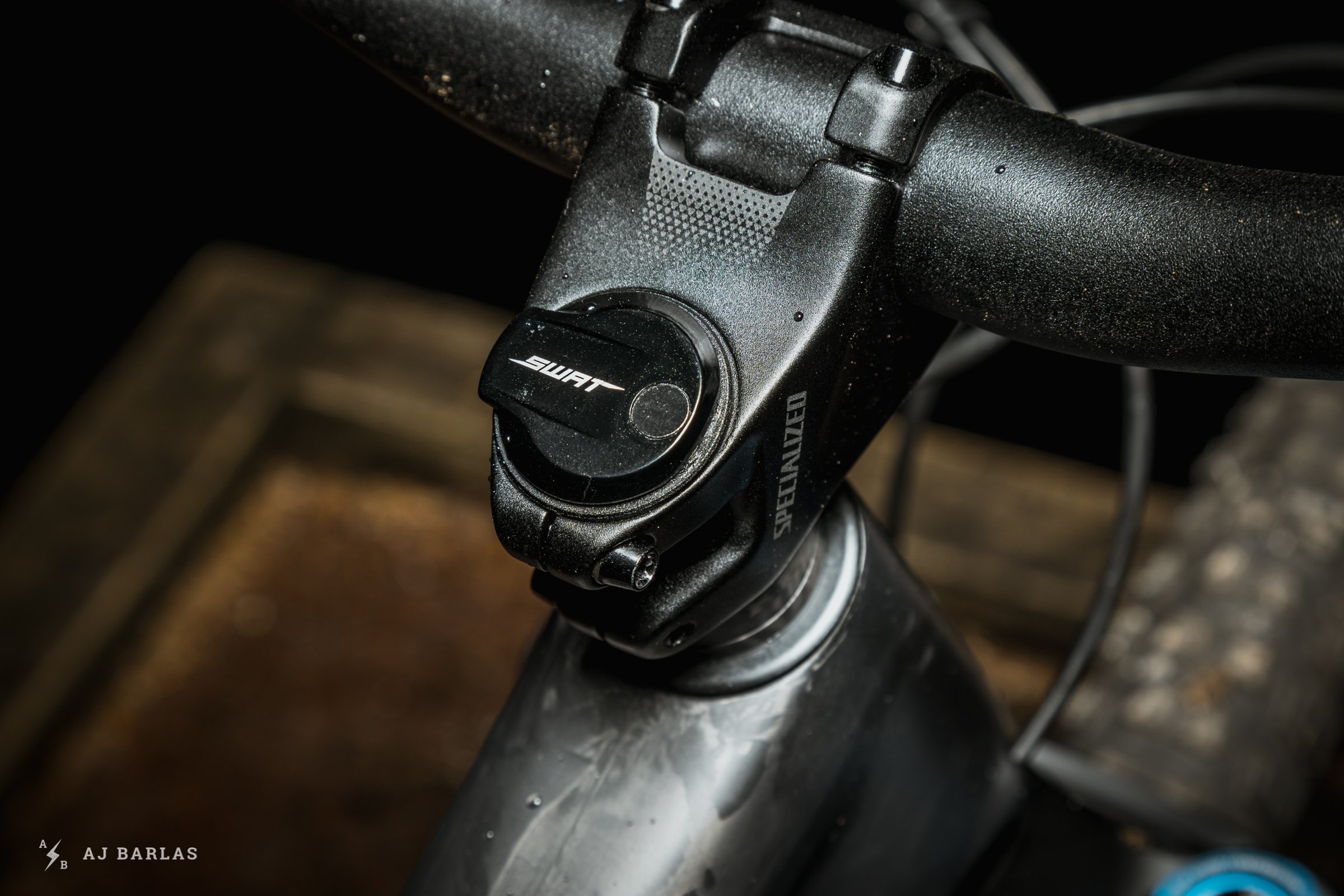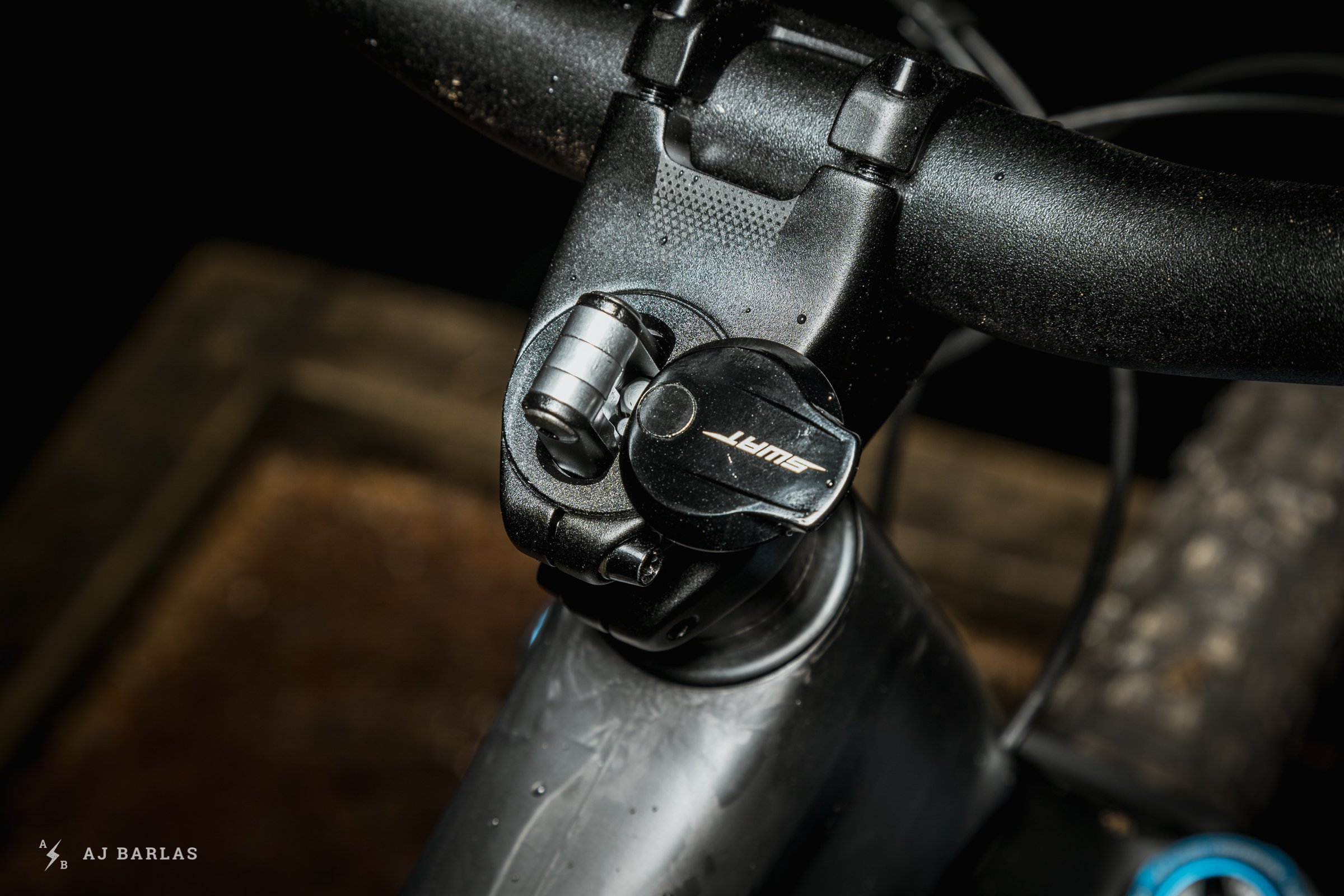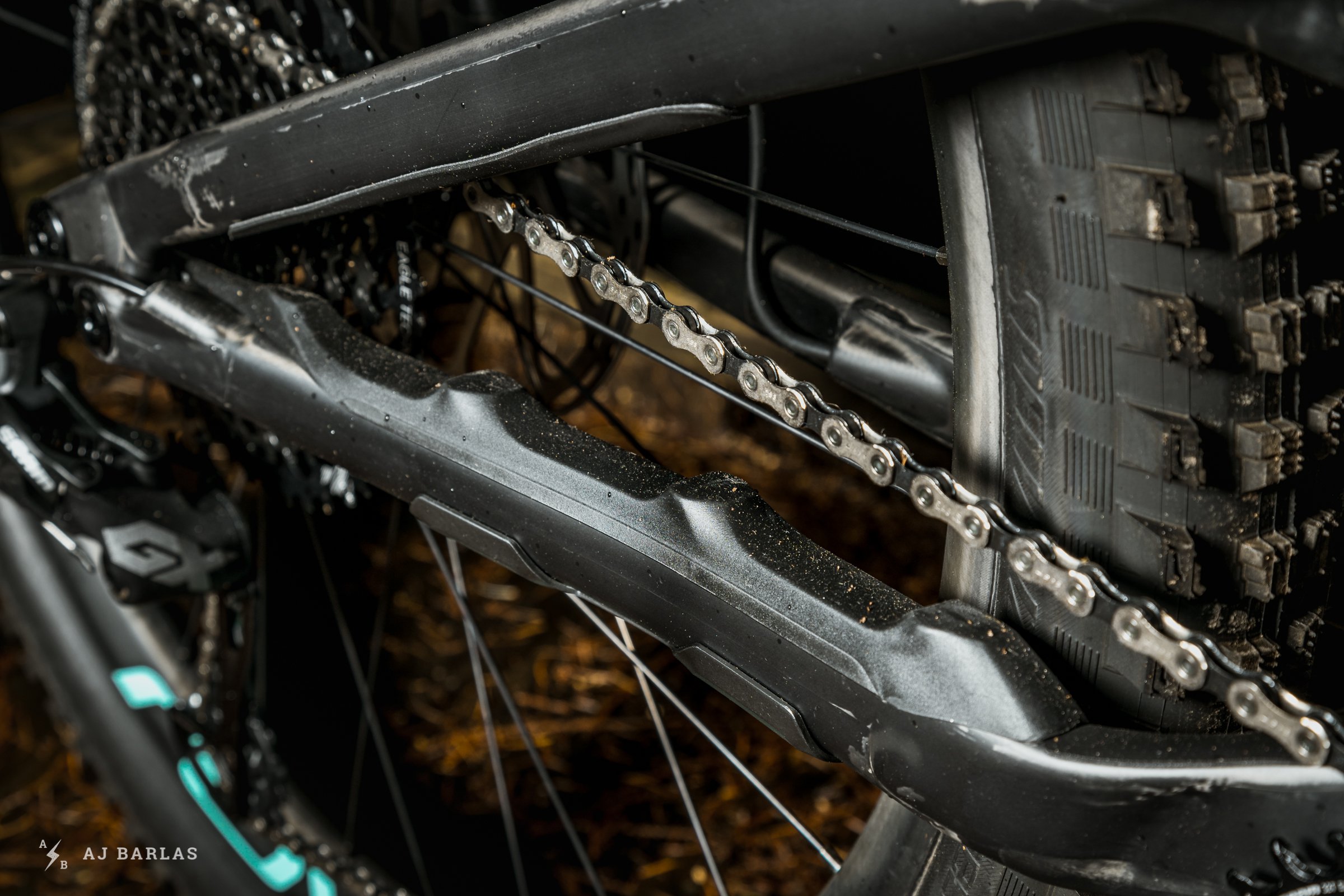 While I've had some rides on the Stumpy EVO Pro (we were sent the 150mm 27.5 inch version), the trail conditions in North Van have been very inconsistent over the last month, and riding in snow doesn't make for good testing. Early on I can say that the bike climbs very well and I enjoy the pedaling position and am looking forward to longer rides to get a better feel for it. The 490mm reach of the S3 size in Low position feels perfect for me at 6' 1 with a long torso. I'll reserve getting into its descending characteristics just yet, and save that for the full review, but one thing I'm curious to see is how I get along with the low BB - the 33mm BB drop certainly means I'll be giving both High and Low positions a go. Our technical climbing will no doubt have my thinking about running the High position.
The other thing that interests me is the question of intended buyer for this bike. There's a lot of crossover with the Enduro, albeit at a difference in travel and geo - interesting that in this case the shorter travel bike has the more aggressive geometry, including a longer wheelbase. Perhaps the next edition of the Enduro will correct that, but for now, it should be fun getting to know this Stumpy EVO as Spring rolls up on us.
For the myriad changes over the spec of the Stumpjumper EVO Comp (carbon frame, carbon wheels, all the higher end spec) you end up with an MSRP that is double. Whereas the Stumpjumper EVO Comp retails for $4,769 CAD, the EVO Pro comes with a sticker price of $9,291 CAD. If that's outside your budget, fear not: a Comp carbon version (with the alloy version's parts build) and frame only Stumpjumper EVOs in carbon and alloy are on the way.
We had a few questions about the new bike, so AJ ran them by Specialized PR rep Sean Estes...
The 2018 Stumpy EVO was built around an alloy frame. What's changed with the move to carbon?
The geo is identical, but we bring in the SWAT downtube storage and drop about 800g compared to the alloy frame. There is also a new clevis style seat stay that brings in a bit more stiffness to the frame compared to the standard models (about 7%).
The 2018 alloy model was shipped with uncut steerer tubes giving riders more flexibility with sizing. This carbon one was cut and set. What happened to the uncut steerer?
We wanted to simplify things for our dealers getting these bikes on the shop floor, so we now ship with cut steerers and 30mm of spacers installed. Still allows for the flexibility of sizing and limits the amount of forks that are prematurely cut short when they are being assembled by a dealer.
EVO carbon comes with a coil shock. What pushed Specialized in that direction?
We think coil shocks are fun and fit with the character of the EVO. The supple feel off the top and consistency on longer descents is great, plus we landed on a tune that also allows for a nice pedal platform for climbing.
The spec. is reasonable but I can't help but note the carbon wheels and lower (though still adequate) suspension spec. Why not spec alloy wheels and a higher end suspension setup?
There's always a ton of fun internal debates here on how we spec the bikes. Ultimately, Performance Elite level suspension and carbon rims felt like a more compelling bike for riders than alloy rims and Factory level Fox suspension. We like carbon rims -they make a noticeable difference on the trail in rider quality over alloy rims. Kashima looks amazing, but for this particular spec, we really wanted to prioritize ride quality.
Where's the S4? :)
EVO for Specialized has always been about pushing a bit further than normal on the geometry and spec of the bikes- so far the response to this version has been really positive. Based on this we are looking at ways to bring this style of geometry to a broader range of riders. How and when is still being worked on, but it is something we are all very excited about doing.
Are you able to share the leverage curve, anti-squat and anti-rise details with me? If you're able to provide charts that would be so good! How do they differ from the regular Stumpy would be amazing too.
Hardpoints for the EVO are very similar to the standard bike as a result leverage rate, anti-rise, and anti-squat are all super close (within 2%). We do make some changes in shock tune- for the Carbon EVO we bring in a bit more compression damping because of the coil spec and on the alloy bike we do some different things with the air spring from the standard bike to bring in a bit more progressivity and bottom out resistance.