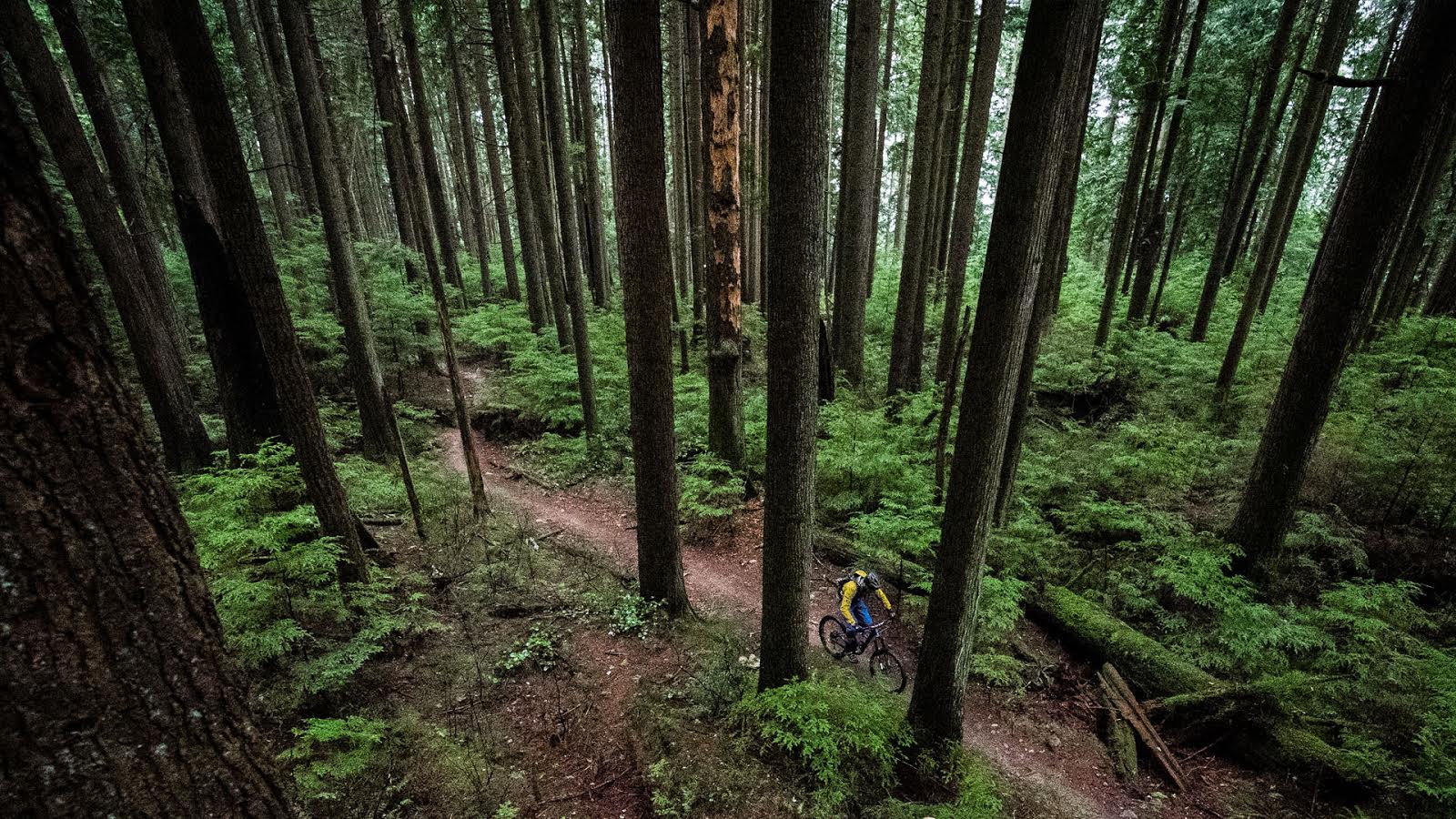 Specialized Winter Gear: Reviewed
Specialized is not the first name that comes to mind when I think of technical cycling apparel. That said, the big S has made few misses in product development in recent years. And I have a pair of the original Specialized Lobster Claw gloves that still see active duty on cold days. So when presented with the opportunity to put their cold weather trail-wear under scrutiny I figured why not; who doesn't enjoy feeling warm and comfortable on winter rides?
Specialized's Deflect H20 series is an understated black with reflective highlights.
Specialized sent along a selection of their outer (Deflect) and inner (Therminal) offerings, as well as a pair of winter-specific SPD shoes, for review. Out of the box, bag, etc. everything looked well made and thought out – uniformly black with reflective accents, full of smart features and designed to allow a full range of motion – though the lightweight fabrics did leave me with some concerns as to their trail worthiness. How would Specialized's winter apparel stand up to the rigours of riding on the Shore? The only way to find out was to suit up and give them a proper flogging.
First though, a word on sizing and cut: Specialized offers their men's apparel in five sizes ranging from S to XXL. And, different pieces have different "fits": Form is tight and articulated; Relaxed is said to give t-shirt-like freedom; and Semi-Form splits the difference, close for long-ride comfort. I found Specialized's sizing to run true to their size chart – at 6'2" I'm on the tall end of the spectrum for their Large size – and fit description – Form fit is snug, while Semi-Form offers more room while maintaining a svelte profile – though as with any clothing purchase it would be prudent to try the items on in person before purchasing.
---
Deflect H2O Expert AS Jacket
The Deflect series is meant to handle the kind of inclement riding conditions that are all too common during the "off" season. The Deflect H2O Expert AS Jacket is a lightweight shell that that makes the ambitious claim of being wind and water resistant and breathable. After half a dozen trail rides I can attest that it does indeed check all three boxes: I've worn it over a base layer on wet rides in single digit temperatures and cold rides well south of freezing, and have been comfortable from trailhead to tailgate.
The Form-Fit cut is indeed tight but, remarkably, the jacket isn't restrictive in the slightest. Though if your physique is more Road-House than Roadie, you might consider the Comp model, which is cut a bit more generously. The Deflect H20 Expert Jacket is cropped short up front so it doesn't bunch when riding, and long out back to keep you covered. Like its back, the jacket's sleeves are cut long to ensure coverage in the saddle, and have wrist seals to ensure no tender skin is exposed to the elements between the jacket and your gloves. The Deflect H2O Expert AS jacket goes for $200 US.
Form-Fit is definitely a tight cut – but at the same time it's not restrictive.
Side zipper is a nice touch.
Cuffs to cut down on the gap between glove and jacket.
Access to jersey pockets through a hole in the back.
---
Deflect H2O Comp Pant
In my experience – which after years of working as a bike courier and commuting and trail-riding year round isn't inconsiderable – wet-weather cycling pants tend to fall into two camps: form fitting pants that work well as riding apparel but don't provide much help against wet weather, and generic rain-pants with an elasticized cuff and some reflective trim. With their Deflect H2O Comp Pant, Specialized may have come as close to designing the perfect wet-weather riding pant as anyone to date.
At first glance the Deflect H2O look like a simple rain pant you would pull on over a base layer when caught in a downpour. But a closer inspection reveals several smart, cycling-specific features that suggest greater functionality:
Ankle zippers and gussets make the pants easy to pull on or off without removing your shoes, while an extra velcro patch allows you to tighten the cuff to slim the profile of the legs and keep them away from chainrings or chain.
Reinforced panels in the crotch and inside of the ankle should ensure durability in high-stress areas; but I noticed that after only a few rides, the single stitching around the non-reinforced hem of the pants, an area that is still bound to see wear on a product like this, was already starting to come apart.
Neon shoe covers prevent water from sneaking into your shoes at the laces and enhance visibility, and taped seams bode well for long-term weatherproof performance.
The sum is a pant that kept me dry and comfortable even on longer, wet weather rides: a godsend for those of us for whom the riding season never truly ends. The Deflect H2O Comp pant goes for $140 US.
Close to the perfect wet-weather riding pant.
A combination of zippers and velcro allows the pants to come on and off with ease.
Adjust the velcro tab to your preferred amount of taper.
All zipped up with the fluorescent shoe flap revealed.
---
Therminal Cycling Tights
Similarly, smart design and technical features help the mid-weight Therminal Cycling Tights stand out from the pack. Hold them up for inspection and the knees look like they're buckling, as though the tights just scoped out the take-off on Brutus for the first time. Slip them on and saddle up, and that odd shape makes perfect sense: they're designed to provide a perfect static fit in the saddle, thereby ensuring excellent articulation throughout the range of your pedaling motion. Stirrups for the feet and gaited ankles ensure no gaps in coverage between tights and shoes, and reinforced knees provide durability, along with a bit of extra protection to those exposed and important joints. The integrated "Winter" chamois provides comfort, though it does mean the tights will require regular washing. The Therminal Cycling Tights go for $130 US and can be had for $110 without the chamois.
With an integrated chamois, these tights get washed more often than a pair that is used separately.
Stirrups hold the tights down to keep wind out.
An ergonomic cut works well on the bike.
The right gear can make a significant difference to the quality of one's ride experience, and this is especially true when environmental conditions take a turn for the worse. Like modern trail-lights, well thought out apparel like Specialized's Deflect and Therminal offerings can extend the riding season; cold and/or wet rides may not be the ones that "memories are made of", but they help keep me sane and my riding stoke smoldering when the days turn nasty, brutish and short.
Have a closer look at Specialized's winter gear here.
---
Winter riding gear – do you go with specialized products like those above or do you prefer the old-school layering approach?