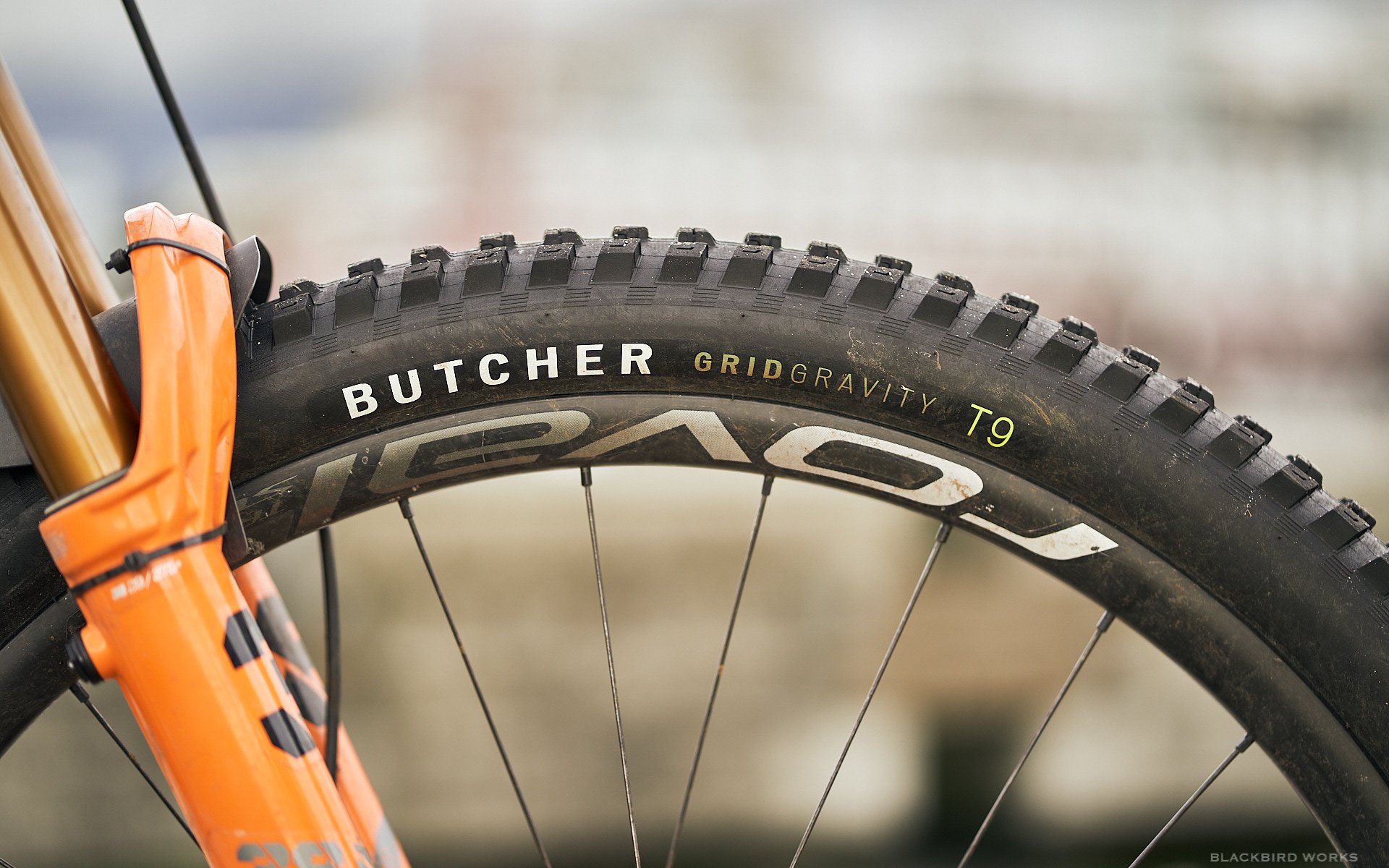 REVIEW
Specialized Butcher T9 Tires
Patience has a way of paying off.
Isn't that what we're always being told by our parents, partners, and mindfulness apps? In bikes as in life, nothing good ever comes easy.
In the fall of 2020, Specialized released a new line of tires. Well, not entirely new. The tread patterns were familiar, but the rubber compounds were all new, and that's a big deal because, historically, Specialized tires enjoyed a generally good reputation for performance, made even better when you consider the value proposition - but the Butcher had lagged somewhat recently (whereas Specialized XC and trail tires have a lot of fans). Whether someone thinks they were merely decent, good, or even great depends a lot on When that person's opinion was formed. That's because despite being a very large bicycle company (that, ironically, was founded by Mike Sinyard as a way to import European road tires into the US) Specialized relied in the past on other suppliers to manufacture their tires for them. If that is news to you, know this: there are not that many manufacturers of bicycle tires in the world. Far fewer than there are bicycle tire brands.
So, despite the fact that Specialized manufactures a whole lot of bikes every year (thus creating a large OE purchasing pool for tires of all kinds), and has devoted a significant amount of R&D time over the years into tire development, they still relied on outside production. This has its upsides and downsides, not the least of which is that it meant they were relying on a competitor to manufacture their product for them*, most recently CST (Cheng Shin Tire, the owner of the Maxxis brand). Thus, over the years, Specialized tire quality varied - and of course this could be different depending on whether you meant XC, All Mountain, DH, road, etc...that's a lot of different tire categories and some were better than others.
*this happens in the world of sports equipment more often than most of us realize.
Specialized realized they had a problem, or at least a non-optimal situation, so four years ago they teamed up with IRC Tire, and together they built a factory in Vietnam. Specialized engineers had always developed their own tread designs and constructions, so they didn't need help there, but historically they had relied upon their supplier (ie. their tire manufacturing partner) for help with their rubber engineering. Again, when you put something like that in the hands of your competitor, you may not have access to their best compounds, or at least not right away, or your pricing or delivery windows may make it hard to be competitive. This new partnership with IRC meant Specialized could bring production as close to in-house as possible without taking on the financial burden of building and running a factory on their own.
The big story is the new rubber compounds, called GRIPTON, and Specialized has kept the nomenclature simple: 'T' simply stands for 'tread', and the number that follows - using a scale of 1 to 10 - indicates the compound's characteristics: a lower T number means the compound will have a higher rebound rating, whereas a higher T number means the compound will have a lower rebound rating, less elasticity and more damping.
For the sake of this discussion, there are three tire treads you might want to know about:
Eliminator, which is a less aggressive, all-around tread that'll roll faster than the other two listed here (used as a rear tire on bikes like the new Stumpjumper EVO),
Butcher, the tire tested here, and by far the most commonly spec'd and used Specialized tire for aggressive trail and gravity riding (spec'd front and back on the Enduro as well as Demo with DH casing),
and Hillbilly, an intermediate to soft conditions tire that looks like it would eat loam for three square meals a day but may struggle on slabs (we'll have to test this out to be sure)
To reduce confusion I'm going to list the tire models and specs available in the new rubber below. Specialized's site still lists the older models of these tires - to be sure you're looking at the new rubber, you want to look for T7 or T9 in the tire's name:
ELIMINATOR | GRID GRAVITY | 2BR | T7/T9 TIRE | 650B x 2.3 or 2.6
ELIMINATOR | GRID GRAVITY | 2BR | T7/T9 TIRE | 29 x 2.3 or 2.6
BUTCHER | GRID TRAIL | 2BR | T9 TIRE | 29 x 2.3 or 2.6
BUTCHER | GRID GRAVITY | 2BR | T9 TIRE | 650B x 2.3 or 2.6
BUTCHER | GRID GRAVITY | 2BR | T9 TIRE | 29 x 2.6 - Tested as front tire
BUTCHER | GRID GRAVITY | 2BR | T9 TIRE | 29 x 2.3 - Tested as rear tire
HILLBILLY | GRID GRAVITY | 2BR | T9 TIRE | 650B x 2.3
HILLBILLY | GRID GRAVITY | 2BR | T9 TIRE | 29 x 2.3
The tires arrived just as the days got short, wet, and nasty in November. With the choice between Grid Trail or Grid Gravity casing on my Enduro test bike, I opted for Grid Gravity on the front and back. Our slippery winter conditions mean we want to be running lower pressures than normal to eke out more traction. Side bet: I'd rather push a bit more weight in the winter than suffer the misery of attending to a flat in near-zero conditions. Ironic note: the tires mounted up easily and I haven't suffered any flats, but the stock Specialized tubeless valves have a shape that doesn't always provide a good seal on the rim bed, and one resultant late start had me buying beers for that day's posse, which numbered 6.
Grid Trail is a newer casing from Specialized, that replaced the old Grid. It is a 1.5-layer construction, with bead to bead coverage in the second layer. I can confirm that Grid Trail is more supportive and offers better flat protection (pinch and poke) than Grid, as I never suffered a flat despite abusing them for the better part of a year.
Grid Gravity casing is a 60 tpi double overlap construction that has a folding bead but is essentially a DH-rated tire (Specialized has eliminated their Black Diamond DH casing). I'd compare it to DoubleDown in terms of support and feel, rather than a full DH casing from Maxxis, with the weight to put it squarely in that range.
Here's how the claimed weights stack up for 2.3 & 2.6 sized Butcher T9s in Grid Trail vs. Grid Gravity casings:
Specialized Butcher T9 Grid Trail
29 x 2.3" approx. 975g
29 x 2.6" approx. 1050g
Specialized Butcher T9 Grid Gravity
650B x 2.3" approx. 1240g
650B x 2.6" approx. 1250g
29 x 2.3" approx. 1290g
29 x 2.6" approx. 1315g
There's a substantial weight penalty to the burlier casing, and I will put a Grid Trail-equipped wheelset on the bike as temps warm up a bit and revisit this review with updated comparisons. But for now, Grid Gravity it is, 29 x 2.6 front and 2.3 in the back. I mounted them onto the Roval wheels that came with the bike but it's worth noting that previous to this test, I had been running Maxxis Assegai 29 x 2.5 MaxxGrip up front and a DHR II 29 x 2.4 MaxxTerra out back as well as CushCore Pro at both ends, so this setup was lighter than what I'd been lugging around. No one will be surprised to hear that both grip and damped feel were off the charts with that portly combo. In fact, I'll save more of this for the review but that combination in conjunction with a coil shock on the Enduro was the gooiest setup I've ever run, hands down. I was only starting to explore new levels of confidence and knocking off lines that I'd had issues with forever before I made the switch. On one hand, I was a bit apprehensive about giving up any performance advantage at all - especially with the others I ride with making constant strides these days. However, sacrifices must be made and Specialized sounded pretty pumped about these new tires, so on they went.
Riding the Butcher Grid Gravity T9
I needn't have worried. On my first ride I ran my pressures a bit higher than needed - 19 psi front, 21 out back. It was a cold, wet day when I'd normally air down a bit, but I was coming off a CushCore setup (15 front, 17 out back for steep and slippery conditions where traction is everything) and wanted to ease my way back into soft settings. I confess to expecting a bit of a downgrade in grip, but that's partly due to the old Butchers, which were quite good in firm, loose over hard, and dry conditions, but suffered mightily in the wet, especially as it got colder. I expected an improvement with the new rubber, but by the end of the first ride the only thing I was left wondering was whether I'd given anything up in confidence at all.
After a few more rides, my familiarization increased, I narrowed my pressure ranges, and started to get better acquainted with the beastly T9 Butchers. Once the rain starts in October and November, it doesn't seem to stop. Just when you think you've got the measure of slimy roots, the snow line dips, and now you're playing with slush, mud, and snow in the upper trails. If your tires suck, you might as well be riding a gravel bike with square wheels and v-brakes. Fortunately, I was in a happy place with the new Butchers. Giving them no shortage of opportunities to scare me or let my confidence falter, they proved to be consistent performers. Wet, non-perpendicular roots? Got it. Steep, sketchy slab lines? Place the front tire and watch it trace a perfect line. Get a little too zesty and need some green N driver panic braking? Yer covered.
The defining moment came when I was least expecting it. Not at my best, I was managing my way down pretty well and cleaning some lines that are usually 80/20s for me - ones I'll get on most good days but still can stick in the back of my mind on a bad day and cause a balk. But then we came into a section that is a 10/90 for me - I can clean each section individually, but there are one or two cruxes that can throw me off (it's a long sequence of moves). The first is a very off-camber, smooth rock that is slick when wet. To clean it you either have to carry a little more speed than you'd like for the next section and hit it straight, or you can slow down and execute a 'smear and slide', hit the catch at the bottom, adjust and proceed. Usually I try the latter, but on this day I hit it straight and, as is too often the case, made it through with way less drama than I expected. What greets you next are a series of awkward, slow speed ka-chunks with some direction changes, tree-dodging, and twisty roots. All perfectly gettable if you manage speed and line and just gut it out - which I did. That leads you into another off-camber section into an up-and-over with a knuckle-buster tree on one side and exposure on the other. The move itself is simple but it's easy to lose your nerve - or the skin on the outside of your hand. Having not put a single knob out of line, I simply rode the whole thing and, without really paying much conscious energy to it - nailed it. Smoothly. And just like that, I realized that if I was standing in a bike shop looking at an Assegai at $130 and a Butcher T9 at $100 CAD, I might just take the option that costs $30 less. After all, it's a guarantee I'll have to buy the beers again at some point. They don't call it Roggey-time for nothing.
Overall impressions
The previous gen Butcher was a good all-around tire for aggressive trail riding, but not a great one. The center knobs alternate between blocky, brake-friendly square units and generously-ramped directional knobs. I had no complaints about their ability to drop anchor at a moment's notice and help you hold a line, even in rough, scattery lines where you're fighting to stay planted. Despite this, they also roll quite well - comparable to a DHF/DHR II combo. And durability was admirable: on the North Shore's predominantly soft conditions, we can get more life than normal out of a rear tire, but I did my share of pedaling up paved roads (especially during the first 3 months of Covid) on those Butchers and they gave me most of a year of use at an average of two rides per week.
In firm corners is where things sometimes got a bit hairy. While I found them to be pretty good in loose over hard conditions - something we generally see in summer only - they had a tendency to break loose unexpectedly under hard pressure in firm conditions, and when that happened I didn't know when I'd regain traction. This popped up as speed increased in unsupported corners, which is exactly when you need things to be predictable. In softer dirt, it wasn't an issue and the Grid Trail casings were still quite supportive, but those squirmy knobs were alarming. This is despite a change that happened in the last few years to shrink the gap between the center and side knobs in order to create a more predictable transitional moment between the two as you lean over. I don't think they quite nailed it, but I haven't had a chance to ride these new Butcher T9s in warmer, drier conditions just yet. Soon enough, I hope.
At slower speeds the corner knobs definitely do their job up to a point, but then the rubber would let them down. That is where the T9 rubber outshines its predecessor and I've enjoyed the grip of those side knobs immensely. Generous siping in all the knobs is likely working harder with the new rubber, too. The old Butchers weren't bad in the wet, but they weren't as good as some other options I've enjoyed from Maxxis, WTB, and when the skies darkened I always knew I'd be a little more on edge. With the switch to T9, I'd put them up against all of the aforementioned and rank them at least on par - rain is no longer an arbiter of noticeably reduced grip.
Discussing Tire Design Theory with Specialized
I have used a lot of words to talk about these tires so far, and I'm sure there are tire nerds among you that would like to go deeper. Spending some time on the Grid Trail version of the Butcher T9s will allow for more comparison and balance, because to be honest, not everyone wants to push nearly 2,600 grams of rubber around (me included, unless I have to). But I spent a bit of time on a zoom call with Matt Bialick, Specialized's US-based tire PM, and Wolf VormWalde, who's had a lot of responsibility for Specialized tires (road, MTB, etc) for at least 10 years now (having also spent time at Continental). It would be a waste not to share a few of the things I learned:
The new rubber compounds - and specifically T9 - were developed at the request of the Specialized Enduro team, who weren't happy with previous tire options. Before T9 came along, there was T7, which uses a silica-based compound that attracts water so it can then break through the wet layer to create grip. Some of the learnings that led to T7 came from road and gravel research, but T7 wasn't good enough for the enduro team, so they had to dig a little deeper. T7 was at the limit of polymer blends using silica, so they changed to carbon black, which is used in motorsport performance tires, and composed of stirene butadiene, which has a high oil content and an extremely slow rebound value. It's the same polymer that Maxxis and Michelin use, but with different amounts of oil and carbon blacks.
Wolf was candid about Specialized's rubber compound performance envelope. Their goal was to come up with something that provides a high amount of dampening across a wide temperature array. What they settled on was optimized around 20º C (15 - 25 degrees being the best range of temps) and that it probably wasn't as good at high temps as some others. Here he specifically named Michelin's tire designs as being good in high energy environments (ie. high speeds or high temps) and I thought it was notable that he was willing to concede that 'S' rubber wasn't as good at higher temps. He also mentioned that Specialized T9 tires have a 50 durometer rating across the tire, whereas Maxxis, as many of you know, varies durometer and a 3C compound tire has a softer durometer of 45 at the edges and a harder durometer in the middle. Different ways to skin a tire.
Temperature is an interesting topic here - Deniz has been digging into that a bit and we'll be talking about how temperature affects tire performance more in the future. I'd love to spend more time chatting with Wolf about truly nerdy tire tech (we'll try to make this happen) but I wanted to share his use of the term Hysteresis, which is fundamental to the formula that determines a mountain bike tire's grip. Broadly, it means the dependence of the state of a system on its history. I'm going to need about four semesters of engineering study to really grasp it, but it can affect magnets, shape memory alloys, and also occurs in the deformation of rubber bands, which is a lot closer to today's subject matter than those other two. I'm going to have to dig into that into more detail later, but I thought it was useful to hear that it's a key component in Wolf (and Specialized's) rubber compound engineering theory. And so far, based on limited experience, it's paid off.
Specialized Butcher Grid Gravity 2Bliss T9 can be found online for $70 USD - here's the 29in x 2.3 or 2.6 & here's the 27.5 x 2.3 or 2.6
Specialized Butcher Grid Trail 2Bliss T9 has a retail of $60 USD - here's the 29in x 2.3 or 2.6 & here's the 27.5 x 2.3 or 2.6
They can be found online in Canada as well, you just have to hunt around a little bit. Canadian SRP is $100 CAD for Butcher Grid Gravity and $95 for the Grid Trail casing. More info at the Specialized website.