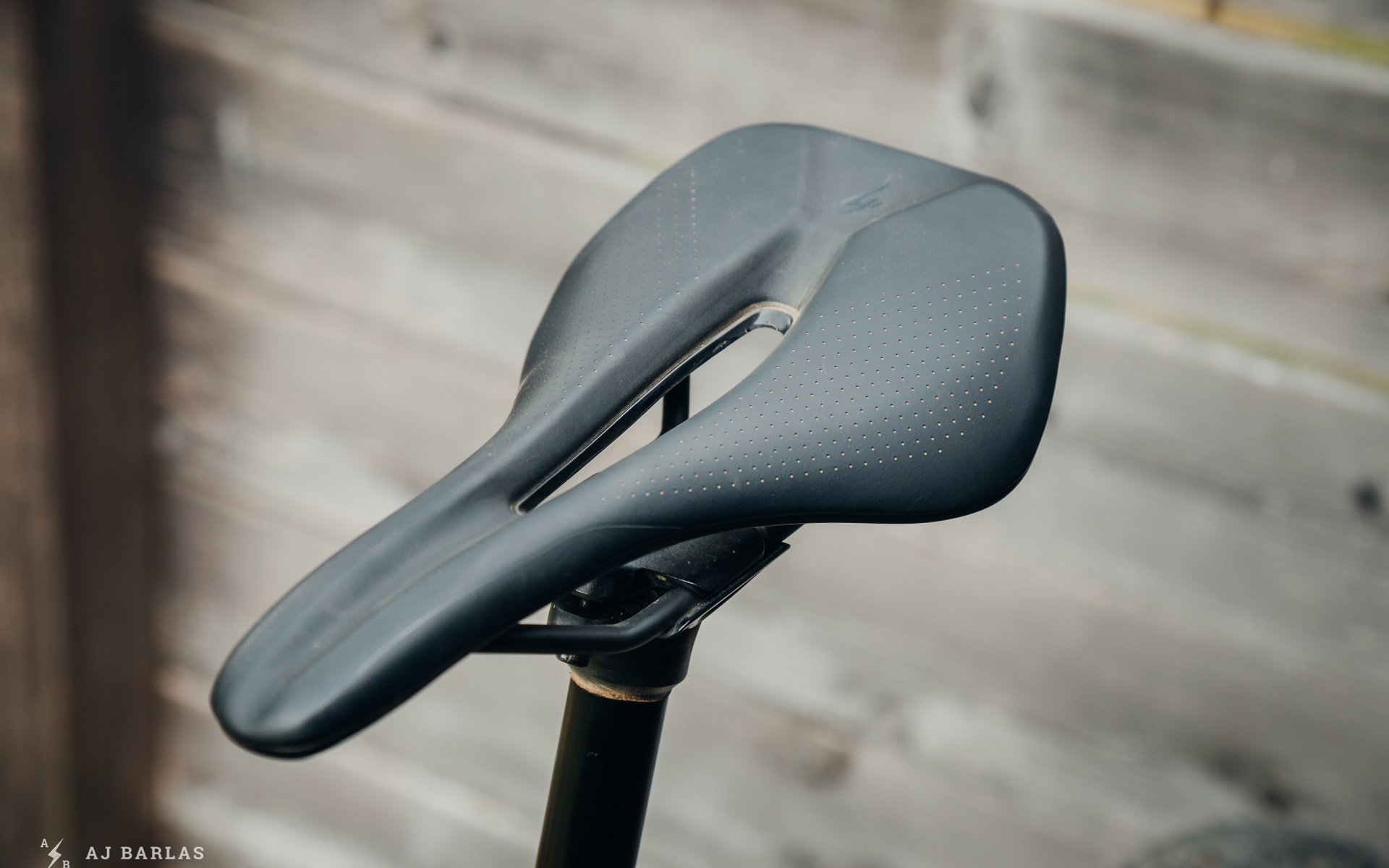 Editorial | Review
Specialized Body Geometry & Finding the Right Saddle

Fit systems are nothing new in the cycling world, especially if you come from a road background. I've never ridden a road bike. I was, however, subject to the strict nature of some bike fitters while working my first shop gig some 19 years ago. Despite being force-fed the process early in my involvement with bikes, I never acted on it. Not many kids riding dirt jumps and downhill bikes do!
But now it's different. Bikes are more capable than ever and thanks to Enduro, we have long-legged weapons that can comfortably pedal all day. Like many, I've welcomed these wonderful new bikes with open arms but there's been another learning process involved. Fit and specifically here, seat comfort, have required attention. Out are the days of shopping for the sleekest, least padded seat for the downhill bike and in are the ones where function far outweighs fashion.
And I've been through all phases of the process. Seats with colours that match the bike. Rider-endorsed hogwash. Options that have a thicker cushion and those that don't. Recently I discovered my approximate sit-bone width and followed online prompts for a seat that I thought would be sweet. Unfortunately, that was one of the shorter-lived seats I've had. It turns out there's more involved than knowing your measurement. Riding position plays a large role—whether aggressively leaned forward or more upright—but even then that perfect saddle may not work out on the trails.
Specialized has been trying to put an end to this with their Body Geometry System. In 2012 they purchased Retül and have invested lots in fit. They've got a selection of well-designed stock footbeds, full-fledged custom moulded options, grips, and seats. I've spent the better part of twelve months on a couple of their saddles; the Phenom and Power. During this time I've noticed the differences in feel between them despite their measurements each "fitting" me.
Highlights
Patented Body Geometry design is lab tested to assure blood flow to sensitive arteries.
Carbon-reinforced shells.
Lightweight and supportive PU padding for comfort and support on longer rides.
Lightweight, durable, and hollow titanium rails.
Tough, lightweight, and water-resistant cover.
Level 2 padding: Medium density foam for bike feel with additional cushioning.
SWAT™-compatible mounts moulded into the saddle base allow for sleek and integrated storage solutions.
Size 143mm / Weight 233g (Power), 248g (Phenom)
Size 155mm / Weight 235g (Power), 254g (Phenom)
Size 168mm / Weight 238g (Power Only)
Phenom MSRP: 120–300 USD / 125–350 CAD
Power MSRP: 120–325 USD / 125–350 CAD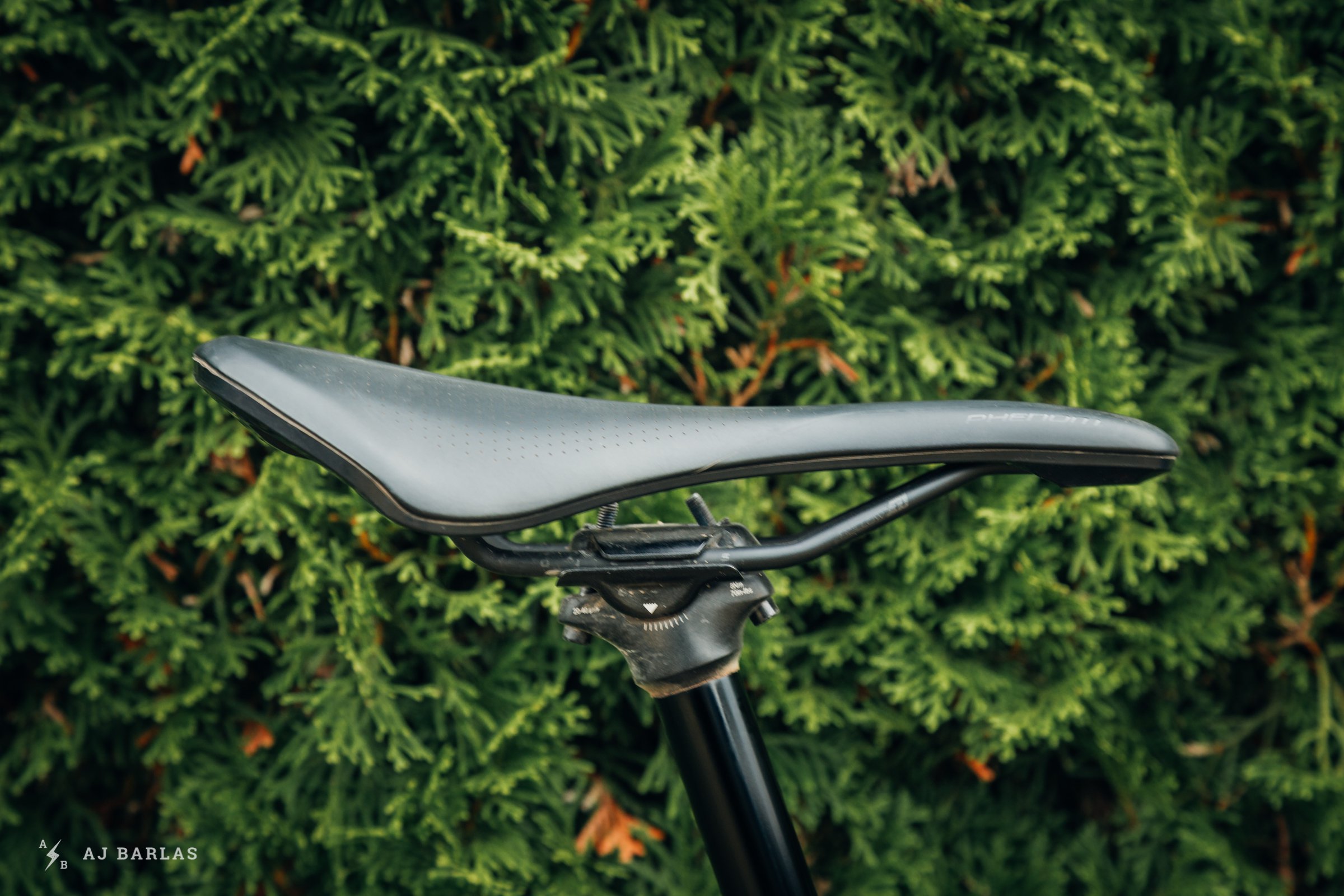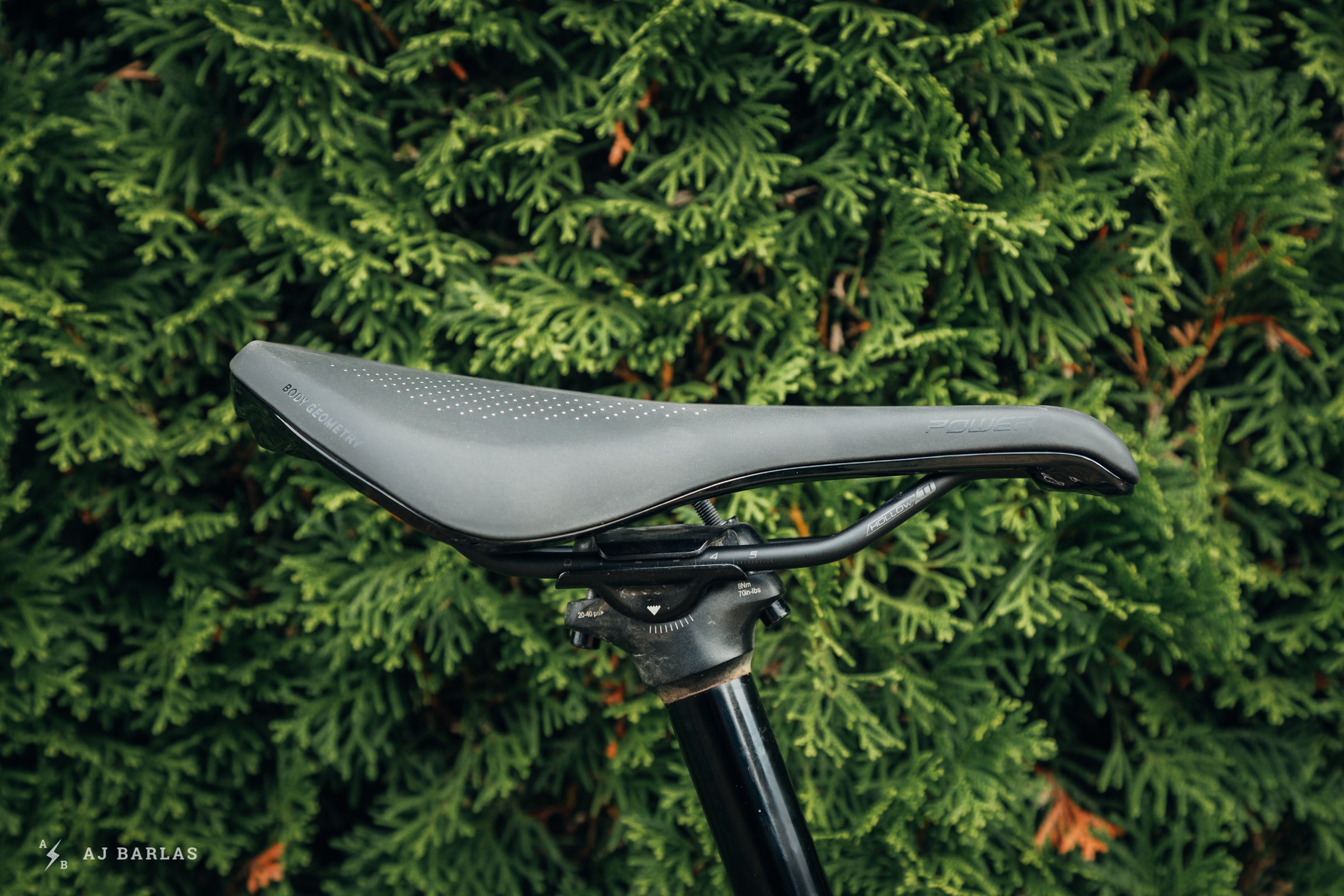 My seat size is 143mm and I've had good, though not perfect experiences on seats at this size. What I've learnt is that in addition to measurement, there are heaps of other variables that make it tricky to find optimal fit. Discussing this with Specialized Body Geometry Product Manager, Garrett Getter, I was made aware of a number of these. Things like the cutout size, curvature of the saddle, the transition from the nose to the wide point and foam. To some these may be obvious but I didn't realize how drastically the often subtle variations can affect comfort.
In the past, I've spent time on a 143mm Henge. This was before knowing my measurements and I found it quite comfortable at the time. I enjoyed the shape of the seat and to me, a wider and shorter nose. Before jumping on a bike with a longer rear-centre and steeper seat tube angle, I would aggressively shift my weight up the nose when climbing. That wider nose worked well with such techniques.
This time I opted to try the Phenom saddle. Early last year I spent some time on a seat with a cutout in the centre. It felt alright but the shape didn't work for me. The Phenom in 143mm features a nose that's on the longer side and a groove to a cutout in the centre. It's been an excellent saddle, good enough for me to ditch my chamois. But during long days riding it would cause some mild discomfort. I enjoyed the length when descending, with the seat letting me know where I was positioned on the bike.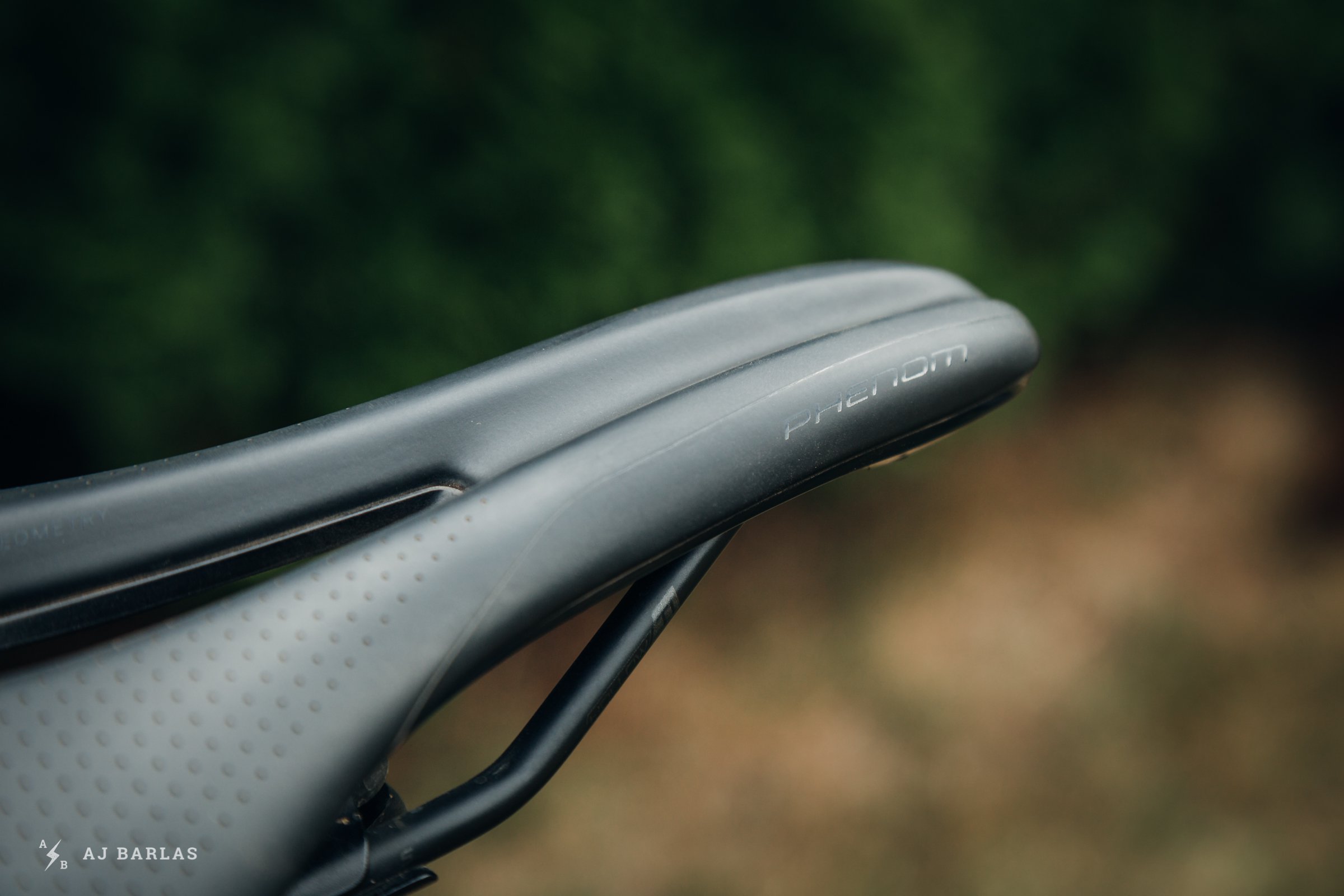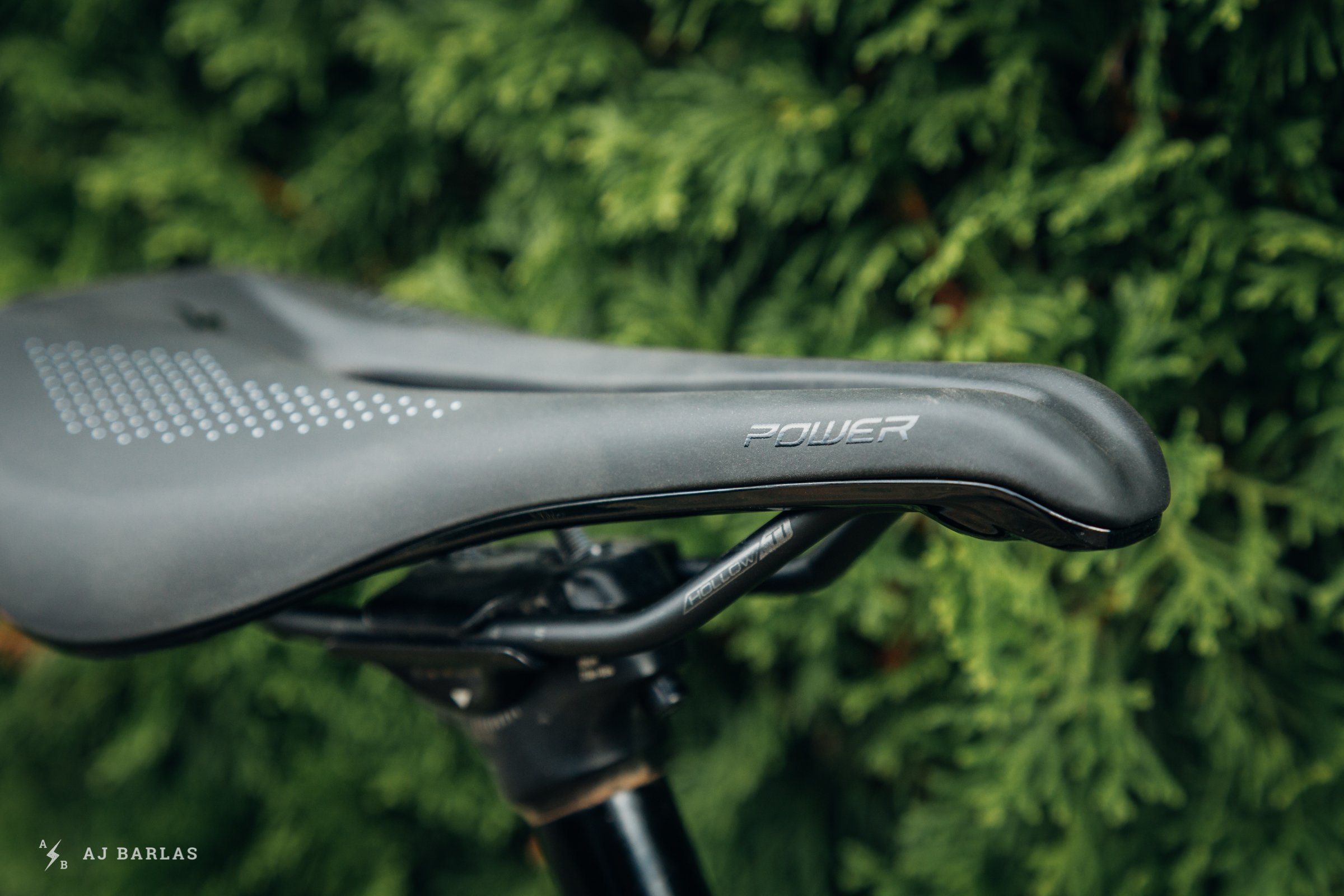 Then I tried the Power saddle at the recommendation of Specialized staff. Initially, I thought the saddle looked like a strange women's specific model. It turns out it is, or at least it was… during development, the seat was being designed for female road riders. I share Andrew Major's experiences with 'women's' saddles so I wasn't afraid to try it. I also care less for looks and favour function, so I gave it a go.
Had I paid attention and read the features I may not have gone through with it. The Power saddle has a "stiff, carbon-reinforced shell for longevity and all-day efficiency." Stiff and all-day efficiency aren't elements I typically seek. Comfort is king for me but there's obviously more to it. Its shorter length would have caused some worry too but in practice, it hasn't. I don't need to shift about on my seat as I once did so the length wasn't missed there. After a couple of rides, I adjusted to the saddle's whereabouts when descending as well.
This strange looking thing is the most comfortable I've ridden so far. I'm not sure whether it's the more aggressive transition from the nose to the wide point, the larger cut-away, or the curvature. Perhaps the stiffer base is the solution? It would make sense that on longer days the softer base could begin to offer less support. Whatever it is, it works well for me. Specialized informed me of the Power Arc as well, but when they mentioned it works well with thick thighed individuals, I knew it wasn't for me. I've never heard my chicken legs described as thick, or my hamstrings as large.
After almost twelve months I'm still happily switching back and forth between the two. The Phenom only falls short on longer rides and tends to take place on review bikes now while the Power lives on my personal bike. Even the short length hasn't been a concern, though it may be worth considering your bike's geometry and riding habits before diving into something like the Power saddle.
Options for mountain bike fit have come a long way and continue to change. Knowing your measurements or getting professionally fitted at a dealer isn't enough, though. Time on the saddle, on your own bike, is a must for the best fit. Some bike shops and Specialized dealers offer help with this, providing customers with the choice to test saddles on their bike. Unfortunately, at this point the availability of demo saddles depends largely on the dealer. It's something that Specialized mentioned they're working on but at this point don't assume any store selling Specialized seats will allow you to demo them on the trails. Ask shop staff, whether a Specialized dealer or not, about their options for seats.
Finding the correct seat can be a long journey. It's taken me almost two decades to find that primo fit. Ditching the gooch-pad was the pinnacle and I'm so thankful. While the Specialized site still titles their choices traditionally (road, mountain, man, woman, etc), Garrett noted that they've found there to be no real split between disciplines or sex. If a road saddle works for someone on a mountain bike, they should use it. Disregard labels and descriptions, if I hadn't I'd still be searching. Look at the 'road', 'women's', heck, dog saddles if they exist. Try and find a store that will allow you to test multiple versions, after finding what your measurements are. Hunt high and low. There is a saddle out there that will fit you. Specialized are one option and they certainly have a lot of choices, which makes them an excellent starting point.
More information on the Specialized Body Geometry System and saddles is available on their website.