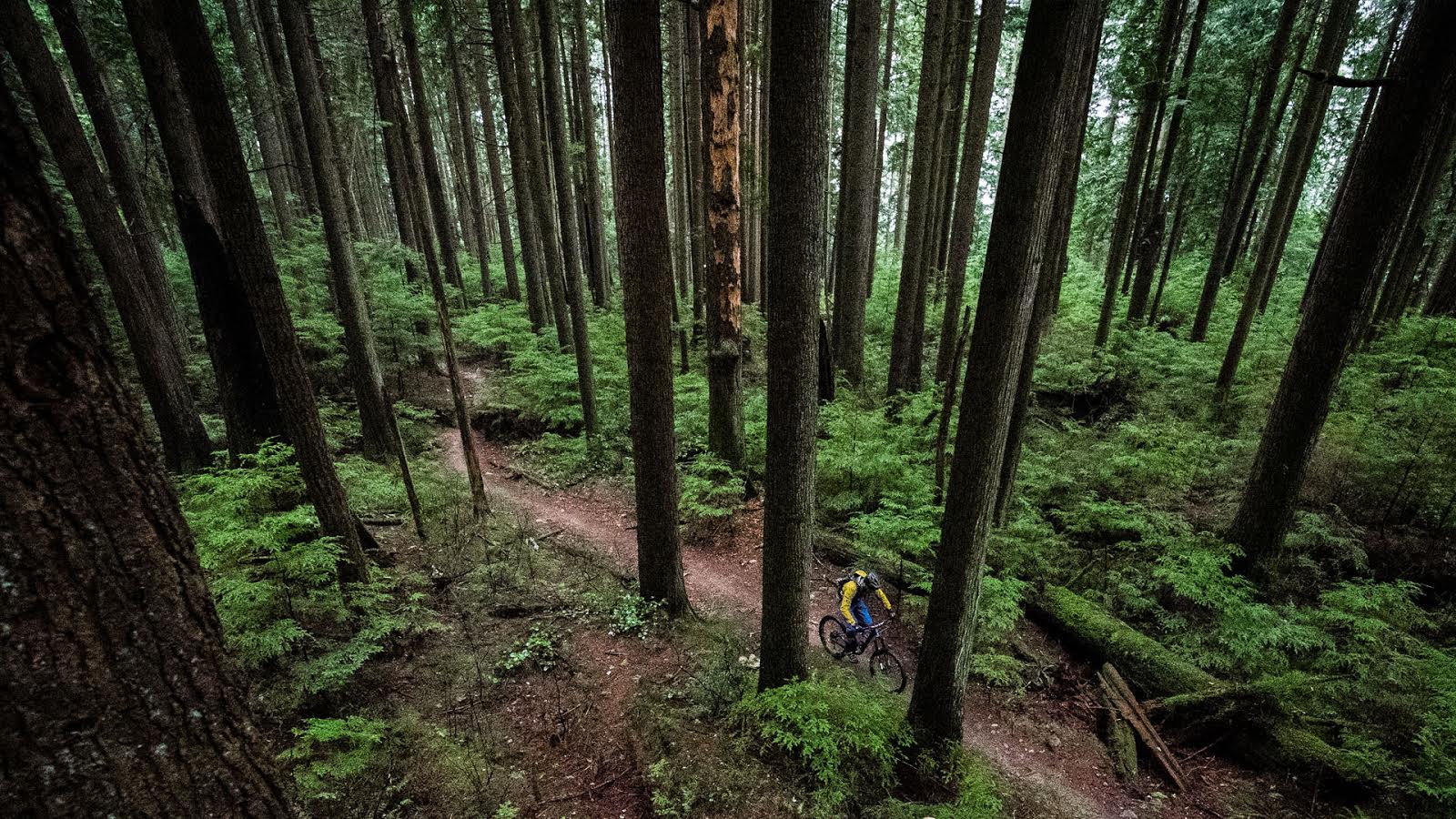 Specialized 6Fattie FSR Comp Carbon – Dual Tester Review
Sometimes a bike comes along that merits more than one opinion. Not because one isn't enough, but because two might offer varying perspectives, especially with something new and relatively untested like Plus-sized bikes. So, we present you a dual review for the Specialized 6Fattie FSR Comp Carbon.
---
Dave Tolnai's Review
Cam tells me everybody is sick of hearing about the concept of plus bikes. They want the real dirt. The tires on the ground. The boring facts of a bike review. Which is fine. But this bike has been sitting around my house for a while, and I haven't ridden it as much as I'd like, so talking about those "facts" is going to be a little bit tricky.
Plus Bikes – Proof of Concept
Sorry. Can't resist. When I rode the Scott Plus Bikes a few months ago, I really loved them. But there was a big question mark in the back of my mind as to how they would work on my local trails. Pretty damn well, is apparently the answer to that.
Wheels and Tires
The 3.0's on this bike are some wide-assed tires, and they come mounted up on some fairly skinny rims. There doesn't seem to be a consensus yet as to exactly how this plus thing is going to work. If it were my bike, I'd lean more towards the narrower tire/wider rim set-up that Scott is running on their bikes. At 16-17 psi things felt comfortable. You could probably go lower, but after my first ride at a too low pressure, I didn't mess around too much. Oh, and as Cam pointed out to me, you're going to need some kind of digital pressure gauge to accurately set your pressures. Most floor pump gauges won't tell you anything. Pump up to 20 psi with your floor pump and then use a digital gauge to bleed off to the right pressure. I never had a burp and I never flatted.
Climbing and Rolling
This is a mid-level bike with the weight and the component spec to prove it. It's not a rocket ship up non-technical climbs, but that doesn't seem to be a fault of the larger than normal tires. It seems no more or less sluggish than a typical bike in this weight/price range. The tires don't seem to add much in the way of rolling resistance.
Technical climbs are where things start to come alive. All those little technical bits that leave you dabbing your foot and cursing in shame become just a little bit easier. There's gobs of traction and it is quite noticeable.
This is a fairly local reference, but the Old Buck/Dale's/Forever After/Bridle Path is a favourite loop of mine. I view the rolling awfulness of Bridle Path as a necessary evil required to complete this ride. This bike greatly improves the experience. The rolling technical bits are immediately a whole lot easier and all the rocks and roots are much less of an issue. I'm sure somebody out there is scoffing at me right now for using technology to make my rides easier. I'm sure that guy rides exclusively on a rigid bike with cantilevers though, right?
Descending
This bike is fun and immediately feels comfortable. It's not super precise, but goes more-or-less where you want it to, and if you get a bit off line it's happy to ride right over things. It smooths out chatter and bumps and crap and it rides like it has more travel than it does. For bombing through roots and technical terrain, this bike is amazing.
The tire set-up did feel a bit squirrelly at times, much more so than I noticed on the Scott. I didn't put in a whole lot of time on faster trails, but when the speeds went up or the pressure went down was when it was most noticeable. I'll mention it again – I'd really love to see a slightly smaller tire and a wider rim.
Suspension
The biggest change when you move to a Plus bike is that it feels like you have more travel than you do. The tires add a level of plushness. To be honest, I'm having a hard time isolating what the suspension is doing. My first ride I was clanging the rear end off bottom fairly consistently and not anywhere near full travel on the front. And I'd just shrug my shoulders and keep rolling because it didn't seem to matter.
With a bit of air pressure tuning the fork became pleasant enough. It felt supple (although, maybe that's all tire?) without bottoming. That makes me wonder if this will eventually result in slightly different tunes on these bikes. Maybe you'll be able to get away with a slightly stiffer fork as the tires can handle some of the smaller stuff?
The rear end is serviceable. The shock lets the rear wheel move up and down and there's not much more to say about it than that.
The auto-sag thing is a waste of time. Please just give me a nice recommended air pressure chart and let's not worry about pumping the shock up to 300 psi before bleeding the pressure off via some less-than-clear instructions.
Other Components
The GX drivetrain works well. I prefer the shift lever feel to that of the new XT. I'd be happy to run it, and once you're riding it feels just as good as the higher dollar groups. Shifting isn't quite as smooth, especially rolling up the cogset under load, which seems to result in a loud cracking sound. At least you know the shift is made.
The dropper post works well, but it can be a bit frustrating to find some of the middle positions (Specialized claims there are 12 of them, which seemed like more than I was able to experience) if you're used to something with infinite adjust. It never slipped or anything though, and the lever is easy to actuate.
The SWAT compartment is novel, but it seems complicated to close it back up. I'm still nervous to try it without Cam there to step in once I give up trying to figure it out.
Conclusion
There seem to be countless comments suggesting that "these bikes are for noobs" and "I'll pay attention once somebody wins an Enduro World Series event". Which is pretty stupid, when you think about it. If we shopped for cars or golf clubs or skis with that attitude, we'd never be happy. Like a fat ski, or a fancy golf ball, or a wide tennis racket, it feels like these tires just give you a bit larger of a sweet spot. Maybe they'll never win races. Most of us shouldn't care about that.
Most of my rides are less than 2 hours long, and take place on slower, technical terrain. I grunt up, ride down, and often have some sort of rolling technical meander out. If I were spending money on a bike right now, it would be a Plus bike. No question. Worst case, if this thing explodes in our faces, we can just swap some 29er wheels in and pretend that we were never foolish enough to  succumb to the industry conspiracy. For this early batch of plus bikes, this one is as good a bet as any. It offers some value (although the Canadian dollar might argue with that), it's easy to adapt to and it's pile of fun. They should re-name it though. 6Fattie doesn't make any sense to me.
---
Seb Kemp's Review

When I heard that Cam had a plus-sized bike in his possession, I immediately started asking him if I could try it out. I was very, very curious about the 27.5-plus concept. I wanted to know whether 27.5-plus tires were something I should be paying careful attention to. I mean, I love fat rubber. I usually run the fattest tires I can find and have always felt that, for me and my riding, it's better to have the traction and durability that big rubber gives rather than count grams and go for quicker rotating tires. I've tried fat tire bikes and they go so far out to the extreme end of the spectrum that unless you are using them to go where 'normal' mountain bikes can't go (snow or sand or the like) then the drawbacks really outweigh the benefits. So, what I wanted to know was, are 27.5-plus bikes Goldilocks porridge, good for the type of riding I like and how I like riding?
Well, after a week of riding the Specialized Stumpjumper FSR Comp Carbon 6Fattie on (relatively) different types of trails on Vancouver's North Shore (technical and demanding), Mount Tzouhalem (berms and jumps) and Whistler (a little from column A and a little from column B) I am pretty confident that, at the moment, 27.5-plus bikes are not for me.
Let me explain why.
This bike was good at scaling rock faces. No, scrap that, it's incredible at climbing up slabs of rock. Once I discovered this bizarre quality then I went in search of any steep chunks of granite (or whatever type of stone I could find). I rode trails I usually shy away from (and by shy away I mean ignore but they are as rewarding as reciting the 52 times table) just so I could see if I could ride them backwards. Basically, it allowed me to ride up things I didn't need to. However, one at the top of the rock slabs I'd have to ride back down and it's there that I found the other side of the coin. The traction that enabled it to get up didn't translate to going down. The front tire would slide and then would horribly distort under force. The tread just didn't give much confidence and the sidewalls just had very little support. While braking the tire would feel like it was made of baby poop and satin sheets. Then when it hit something, like the compression at the bottom of the rock face or a turn, it would feel like it was folding like the French rugby team's defense.
And it wasn't just on the very steep terrain where the tires felt, errrr…how do I put this…scary. If you like going fast down hills and pushing into turns, be they berms or drifty flat turns, then it's likely that 27.5-plus wheels are not for you. When you push into the wheels and the earth pushes back, the squishy, fat rubber donuts in the middle take all that pressure and release it through the sidewalls. What I found is halfway through a turn it would feel like I was riding on a water bed covered in KY Jelly. The squirming was disconcerting but also the lack of grip that the tire tread provided felt akin to riding on worn out OE-spec Kenda Nevegals. In the rain.
To mitigate the blancmange-like qualities of the tire I played with tire pressure a lot. I started with 15psi, almost immediately went up to 22psi to try and get a bit of stability, then went down to 12psi when the previous setting made little to no difference, but settled back on 15psi, mainly because nothing seemed to help solve the problem I was having, and everyone I spoke to said that 15psi was the sweet spot. I'm not sure what kind of sweet spot 'they' are talking about, and I wish their lovers all the best.
The mass in the wheels is extremely noticeable. The usually very sporty Stumpjumper felt sluggish and cumbersome. I've ridden many 29ers that turn a lot easier. There's no pop on this particular iteration of the Stumpy and even all the will in the world doesn't make lofting this bike easy. It felt tiring to try change direction or move across lines quickly. I often found myself on the wrong line, unable to do anything about it but plough on regardless – which is one thing this bike did allow for. It would put you in harm's way far too often for my constitution, but it would provide a great hulking, lumbering getaway vehicle once you were up Shit Creek. The Stumpjumper is one of the most brilliantly playful bikes available on the market today, but not in this guise. It's like making a magnificent golden eagle wear gum boots and expecting it to fly.
It is good at romping along on flattish terrain, gobbling up the small bumps, but then isn't that exactly what half decent suspension and standing up on your pedals also provides?
Overall, and I'm sorry to Specialized for saying this, but the 6Fattie is like putting monster truck tires on a Porsche; it's no longer a great sports car and all it does is make navigating all the speed bumps on the way to the grocery store, or clattering off curbs when you have to parallel park, a little better. The 6Fattie is pretty great at some things but terrible at many others, so where you ride or how you ride will influence your own evaluation of this bike. In my opinion, the things that it's good at account for a very small portion of the trails I enjoy riding and the parts it flails on are the ones I seek the most.
One concession I will make for the plus-tire fan boys out there is that my experience was based on just the tires and wheels that came on the Specialized 6Fattie. Maybe there's better, grippier, stouter tires out there. But what I experienced wasn't just something that's a little different than what I know and enjoy, it was a very radical change in performance, and it wasn't good. Plus-sized bikes aren't for me. Not yet, and maybe never.
---
It's hard to believe Seb and Dave were riding the same bike. Do you think you are more like Seb or more like Uncle Dave?