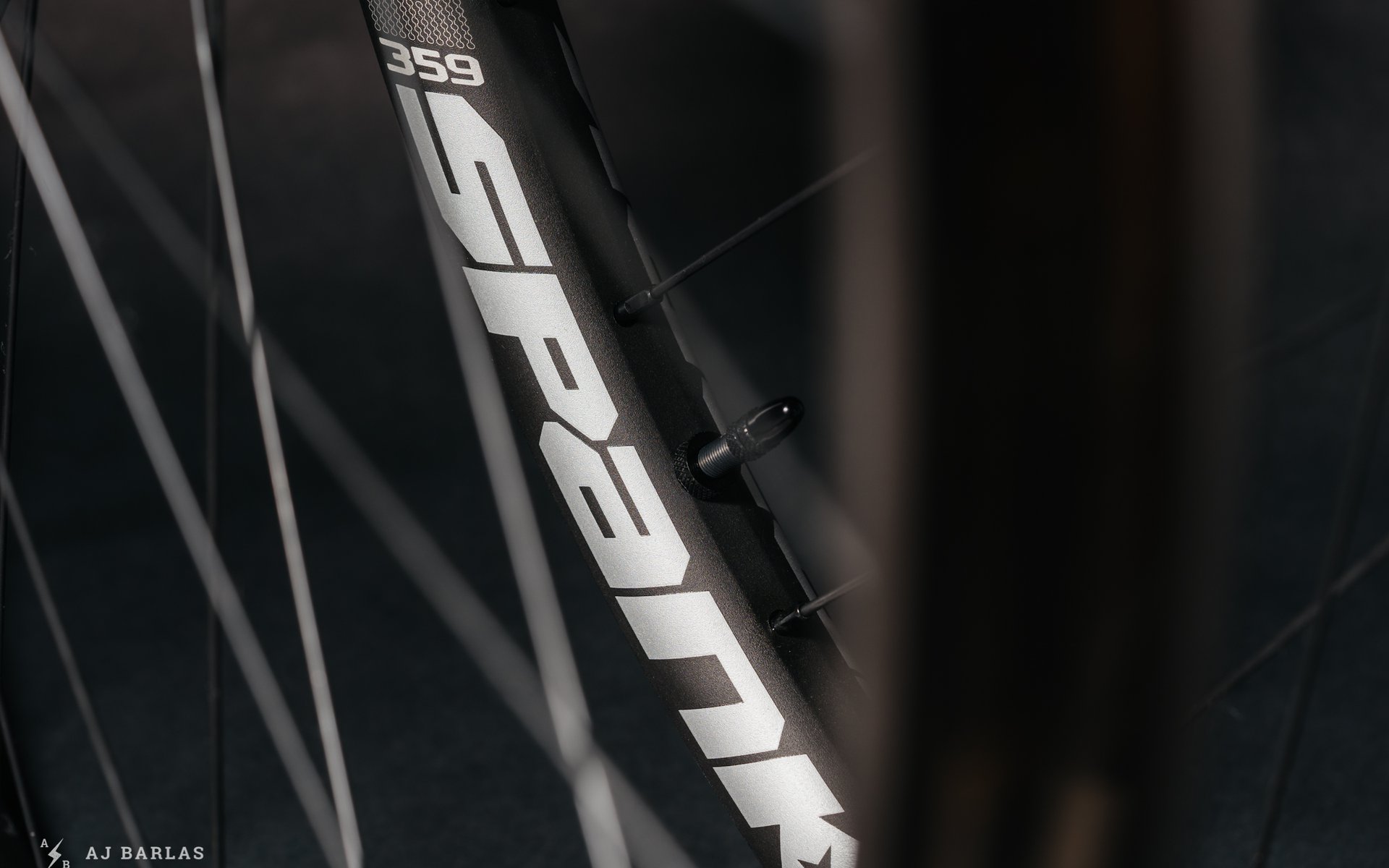 Reviewed
Spank Tuned 359/350 Vibrocore Wheelset Review
In 2014 Spank introduced an odd-looking, bright green fill in one of their handlebars. They claimed the new substance, which they call Vibrocore, cut down vibrations and made for a more comfortable ride. In 2017 they took that same technology and filled a selection of their rims with it. Since they first released Vibrocore, armchair critics have had a whale of a time with comments ranging from how ridiculous the idea is to snide remarks about purchasing spray foam insulation to get the same benefits. I'm still waiting for considered feedback on that spray insulation experiment…
At the time I was also curious if Vibrocore did what was claimed but never had an opportunity to try the products. That was until recently when looking for something different in an alloy wheel – one that would make for an interesting review. After speaking with Spank, my interest piqued further when I was told about their new "Tuned" wheelsets. Shortly after, I received a set of their most aggressive Tuned wheels; the 359/350 Vibrocore Wheelset. Since then I've put more than 400km into the wheels, spread between Squamish, Pemberton, Kamloops, and the Whistler and Sun Peaks Bike Parks. And I've been left impressed. But let's dive into some tech before getting into my findings.
Highlights
World Cup DH developed
30.5mm internal rim width
Vibrocore Inner Core
Front and rear-specific rim profiles

ERD (29-inch wheel): Front – 602 / Rear – 598

32h spoke count three-cross spoke pattern front and rear

Triple butted 2.2/1.8/2.0 spokes with brass nipples

Tubeless-ready with quality tape and valves
15mm x 110 thru-axle front hub includes 20mm x 110 adapters
Rear hub available in 12x148 or 12x150/157
Shimano or XD Drive compatible
Inverted rim bed (Oobah Inverted Inner Wall)
Claimed Weight: 2,239g (29-inch, 12x148 rear w/ XD Driver, 15x110 front–Tested) / 2,186g (27.5, 12x148 rear w/ XD Driver, 15x110 front)
Actual Weight: Front – 1,037g / Rear – 1,195g w/ Shimano driver (1,175g w/ XD driver)
MSRP: 699 USD
Details
I'm a fan of tailoring bike wheels to their intended use – it makes heaps of sense, at least in theory. The front wheel rarely goes through the same amount of punishment as the rear and having more give can help it track a line rather than deflecting off obstacles. It can also reduce fatigue if done well. Our rear wheels go through vastly more torture and are served different loads as we pump and compress, or smash our way down the trail. Spank agrees and has developed the 359/350 Vibrocore wheelset with this in mind. A shallower rim profile is used for the front wheel, allowing the wheel to move and flex more vertically, taking away some of the harsh feeling from impacts. The 30.5mm internal rim width is said to provide the required lateral stiffness for accurate steering. For the rear wheel, Spank used a deeper profile so it can better handle the abuse and provide increased zest, improving forward momentum out of compressions and big hits. The deeper profile stiffens the wheel vertically and laterally while keeping the same inner width of 30.5mm.
There's also something to be said for lengthening and shortening the spoke in each wheel. A shorter spoke generally makes for a stiffer wheel while a longer spoke has more give, all other elements being equal. While changing the rim profile can affect a wheel's ability to give, the spokes play an important role in the characteristics of your favourite wheel too. In Spank's case, a triple butted spoke is used to pull this wheelset together, no doubt to help shave some weight but also as part of the package in their effort to achieve the ride characteristics they're after. They also use an embedded nipple washer in the rims, with Spank noting their importance for spoke tension durability.
Before we get to the Vibrocore fill, there are some other interesting tech snippets and each affected my experience. Spank uses an inverted section in the bed of the rim that they call Oobah. This wavey section of the rim is claimed to increase strength over typical designs, especially when combined with their convex outer wall profile. There's also the inclusion of their Bead Bite Anti-Burp technology. It includes six small ridges along the vertical and horizontal faces of the bead seat. Spank claims it improves the air seal between rim and tire, enhancing burp resistance.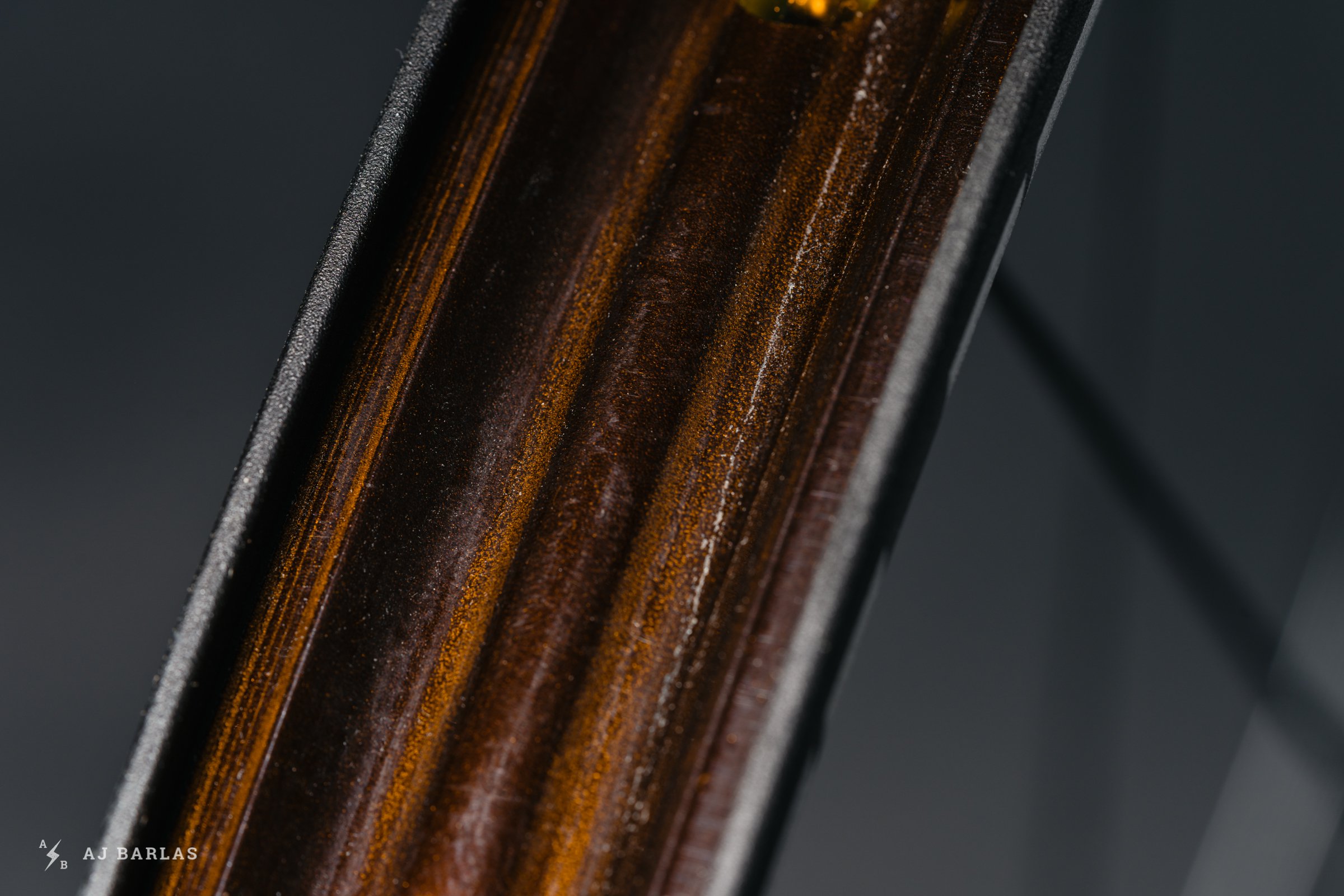 But the most notable feature of these wheels is the addition of the Vibrocore material. After their Vibrocore handlebars reviewed well, Spank began testing it in their wheels and three years after the release of their foam filled bars, they released their first foam filled rim. Looking at their 350 rims with and without Vibrocore shows an approximate 65g increase to include the green fill but it's also claimed to increase torsional strength of the wheel and the fatigue life of the aluminum. If true, this all adds up to a more durable set of wheels and they still cost a value friendly 699 USD. The Vibrocore material is said to "offer inner wall strength by applying an expansive internal load," allowing Spank rim designers to strategically thin the rim walls, balancing the weight gain in the process.


Spank developed Vibrocore to remove the resonance riders are subject to on the trail. They supply information on their research but in summary, mountain bikers can experience vibration frequencies between 2 and 200 Hz and most commonly 5–50Hz. Vibrations between 8 and 50Hz are said to be a medical concern and lead to hand/arm numbness and fatigue – in extreme cases arm pump or CECS (Chronic Exertional Compartment Syndrome). Spank says that all handlebars, and I would assume rims, dampen these effects but all have a unique frequency they resonate at. That resonance increases the harmful vibration frequency felt by a rider. Resonance commonly occurs between 12 and 25Hz which Spank says creates a perfect storm. Vibrocore was developed to move the natural resonance of their bars into higher ranges that aren't experienced on mountain bikes.
Ride Quality
Jumping aboard the 359/350 Tuned wheels on a new bike meant reassessing previous wheels on the new rig. This is especially true with such claims being made and after noticing differences in ride quality. The Spank wheels have been benched against a set of Roval Traverse Alloy wheels, Santa Cruz Reserve carbon wheels, and WTB KOM Tough wheels which I'll have a review for in the future. I was also fortunate to compare them with a range of other carbon wheels for an upcoming feature. In total, these have been compared with seven or eight other wheels during their testing, all on the same bike.
The result is firm approval of the Vibrocore technology. On the trail, the wheels provide a very comfortable, muted ride quality without feeling dead. They cut down on the trail chatter and noise typically sent to the rider and without having tried it, I never could have imagined such an improvement. Changing rim material from alloy to carbon can provide a similarly damped feel, but it's not the same as I've noticed with this wheelset. I'm also yet to ride a carbon wheel that offers the composure and control of these. Vibrocore works and Spank's tuning of the rims provides a great ride.


In terms of riding experiences, I've found the benefits similar to running the slowest rebounding, soft rubber tire you can imagine – with the lower pressure offered from the addition of a Cushcore insert. The damped feel without the loss of zest feels great, especially in choppy terrain riddled with root and rock. It was beneficial in high vibration bike park scenarios too – washboard and brake bumps – and also smoothed the feedback from the hard-packed surface often experienced in them.
Tuned wheels are something I believe we'll see more of in the future. Crankbrothers has done it with their new carbon whiz-bangs and Spank has done it here. Previous to this wheelset, the most 'tuned' wheels I'd ridden had fewer spokes in the front wheel. Surprisingly, the 359/350 wheels don't do that and have 32 spokes in the front and rear. Instead, Spank achieved the tune by using different rim profiles. The shorter profile front rim is comfortable but the width – together with the Oobah inner wall and Vibrocore foam – allows for a still torsionally strong wheel. The front wheel's lateral flex was comfortable despite the added strength from their construction and 32-spoke count, and I didn't experience any issues with deflection. Steering was precise and holding a line on rough sections of trail was easy, whether across an off-camber or not.

Out of corners and compressions, I've found the wheels to offer good drive and forward momentum. The rear wheel holds its shape well through big, hard compressions and there's no excessive delay or feeling of the wheels getting bogged down from such events. Their damped ride combined with the tuned setup does tweak the perceivable 'spring' out of corners a bit and as you may imagine, damping the vibrations also removes the twang noticed with a stiff carbon wheel. But I'd still say they aren't as spicy as most carbon setups, though they make up for it in composure and comfort which I'll take any day. Compared to the Roval Traverse, they aren't as soft feeling but that's allowed them to offer more drive. Yet, despite not being as soft overall, they're still more comfortable thanks to the vibration damping properties of the bubbly green stuff.
During a late-season trip to Kamloops, I hit the rear wheel hard. It was similar to the one that threw out the true of the Roval Traverse rear wheel, ultimately beginning that wheel's downward spiral to the garage floor. But the 359 rear rim took it in stride and after a touch up to the spoke tension, it's soldiered on without issue since. That includes big days in the Whistler Bike Park and Pemberton, as well as around Squamish. Each rim has also kissed the ground, through both Double Down and EXO+ tires with nothing to show for it – these are proving to be some tough S.O.Bs.

The claims made by Spank may sound bold but they've proven true in my experience with this wheelset. The only downside I've encountered is their weight. At 2,212 grams for the XD setup tested – less than the claimed weight on the Spank website – they're quite portly. But these are also their downhill and freeride wheel and in that sense, the weight isn't bad. Rim and hub weights are in the same ballpark as similar rims like the Stans Flow EX3 and Hope Pro 4 hubs. Their weight is also contributing to my positive experience with their durability. Nevertheless, I was eager to move on to lighter set of alloy wheels for a while. Now I look forward to any opportunity to put these back on because the ride quality is so good.
They feature a 3-pawl, 30 point engagement hub and while some won't find the 12 degrees of engagement suitable, it's plenty for many riding situations. At this price you'd be hard-pressed to find a higher quality hub in a pre-built wheelset packed with some interesting technology. The hubs may not be flashy but they performed flawlessly throughout the test. Removing the cassette when moving to another wheelset showed no signs of wear and they not once did they skip a beat on the trail.
Worth Noting
The Oobah Inverted Inner Wall doesn't allow for the same depth to the rim bed as typical designs. That shallower depth can translate to challenges when fitting tires and makes setting up Cushcore more of a chore. While it made the tire bead tight, it's still possible to set these up without levers. The tight fit means the tires seat easily with nothing more than a floor pump, and not one with a fancy high-pressure chamber. But riders interested in Cushcore should prepare for battle and bring tire levers. Having the space in the rim removed makes it more challenging to sneak the tire bead under the insert, as per Cushcore's directions – which works a treat with regularly shaped rims.
Verdict
This set of wheels from Spank has surprised me with their impressive ride. They offer an excellent experience and despite their heft, I still want to run them. Their smaller brother, the Tuned 350 is probably a better application for most ~150mm travel bikes and perhaps I'll try those in the future, but they aren't much lighter. These track remarkably and because of their controlled nature, I find myself riding more confidently.
Despite the tuned characteristic of the wheels, I believe the Vibrocore fill in the rims offers the biggest benefit. Until I can test the same wheel without, I can't comment on how much each element contributes to the wheel's characteristics, but the muted feeling makes them the most comfortable wheels I've ridden to date. Adding Cushcore inserts brought a less noticeable benefit to their damping claims, thanks to the wheels' ability to tone down the vibrations on their own.
At only 699 USD they're a steal, especially when you consider their durability. It's rare for me to get this much riding on an alloy wheel without a single ding. Add that they're built with j-bend spokes and things look good for fixing an issue when it happens. The durability, ride quality and technology in these wheels makes them worth more but don't tell Spank that.
More information on the Spank Tuned Vibrocore 359/350 wheels is available on their website.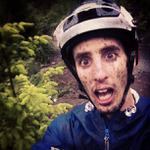 AJ Barlas
Age: 39
Height: 191cm/6'3"
Weight: 73kg/160lbs
Ape Index: 1.037
Inseam: 32"
Trail on Repeat: Changes as often as my mood.
Current Regular: Every test product spends time on Entrail