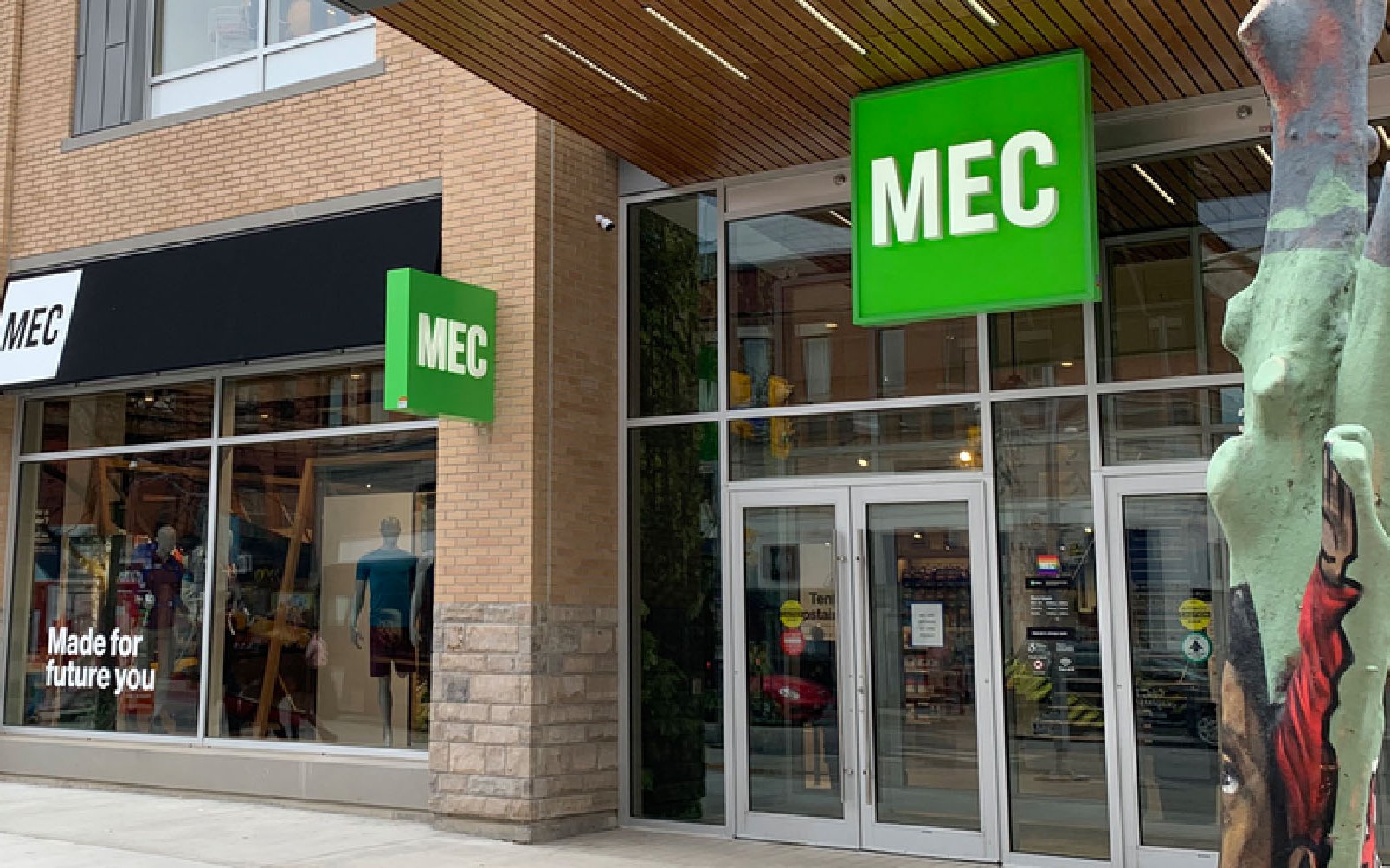 EDITORIAL
Some thoughts on the recent purchase of MEC from Uncle Dave
I know that I spend too much time these days writing and talking about "the good old days". But how do you talk about Mountain Equipment Co-op without talking about "the good old days"? What else is left?
My love affair with MEC began in the early 1990's. Living in Kamloops there weren't many places that one could go to buy cool shit, so receiving the annual MEC catalogue in the mail was a big deal. I didn't know what half the things in it did, but boy did I enjoy looking at them! The trends of the day were sort of a gore-tex space lumberjack schmozzle, and MEC was perfect for that. It was the one stop shop for a water resistant jacket, pseudo hiking boots and a huge-assed backpack to hold your lunch and a book.
I moved down to Vancouver in 1995 to go to school. The first crew that I fell in with was a group of mountain bikers. We had no money…well, I had no money (I say this in the relatively well off, middle class, University student who owned a fancy mountain bike and was on a meal plan sense of things)…but we still found a way to ride our bikes from UBC down to MEC on Broadway at least once per week, or whenever somebody needed a new tube. We'd buy cheap tires, parts and tools, and then return a hefty percentage of those same cheap parts and tools a few months later when they broke. I'm not sure how I would have done it without MEC back then. The things that we needed to keep our bikes running were so much cheaper there and it would have been tough to figure it out without that option. Shit, we were replacing our V-brake pads every second week! That alone would have broken me.
But MEC was always about more than just stuff. It was a presence. It was something that was there for the community. Wherever you were and whatever you did, that logo seemed to be attached somewhere on the sponsor page. They were also a place that wasn't afraid to speak up on behalf of members, and that could blaze a trail for other large companies to follow. They spoke up about concerns people had over supporting a company that produced firearms and supported the NRA. They spoke up and supported activities related to climate change. They stood up against Facebook. They weren't always perfect, but they seemed to at least listen when they weren't. They took some tough stances, and there probably won't be many companies stepping in to fill that void.
That is the MEC that I choose to remember. And yes, I place it in the past tense. That thing we enjoyed no longer exists, or at least won't very shortly. All that will remain is an ever more ironic name.
The path MEC started carving a few years ago shouldn't leave us terribly surprised that this is where we wound up. That idealistic place that I used to shop at all the time disappeared several years ago, around the time their prices started going up, the logo changed and their stores multiplied and got all fancy and shit. This was around the same time that their categories expanded and their SKU's multiplied. There's just so much stuff now! Every aisle is jammed full of so many things, yet somehow it feels like you're less likely to find what it is that you were looking for.
I'll give you one example of how my MEC purchasing habits changed over the years (but this could apply to numerous other things). Tires used to be a thing that I bought all the time at MEC. They had a good selection of Maxxis DH casing tires at a great price. Yes, this was back in the day when there was one diameter and we put a lot less thought into our tires. Now, it requires 3 cups of coffee and a full afternoon just to wrap your head around all of the different Maxxis permutations. We can't possibly expect MEC to stock a tire for everybody, but it feels like the path they've taken is to stock tires for almost nobody. The entirety of their 29er offering is seven tire options! Two of those are studded winter tires! One of those is an Ardent! So, of the four remaining actual tire options, what are you left with? Nothing against E*Thirteen tires, but only one of these is something that most people are going to buy for their bike without 45 minutes worth of second guessing themselves (Assegai with an EXO casing and MaxxTerra rubber). Even that one probably isn't the first choice for many. And if you did buy that Maxxis, you'd have to go to Dunbar down the street to find a good option for the rear. And when you got there, you'd discover that Dunbar is selling that same Assegai for 7 bucks less than MEC, plus somewhere in their sixteen 29er options you could probably find one with the casing and rubber compound that you actually wanted in the first place. And they sell inserts!
The good news is that the picture that I've painted is incredibly positive for us consumers. How fantastic is it that we have so many local shops that are able to sell us the things that we want at a reasonable price? But more often than not, that store is no longer MEC. So it becomes a place where one goes every few months to hunt for hidden gems amongst the closeout racks stuffed with XXL and XS clothing, or to buy a decent version of something for an activity that they're marginally educated about.
This probably goes some of the way towards explaining the debt that MEC has racked up, but it doesn't tell the other part of this story. The part where it feels like an American investment firm managed to stroll in and trade a bag of hockey pucks for a Canadian institution. The part where it feels like you would probably need a degree in finance to truly understand all of the subtle and intricate ways that MEC members have been fucked through this process. Maybe this isn't the case, but when the new boss of MEC has things like this to say about the members, the people who he just supposedly bought the place from, what else can we possibly feel?
"Like in any business, if it's a co-operative or another, equity ranks at the bottom of the list," he said. "I'm sure there'll be some people that won't be happy they lost their $5, but I think the co-op's given them over the years a lot more value than $5."
This is such a baffling statement to make for somebody supposedly looking to keep those same suckers coming through the doors and spending money. He's like that substitute teacher who shows up and complains that you've had it too good, for too long and he's going to make your whole day miserable to prove some kind of point to himself. I know that he probably has a strictly dollars and cents view of this whole transaction (the new CEO, not the imaginary substitute teacher), but the balls on this guy! You hear all the time about people who thought that they owned a business who wind up with nothing after a sale takes place, but it's pretty fascinating to see it unfold so openly and on such a grand scale.
It's a shame that it's not this "let them eat cake" asshole that is going to shoulder the brunt of the misfortune that might be coming down the pipe. Even if he colossally fucks this all up, leaving nothing but a smouldering crater where there was a perfectly fine MEC store, I wouldn't be surprised if he still makes a bundle (I'm having a hard time pinning down Matt Taibbi's beliefs these days, but this article is a great insight into how this process might work...my god what a beautiful article...can you believe we now live in a world where Mitt Romney is one of the good guys? Oh. Wait. Nope. Spoke too soon). The people who feel the shocks of this are not going to be the ones that screwed it all up.
Speaking of the people who screwed it all up, let's save some of our wrath for the executive and the board of directors. The true blame probably lies with the people that held those positions 5-10 years ago, but then again, at least they didn't sell the rug out from under us. I'll spot them the fact that there probably wasn't a good decision available for them to pull MEC out of this nosedive, and maybe it did come down to a choice between bankruptcy and vulture capitalism (which wind up looking fairly similar, at the end of the day). This is largely speculation though. It took half of Canada raking these people over the coals for us to get even the tiniest scraps of information, and that certainly hasn't been enough to figure out what happened, when. That's just democracy though, isn't it? Some smooth talking insiders figure out a way to get elected to a position of power and authority. The general population carries on with apathy and disinterest, assuming that everything is trucking along just fine. By the time we realize something bad is happening, nothing is left but the curtains and a few rolls of toilet paper and all that we can do is scream into the void about how unfair it all is. Get out and vote, people!
Still, can you imagine going down in history as one of the people who voted to sell off a Canadian icon to an American private equity firm? You ran for the board of directors figuring it would be a sweet way to pad out your resume, only to be faced with a horror show of a balance sheet and the wrath of a bunch of random yokels? There's an argument to be made that these people deserve our sympathy, but perhaps we should wait and see how many of them end up with cushy jobs with the "new and improved" MEC before we go that far.
That's just it though, isn't it? Why does all of this have to happen so fast? Why are all the financial details of this transaction such a big secret? Maybe as members/owners we aren't entitled to a vote on any of this, but I sure think we deserve to understand who is getting what, and why. Where did all the money go? Until we get some understanding of what is actually going on, we can only assume the worst.
We also need to remember that there is a whole pile of people with a shitload more at stake than us. I know that this is tucked way down here at the bottom, but I don't want you to think this is an afterthought. It's much easier for me to rail in anger at the things that I have direct experience with, but it's important for us to think about the employees. I feel incredibly sad for all of them. You would hope that a Co-op started by hippies and made up of Canadian outdoor enthusiasts would be a place to set an example for labour relations, but we will find out if that is the case. Hearing firsthand stories about what happened during the last round of layoffs a few years ago, this might not be pretty. So, a sincere thank-you to all the employees, past and present. Your green vests were a comforting presence and you were always one of the good things about MEC. I hope that this all goes well for each and every one of you.
Sincerely,
Some dumb asshole who is out his 5 bucks
---
We sent some questions to the PR department at MEC but we did not hear back by press time. – Ed.