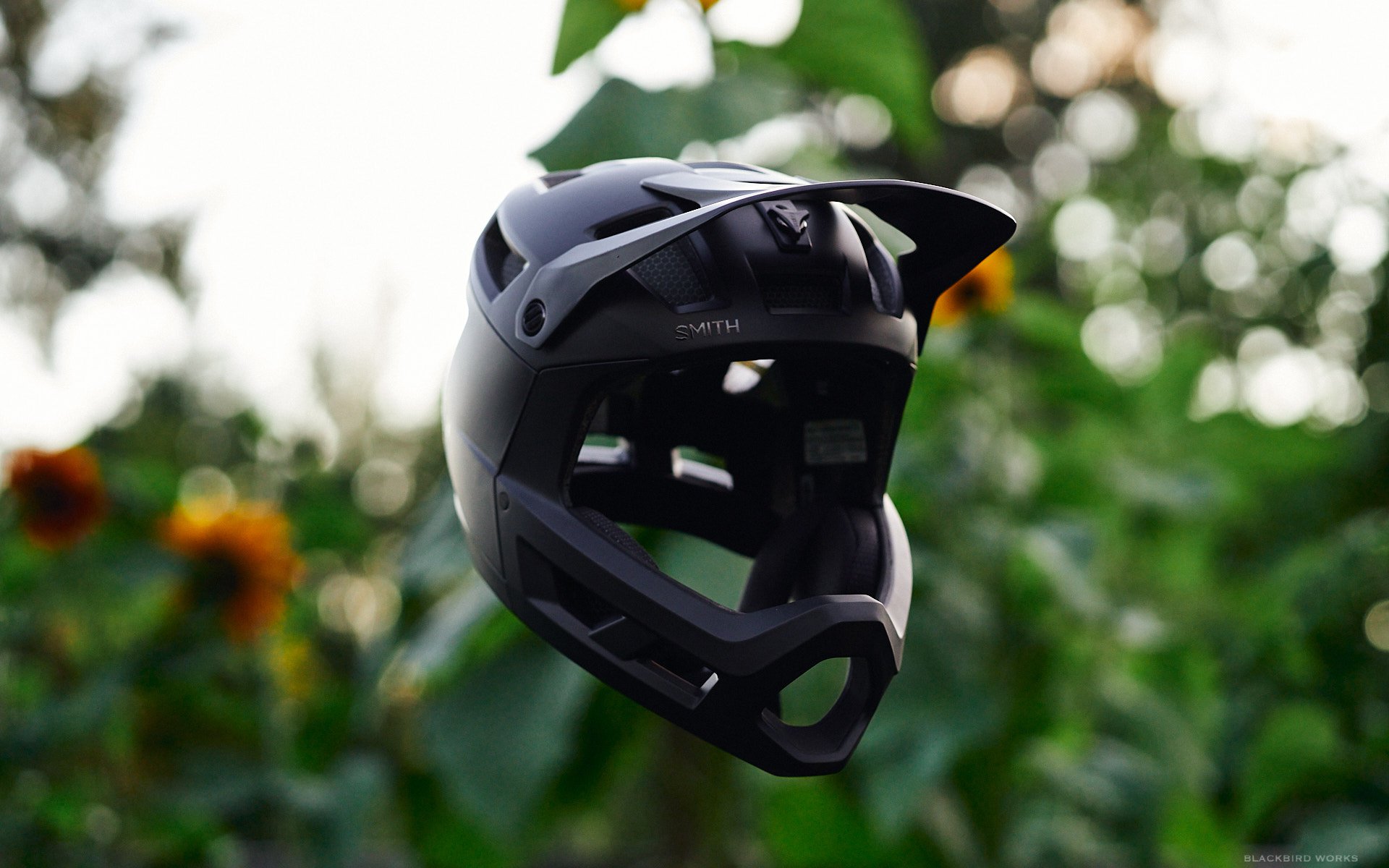 LAUNCH & RIDING IMPRESSIONS
Smith Mainline Full Face Helmet
I used to ride a full face helmet for all the gnarly riding I was into years back. The helmets were heavy, hot, usually uncomfortable and probably offered worse protection than modern half shell lids. When I got used to riding a half shell I never wanted to go back to a full face. More recently, after a few rides in a convertible Bell Super 3R, I liked the confidence that facial protection was giving me, but found it a hassle to convert it between half- and full-face and ended up just keeping it on open-faced mode for that feeling of freedom I just couldn't get from the full face.
Lately the trails in my 'hood seem to be getting steeper and faster and the stories of crashes and face/dental work keep piling up, bringing me full circle to wanting to ride with a full face again. Many of my riding crew have started using full face options from other brands, so I was keen to review the new Smith Mainline, thinking I should avoid making my face look worse than it already does.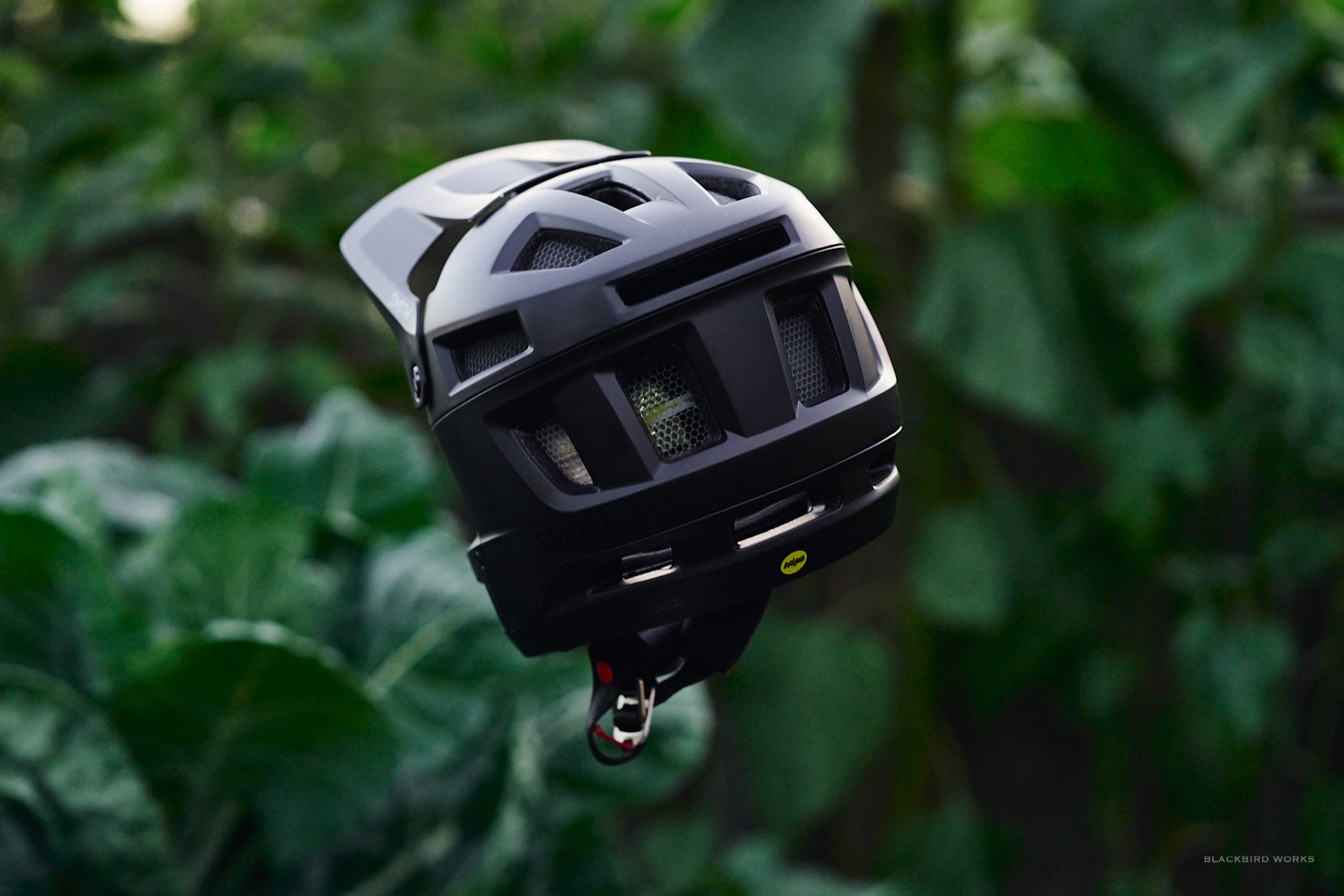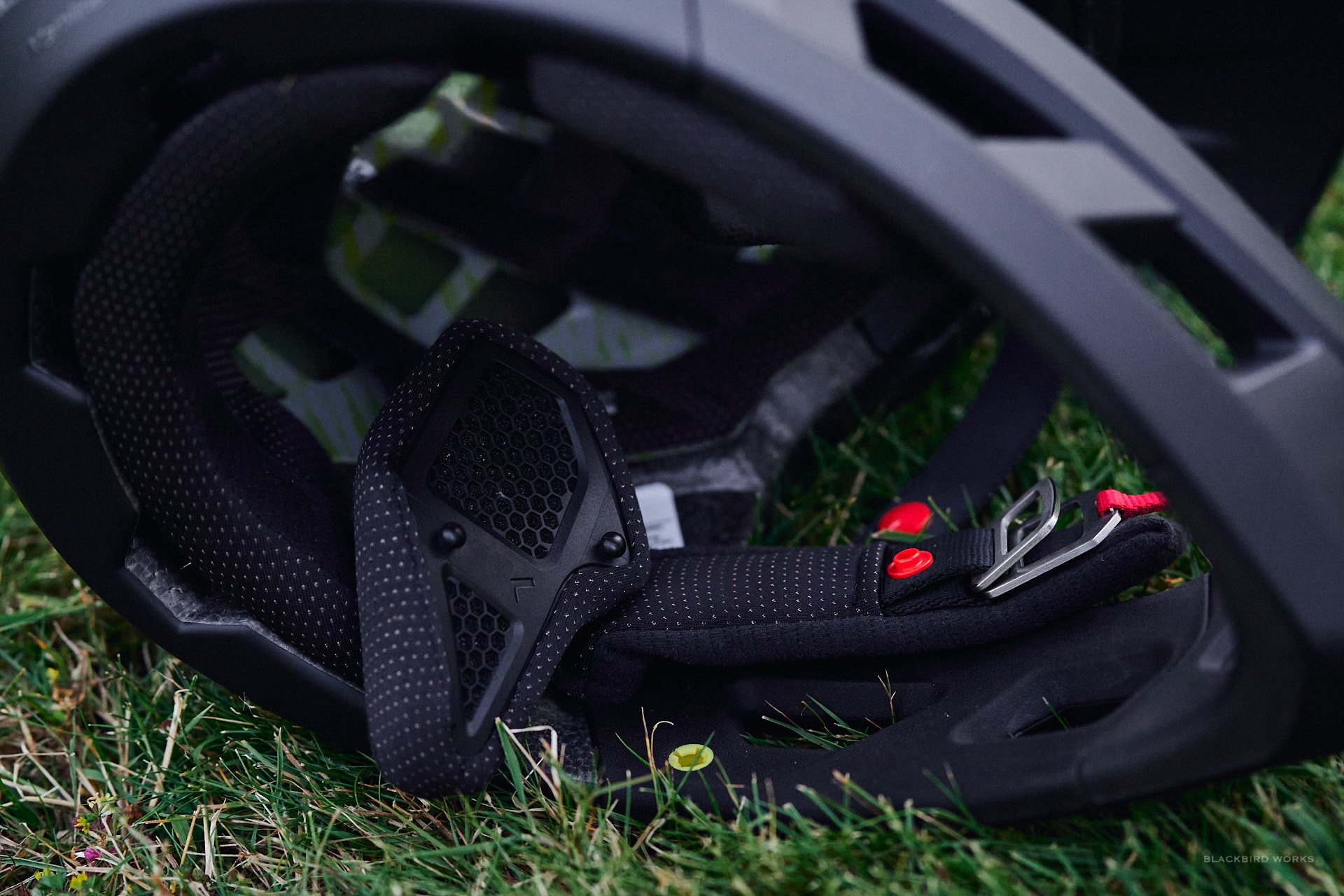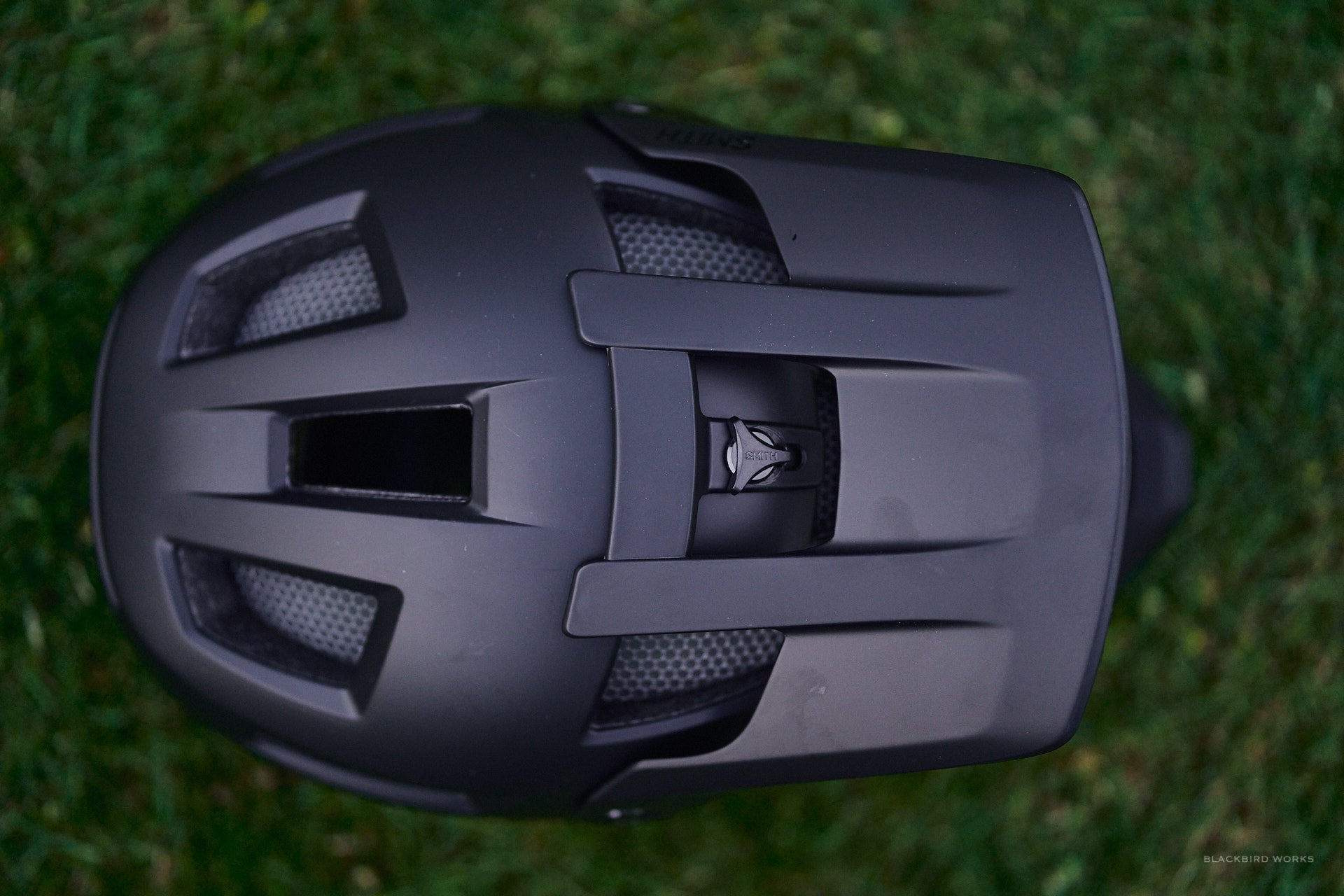 Smith Mainline Details & comments
Lightweight – size Medium weight claim is 770g but my size Large weighs 891 grams on the NSMB scale, which still feels light for its size.
Aerocore construction featuring Koroyd. I found their thermally welded polymer tube tech to be really interesting: https://koroyd.com/technology.
MIPS – the video below (0:21 mark) does a good job of showing how the little rubber tabs allow for the MIPS system's rotation
Standard certifications: CSPC/CE, EN 107.8, ASTM, F1952 (DH).
Face port goggle integration including a strap channel to hold goggles in place.
21 Vents including 5 on the chin bar with a large opening for your pie hole.
AirEvac™ channels promote airflow to prevent fogging when worn with goggles and glasses.
Internal channels for intake (cool air in) and exhaust (to let your sweaty hothead air out).
Three (3) available sizes - S, M, and L.
Each helmet comes with three sets of uniquely sized cheek pads, two sets of uniquely sized crown liners, and two unique neck rolls. My 59 cm head is at the far end of the medium range (55-59 cm), so I tried the Medium with the smallest pads but it was too tight. Thankfully Smith released the Mainline to retailers several weeks ago, so I was able to swap my Medium for a Large (59-63 cm). I have been testing it with the fattest neck roll and internal pads along with the small cheek pads. I tried the medium cheeks to tighten it up a bit but it felt too tight.
The pads are comprised of anti-bacterial materials and can be easily removed for cleaning.
D-ring strap fastener which I don't love. Fumbling around with gloves on is a slight first world pain compared to a quick and efficient Fidlock Fastener. Is the D-ring really that much better than clasps? I couldn't find any definitive research. It gets easier every time I use it, but the Fidlock clasp on my Bontrager Rally is always easy and quick in use.
3 colours: Matte Black, Rocky Mountain Enduro and Matte Sage Red.
Adjustable visor and a camera/light mount.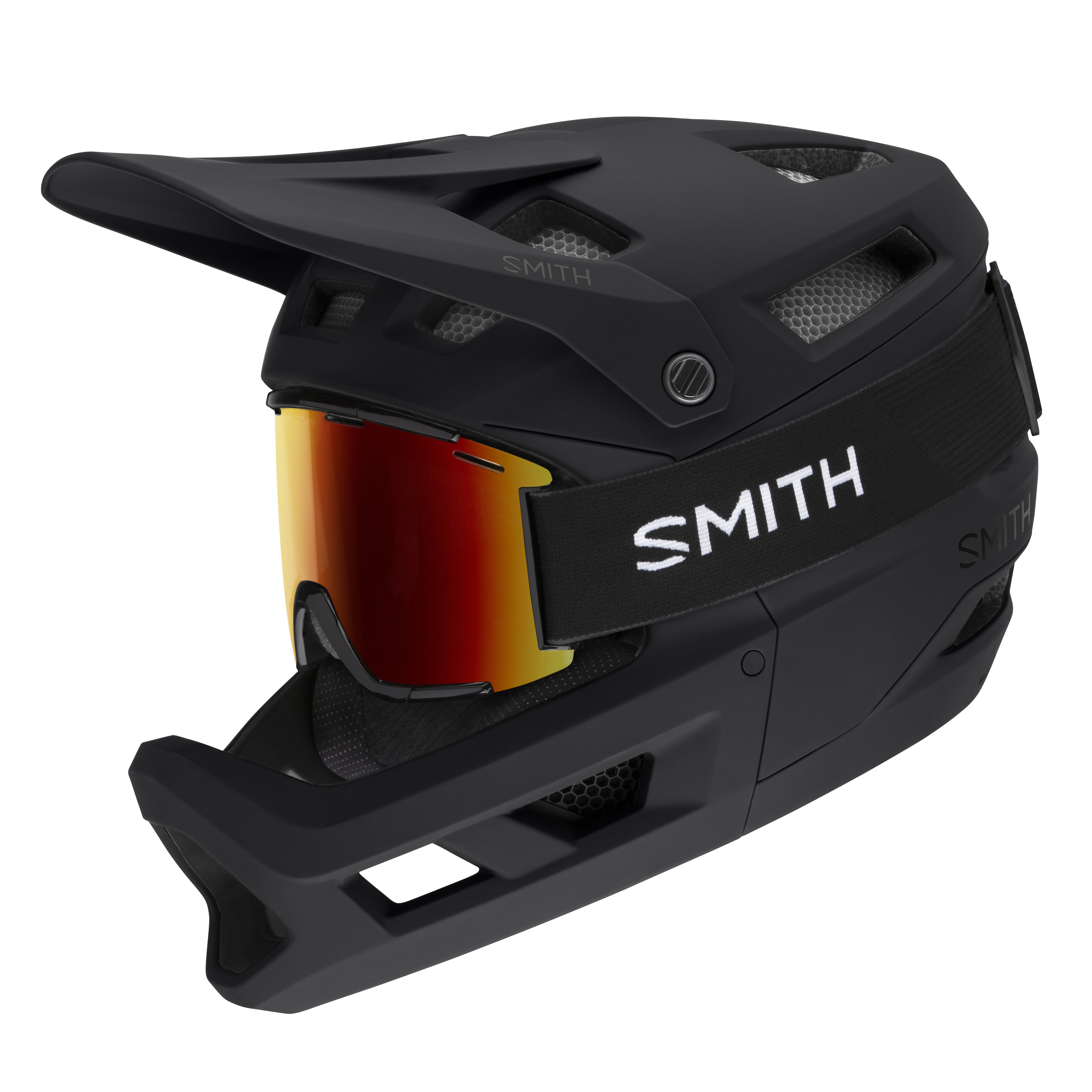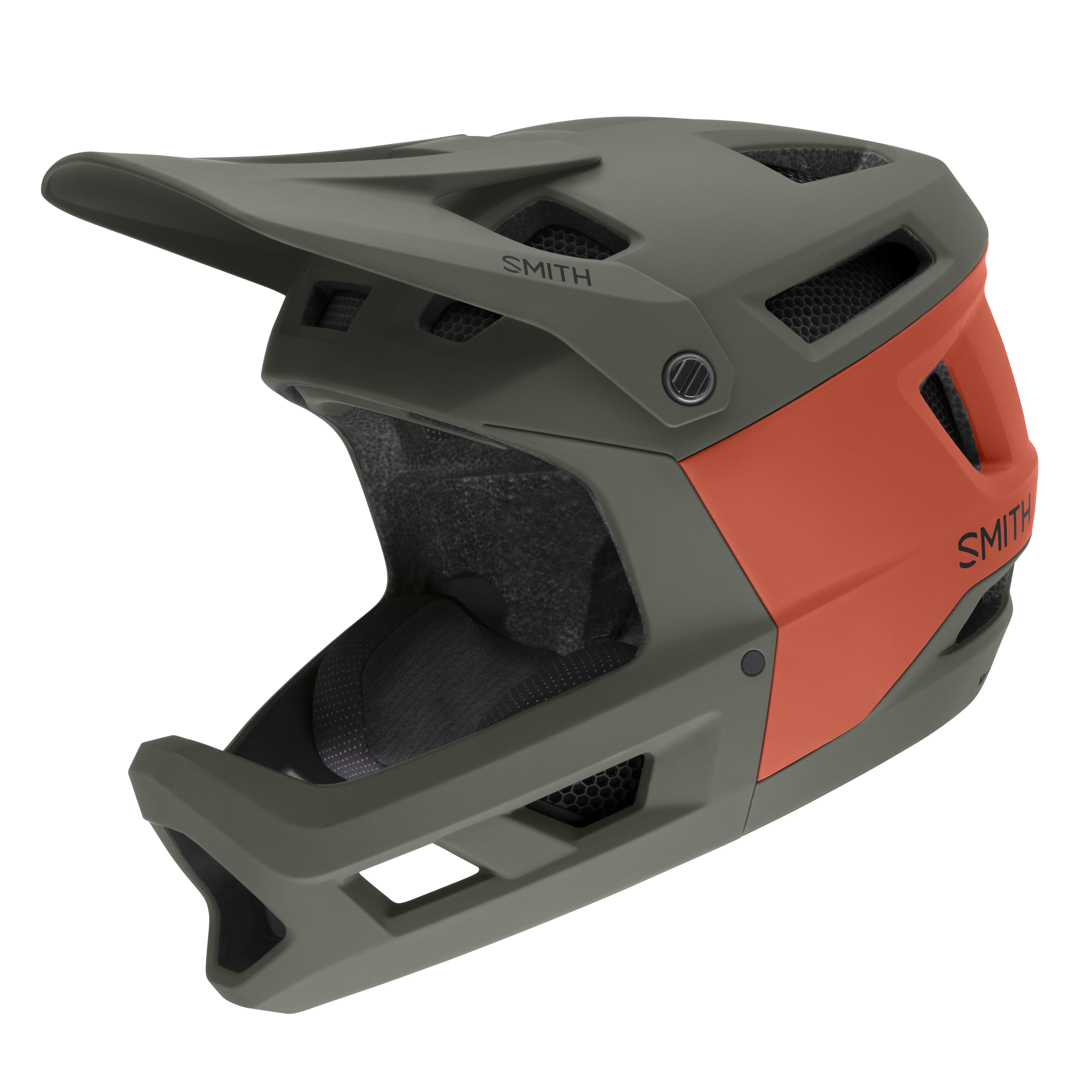 I have had three rides on the Mainline in the hottest weather of the year (up to 30º Celsius) with most of the climbing done with the helmet hanging on my handlebars. When wearing it while riding I liked how light and airy it felt and found that most times I did not notice I had it on. The short sections of climbing with it on my head were easy to deal with as the chin bar has large vents to aid in breathing and heat reduction. I have worn it with Smith Squad XL goggles and Smith Wildcat glasses (a new favorite with NSMB's crew) and both options worked very well. The anti-fog venting must have worked because I did not experience any of the usual fogging my sweaty self usually provides. We'll see how well it works in different conditions and with more climbing as the heat calms down a bit.
I am looking forward to getting to know this helmet and the confidence it provides in all riding seasons. It is now available for $300 US or $399 CAD on Smith's site and at Smith retailers, so check your local shop for fit or look for it at Competitive Cyclist.