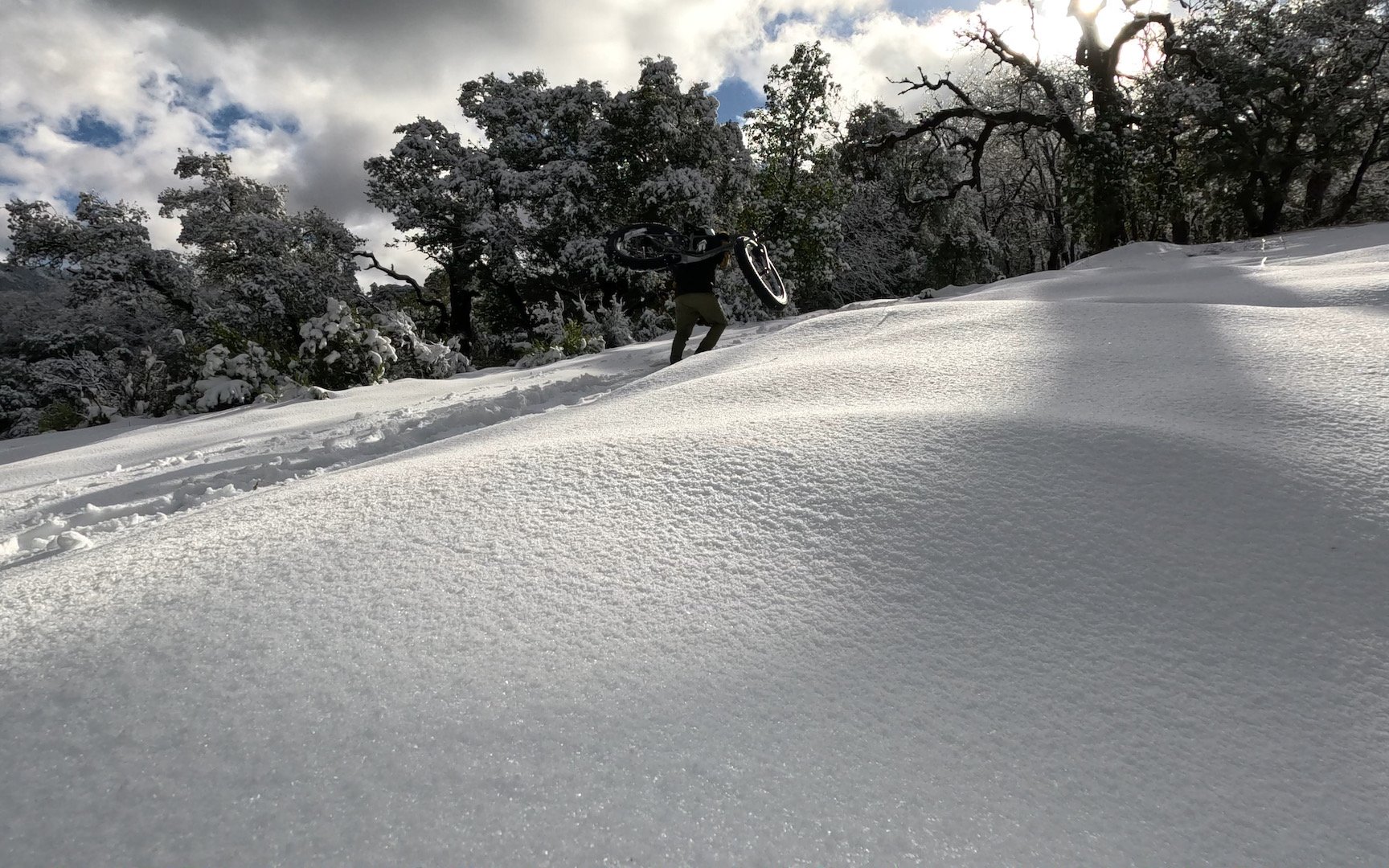 A Sort Of Gear Review
Slowered Expectations
"You're gonna need to get that thing in the snow..."
"Fat bike, huh? Planning on some snow riding?"
"Where are you gonna test that thing? It never snows around here."
When I took delivery of this Fezzari Kings Peak a month ago, I wasn't really contemplating snow riding at all, because, well, it doesn't really snow in this part of California, 20 miles inland from the coast halfway between San Francisco and Santa Barbara. So, naturally, some of the regular local pundits were overt and vocal in their questioning of my sanity. Fair enough. To be fully transparent, I was thinking about Baja, and about places where trails were janky and unpleasant and riding in general was viewed as solid type 3 suffering. I wasn't looking to test this thing to see how much fun I could have. I wanted to explore the conjoined duality of utility and suffering; I wanted to find a way for the misery of riding through thorny, sandy, rocky, untamed arroyos to be lessened enough for me to want to do it more.
But then it went and snowed. A lot.
So, when in Rome, right? In this case, that'd be Rome, Illinois, we're talking about. May as well find out what all this fat biking in snow malarkey is about. I mean, this is why fat bikes exist, right? For riding in snow, right?
As it turns out, "riding" in snow is about as texturally challenging and nuanced as snow itself. And I am here to tell you, in no uncertain terms, that when a foot of diverted Sierra Cement has fallen on the local back 40, it does not matter one bit how wide your tires are. You will mostly be trudging sad little post holes with your rapidly freezing feet and wondering why the fuck anyone ever thought it would be a fun idea to try and ride bikes in this monochromatic hellscape.
None of this is likely to be surprising news to anyone reading this site. You all know way more about snow than I do because many of you experience some amount of the stuff as a regular part of your winters. You probably already know that fat bikes are happier on groomers. You probably also already know that regular bikes with 2.4-2.6" tires can be ridden pretty comfortably on groomers. You probably already saw the photos of Deniz getting sendy in the snow on his Canyon, and even though that wasn't groomed terrain, he seemed to be doing just fine.
So, here I am at the bottom of yet another humiliating learning curve. But I do have some thoughts and observations about fat biking and this here Fezzari, now that it has been "ridden" in the snow. You probably know what I'm about to say, though, because of all the above.
First, let's talk about snow, just so we can get it out of the way. A few days ago, it dumped about a foot and a half up at Chews Ridge, six miles uphill from my poison oak farm. Every single dipshit living in a 3 hour radius with a lifted Jeep came trundling loudly out of the woodwork, in slow moving, country music blasting convoys, and proceeded to completely trash Tassajara Road, to the weary chagrin of the locals. Many of the locals could fall into the lifted Jeep drivin', country music listenin' spectrum, but they live out here and they need to use that road to go to work and they don't really like destroying that long, potholed dirt road just for the sake of it because the county only grades it once a year. I digress...
Anyway, it snowed a bunch up high, and about four miles uphill from me via a network of trails and backroads, there was/still is a solid 8 inches to a foot of white stuff on the ground, completely untrammeled by anyone. It looks real pretty. It's also just about impossible to ride through. I went up there with the Fezzari and proceeded to get schooled.
In addition to learning that fresh snow is basically a giant trap for wheeled vehicles of all types, it can be a masochistic sort of fun to messing around in. I also found that if the ground sloped downhill steeply enough, I could at times actually move downhill at faster than walking pace without pedaling furiously. This led to interesting fat bike revelation number one:
Anyone who complains about the brakes on a fat bike needs to just shut up. Snow IS a brake. Get going a little too fast? Aim for deeper snow. Also, the likelihood of overheating a brake when it is constantly inundated in frozen water is close enough to zero that it is probably not worth arguing about.
Pointing a fat bike downhill in unpacked snow is actually pretty damn fun, in a drifty slow-mo kinda way. Going uphill in unpacked snow, well, that is not so fun. At first, I thought maybe playing around with tire pressure would help. But after bracketing in 1 psi increments from 3 to 11 psi with no discernible difference in flotation or ability to pedal more than a few feet at a time, I realized that pushing was faster. Interesting fat bike revelation number two:
Just because you have huge tires doesn't mean you can ride everything. Or sometimes even anything. There's a reason that certain cultures have entire vocabularies to describe the consistency and solidity of snow. For the sake of this particular experiment, I woulda way rather been on a nice pair of planks than anything at all with wheels.
Packed snow, like the stuff the Jeepers had driven over but not totally destroyed, was a different beast entirely. Popping out onto a couple miles of the crushed down surface made riding possible again, and allowed me to pedal enough to start sweating through all the layers. Interesting fat bike revelation number three:
Dear lord these things are slow. The mile wide q-factor takes some adjustment to be sure, but because I was riding flats and maybe because I'm a bowlegged goon to begin with, I felt like I could work around that. But those big tires exact a very hefty toll. And, I may have been imagining this, but I could swear that when I dropped the pressures down below 5psi I could feel those humungous tubes flexing and squirming around inside the tire sidewalls, just sucking down the calories. Probably just my imagination, but damn, these bikes can make a boy feel like a weakling.
Now, about the Fezzari...
I still think it is a screaming value of a bike. But there are some things that are going to need to change.
First up, tubeless conversion. Several people have already told me that I shouldn't have even bothered riding it with tubed tires from the get-go, but that's how it came and that's how this started. Aside from being able to ditch at least 250 grams of rotational mass per wheel, switching to tubeless mitigates a lot of that tube/tire energy loss. And much as I would love to chalk my feelings up to an overactive imagination, there is a whole lot of data out there that speaks to tube/tire friction being a thing with regular little tires pumped up hard. Great big squishy soft tires? Yeah, buh-bye tubes.
I may want to see about ditching another pound or two of dead weight with some aftermarket wheels as well, but then again, that may be gilding the lily. Still thinking about that one.
There's a Manitou Mastodon fork on the way. I want to try it partly because I'm curious about a suspension fork on a fat bike, but also because I'm noticing a very pronounced "high-trail" feel with the steering on the Kings Peak. It is incredibly stable, but it also requires pronounced effort to get it to drop into turns. It's not a bad feeling, per se, but it is an odd one. Experimenting with tire pressure does not change this sensation, so it's not pressure related. There's a Rocky Mountain Blizzard downstairs with the exact same wheels and tires, and a slightly slacker head angle, and it does not exhibit this trait at all. So, my hunch is that it is something to do with trail. Playing around with a fork that has a whole mess of possible axle to crown heights (adjustable between 100-140mm travel) should shed some light on where this is coming from.
And even though I said I was doing okay with the q-factor, I may try to find some cranks that are not quite so wide. There's at least a centimeter to spare on either side of the chainstays that might allow me to shrinkify the distance between the crankarms, depending how much part number crunching I want to endure.
The brakes are staying right where they are. I'm really just leaving them on there in order to set Andrew's teeth on edge.
That's about it for now. The snow will probably all be gone by next week, and I will be getting the van and the Fezzari ready for some spring Baja trips. I just need to remember where I stashed my massive King Cage ballena approved bottle holder.