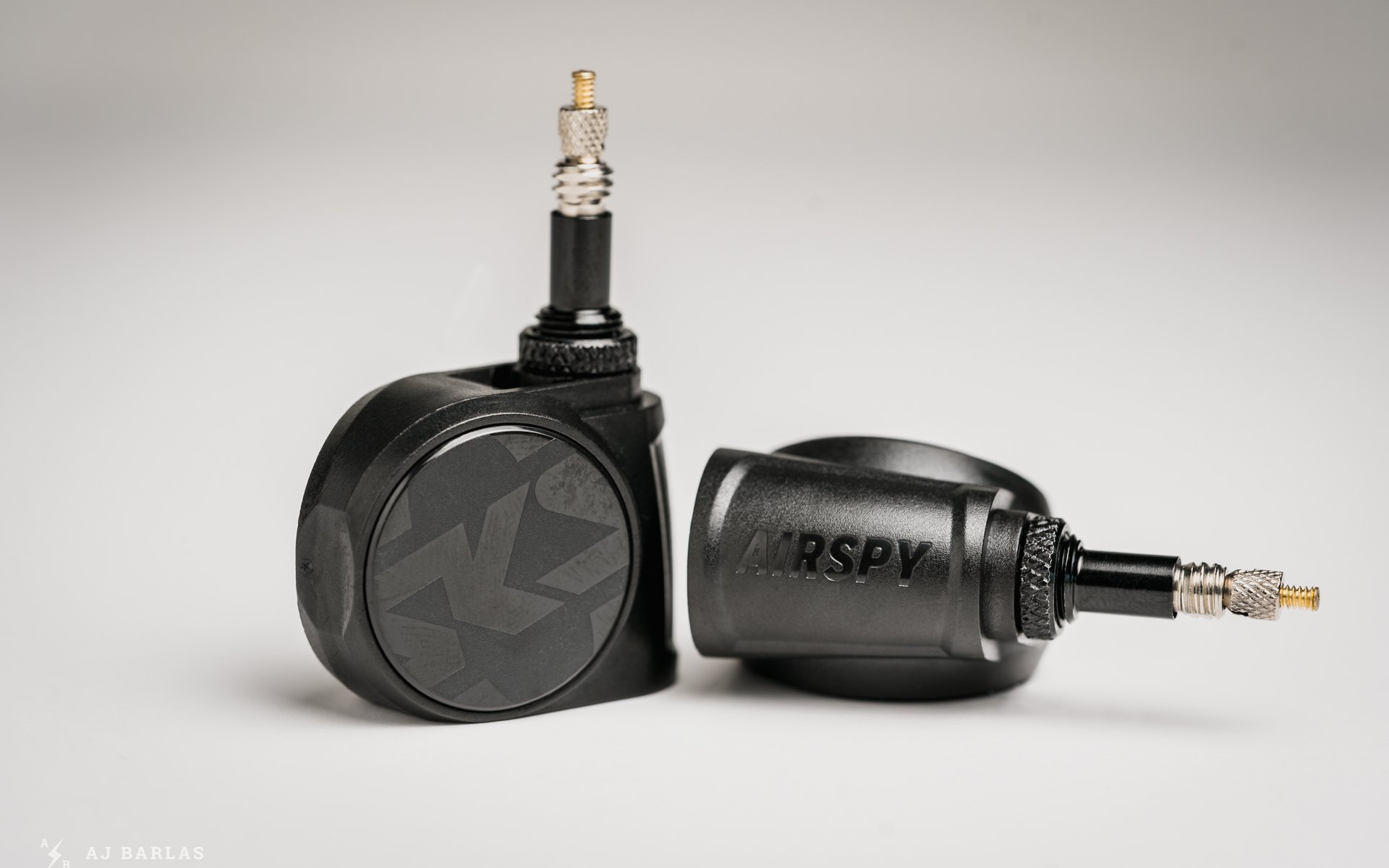 Geekbench, eat your heart out
SKS Airspy Review
Late last year I found myself trying to simplify my pre-ride ritual. I'd recently returned to coil-sprung suspension and was excited about the faster ride preparation that resulted. If only my tires were coil-sprung! I never used to check my pressures before every ride but as the years have flown by I've found myself more consistently recording and checking. My O.C.D. can be pretty strung out at times but I swear it isn't solely to blame here. I'm trying to remove variables that can influence my experience with a product but I dislike how much time it sucks. And that's where the Airspy comes in.
A slightly low rear tire can modify the shape of the bike, changing how it reacts on the trail. An under-inflated front tire can cause a serious accident but before getting there can have an adverse effect on steering. Slight deviations can go unnoticed and result in riders questioning setup after encountering strange characteristics on the trail. Our tires are the first point of contact with the terrain and have an immense effect on the quality of our ride. I stumbled across the Airspy and thought the system might remedy some of these impacts while getting me out of the garage and onto my bike in less time. The Airspy is similar to the original Quarq TyreWiz but not as sleek as the updated version. I was hopeful this bit of tech geekery would allow me to completely forego the pre-ride pressure gauge dance.
Highlights
Options to fit Schrader or Presta valves
Operates with a CR 2032 battery (included)
Max pressure of 120psi (8.3 bar)
Data read to a smartphone app or compatible Garmin Device

Data transmission via Bluetooth or ANT+

It can suggest a tire pressure based on information provided
Reads tire pressure within +/- 1% of the measured value
15% "Deviation" from set pressure

A 25% deviation or higher issues a warning and red tyre in the app

Includes four "U-lock" sizes to secure the unit to the spoke
Dustproof and watertight according to protection class IP67
Weight: 18g
MSRP: 144.99 USD / 99.99 EUR (set of two)
SKS Airspy Technology
The manual made setting up the Airspy relatively straight forward. Installation and setup of the app were also simple and intuitive. The SKS My Bike app is free and can be downloaded to either an iOS or Android device. In addition to the Airspy functionality, the app also provides a place to track your rides, navigation, and what SKS call Bicycle Pass, which provides somewhere to store information on your bike that may be needed if it were stolen.
The Airspy can also be connected with compatible Garmin devices by downloading and installing the Airspy app from the Garmin Connect IQ store. Unfortunately, my early model vívoactive watch predates the compatible devices but it's possible to use the Airpsy app on other watches or the more traditional Edge cycling computers. It would be interesting on the trail but in reality, a quick check on the phone was easy enough.
When not in use, the Airspy goes to sleep and won't transmit data between devices. A short jiggle or spin of the wheels awakens it, beginning transmission and when opening the My Bike app, the data is promptly shown on the screen. When setting up the app, the desired pressures are recorded and you can run multiple tire or bike setups. If pressures are out by more than 15%, the wheels on the bike in the app turn yellow and if they're out greater than 25%, they'll turn red.

With a claimed pressure accuracy of +/- 1%, the SKS Airspy is likely more accurate than any of us require. I tried to check the readings against the digital pressure gauge I've been using for years, a first gen. SKS Airchecker, but I was unable to get a reading with the Airspy in place.
Mounting the Airspy sensor to the wheels was easy but I followed the directions to the letter. In hindsight, it's simple enough to stumble through without guidance but I wanted to make sure everything was set up as expected. Anyone who's removed their valve core can complete the install and the Airspy sensor simply threads onto the valve stem once the core is removed. A minimum of 15mm needs to be available for the sensor to mount correctly. After that, selecting the correct u-lock from the four different sizes provided secures the sensor to a nearby spoke.

Pre-Ride Dance Simplified?
The most interesting element of Airspy was monitoring how pressures change during an average ride. I don't normally check pressures out on a ride but, when in Rome... Setting pressures to my preference before the ride, I found things had changed by the time I reached the top. In hot weather, I found my pressures could jump 2–3psi when I was dropping in. Sitting in the sun for a chinwag would result in the largest pressure changes. Other times, issues with slow leaks – thanks to a lack of sealant – would show themselves. This data can be associated with the ride in Garmin Connect and when I update my device I'll go more in-depth on this.
It's not often that pressures need adjusting on a ride but being able to quickly make changes while monitoring on the phone or Garmin proved beneficial. While riding, the Airspy goes relatively unnoticed but there were occasions where the u-locks rattled against my spokes and I found that over time, they would cause the valve stem fastener to come loose. This increased rattling to the extent of sounding like I'd installed spokey-dokes, but some rubber mastic tape inside the hook reduced the noise.
Back in the garage, Airpsy didn't actually simplify my pre-ride ritual. For every day that my bike sat, it lost ~1psi in pressure from each tire, which required attention to keep things consistent. That change means that even with a tighter tolerance to pressure deviations I'd still need to reach for the pump. I'll test the Airspy on future wheels when I suspect they're doing a better job of holding pressure. Airing up in all situations was simplified thanks to the live data displayed in the great resolution of a modern-day smartphone screen. With the app open and monitoring as air is pumped, it's easier to stop close to or even at the desired pressure, often requiring no adjustments once the pump was removed.
Areas for Improvement
Ideally, I wouldn't need to open an app or look at a Garmin device to know if pressure is off. The Airspy doesn't notify riders of tire pressure at a glance, while TyreWiz does this with a red or green light. I also found the Airspy's room for deviation too much and even at my relatively low pressures, a 15% variation could mean a green light despite my tires going from the preferred at time of testing 22psi/25–26psi (f/r) to less than 19psi/22psi. If I were to drop my tire pressures that low I'd lose the ability to push the bike how and where I want, and run the risk of blowing a bead or worse.
Conclusions
Where the Airspy shows promise is its ability to translate real-time data and send an alert to your phone or Garmin device if things get (greatly) out of whack and pressure checks can be completed without even touching the valve. I didn't have an issue on the trail but something like a small puncture has the potential to cause larger problems, which this could prevent before something worse happens. That's if SKS can tighten the room for variation to within 1psi – which the TyreWiz is capable of. Using the live feed to see pressures as the tires are adjusted is great, making trailside changes more accurate – that is if you don't carry a pressure gauge on rides. Plus-size and even more-so, fat bike tires could benefit from the incredible 0.1psi readings as well.
At a lower cost than similar devices, the Airspy positions itself well for curious riders turned away by the 200 USD competition. But those savings come at the cost of deviation and a need to check status using a screen. It's certainly not going to be something everyone needs but for riders who appreciate data, ditching the traditional gauge, or real-time tire pressures will be happy with what SKS offers with the Airspy. For me, it appears the only way to further simplify my pre-ride ritual involves solid rubber tires…
More information on the SKS Airspy is available on their website.