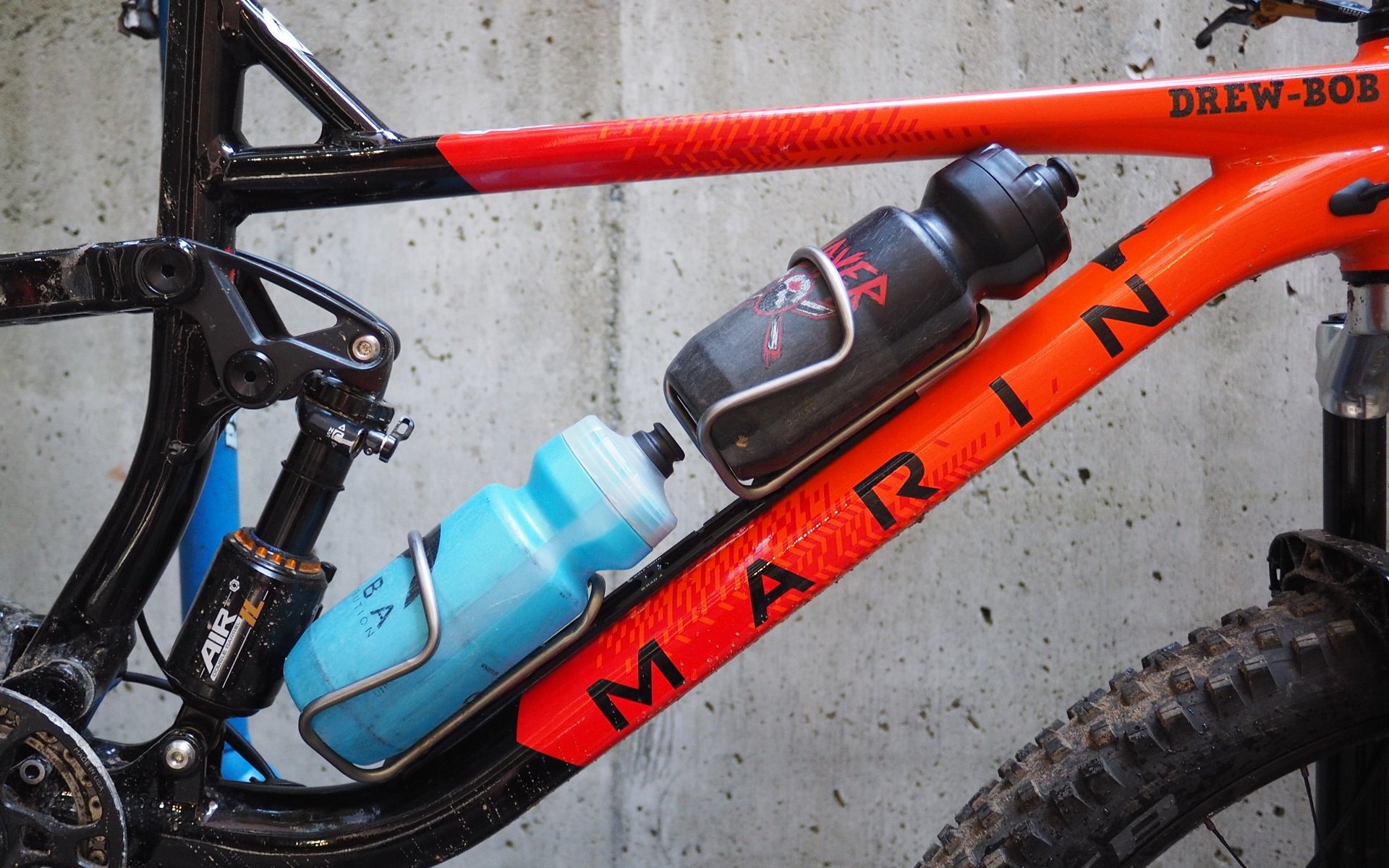 EDITORIAL
Size-Specific Water Bottle & Accessory Mounting Points
Move Your Zits
The really tall mountain bikers in my life are insufferable. Insufferable. Let's just take bicycle frame sizing as an example. This stack height is too low, this effective seat angle is too slack, these chainstays are too short, this reach dimensions is too compact, this seat tube is too long or too short. You know, depending on if they want to run a 150mm or 240mm dropper post. And I try to empathize, really I do, but all those changes have something in common, in that they cost money. More frame material, custom forgings or drawing different tube sets for aluminum, new moulds and more layup time for anything carbon fibre. And all that for frame sizes that are going to sell a lot fewer units than what median-height folks are riding.
Can you imagine the ruckus if brands started charging more for the gigantic sizes of the same bikes to cover those costs? Meanwhile, as it stands now, all of us average-ish height folks are getting overcharged to either subsidize or cover the spread of folks at the statistically insignificant XXL end of the bell curve. Do you hear us complaining? No, we're stoically shifting all our crap around to dig out our step ladders to change light bulbs and paying the same amount for less material in significantly higher unit production frames.
That said, I was thinking the other day that one thing tall folks, even not that tall folks, should get ruffled about is the one-size-fits-all solution that most bike companies take to mounting water bottles or accessories. There is a heck of a lot of extra room inside a big frame compared to squeezing one bottle into a small one. And yeah, you're thinking "No Shit, Andrew" but hang on a second. Adding water bottle bosses at production time costs basically nothing. If a front triangle can fit two bottles and a shock then I think it should get bosses for two water bottle mounts optimized for that size of bike, not a single set with the position optimized for the small frame.
I know folks who've added their own rivetted bosses to aluminum frames. Actually, WZRD Em just added a pile to the steel frame and fork I use as a commuter so I could hard mount racks and fenders. For a more temporary but still solid option there's always good two-sided taped, zip-ties, P-clamps, hose-clamps, and, of course, SKS Anywhere mounts. But for the added costs or faffing, not to mention the less-clean looks, the ideal solution is for companies to be more thoughtful when adding zits in the first place.
That's not to suggest that making a decision on what full suspension, or hardtail, bike you buy should come down to the number of water bottle mounting locations it has, not at all. Even if you're never going to bolt anything onto said bosses, size specific mounting points demonstrate a next-level of thought went into the bicycle while at the same time being a much less expensive than any of the other size-specific frame considerations I suggested in the opening.
After attempting to mock things up a number of ways, I finally resorted to asking the nerds at Wolf Tooth if I could try a couple of their B-Rad bases and that's made the project fun. My Rift Zone doesn't quite fit two bottles but I think from my photos it's easy to picture how an XL would handle them both without issue. That's not to mention other frames with even more space. My hardtail already fits two bottles on the downtube with plenty of room to spare, but given it's a medium-large sized frame it does make all the hardtails with one set of bosses seem a bit silly.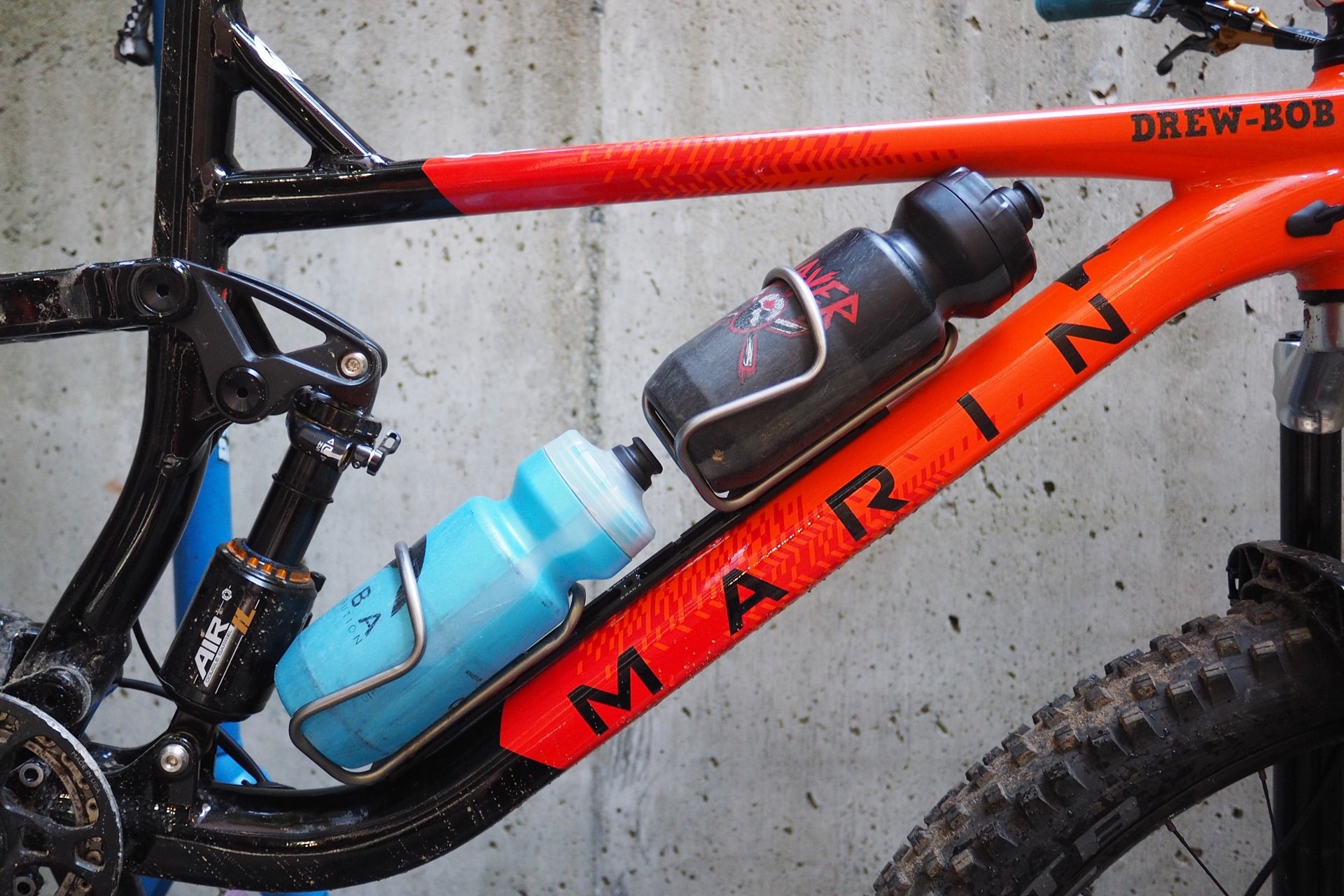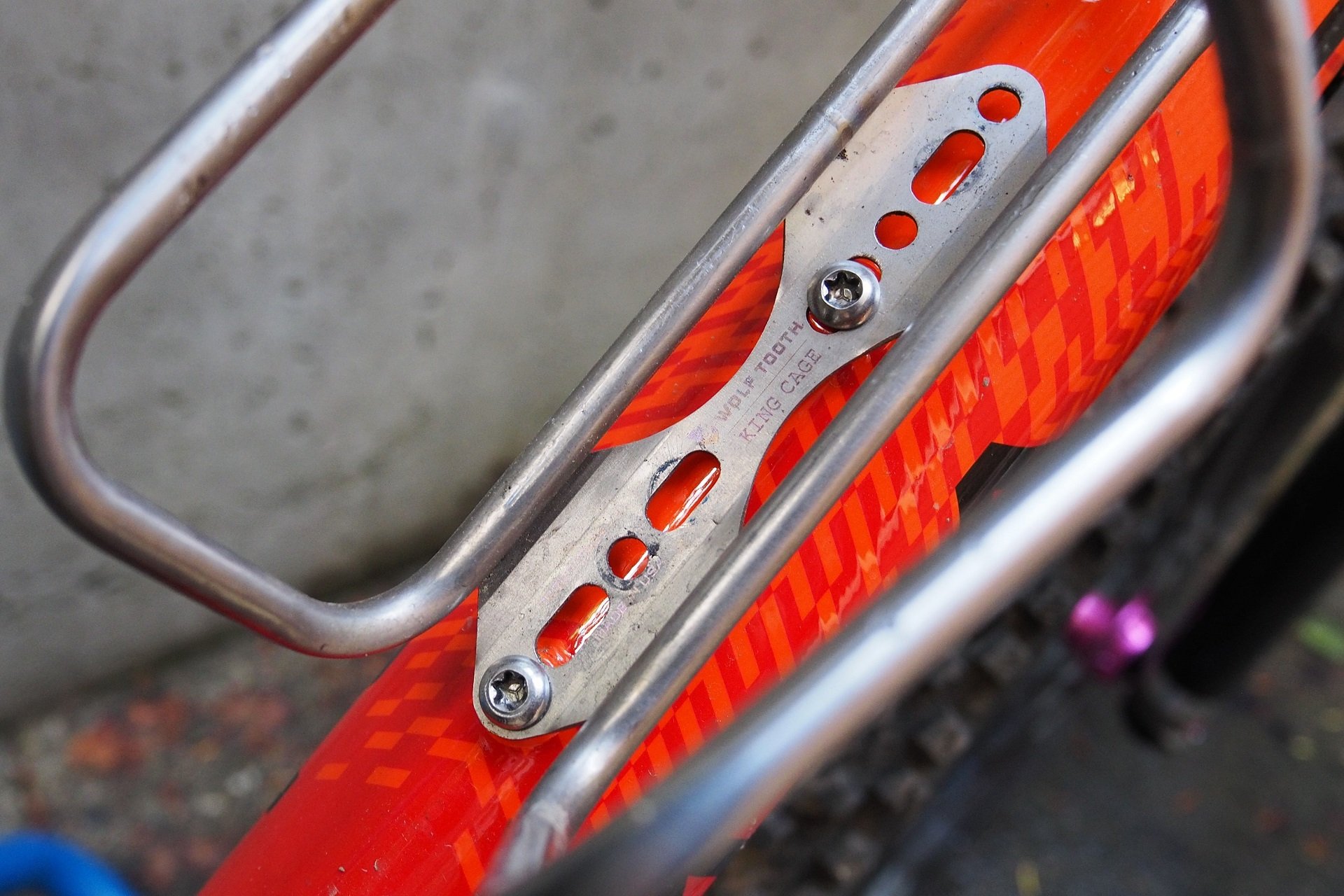 Accessory Mounting
I'm a bit weird in that I usually ride with a pack but I carry my water and tools, except my mini-pump, on my bike except for more epic adventures. My pack has food, gloves, spare clothes, first aid, a light, my phone within easy reach, and often my camera. And I keep my pump in my back after killing one too many hanging on my bike. With the exception of the setup on my single speed, I carry my tools in a weather proof roll-up pouch that I can easily transfer from bike to bike. It straps on to most bikes okay but it mounts up much more securely to a hard-mounted accessory mount.
There are an endless number of options in this category. I've been using a 0.6L B-Rad bag, and included mount, since 2019 and then last year started using the new TekLite version of the same which uses thinner, more flexible material. The included plate has slots to mount a pump off the side if that's your thing but I just use it to securely fix my tool kit. For those that wouldn't carry a little frame bag there are still plenty of reasons to consider additional accessory mounts. The folks at Jank Components make a sweet inline pump mount for a OneUp pump, Pivot's Dock Ninja multi-tool looks neat, or a spot that almost fits a bottle there are some bottle-esque tool storage solutions like this one from Birzman. There are a plethora of options with more arriving every day. For example, it's easy to imagine Lezyne making a hardcase for their T-Drive tools that would bolt on to accessory mounts if more frames had them.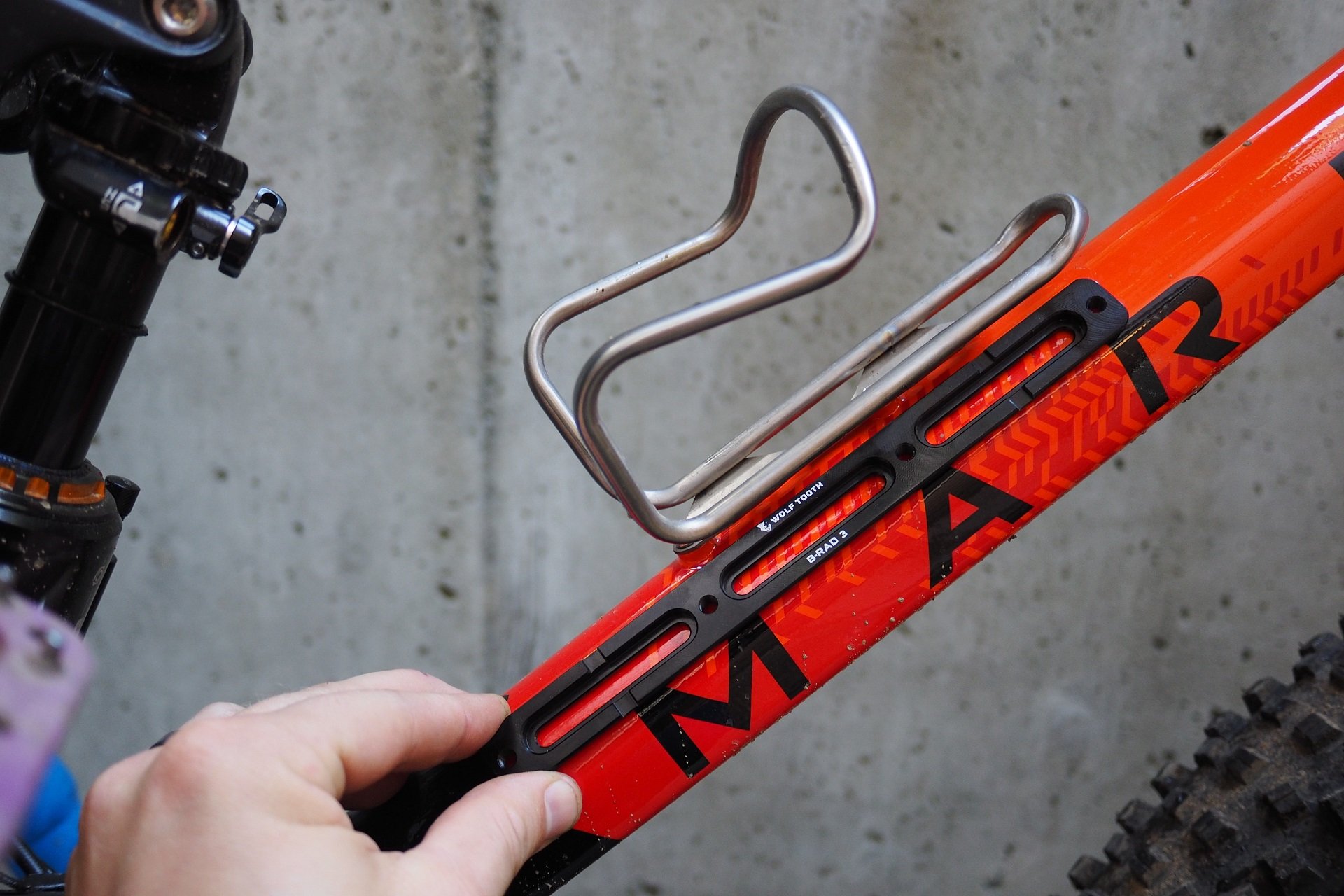 I've heard some riders poo-pooing the addition of under-the-top tube bosses because they'd never use them, and that's fine. It's a minor additional cost to add more zits to a bike, at least a metal bike, but if most folks don't use them, or wouldn't use them, I can understand not wanting a bunch of extra bolts sticking out. I'm not into the thousands of bosses bike packing aesthetic myself.
Although, I've heard of some creative uses for mounting points from a hard-case banana holder, to a folding Silky Saw, and I'd believe that's only the start. Heck, Cy Whitling could be sure to never leave home without paints again with a clean little frame mounted kit, although a boss-mounted frame bag would also have room for paper. With the increasing number of folks out there with 3D Printers, a passion for mountain biking, and more imagination than yours truly, I'm certain with mass adoption, it would only be a matter of time before a bunch of cool mountable ideas came to fruition.
Dreaming up uses for extra bosses aside, I'll go back to what was interesting about having the visual tool of the B-RAD 4 base and two bottles to mock up into frames. I was sure that I was going to just squeak two bottles into my Rift Zone, and I was very much wrong. But as you can see from my shots it wouldn't take a much more open front triangle to make that a reality. An XL, or the XXL I'd love to see Marin making, frame would certainly be no issue and that's true for a lot of mountain bikes on the market.
Do enough people care about running two bottles, or a bottle and a bag, that it's worth the undertaking? I think, yes. I'm sure it's easy enough to draw spatially on a computer but even just grabbing the base I have, mounting two bottles, and mocking it into existing frames is an interesting thought experiment. And, it's a frame update that costs essentially nothing to offer a size-specific detail for riders. It demonstrates a focus on small details, and individual frame systems, even if it's not going as far as size-specific chain stay lengths and seat tube angles. It would be a nifty rebuttal to the really tall mountain bikers in my life when they complain that bikes aren't optimized for them, and who doesn't love chirping their riding friends?