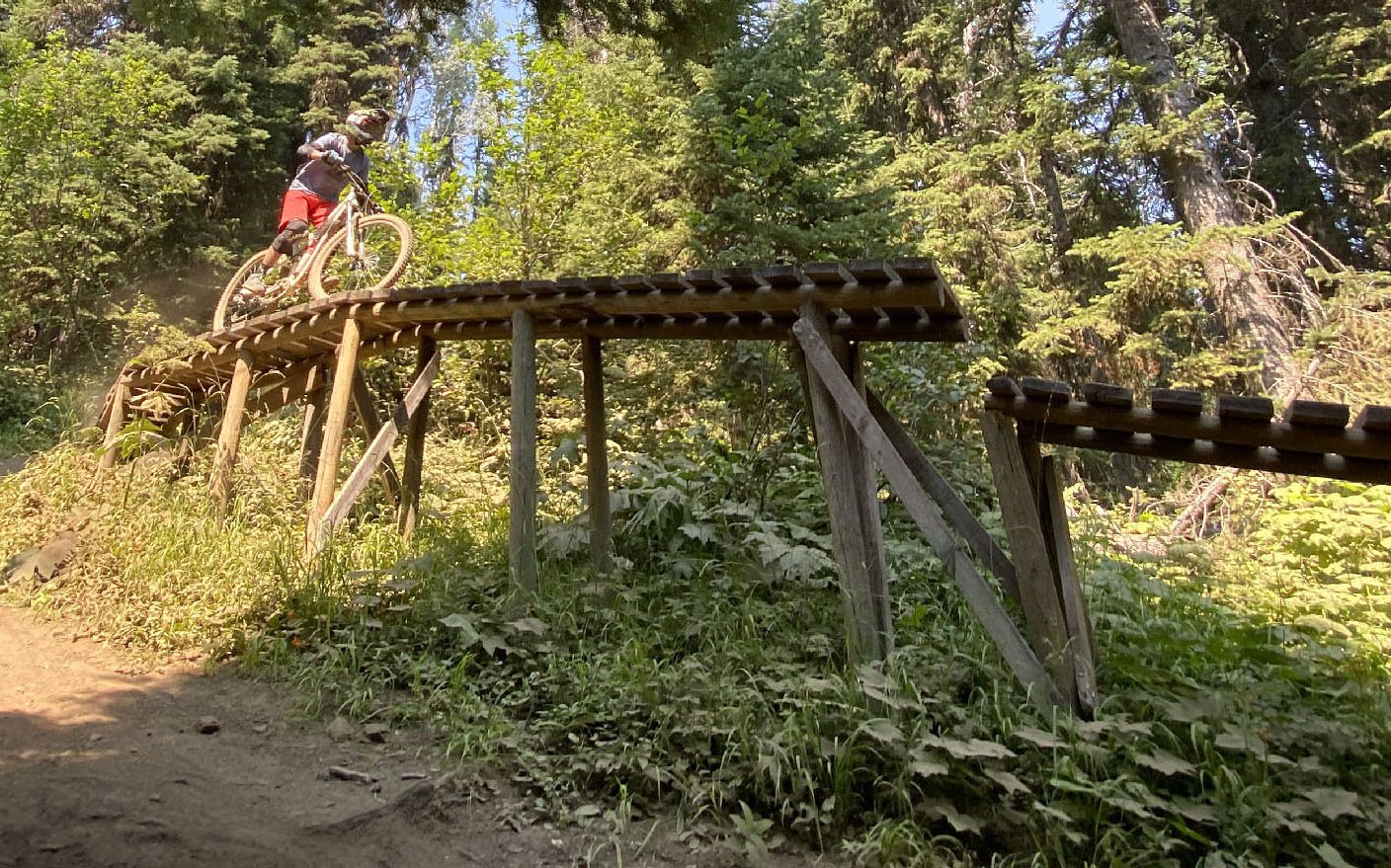 A Day in the Bike Park
Silverstar with My Son (3 years later) and his Buddy
When Luca and I went to Silverstar three years ago, when he was 12, I began my article about the experience with an admission of guilt; "My son's MTB upbringing might be seen as one of neglect; a failure to provide the necessities of fat-tired life." I'd love to be able to say that since that time he's ridden hundreds of times and surpassed his father's meagre skills by several leagues. Alas that is not the case. In fact, until recently he continued to be stuck on the same bike he was riding 3 years ago, (at least in theory) and his enthusiasm for mountain biking remained limited to when he had his hands on the bars going down a fun trail.
Lately however, he has started riding more and has some new buddies who are keen mountain bikers, and Luca was snatching test bikes from the nsmb.com storage locker to go join them. Unfortunately for him, most of the bikes we test are a little too big, so I recently solved that problem, despite failing to adequately address his expectations of XTR or AXS draped over carbon. Luca's 'new' bike from 2013, as well as a visiting friend who is a keen mountain biker made me realize it was time to check in on Silverstar once again.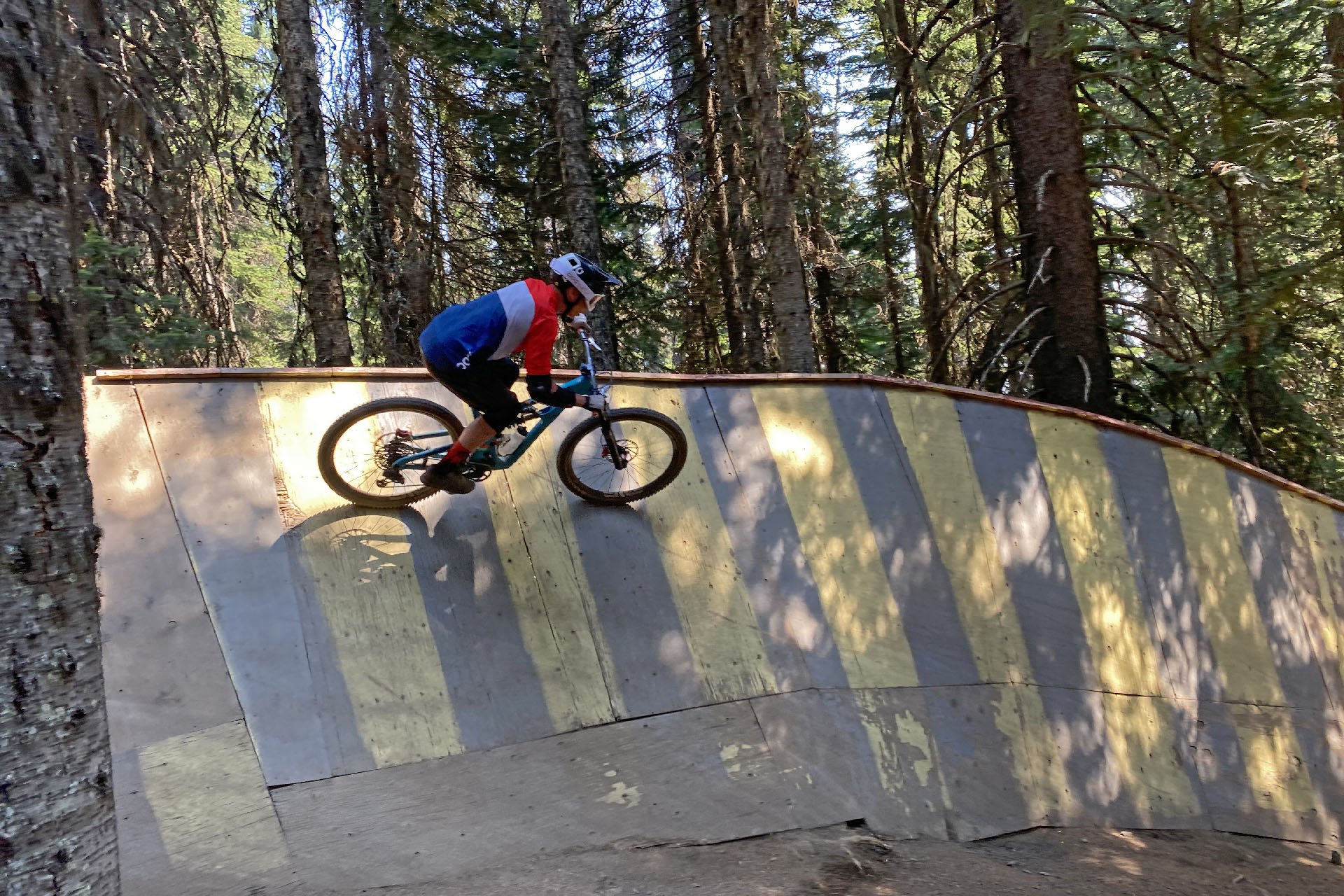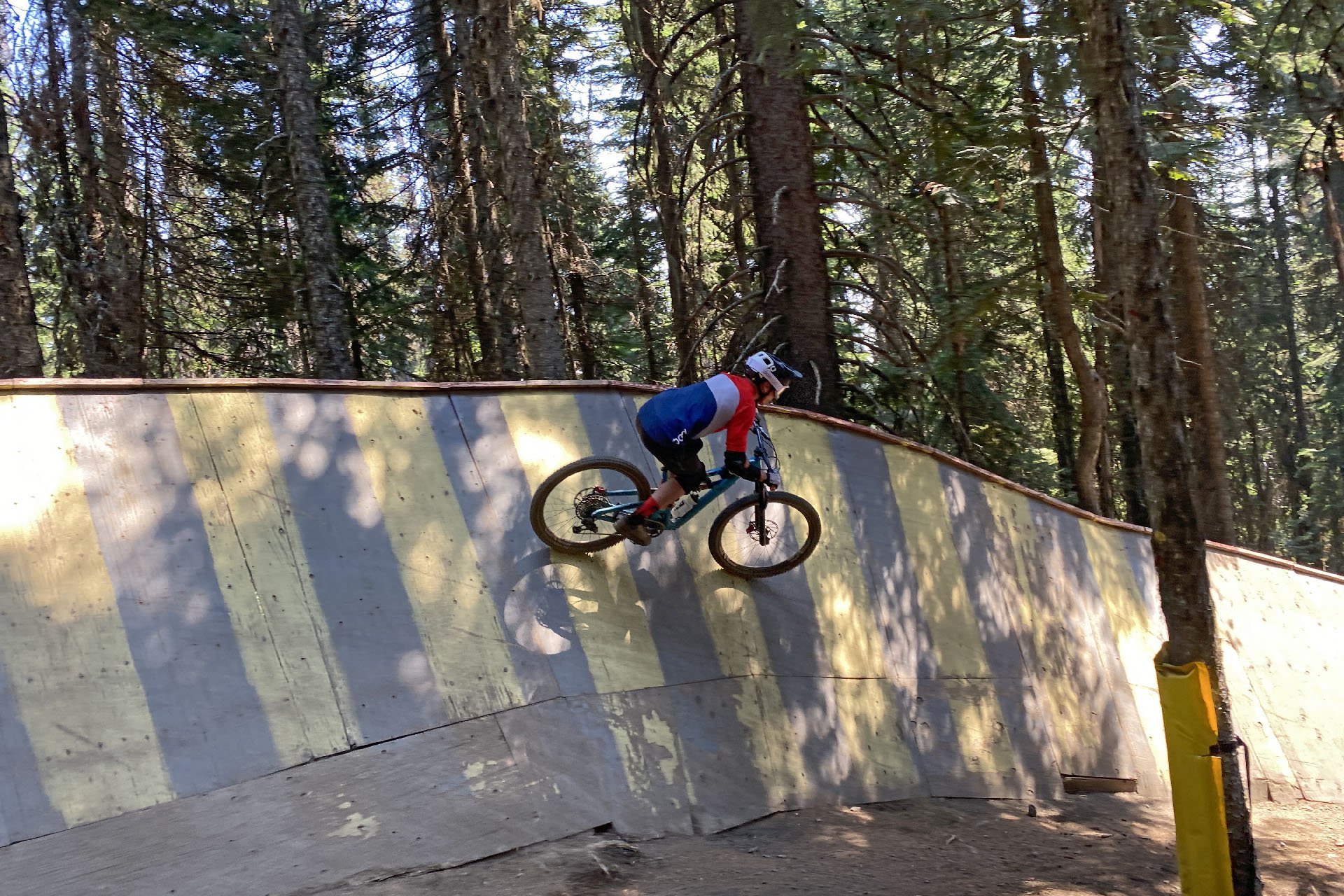 When I haven't been to a bike park in a long time, I get a little anxious. I've had some of my biggest bails in the Whistler Bike Park and it always takes me some time to feel comfortable, there in particular. Silverstar has been an exception in the past, but without setting foot in any bike park for almost three years, I was a little edgy about even the sculpted magic of the many berms, doubles and wallrides at the Star. Bringing Luca and his buddy Alec along multiplied my fretting. Actually I wasn't very worried about Alec, who was on a battered but solid Norco Range 27.5 carbon, and seemed to be a confident rider, but Luca was aboard the FrankenCamber, a bike I'd built him by adapting an XC frame from 2013 into something I hoped would be more capable. The brakes were slow to bed in and very grabby, and I worried the hatchet geometry wouldn't be appropriate for bike park use, and the whole thing would end in tears. Worse still, if he was to fall and injure himself,* it would be my fault no matter the circumstances. Neither of us were entirely happy about him riding the bike in the park, but it was either that or stay home.
*to be clear, obviously Luca injuring himself would be the worst thing about him falling as a result of my optimistic build
The Village at Silverstar is above the bottom of the lifts so instead of jumping on a chair, you can ride sweet berms to the bottom to get a little warm. My choice is always Blast Off with its high sculpted berms and fun rollers. The boys did great here and eased my trepidation. From the top it seemed like a good idea to ride a blue, but we soon grew bored and skipped over to World Cup, one of my favourites. Both of the boys did well and I left them for a run to get on the phone for a meeting I couldn't avoid while they continued to the bottom. Before I left the boys they eyed up the massive ladder roll that follows a bridge over the paved trail. They were both nervous looking at it but keen to come back later. .
When we met at the bottom of the chair they were all smiles and keen to do some harder runs and get in the air. While riding solo, they rode Jedi Mind Trick, which was one of our favourites three years ago when I was last here with my wife and Luca. We rolled down Shazam, which I remember being good for Luca's level last time, but aside from one really fun bermy section, it was a little tame for 15-year-olds looking used to Fortnite-level dopamine hits. The boys had also ducked into part of Double Dog, one of my favourites from previous visits, so that was next on the agenda.
Kids love to complain to their parents, but it generally happens less when they have friends around, and Luca was on his best 15-year old behaviour. Instead of me pushing or encouraging him, Alec, who is a more experienced and confident rider that his buddy, provided all the motivation for Luca to try some harder moves. Double Dog has some interesting wooden features that are intimidating at first, despite not being very hard. Luca hadn't ridden any of them on our first visit and he was unsure this time as well. Alec was feeling better about things and he went first, riding over the first feature well. After a couple of run ins Luca managed to nail it down.
The second notable move was much more intimidating. The elevated ladder bridge, which has three sections, has a couple of small drops separating the platforms before a final step-down to transition off the end. After Alec rode it well, we watched a rider perform it clumsily, letting his front wheel drop a raptly without lifting up for the drops, and he survived the experience. After seeing a less-skilled rider have success, Luca climbed aboard and gave it a go.
It doesn't matter how old your kids are it turns out, it remains nerve wracking seeing them in situations where they could get significantly banged up. Luca approached a little tentatively but then put in a pedal stroke and launched from the first platform to the second, and then did the same for the third before finally he dropped off the end. He'd never ridden anything like it before to my knowledge and I was equal parts proud and relieved when he hit the tranny with his tires. And then it was time to get our flow on.
Riding berms well takes some artistry. It often isn't intuitive and technique only seems to get me so far. Sensing the dirt and reading the contour well unlocks some speed and confidence for me. When berms feel great and the bike seems to swap sides with ease and power as the Gs rise, it evokes that glorious speeder bike sensation. The next level for me leads to playing with lower lines or dropping down early for a faster exit, but those days are rare. More commonly I find myself battling the banks and struggling to get off the brakes, which was the case for much of my bobsledding time on our lift-accessed Monday. I realized later I hadn't gone up to bike park pressures for the experience, which may have been what led to vague and undecipherable feedback from the earth. Fortunately it left me quite comfortable going the same speed as the boys which turned out to be splendid outcome.
Part of me had a hankering check out some of the newer trails, particularly Gnar and Walk The Line (which was probably what I would have been doing on the latter) but it made no sense to rush the boys as they rapidly gained confidence. Instead we went back to World Cup, and the speeds had ramped up significantly from earlier in the day. The boys weren't yet ready for the first wall ride but they got up nice and high on the second one, and loved both the sound and the sensation.
And then we came to the steep, long, scary and intimidating ramp. The three of us violated bike park etiquette and walked to the end of the narrow bridge and peered over the edge. The ladder starts out the width of the bridge but then fans wider, for nutbars who want to air down it a little off centre, and the ramp continues as steeply once you hit the dirt, finally ending with a berm that looks like a dusty brick wall from the top.
I went first while the boys watched and then Alec was up. He did everything just right and tipped his weight over the edge at a nice rolling speed. Right after him a couple of rippers rolled through and the first one aired about halfway down and the second rider went about half as far, which was still impressive. Luca was next but having seen the two fast guys come through ahead of him had him misjudge his speed coming in and his front wheel continued through space while his rear wheel was still on the bridge. His front wheel came down first and he was momentarily nose-manualling. I was sure he was going to grab a fistful of his powerful Magura dual piston MT5 front brake and be hurtled onto the slats much lower down. Alec and I both gasped but Luca kept his wits about him and his rear wheel touched down and he successfully navigated his re-entry.
---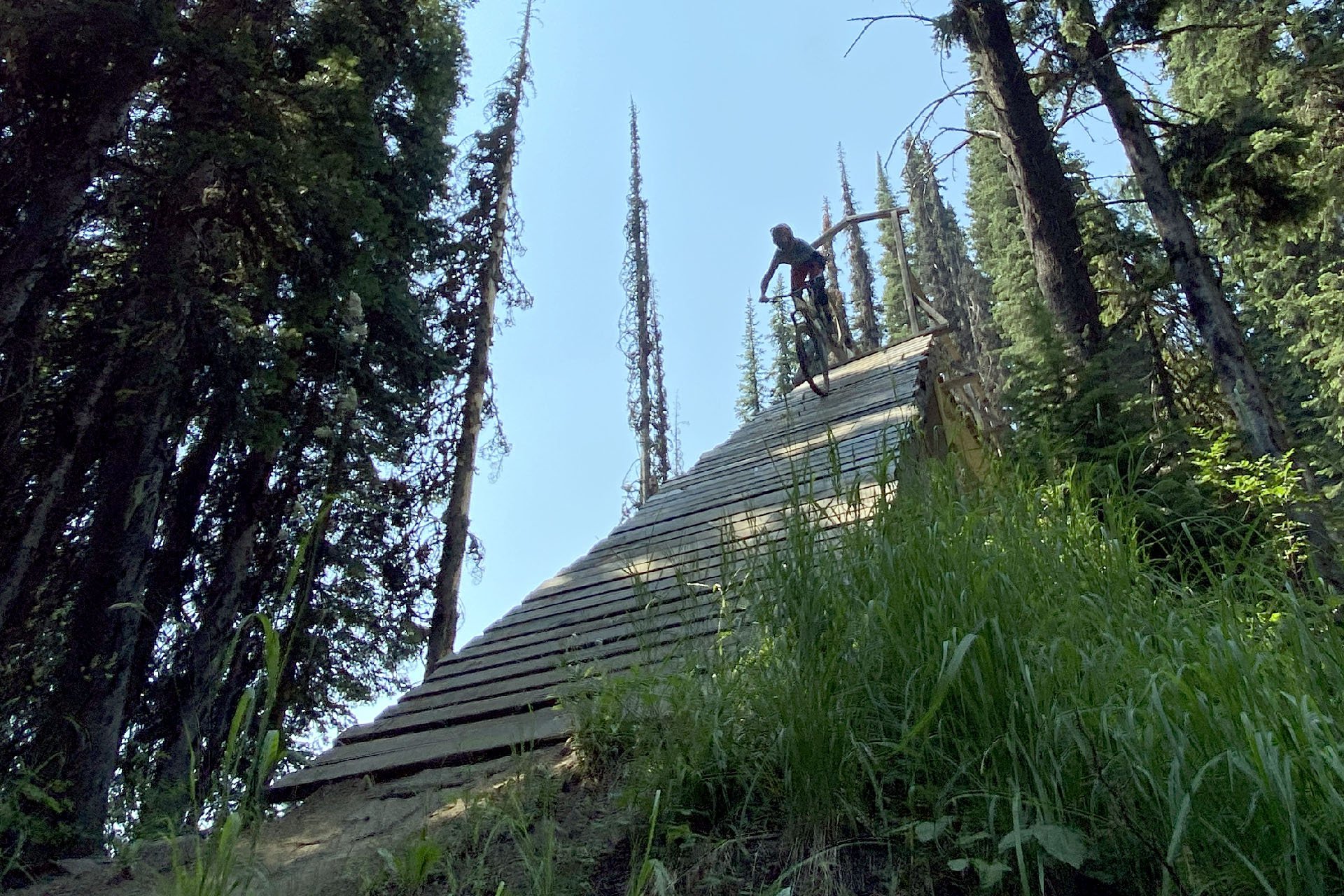 The boys were bushed with about a half an hour until the lifts closed so we decided to call it a day. I continued down one more level while Alec and Luca took a faster path back to the village. Strangely I got there before them and then waited for several minutes until they arrived. Somehow Luca got balled up coasting along the dirt road back to civilization, going over the bars and crashing hard on the gravel. I expected to be blamed because of his sticky front brake but he told me later (I wasn't going to bring it up at the time) they had actually broken in well. He wasn't hurt badly and still had the grin on is face from a well-spent day. Luca kept up really well all day and was pleased with the way his bike rode, which was a fantastic surprise and a great ending to an outstanding day.
Many of my favourite aspects of Silverstar were unchanged from my earlier visits. The unpretentiousness of the place is entirely intact, and I love seeing all sorts of crazy bikes ridden by riders of all levels, in the lift line. The trails were in surprisingly solid shape despite the long stretch of very warm weather we've had, and all the new work we came across was beautiful. It's quite a bit cooler up there and it was also a great spot for escaping the heat. Some of the liftys were very friendly but most gave off a bit of a chilly vibe, which was a little disappointing, but I guess I can relate. Lifting several hundred bikes an hour off the chair can't be that great when you'd really like to be crushing laps yourself.
In the end I learned that one day at Silverstar isn't close to enough. I'd hoped to get the boys onto Rockstar and to see how they'd do on some of the smaller moves on Pipedream (and to see how I'd do) but one day wasn't enough time get 'er done. Thanks to everyone at Silverstar for a great day!
Silverstar Bike Park Facts
Chair lifts: 1 High Speed Six Person Chair (holds four bikes in roll on racks per chair); 7.5 min ride time
Number of Trails/Runs: 60+ km of downhill trails, ranging from green (easy) to double black (expert only)
Degree of Difficulty: 15% beginner, 40% intermediate, 45% Advanced
870 + berms
400+ jumps
1600 feet of vertical
More than 60 km of XC trails located around the village and at the top of the hill - including Beowolf- a 36 km round trip adventure
Pro tip: buy your tickets online and save between 4 and 5 bucks. Hours are 10:00 to 5:00 aside from Wednesday and Friday with extended play until 7:30 PM.
If you are planning a riding trip in B.C. you should add it to your list. Click here to learn more about the Silverstar Bike Park.