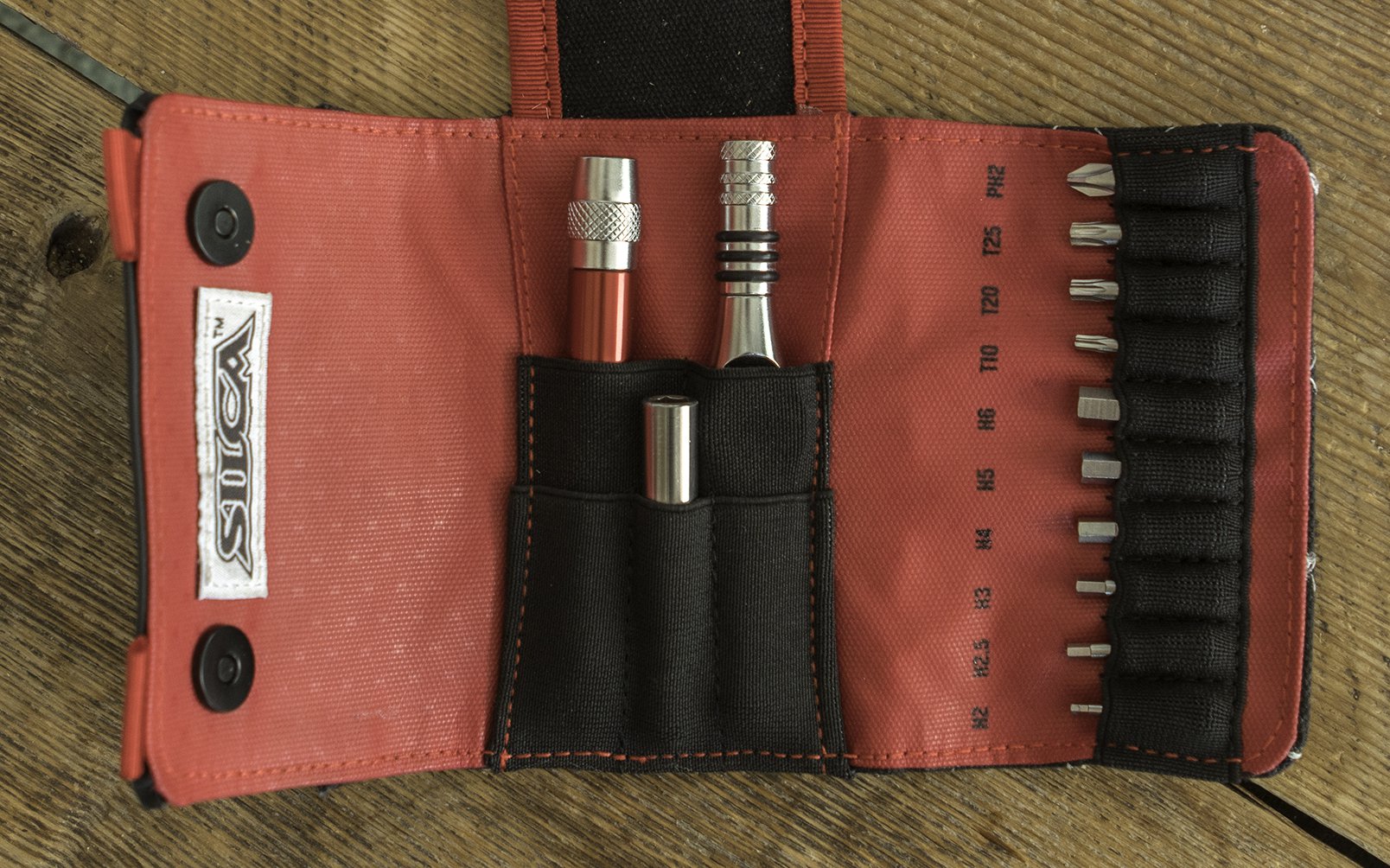 REVIEW
Silca T-RATCHET + TI-TORQUE KIT Reviewed
The days of investing of quality parts that migrate from bike to bike over the years appear to be gone. Anybody want to buy some non-boost 650b wheels? How about a non-tapered headset or fork? Some riders still throw down for Chris King headsets and other Gucci parts, even more so for wheels currently, but without the expectation that you'll be able to use them on your next new bike. When I look around my workshop, hunting for a black SRAM matchmaker clamp that I'm sure is around somewhere, it's easy to see where investing in quality has borne fruit; tools. Most well-made tools will last longer than that Chris King headset if you take good care of them, and working with quality makes the wrenching a pleasure. 
Silca will happily take your dough. The brand best known for pumping roadies tires was founded in Milan in 1917 but was purchased in 2013 by former ZIPP wheels lead engineer Josh Poertner. Since that time Silca has expanded and elevated their product line to include ultra premium products - like an $800 floor pump or even a 185 USD centennial tool kit with some hex keys and Torx bits.* While the T-Ratchet and Ti Torque Kit is clearly a premium product, it isn't priced astronomically to find some space in the market. 
*To be fair it comes in a walnut box adorned with a hand-painted stainless steel badge. 
This tool isn't easily categorized. It's a little big for many riders to take along for the ride at 232g but it's not as robust as most dedicated shop tools. And yet it will work fine in both of those environments, or as a stay in camp tool when you are out of town with your bike. It could also make great sense to throw in a jersey pocket when you are making changes to your setup and want to be sure you get the torque settings correct out on the trail. 
The tool comes in a styling "SILCA Duck waxed canvas carrying case" that holds all parts securely and closes firmly and easily with some magnetic sorcery. When it comes time to turn some fasteners everything goes together quickly and easily.  The handle ends are knurled and circled with rubber inserts for comfort and grip and more magnets keep everything together while in use aside from the ratchet itself. Because the torque fitting is titanium which isn't magnetic so a clip spring is used in that location. . 
The Ti-Torque insert works with a titanium spring that shows you live readings in newton metres. Silca recommends not going beyond the 8 N m measurement because you could damage the spring. This all sounds great in practice but the scale on my example is almost comically difficult to read. The attractive shine of the surfaces of both the scale and the indicator making seeing either difficult and the gradation lines are less than a millimetre apart. Silca recognized this criticism and made three separate scales for newer versions - 2-6, 3-5 and 4-8. This is a huge step forward because the scale on my example is all but useless. 
When working at home having a ratchet is a godsend. If you are changing bars and you have lock on grips you could be dealing with 10 fittings or more and the ratchet speeds things up significantly. When the fitting isn't tight enough to require leverage you can use the knurled disc atop the ratchet to spin that loose fitting to the bite point in a flash. I particularly like the fact that extra fittings can be stored on either end of the T handle. Many bar swaps will require a 2.5 or 2mm for trips, a 4mm for the stem's faceplate, and a T25 or 4mm for lever and shifter/dropper clamps. You can have three fittings at a time in the handle rather than returning to the bench to swap them out. 
I love the way the ratchet eases the workload and the ease with which you can carry most tools you need for minor maintenance and component swapping in your pocket. I was less pleased with the tolerances on our test example. The removable portion of the t-handle stays together well thanks to magnets but the fit is a little jiggly for my liking. It actually rattles in your hand. This doesn't impair function but it fails to feel as solid as a tool of this level should. The fittings themselves seem to be well made and I haven't had any issues with poor tolerances for these. 
An obvious comparison here is Topeak's Ratchet Rocket Lite NTX. Both tools weigh 232g and hold similar tools, while Topeak's kit includes two tire levers to go along with the fittings and three torque bits. I also reviewed the Ratchet Rocket Lite DX without torque bits and liked it very much. It's not a t-handle but that almost never seems to impair efficiency. It also weighs only 155g (non-torque version), includes an 8mm bit, a quality feel and the case is more compact with a more easily stowable shape. Without the Ti-Torque tool the T-Ratchet weighs 200g and retails for 50 USD while the Ti-Torque version is double that. Prices are slightly less for the Topeak tool without torque bits and similar with torque bits. 
All in all this is a great tool to have in the workshop. I sometimes take the Topeak tool when I ride but the bulk and increased mass of the Silca version means it's not a trail tool for me For more info head to Silca.com.