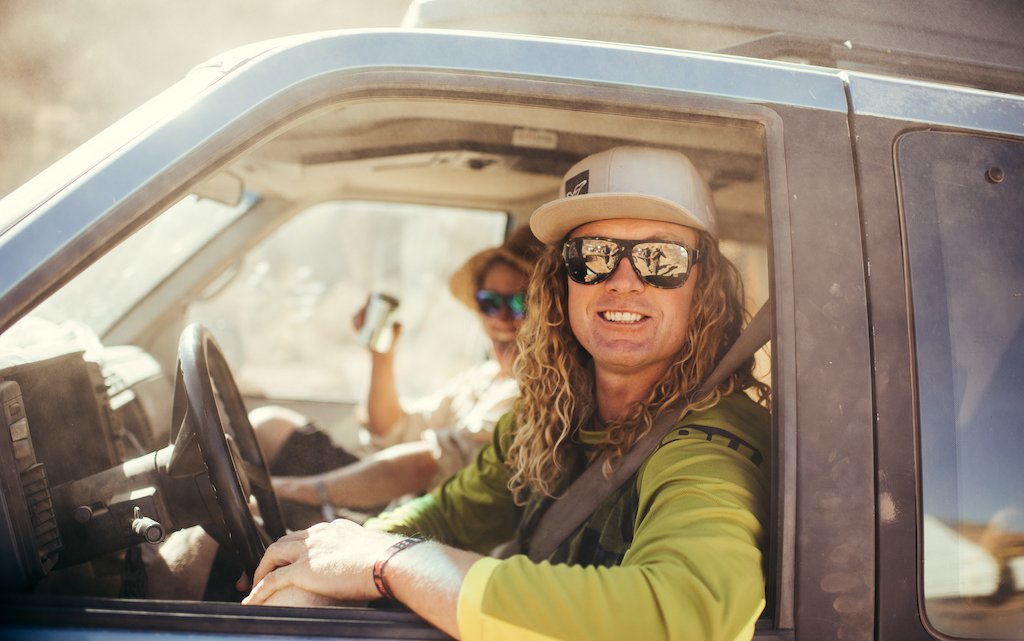 PRESS RELEASE
Shred and the Kelly McGarry Foundation Launch the McGazza Forever Collection
In honour of Kelly McGarry and in collaboration with the Kelly McGarry Foundation, Shred has launched a series of MTB gear to give back to the community and help carry on McGarry's legacy. This also coincides with the signing of Sam Gale, who hails from McGarry's hometown of Wakefield, NZ. Get all the details from the source after the break.
---
Shred is proud to announce a partnership with the Kelly McGarry Foundation and the debut of a collection of helmets and goggles that pays homage to the legendary rider after whom the foundation is named. The launch of this partnership coincides with the brand signing Sam Gale, a New Zealand rider and rising star who is carrying on McGarry's legacy.
"Kelly's passion and generosity inspired everyone who knew him," explains Shred Co-founder and Chairman Ted Ligety. "And although his life was all too short, his impact transcends time. We're humbled and honored to partner with the Kelly McGarry Foundation. In doing this, we're able to support grassroots biking initiatives while paying tribute to a man whose love for life was perfectly paired with his skills on a bike."
As a rider for Shred, McGarry anchored the brand's mountain biking team and provided crucial input on its products. After he tragically passed away in 2016, his friends and family created the Kelly McGarry Foundation to honor his legacy and to support the biking community in his home country of New Zealand. The foundation aims to emulate Kelly's infectious, down-to-earth personality and generosity by providing grants and financial support to a range of mountain bike projects.
"We're excited to partner with Shred," explains Kelly McGarry Foundation Trustee Daniel Wypler. "Our partnership will help continue Kelly's legacy and enable us to grow and support larger projects throughout New Zealand."
In conjunction with its partnership with the Kelly McGarry Foundation, Shred has added Sam Gale to its team. With a smooth style and tremendous control, the sixteen-year-old is quickly making a name for himself. 
"We're stoked to welcome Sam to the team. His addition is a great complement to our partnership with the foundation," explains Shred Co-founder and CEO Carlo Salmini. "As part of a new generation of riders, he's charging into the future while also embodying the passion and generosity of spirit that Kelly exemplified."
Others are quick to draw comparisons as well. "Sam is a prodigy of Kelly's legacy," explains Emmerson Wilken, a pro freerider from New Zealand. "He's an absolute shredder on a bike and from Kelly's hometown of Wakefield. It's so fitting that they both have support from Shred." 
Gale notes that Kelly's influence transcends biking. "Kelly was a big part of my motivation to get out and have fun on my bike, as well as push my limits," he explains. "Yet it wasn't only his riding that influenced me—it was the way he treated others and his attitude toward life."
As a team rider for Shred, Gale is helping unveil the brand's new McGazza Forever collection. This line of goggles and helmets showcases the products that Kelly continually relied on—in fresh designs that give a nod to his New Zealand roots. "On behalf of Kelly's family, we are honored that Shred has created the McGazza Forever collection," offers Matt McGarry, Kelly's brother and a trustee of the foundation. 
The McGazza Forever collection highlights some of Shred's most iconic products, including the Amazify MTB and Nastify MTB goggles, as well as the all-mountain Short Stack and the full-face Brain Box NoShock helmets. According to Salmini, "Kelly's feedback was essential in developing and refining many of Shred's products, especially the Brain Box. He helped spearhead its creation and had a direct hand in both its form and function. It's no wonder he was especially proud to wear it." 

McGarry's signature goggles and helmets are now available at www.shredoptics.com. A percentage of the proceeds from the sales of these products will be donated to the Kelly McGarry Foundation. "We look forward to riders across the world rocking the McGazza Forever gear and embracing Kelly's spirit for years to come," Wypler explains.
Shred will officially debut the McGazza Forever collection at the 2017 Red Bull Rampage, the same event that helped make Kelly a legend. 
"It's only fitting that we unveil the McGazza Forever collection and our partnership with the Kelly McGarry Foundation at the Red Bull Rampage," explains Salmini. "Kelly's runs from the event are nothing short of legendary. But more importantly, the event is a gathering of friends and kindred spirits who share Kelly's passion and commitment to living life to its fullest."
To check out the full McGazza Forever collection, drop into www.shredoptics.com