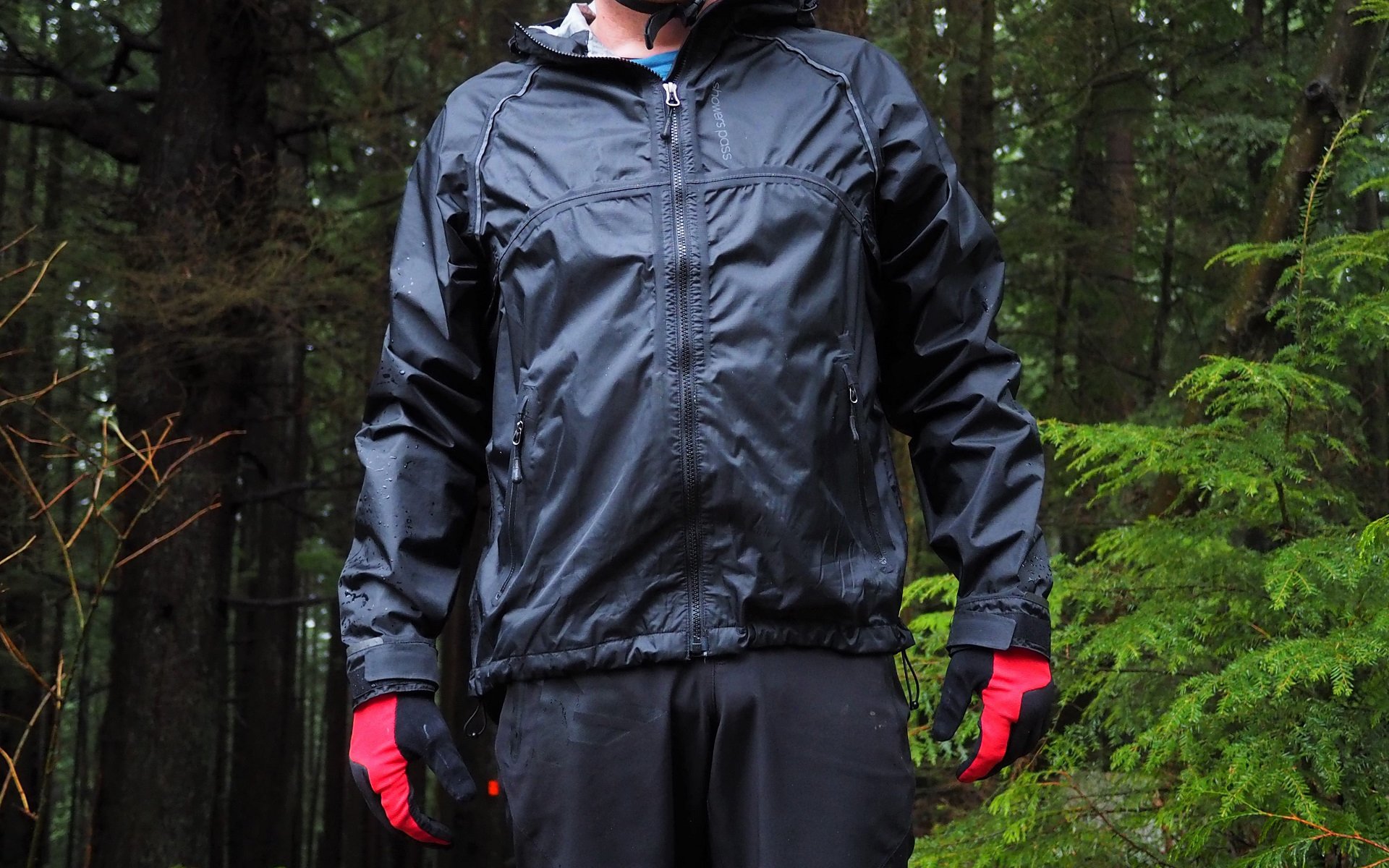 REVIEW | EDITORIAL
Showers Pass Syncline CC Jacket
VS Garbage Bags
What the hell, Showers Pass?! Suck me in with a couple of great experiences and then when I hear "Showers Pass" and "rain jacket" in the same sentence I'm all in on a 135 USD jacket that turns out to be less flexible than a tarp and about as breathable as doubled-up garbage bags with armpit holes. Not to mention it's a size large that's short enough to be a medium and voluminous enough to layer a trio of bad Christmas sweaters beneath. My one regret in this review process - other than the times I had to wear this jacket - is that the pictures of me pouring out the sweat that accumulated in the elbows climbing a gravel road at 5°C didn't turn out.
We all know that part of what makes expensive boutique jackets expensive is the heavily R&D'd super fabrics that flex, breathe, and keep water out, but if you can't deliver some level of stretch and a decent cut at this price then don't make the jacket. Just don't. Also, seriously folks, the rest of your jacket models have hoods that fit over helmets so obviously you understand that this is a desirable feature in a cycling jacket‽
Riders on a budget need their helmets to fit properly too.
Dear reader, I'm not telling you to jump straight over to 7Mesh.com. I get mountain biking on a budget. But, if we're talking cycling shells, my money, I'm choosing soaked-with-rain every time over a hot sauna in my own tequila-infused fluids. Breathability Wins Every Day, which is why I can be found riding in a weatherproof vest for conditions less than an absolute downpour. Put another way, a Helly Hansen survival suit is waterproof as f*** but you won't catch me riding a bicycle in one.

Hitting specifically at the Syncline, on my first ride in a decent deluge I thought the jacket was leaking through my right shoulder in the way a worn-out rain jacket can when wearing a backpack.* My baselayer was drenched but on further inspection, the jacket wasn't permeable (in either direction). Yep, it appears my sweat glands just work better on one side than the other?! Something I definitely wouldn't be aware of without having suffered through this review.
*I was wearing a bum-bag so that wasn't the issue here.
Positives? Well, with the vents and pockets zipped up and a few solid layers underneath the Syncline wouldn't be totally awful for sitting around in a boat drinking beer and fishing in the rain. The hood does fit over a ballcap. Personally, I'd choose a 40 USD PVC jacket for that application.

For mountain biking? A 400+ USD Gore-Tex or NeoShell jacket is an amazing luxury for the year-round rider and yes that's a sh*t tonne of money to crash in, and yes they're very patchable, and yes there's a middle ground that's certainly worth stretching to. It's still notably more money than the SynclineCC, but I regularly wear the brilliant Race Face Conspiracy jacket I tested last year, which sold for 200 USD, and in comparison it's an amazing piece of breathable, ventilated and stretchy kit that's great to ride in.

Give me the choice between the Showers Pass Syncline and a hooded cotton sweat sweatshirt on a wet Raincouver day in the trees and I'll take the sweatshirt, thanks. Yeah, but is it waterproof? How the hell should I know. I was soaked through with sweat every time I pedaled in it. Showers Pass currently has them on sale for 105 USD | 132 CAD, with free shipping, but this isn't a jacket I'll wear on the trails again at half that price.