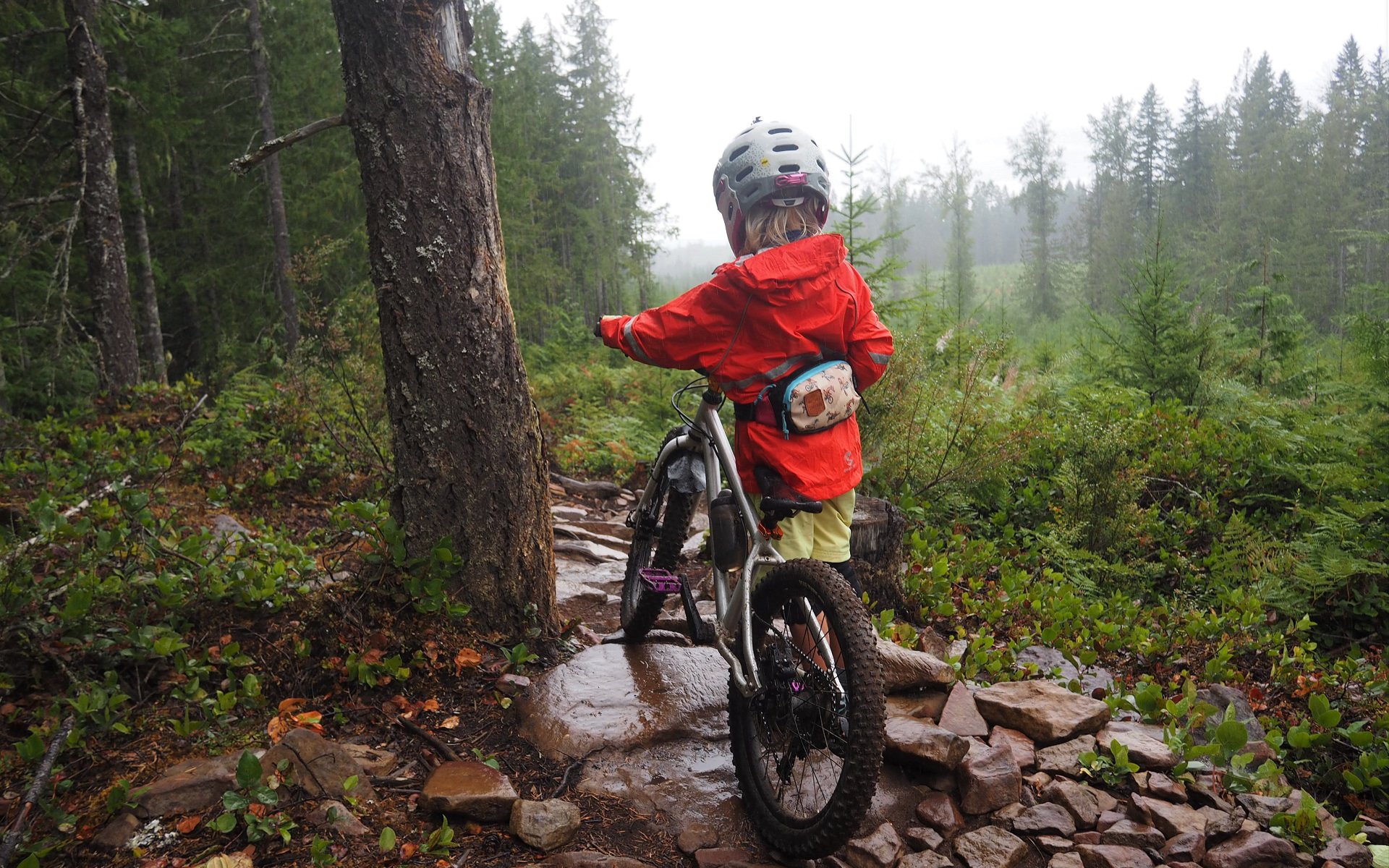 REVIEW
Showers Pass Little Crossover Kids' Jacket
Better Kids' Gear
"It has pockets! It has two big pockets with zippers on the outside and two little pockets for hiding treasures on the inside." - The Clairebarian
Since my grom has been testing this jacket, I'll go with her initial summary of the Little Crossover from Showers Pass. Pockets. Personally, I was excited that this might be a kid's jacket, under 70 USD | 100 CAD, that was actually, really, truly weatherproof and breathable to boot. And not a 'rain jacket' like she's always made do with in the past but an actual keep her dry and comfortable-enough on our winter night rides weatherproof jacket, still within my gear budget.
Here, Showers Pass delivers. The Little Crossover is fully seam-taped. It's a genuine weatherproof jacket for kids. The brightly coloured shell also comes stitched 360° with 3M reflective trim that makes her easily seen by cars and also by my helmet light when she crashes off the trail in the dark. My daughter loves the pockets and the 'firecracker red' hew that she tells me is "orangey-red." We both love that better gear means more happy hours on our bikes on our favourite Raincouver trails.
At first, this review was going to include some grumping from me about how the hood doesn't fit over my grom's helmet but she makes two strong counterpoints. First, she always rides in a full-face helmet on North Shore trails, which is where we ride in the rain, and her head never gets cold. Second, the hood fits perfectly over the ballcap she likes to wear to school.
You see, from wear one, the Crossover became her go-to shell. It gets washed multiple times a week because it needs to be ready to go to school every day in addition to our regular rides. I know the best practice is to hang dry due to the taped seams, but I'll readily admit this sucker has been tumbled more than once just to keep the peace when it comes to getting out the door in the morning.
Crossover Context
While I think it's a much better-looking jacket, the Little Crossover does use the same 2.5-layer waterproof breathable Artex hardshell material as the Showers Pass Syncline jacket. Suffice it to say that said jacket did not work for me at all. Not that it wasn't affordable, weatherproof, and durable but rather that I sweated it out in seconds even with the pit zips wide open.
For context, I'm a 195lb single-speed riding furnace with experience riding in some of the nicest NeoShell and GoreTex jackets that money can buy who generally leans towards the less-weatherproof and more breathable options even if they do wet out faster. For example, the 300 USD Giro Chrono Pro. Even then, I run so hotly that much of the year if it's not pissing rain when I leave home I'll use a weatherproof vest instead.
My kid is an athletic 50-ish pound rider with gear who isn't transporting a well-rounded dad-bod around our trail network. She doesn't run full steam and has no comparison that can hold a torch to the breathability of the Crossover. Furthermore, even if boutique breathables came in kids' sizes I certainly wouldn't be coming up with the funds to run an experiment to see if she could totally wreck it crashing before she grew out of the thing.
Hard Bails & Value Tales
I've seen kids riding with their elbow pads installed over their rain jackets but that would never fly for my ripper, and honestly, I can understand because it would never fly for me. As such, when she hits the deck in the rain her Sendy pads have an extra layer of protection.
Her latest off-the-bike involved some wet rocks, some rear braking over-use, her rear tire leaving the trail, and finally bike and the pilot splayed out in the drainage. Wrapped together as only children and mountain bikes can be, she'd slipped down on the arms of her jacket, feeling nothing thanks to elbow pads. If her pockets had been unzipped, I'm certain she would have found a brake lever inside one of them.
There were a few tears and a thorough recounting of the misadventure but in the end both grom and jacket were unharmed; a quick wash, a night's rest, and off to school the next morning. The quality of the cut is going to be personal but for us, it's been great, with just a jersey underneath for those warmer showers or with a heavy fleece for heading to school on more wintery rainstormy days.
One note about fit is that my average-height seven-year-old wears the size Large jacket and it's perfect. That makes sense as the Little Crossover's five-size run, from XS-XL, is designed to fit kids from ages 4-8. That means the age correlations on their fit-guide link, on the product page, that goes to age 11, are not current. If your child is average size, I'd guess the five sizes could best be explained as 4+, 5+, 6+, 7+, 8+ going up or down a size depending on where they fit relative to the median for their age.
If I was working on the next generation for Showers Pass, I would change two things. Well, maybe three things. The first is to add a sewn-in or printed area for writing a name and phone number. Kids lose stuff, and this isn't a cheap piece to not get back. I, of course, did write a name and phone number in the jacket but the black ink soaked through and when the hood is in play it's visible from the outside. The other thing I'd change would be to ditch the adjustable Velcro in favour of elasticized wrists. I'm not a fan of Velcro on cycling gear and especially gear that's going to be worn by a few kids at least.
Finally, I'd love a bit larger helmet-friendly hood that could be resized for non-helmet days. But, I've tried a lot of jackets significantly more expensive than the Crossover where the adjustable hoods suck. If I had to choose either a helmet-sized hood or a hat-sized hood, in this case, I would stick with the hat-sized covering since the jacket is a daily driver for school.
I've had a fair number of conversations with other parents about the Crossover and even here on the North Shore, I understand that a c-note isn't nothing for a piece of gear that kids' are at best going to wear out or outgrow, and at worst lose. The jacket my grom wore last winter ran me 30 CAD less than the purchase price for the Showers Pass and for the difference in performance, it seems like a rip-off by comparison. Never mind how much less weatherproof it is and the comparative dearth of reflective detailing; my grom never having issues doing the zippers herself is priceless.
I know of kids who would never get the value out of the Little Crossover. Let's face it, if your folks never take you outside in the rain surviving the odd semi-wet recess at school and the brief walk to the car are doable in a cotton hoody. I somehow doubt that's the experience of most of the progeny of NSMB readers. For our experiences hiking, walking, riding, and mountain biking in wet weather, this is a very easy 70 USD / 100 CAD to justify. The quality, performance, and durability are all there.