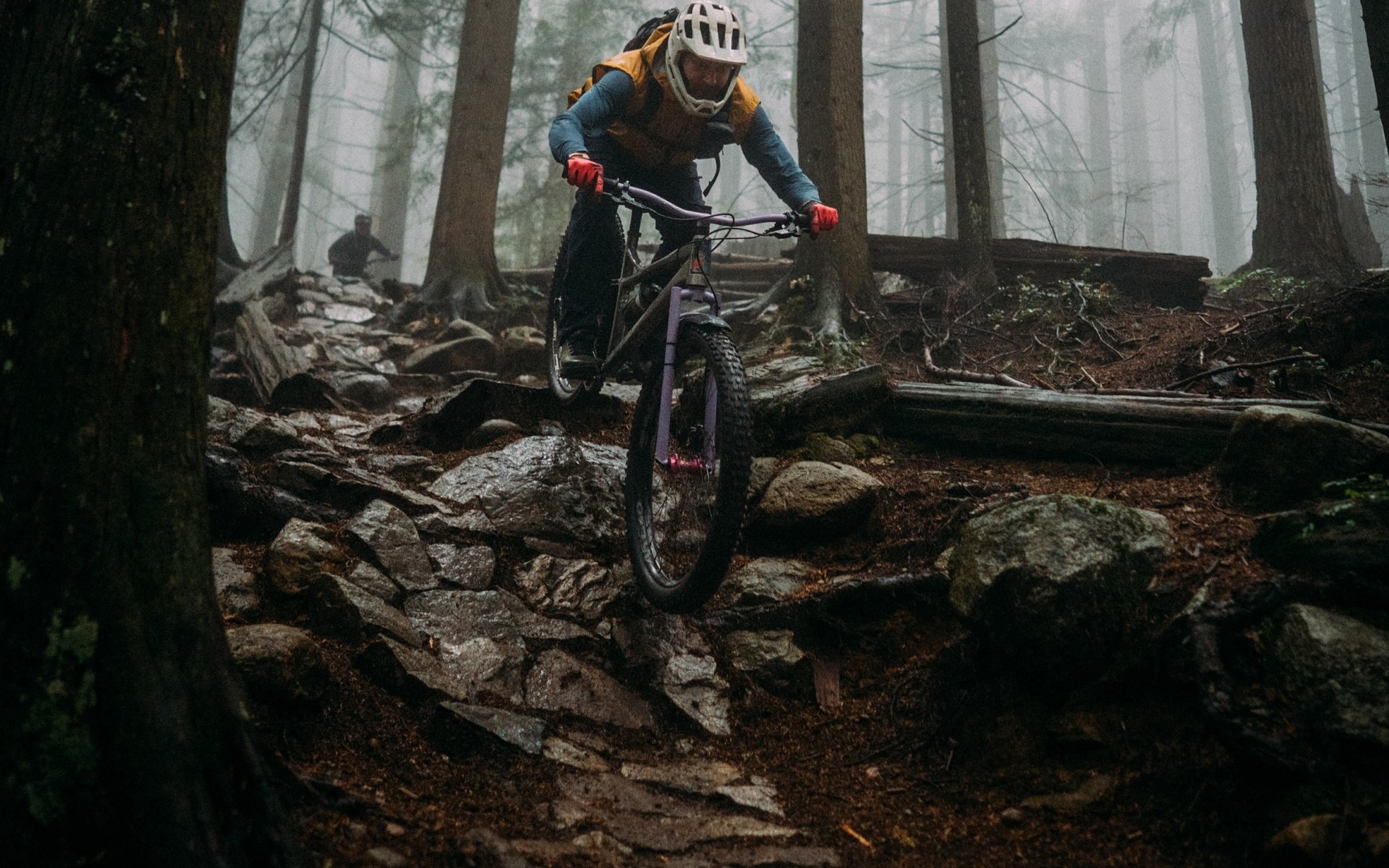 REVIEW
Showers Pass EcoLyte Elite Weatherproof Vest
Showers Pass
The design philosophy of Showers Pass is immediately evident in donning the EcoLyte Elite. Stand bolt upright and the fit is a bit weird. The back is long, the front is short, and really nothing feels quite like it's in the right place. Like my Chromag gloves that only fit properly when my hands are curved - for example, gripping a handlebar - the magic of the EcoLyte comes to bear on a bicycle. Sitting, standing, and even when I'm off and pushing up a steep hill the cut is excellent.
This is a cycling garment. The generous, and removable, hood fits comfortably over my helmet. It's vented and also has massive pit zips for those grinds where even the most premium membranes don't qualify as breathable. The whole piece fits easily into its back pocket so it can be strapped to a hip bag or handlebar or stuffed into a pack or frame bag.
The 'eco' in EcoLyte references Showers Pass effort to make more environmentally friendly cycling products without sacrificing performance. The face fabric and liner are made from 100% recycled materials, the Clean Color dyes are made from natural ingredients, and it uses recycled zippers for the vents and rear pocket.
Maybe more importantly than that, Showers Pass does repairs on products they sell including older and out of warranty products. Just email them photos of the damage and they'll confirm what they can do.
I also want to mention Showers Pass has a generous, and interesting, two-year satisfaction guarantee. This is a one-time exchange of goods, for the original purchaser, for something of equal value. I've never heard of a similar program but here are some examples they provide where someone may use it:
Realized you bought the wrong product for your needs? Covered.
Went for a hike and realized you don't have room to layer? Covered.
Figuratively exercised your butt off and now your pants are too big? Nice work if that's what you were going for. You're covered.
Friend made fun of your yellow jacket and you wish you had a red one? If finding more supportive friends isn't an option, they'll exchange your jacket.
Please note as you move into the next section that none of those bullet points above includes 'I chopped the sleeves off and now want them back on.'
Desleevification
Excited about the idea of a three-layer, taped-seem, weatherproof-breathable vest? I get it, I'm out in wet weather regularly and I haven't ridden in a jacket in over a year. There's only one issue, and that's the fact this product is totally off-menu.
Off-menu, and, unlike the We Are One Arrival A140 I've been riding, there's not really an option to go back to stock. My guess is that more than a few folks who run hot like I do would be very well-served by a weatherproof vest in our mild rainforest climate.
I can't comment on how the EcoLyte performs as a jacket, with sleeves, because the only time I had it on was while the seamstress decided where to chop them off. I can guess from how much I like it as a vest that it would be great, but I'm done with riding in jackets so I don't have any weight behind that opinion.
Layering is life here on the Shore and I'll vary from a lightweight hydrophobic long sleeve, like the MEC Core Train I'm wearing in these photos, review pending, all the way up to a fairly heavy weight Merino jumper for winter riding. I also use my weatherproof vest as a wind layer when it's not raining, so occasionally I'll wear it over a short sleeve shirt as well.
Compared to my now retired, vestified 7-Mesh Guardian jacket, the de-sleeved EcoLyte has a firmer face fabric that took a ride or two to get used to. Now I wear it like skin, especially down to the excellent on-the-bike cut, but worth noting all the same.
Here I'll add links to the women's and men's sizing charts. Showers Pass sells a lot of its gear direct to riders and includes a helpful matrix for folks in between sizes. I'm wearing a men's large and it's true to size. The men's and women's fits are available in the same colours, Harvest Gold (yellow) and Glacier (teal), and I know at least one woman who prefers the cuts of their men's gear, so that is something to consider when looking at sizing charts.
Currently, Showers Pass is selling the men's or women's EcoLyte Elite for 481 CAD, in either colour. I have a future EcoLyte vest project coming up when the rain really hits in the fall, but in the meantime check out the Showers Pass links above for more information.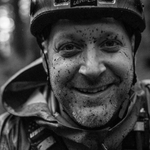 Andrew Major
Height - Steve Buscemi-ish
Wait - Patiently
Ape Index - T-Rex
Age - The same as DOS
Favourite Trail(s) every week - Pipeline (thank you Ken!) to Lower Crippler (thank you Andy!)
Favourite Song(s) this week - I'm Your Man. Nick Cave (covering Leonard Cohen)
Favourite Colour - Cosmic Lilac
Bar Width - It depends
Reach & Stack & ETT - It depends
Crank Length - 175mm except when it's 170mm
Wheel Size - Hot For Mullets