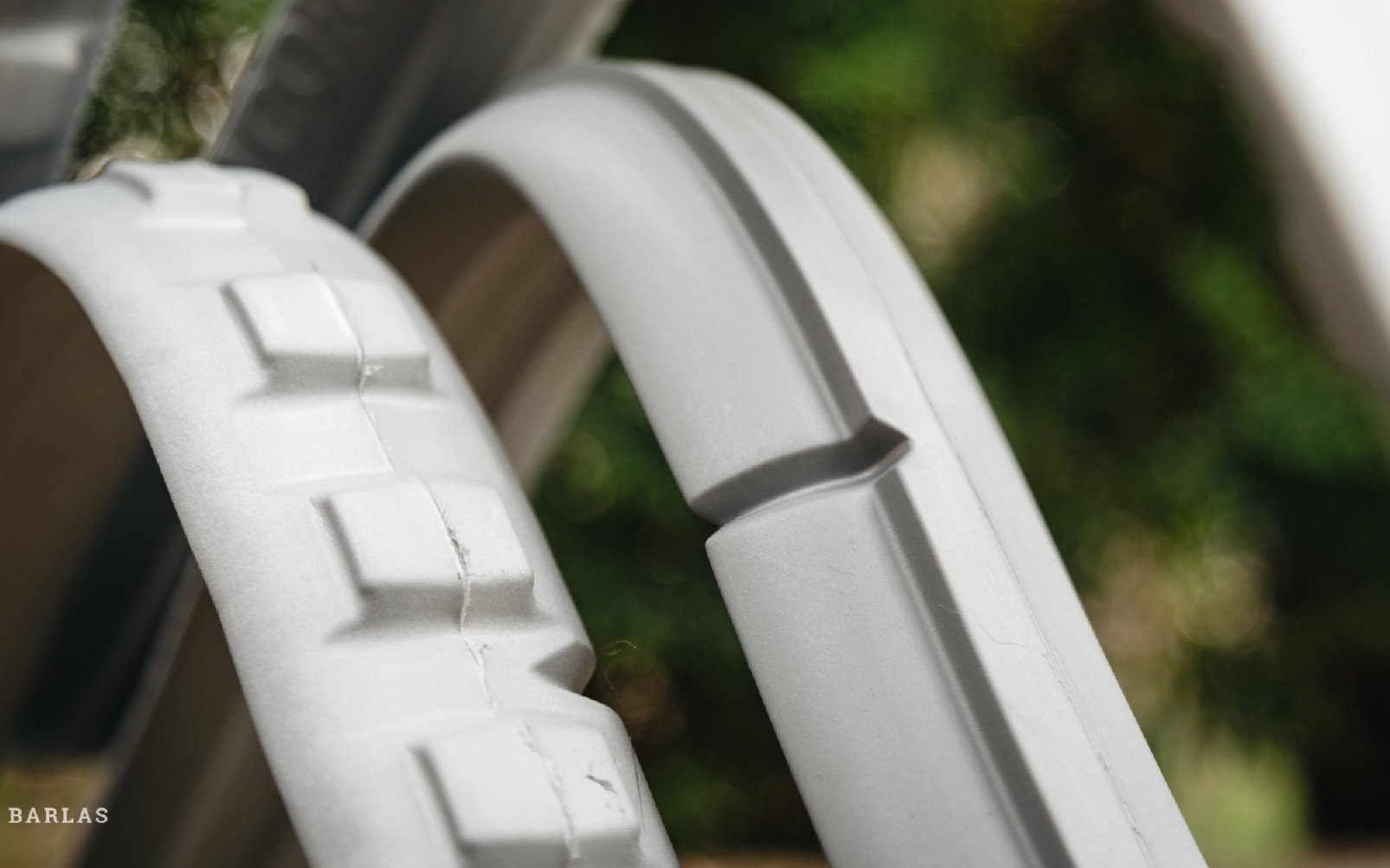 Editorial
Should You? Tire Insert Pros and Cons
The pneumatic tire is one of the most elegant and successful systems ever devised. In 1888, John Dunlop, a Scottish veterinarian living in Ireland, was told by a doctor that cycling would improve his son's health. Unfortunately, the hard wheels on the boy's bicycle (or tricycle according to some sources) gave him a headache. In his veterinary practice, Dunlop used plastic sheets to cover the operating table, which likely got pretty gruesome at times. Using his surgical skills, he fashioned tubes made from those sheets (hopefully not used ones) and successfully affixed them to the rear wheel (or wheels) of his son's two or three-wheel conveyance, covering them with canvas for protection. Word soon spread and Willie Hume, the first racer to use his rubber, air-filled tires, won all four bicycle races he entered at his first event in 1889.
*Unaware that the rubber pneumatic tire was patented in 1846, by another Scot, Robert William Thomson, Dunlop was granted a patent in 1888, only to have it declared invalid two years later
Why would you mess with a system so perfect it's hardly changed in 130 years? It's as blasphemous as suggesting wheels shouldn't be round. Our reverence for Dunlop's invention makes it easy to see why riders are reluctant to mess with their rubber(s). And yet this system has a glaring weakness when it's applied to riding mountain bikes in gloriously bony terrain; it can only function if that pressurized air stays in.
Lately I've had more questions and feedback about tire inserts than anything else; even more than help finding a new bike in the age of COVID (I've got nothing...). Aren't they heavy? What happens when you get a flat? Are they all torturous to install? Which ones do you like best? Will they turn me into Wade Simmons or is this more a Brandon Semenuk product?
All these queries are understandable, because like most 'solutions,' there are upsides and downsides to riding with inserts. Consumers are also justifiably more skeptical than ever about manufacturers' product claims, and insert makers have many of them; they make your suspension work better, reduce flats, provide damping in your tires, improve low pressure performance and cornering, protect your rims, and even make your bike roll faster.
Figuring out which of these is bullshit and which will be useful to your riding can be a bit of a minefield unless you're able to try out one of these products, but unless your buddy has some, that's a tricky prospect. To help you sort through this, I'm going to focus on the points that are most easily verifiable or felt, so suspension performance and rolling speed are off the table (until we go full-German and do some back to back testing wearing lab coats) but I feel confident talking about every other element mentioned above.
There is a long list of perceived and actual downsides as well. Chief among them are added weight and installation woes, but there are more. You will probably eventually get a flat with inserts* and you'll need to consider several factors to solve that problem when it happens on the trail. Cost is going on the list as well and, like tires, most inserts seem to be wear items that need to be replaced eventually. There are even some riders who don't like the feel of some inserts, so there is a lot to talk about here.
*I've only had one puncture with Cushcore and I rode it out without issue
The basis for all these questions is pretty simple. Riders want to know if inserts will improve their riding experience and if those improvements are worth the downsides that come along with them. That's the question I hope to begin to answer here, starting with the downsides.
Insert CONS:
Weight
Riders are so loath to add mass to their rolling hoops, that even a few grams can be too much. While the additional hit that rotational weight adds to climbing a mountain biking may be overstated for the speeds we generally travel, it's mass that is certainly more easily felt than adding water to your bottle.
The heaviest insert combo I've ridden is the original Tannus Armour, which is a solution that uses a tube. The inserts themselves weigh more than others I know of at 330 grams, and you need to add a tube to that which can easily be another 200g. You can use lighter tubes, like Tubolito, and there is no need for sealant, so it's possible to get the total weight hit of the system down to well under 400g. Cushcore is probably next down the list which can weigh up to 280g* for the pro model in 29, and you'll have to add sealant as usual. Flat Tire Defender is also one of the heavier solutions, and it's listed as between 230 and 250g for the new FTD II in 29. On the other side, there are feathery insert solutions available, like Huck Norris at 85g, Rimpact (original) at 100g, and Pepi's Tire Noodle which start at around 80g in 29.
*inserts, like tires, seem to have some variation in weight
(Pro Within a Con)
The counterpoint to the weight issue is that many riders, myself included, find they are able to run lighter casings than normal while using the right inserts, meaning those like Cushcore, Tannus, and Tannus Tubeless that take up significant volume and provide sidewall support. I've spoken to heavier and harder charging riders who have come to this conclusion as well. I've taken it a step further and I've mostly been riding rims recommended for "trail"* use with both Cushcore and Tannus Tubeless for the last 18 months or so without incident, despite riding trails that are more like challenging DH tracks. In my experience,** if you are running the more robust inserts you can easily erase any insert weight gains.
*in this instance I'm using trail in the way some manufacturers use it - to convey riding that is less challenging for rider and equipment than DH or enduro racing
**unless you are already smashing the gear you are riding now
Installation Woes
If you are experienced at installing downhill tires on stubborn rims, you'll probably be okay with an insert install. I'm not saying it'll be easy, particularly the first time, but after installing several I'm at the point where I can start with wheels on the bike, install two Cushcore inserts and have the bike ready to go in under 30 minutes.
Cushcore is the most challenging install I've encountered thus far (and there is further variation depending on the rim/tire combo) but it teaches you strategies that can be applied to any other insert or tire install. The first is that, for both install and removal, your life will be much easier if the entire bead of the side you are dealing with is pushed all the way into the centre channel of the rim. This is best accomplished with Cushcore's Bead Dropper tool, which makes the job much easier. Beyond that, anything that eases a regular tire install will help, like adding something to lubricate the tire and rim, like sealant, Dick's Bead Slip, or even some soapy water. I find wearing gloves helps the process as well.
It can indeed be a pain in the ass, and if you already dread installing or removing tires, it's going to be a bear. It does however get easier, and some, like Tannus Tubeless, and Rimpact, are significantly easier. Minimalist solutions like Huck Norris are only marginally more difficult than a normal tire install.
Cash Money
A Cushcore setup, which includes high quality ported valves, retails for 150 USD. A similar kit from Flat Tire Defender is 90 USD, and Tannus Tubeless is 50 for one or 100 USD for two with valves (although special valves are not required with TT). A pair of Huck Norris will set you back about 70 US. You'll likely have to add shipping for most inserts, unless your local shop happens to carry the ones you're after.
I have given a pretty good beating to a pair of Cushcore inserts to the point that I would have swapped them front to back to extend their life. That was probably about 6 months of use. Tannus tubeless, because they have a pocket of air inside, don't seem as susceptible to impacts and it appears they may stay in good condition for longer. I haven't spent enough time on any single set of inserts to give you accurate impressions of their longevity, but at this point it makes sense to consider them all wear items that will need to be replaced eventually.
A minor counterpoint is that I've found that grip is less dependent on tall knobs when you are running inserts at lower than usual pressures, so it may be possible to get more life out of your tires.
Punctures with Inserts
As mentioned above, I've yet to have a flat that I had to fix in the wild with an insert, but it's bound to happen eventually. If you hit something sharp enough and hard enough, it's going to put a hole in your tire that can't be fixed with bacon strips. If you need to put a tube in, you'll somehow need to get your insert home. If you have a decent-sized pack, you can likely strap it on. Otherwise you'll need to wear it over your shoulders, possibly with a twist in the middle to keep it in place. It's a great look, especially with sealant all over the noodle you're wearing.
Cushcore can be ridden out flat with surprising success. I could ride at decent speed on challenging trails when I rear flatted with a Cushcore Pro installed. It didn't take much care to keep the rim from chiming off the rocks and I could corner surprisingly well. I wasn't that surprised because I've done the same thing with front and rear flat, again with excellent results. From there the success of other inserts I've tried this with falls off quickly. I didn't try with Rimpact, but they might be decent in a straight line. Tannus tubeless isn't terrible either, but not great in terms of protecting your rim from dings. FTD II is probably pretty good, and perhaps Vittoria Airliners as well because of the volume they occupy. There are several other lesser-known inserts that might also work decently as a run flat solution, including Octa Mousse, Supermousse, and Pepi's Rokkline, but that's only a supposition until I get a chance to try them.
In the comments someone mentioned a video by Cushcore inventor Adam Krefting, showing how to install a tube with a Cushcore insert. You'll need a smaller tube than usual and a longer valve, and he's got some great trailside installation and removal tips as well.
Trail Feel?
When AJ wrote about Rockstop inserts, he mentioned that the impetus for the design was related to the originators disliking the feeling of some inserts and wanting something more lively. I don't share this concern, but for people who don't like a damped feel that omits some high frequency trail chatter, this might apply for the inserts that have this feel, like Cushcore, Tannus Tubeless and likely for the other higher volume inserts like Vittoria and Flat Tire Defender.
Insert PROS:
Puncture Prevention
This is likely pretty high on most riders' lists, and even higher for racers. All inserts claim to reduce your puncture incidence, and I have enough experience with both Cushcore and Tannus Tubeless to confirm the performance of both in this regard. I have less confidence in Huck Norris, but some riders have had a good experience with them.
The idea is a simple one; when your tire encounters either a heavy blunt force or a sharp trail obstacle, the insert provides a cushion between the rim and the impact. This is important because most punctures occurs when the tire is squeezed between the rim and the offending nasty trail bit. As I mentioned earlier, it's possible to get a puncture with an insert, but it's much less likely in my experience.
Sidewall protection is claimed by some insert makers but this is trickier in my view. When they are shaped like a teacup, like Cushcore or Tannus Tubeless, an impact against the sidewall could sustain more damage because, rather than deforming against air pressure alone, the spiky villain can pin the side of the tire using the insert as backing. It could also be that protecting the tire from deforming under high cornering loads or impacts reduces the likelihood of a wound. I haven't experienced any noticeable sidewall damage while using inserts to date, nor have my compadres.
Rim Protection
My best anecdote about rim protection comes from my friend Mike Wallace, the sometime World Cup mechanic. Nobody is harder on rims than UCI DH riders, and some are harder than others because of their stature and/or riding style. One young Canadian rider was destroying a rim, on average, every single run at the last Fort William race. We're talking about aluminum DH rims. After starting to use Cushcore, that same rider could get 3 or more runs out of the very same rim (which still sounds awful to me).* Which means you can still destroy a rim, but you're going to have to try much harder than before.
*after a follow up with the rider above, he told me that in general, at dh speeds he doesn't run inserts because he feels the added weight makes his wheels hit harder, while some of his contemporaries prefer the added grip in the rear at lower pressures
As mentioned above, I've been riding lighter rims lately to see if I could damage them, with Cushcore and Tannus Tubeless, without success, despite running dangerously low pressures. I never even hear the sickening clack of rim bottoming on rock, although I did have that experience with Rimpact Pro in a rear tire. Other lighter solutions aren't likely to provide the same level of protection, but at this point I'm confident my rims will survive with the inserts I generally prefer.
If you have a history of rim destruction, I would recommend trying some of the more substantial inserts.
Low Pressure Performance (high volume inserts only)
This is where a lot of the magic is for me. It is very rare to go for a ride on the North Shore without having situations where grip is severely compromised. Today's highlight was glistening off-camber roots further lubed with slushy snow. In situations where I would have previously had to unweight, change direction, crash, or lift up, with inserts I can generally just cruise right through. I also no longer worry about having a soft tire compound because I have ample grip.
The confidence this adds to my riding can't be overstated. Lines that used to terrify me are now in regular rotation. This morning in the slush, riding Tannus Tubeless and 29 x 2.6 Maxxis DHR II Exo Maxxterra tires, I was riding 16 psi in the rear and 14 up front, but I still had excellent rolling speed and cornering support was superb.* It seems that bumps that would normally slow the progress of your wheels get absorbed, allowing you to cruise along at higher speed with less effort.
*This has been my experience with Cushcore Pro and Tannus Tubeless but not with others
Cushcore made a massive improvement to my experience on the Kona Honzo ESD hardtail. Less shock is now transmitted through the tires and Chromoly into my old bones and I can charge (for me) into lines with more panache and a little less fatigue.
The experience can be a little like riding a magic carpet, because so much vibration and chatter disappears. making the ride smoother and quieter. It's not quite as profound as the difference between hardpack and powder snow, but if you tune down that comparison it's apt.
Ride Flat Capability
Cushcore Pro allows for remarkable performance without any air at all. Because of the damping properties of the foam, it doesn't even feel terrible, and it seemed my rims were relatively well-protected. Even cornering, albeit at lower pace, was possible with two un-inflated tires. Tannus Tubeless doesn't provide what I would call acceptable ride flat performance. I'm keen to try others with sufficient sidewall support and volume to see how they do in this regard.
If you are a racer this is obviously a very important consideration, but this capability is helpful for anyone who wants to avoid the bandolier of shame.
Inserts on the North Shore
Lately I've been running into more and more hard-charging Shore riders who have quietly installed either Cushcore Pro or Tannus Tubeless. A pair of OG Seymour riders, who always ride with the same crew, wrestled in Cushcore without telling any of their riding buddies. A cynic might say they didn't want to share the benefits, and these are not the sort of lads who keep their mouths shut generally. At first I wondered if the benefits I was experiencing would transfer to burlier riders, but everyone I've spoken to appreciates them as much as I do.
I would not however say inserts are for everyone. An example would be riders in Sun Valley Idaho. While I've ridden some more aggressive trails there, the fast majority are smooth and fast, with hardly a root or rock to be seen. It's also generally pretty dry for a mountain resort, so wet weather traction isn't a huge issue. The same goes for smaller riders who don't have a problem with flats or rim damage, and who don't ride very aggressive terrain. And weight weenies likely aren't the target market either.
If you have an e-bike, inserts would be an excellent addition, and they shouldn't impact your range much at all.
My goal is to get my mitts on as many of the promising inserts I can so we can do a larger comparison test and provide some much needed data in this emerging category. So far some of these small companies have been tricky to get in touch with, but we're making some progress. Stay tuned...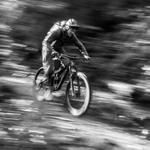 Cam McRae
Height - 6'/183cm (mostly legs)
Weight - 170lbs/77kg
Inseam - 34"/86cm
Ape Index - 0.986
Age - 56
Trail I've been stoked on lately - Boogieman
Bar Width - 760mm
Preferred Reach - 485-500mm (longer with 27.5 wheels than 29)