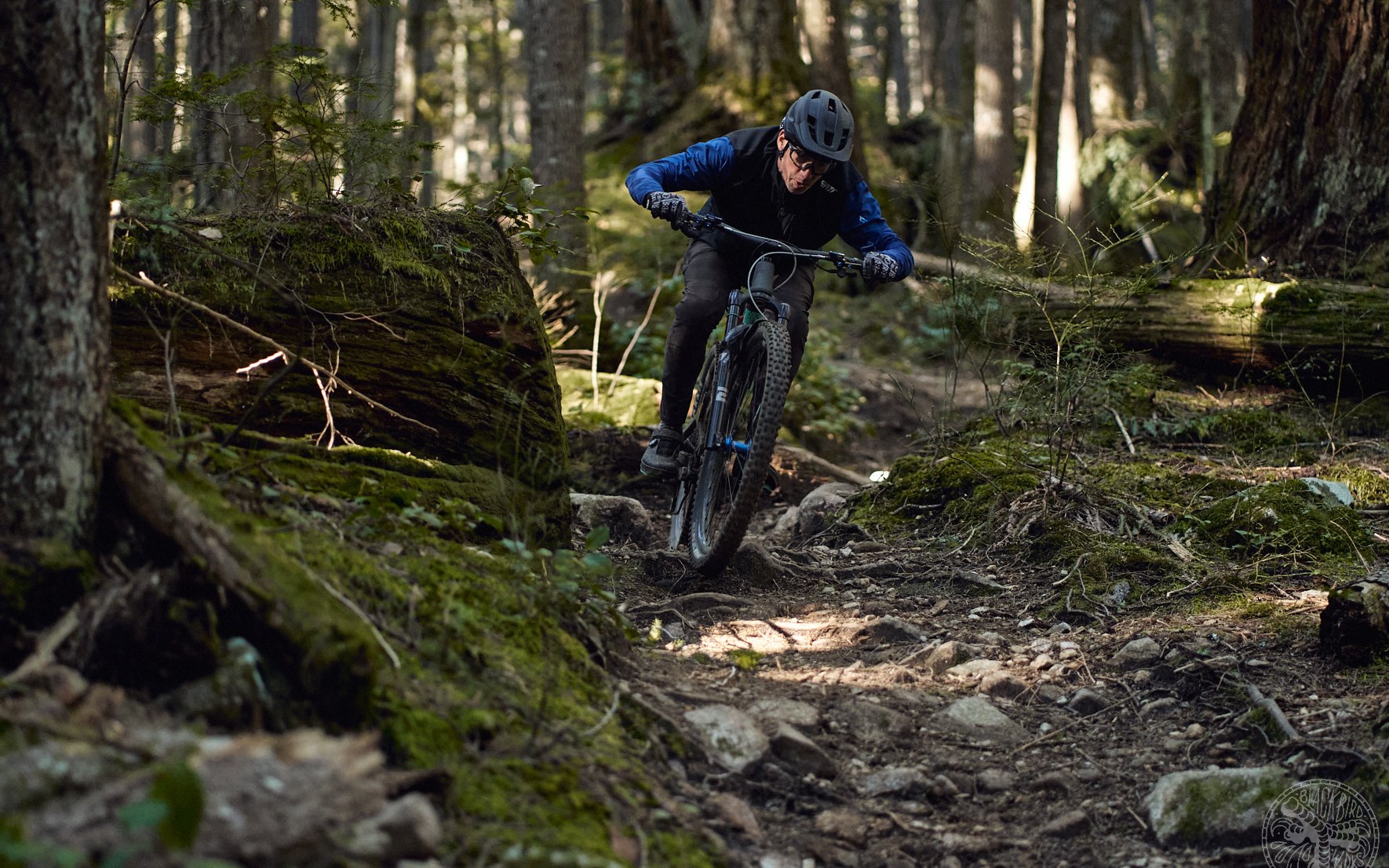 Editorial
Shorter Cranks for Downhill Performance
Why have crank lengths for mountain biking been between 170 and 175 mm since the 80s? How this range was decided upon is lost to history as far as I can tell. We can however be sure they were initially chosen based on road standards, like everything in mountain biking. That means this decision-making process was guided by what was thought to be the most efficient length for pedalling, which makes some sense, but it wasn't what interested me when I began talking to Matt Appleman about crank length.
Matt decided to design his own cranks and have them machined in Minnesota, after struggling to find shorter cranks for his own bike and for his frame-buying customers. Shorter arms cleared up Matt's knee troubles, which is what sent him down this path, and he discovered that other riders benefited from lengths shorter than those that could be found from major manufacturers as well. I initially tested a set of his 165mm Appleman Cranks but after having a conversation with him, I thought it would be interesting to see how a set of 145s would work for the mountain biking I do. 
I was looking to improve clearance when pedalling up janky singletrack, or when jumping on the pedals on bony descents, but I discovered other significant benefits related to bike handling that would apply to anyone riding intense technical terrain, especially going down. This relates to the fore and aft distance between our feet, a span is determined by the length of our cranks, which I will circle back to. When you think about it, if there was some handling advantage to offsetting our pedals, motorcyclists would have figured this out years ago.
On my first ride on the 145s, I immediately noticed the absence of leverage while pedalling. In fact, I felt like I was riding a child's bike and spinning far too quickly. I got used to it soon enough, without enjoying it, and you'd better be strong if you are turning short cranks and climbing singletrack, particularly power moves or short steep sections. I found myself running out of gears on the trail, even with a 52t cog matched with a 30t chainring. I also didn't want to raise my saddle to compensate for the 20mm in leg extension I lost with the short cranks, which would have left my dropped saddle too high for comfortable descending. I could have dealt with this with a 240mm OneUp Dropper (assuming I could have pushed it deep enough into the frame) but I only had a 210 on the We Are One Arrival I was using to test the cranks. 
While the climbs were challenging and a little comical, the descents felt really good. It seemed I was able to be more dynamic and mobile on the bike. I was also more stable, and my confidence soared. When I got home, I played around with some movements with different foot placements and discovered something I'd never considered before. When our feet are parallel, as they would be on motorcycle pegs, our ability to flex our knees and ankles is at its maximum. From that point, every millimetre we move our feet further apart impedes that flexion, along with our ability to generate power through the pedals while descending by using our largest muscle groups.
We do this all the time while we are going down a trail, pre-compressing before an obstacle so we can unweight, but the clearest example is a bunny hop. The more we are able to flex the joints in our legs, the more power we can generate to get the bike off the ground. If you are flexibility challenged at the ankles, hips and knees, longer cranks will have an even greater impact on your ability to compress deeply enough to generate sufficient force. Trailing ankle mobility is particularly important here.
As the fore-aft distance between your feet increases, your rear ankle flexes forward more at rest, leaving less flexion available to preload the bike for an obstacle. You can easily try this on any flat surface. Start with your feet side-by-side and compress your lower. legs. Repeat this while incrementally moving them further apart, pushing your preferred front foot forward. To get a better idea of what this is like on the bike, do it with a pair of flat pedals on the floor and estimate the Q factor of your bike (distance between your pedals left and right) as well. Exaggerating the distance between your feet fore and aft will make the impact even more clear.
When our feet are closer together, it also makes our legs effectively longer, increasing the space we have to angle the bike left and right to make quick direction changes, to corner or to avoid obstacles. A counter to this is that, while your rear leg will have more flexion available, it may interfere with your saddle when cornering to that side, depending on your riding style, physical measurements, bike size and geometry and saddle position. I didn't find this personally though.
With 165mm cranks, measured centre to centre, your pedal spindles will be 330mm apart. With 145s that distance shrinks to 290, a predictable 40mm closer together. It seems like a small amount, but try and do a squat using the procedure above (with or without Q-factor included) and see if you can feel the difference. 
Balancing is easier when your feet are close together and so is weighting your feet evenly fore and/or aft and left and right - or accurately weighting one more than the other.  Ask any moto rider what they'd think about having their feet offset right to left and I think you get the idea. And in terms of jumping a hip, doing whips or tables and cornering, everyone has a good side that is related to which foot is forward (your rear foot is the critical one in some cases as well). Reducing this offset would diminish the gap between your good side and your bad side.
I had theories after my experience riding both crank sizes but I hadn't tried them back-to-back, which is the best way for me to determine if a hunch has any merit. I threaded identical pedals into the two sets of cranks and, with the 165s mounted, I did a couple of laps on lower mount Fromme. The lap consisted of Bobsled, a bermy flow trail, followed by a short climb to Upper Griffin, which is more technical and a little janky in places. 
My lap on the 165s felt fine and I rode Bobsled, as I usually do, as though I was chainless, working the backsides of rollers and trying to stay on the fastest lines. At the bottom, with my son taking a few photos, I swapped the cranks, with the pre-installed Crankbrothers Stamp 7 pedals, in about four minutes, including torquing each arm and spindle bolt to spec. We pedalled back up and I immediately remembered what I don't like about the 145s. Spinning tiny circles feels really weird at first. Losing leverage is a bit like losing time because the period in which your pedals are in an optimal position to deliver torque is noticeably reduced. I did the climb one gear lower however and spun a little faster cadence. The other side of that reduced torque window is a briefer dead spot before, during and immediately after the 90º position. Higher RPMs and shorter cranks together make spinning circles easier and more efficient.
Once I began my second lap of Bobsled I remembered why I liked the 145s so much for descending. I felt planted, stable, and a little more in control. I also found myself more likely to pop off little hits and get a little loose. There was no question that I felt better descending on the shorter arms, and I was having more fun as well. It felt a little like the way I feel if my body is in better shape because of any kind of complementary activity or training.
The difference was significant and while I didn't feel terrible at all on the 165s, I felt much better on arms that were each 20mm shorter. So much so that, if I was going to put together a dedicated park bike, there is no question I'd be reaching for a pair of short cranks. If I was racing DH the calculation gets a little more complicated, but maybe not drastically so, considering the speeds of DH racing. Perhaps you'd simply need to choose your gearing a little differently to ensure you could generate power when needed. 
This has me curious about what might be the sweet spot for me; 155mm cranks like those that shipped on the Hope HB916 that Graham Driedger enjoyed so much. While leverage changes related to the length of a lever decreases in a linear fashion, unlike wind resistance or rabbit populations, as cranks get shorter, each 10mm change represents a larger percentage of the remaining length. I've never noticed 165mm cranks being too short to generate the appropriate torque compared to 170, but dropping down to 145 made a massive difference in pedalling situations where a lot of power needed to be generated quickly. The other factor the 155s would mitigate some is the need to raise your saddle to get appropriate extension at the bottom of your pedal stroke. 
Graham was quite keen on the 155s. Here's his articulate description of the benefits he experienced: "The Hope Evo 155mm cranks position my feet in more of a neutral stance compared to regular 170mm cranks, with less noticeable tension in my hips. Riding switch-footed felt far less alien than usual, as I lazily bumbled through janky terrain. I can't recall a single crank-arm strike - the crank ends confirm that - and they're machined closely to the pedal threads with just enough meat on the ends for structural integrity. I think shorter cranks should be considered by many riders, gravity focused or not."
I generally only switch to right foot forward when my legs get tired on a long descent, but when I do, it feels like my feet are very far apart indeed and that my front foot is much too far forward. With shorter cranks, riding switch-footed indeed feels, in Graham's words, less alien, and I could do it comfortably on the 145s.
I am quite convinced the benefits of shorter cranks for downhill performance are real, but that's not science. While I like to go as fast as possible in a given situation, I don't time my rides and my racing days are probably over so I don't have evidence of these benefits on the clock. While I have spent a little time on the bike thinking about what works and what doesn't, feel free to take my impressions with a grain of salt.
Further, this obviously isn't for everyone. While the findings related to crank length and performance rarely show an advantage for longer cranks, in some situations they are obviously superior. If you ride a single speed or, god forbid, a fixie off road, those long arms are essential. Some riders prefer to climb in taller gears and if you are riding up steep singletrack, long cranks allow you to push a larger gear on the cassette, giving you a reserve and keeping you out of that fast-wearing largest cog.
If you put more focus on downhill performance than pedalling, particularly on steep or technical terrain, or if you like to jump, or ride bike park, I think this is worth a look. Hopefully some of the larger manufacturers will get on this train, but for now, one place to get short(er) cranks is Appleman (155, 145 and 135mm) and another is Hope (155). North Shore Billet's recently-announced Talon cranks are available in both 155 and 160mm.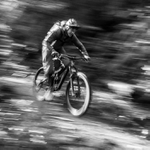 Cam McRae
Height - 6'/183cm (mostly legs)
Weight - 170lbs/77kg
Inseam - 33"/84cm
Ape Index - 0.986
Age - 57
Trail I've been stoked on lately - Lower Digger
Bar Width - 760mm
Preferred Reach - 485-500mm (longer with 27.5 wheels than 29)