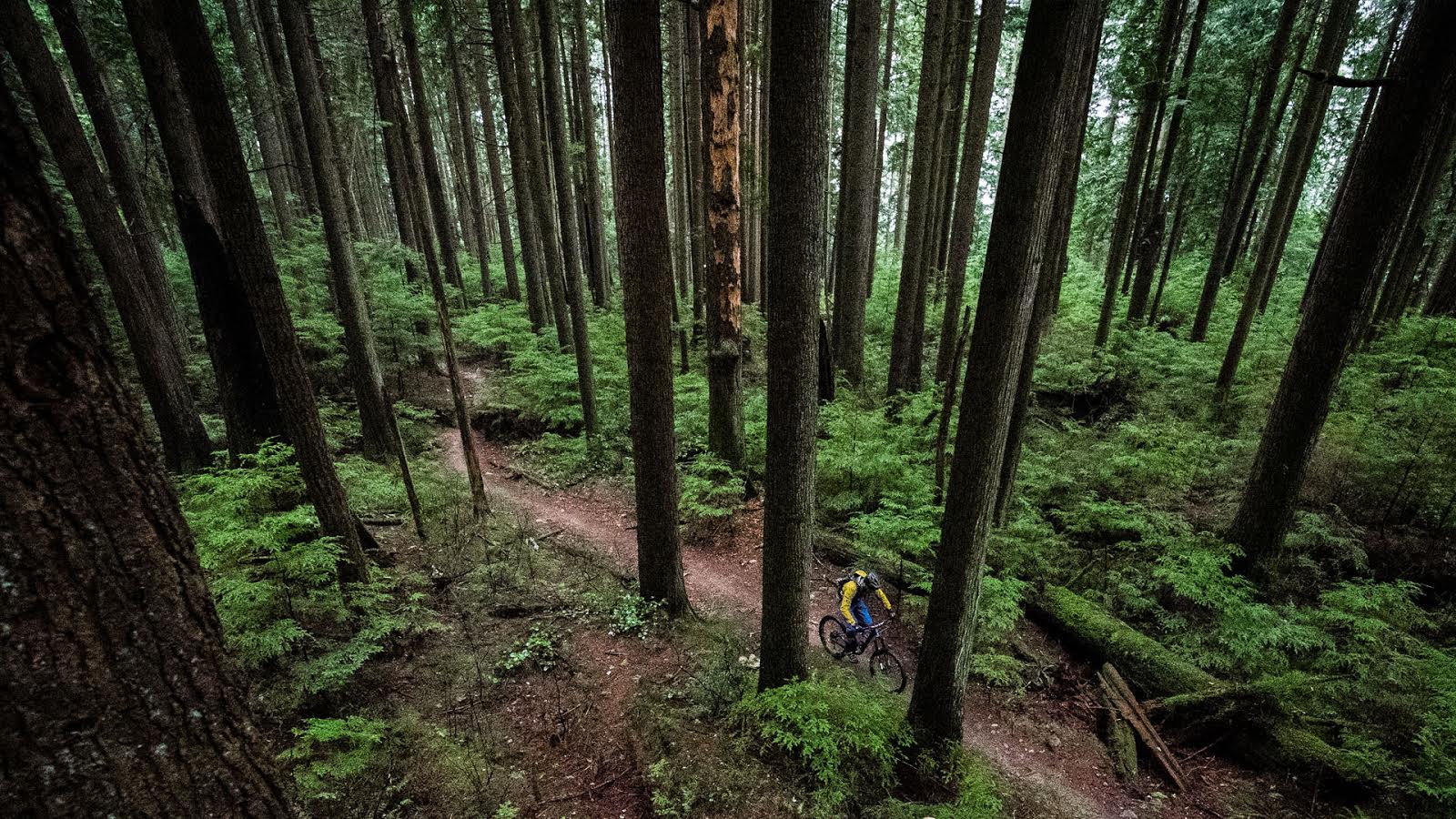 Shop Visit: Chris Dekerf
Wedged in beside a blinds manufacturing plant in Richmond, B.C. is a door bearing a small decal. The decal simply reads: "Dekerf;" the door it rests on leads to not only the shop of a master frame builder, but also to a deep well of history about cycling on the North Shore.
The inauspicious gateway to the shop. The author spent nearly 10 minutes wandering around the industrial estate looking for this door.
Chris Dekerf grew up in a household where making things by hand was encouraged, and was aided by having access to a wood and metal shop. In his teenage years, Dekerf started getting into touring and racing bikes; it was then that his two passions began to meld. "I saw some of the first handmade stuff coming from Ritchey, and I thought it was really cool," Dekerf said.
Chris polishes the fork of his latest project, a Ti 29er that is bound for the Channel Islands off the northern coast of France.
In 1986, Dekerf was hired by Rocky Mountain Bikes to work at their Everest shop, a small facility dedicated to turning out custom made frames for the rapidly expanding scene in B.C. Everest was closed down in 1989, after a decision by Rocky to focus on more mass-production. "Derek Bailey was the guy that showed me the ropes," Dekerf said, "and I wound up spending 3 years at Everest learning as much as I could. I helped with the transition at Rocky, left, and went out on my own." Dekerf Cycles was officially launched on October 15, 1989.
Frames of all kinds hang along the workshop wall. Some are for sale, others are just in need of a little painting TLC.
Stacks of books adorn the office. It's true what they say about how you never stop learning.
Chris still builds bikes like the way he started, but the design process has changed somewhat. "I used to do all of my drafting on a drafting table, but now I can do it all in Bike CAD," Dekerf said. Brent Curry, who worked for Dekerf back in the 1990s, designed the software Dekerf now uses. Chances are the bike you're riding today was designed using Bike CAD as well.
New school technology meets time-tested techniques: the draft plans for the Ti 29er.
After drafting a design, he selects the materials and process based on customer input, and what will work best with the design concept. Most of the work Dekerf does is with at TIG welder, but still does fillet-brazed work on occasion. As for his materials, there is one name that appears on the boxes of tubing time and time again: Reynolds. "I have a longstanding relationship with them," he said, "they've done custom drawn tubes for me in the past, and I use both their steel and titanium pretty much exclusively."
Tubing sits in stacks all along one side of the shop. There's bound to be something in there to suit anyone's needs.
Once the tubes are selected, its time for milling, fitting, and welding. Most of Dekerf's equipment consists of one-off tooling and frame jigs he's made himself over the years. "When I started building bikes, there wasn't really anything available" he said, "so I made it all myself. Nowadays, you can buy most of this stuff commercially, which is why I think a lot of the frames look and feel the same." Some of the machines in his shop date back to the 1950s, but don't seem out of place mixed in with the calculators and other hallmarks of the computer age; everything in the shop has a place and a purpose.
Effort, planning and a whole lotta elbow grease is what makes these bikes shine: more polishing of the Ti 29er fork.
Welding the bike together is a long and complicated process. He moves back and forth constantly between the frame jig and the alignment table, to ensure everything is perfect. In contrast, mass-produced frames are all welded in one go, then cold set to ensure that they're relatively straight. The problem with this is process is that the frames will eventually pull back to their pre-set state, causing alignment issues. By checking as he goes along, Dekerf is able to ensure that everything is done right the first time: "I don't want to have to correct misalignment once the frame is done," he said. "It's way easier to make changes as I go along."
More Ti polishing, this time on the frame. Eventually, it will be coated with a fine wax to ward off mud and the fingerprints of admirers.
After the weld process, there is still a ton of work to be done on the piece. Cable guides need to be brazed or welded on, head tubes and bottom brackets need to be chased and reamed, and finally the frame is either polished or painted, depending on what it's made out of. "For most of the Ti work that I do, the frames are polished by hand, and then waxed to keep fingerprints off," Dekerf noted, "while most of the steel frames I do are painted in the booth."
If you can't find a shade that tickles your fancy on the shelf, you can always mix and match for that perfect neon pink pearl.
You can have it in any colour so long as its well, any colour actually.
Build time for a custom frame can vary immensely; the bike I witnessed Dekerf polishing had taken nearly 2 weeks of steady work. The process can create an emotional bond, "you get attached to these things, you spend so much time on them that you're sad to see them leave," he said.
Despite his reputation, custom one-offs aren't the only thing that Dekerf does at his shop. One of his most notable corporate clients is Whistler-based Chromag Bikes. According to Dekerf, Ian Ritz approached him to do paint work for the Chromag after the company they were using ran into issues. The ensuing partnership led to more paint work, as well as the creation of the Surface in 2012. Today, Dekerf produces batches of Surface frames for Chromag, and does much of their custom paint work as well.
Little bits like this Chromag headtube badge remind you that Chris' work goes far beyond his own brand.
Chromag frames lined up and waiting for paint.
Between batches for Chromag, and his own custom work, Dekerf also manages to wedge in work for RaceFace, Off Road Toad, Kona, and a host of other small frame builders who require paint jobs. The end result is that he is working year round on projects. "I've always got something on the go," he said, "which means I'm always busy. It seems that as soon as the welding tapers off, the painting picks up again."
While the final product may be gorgeous, you don't want it getting in your lungs. The respirator keeps Chris from having to cough up colourful lung gunk.
So while some companies try and reinvent the wheel year after year, Dekerf continues to turn out finely crafted frames and gorgeous paint jobs, just like he always has.
---
For many riders, a Dekerf is the holy grail of hardtail. Have you ever lusted for one of his steel – or perhaps Ti – beauties?