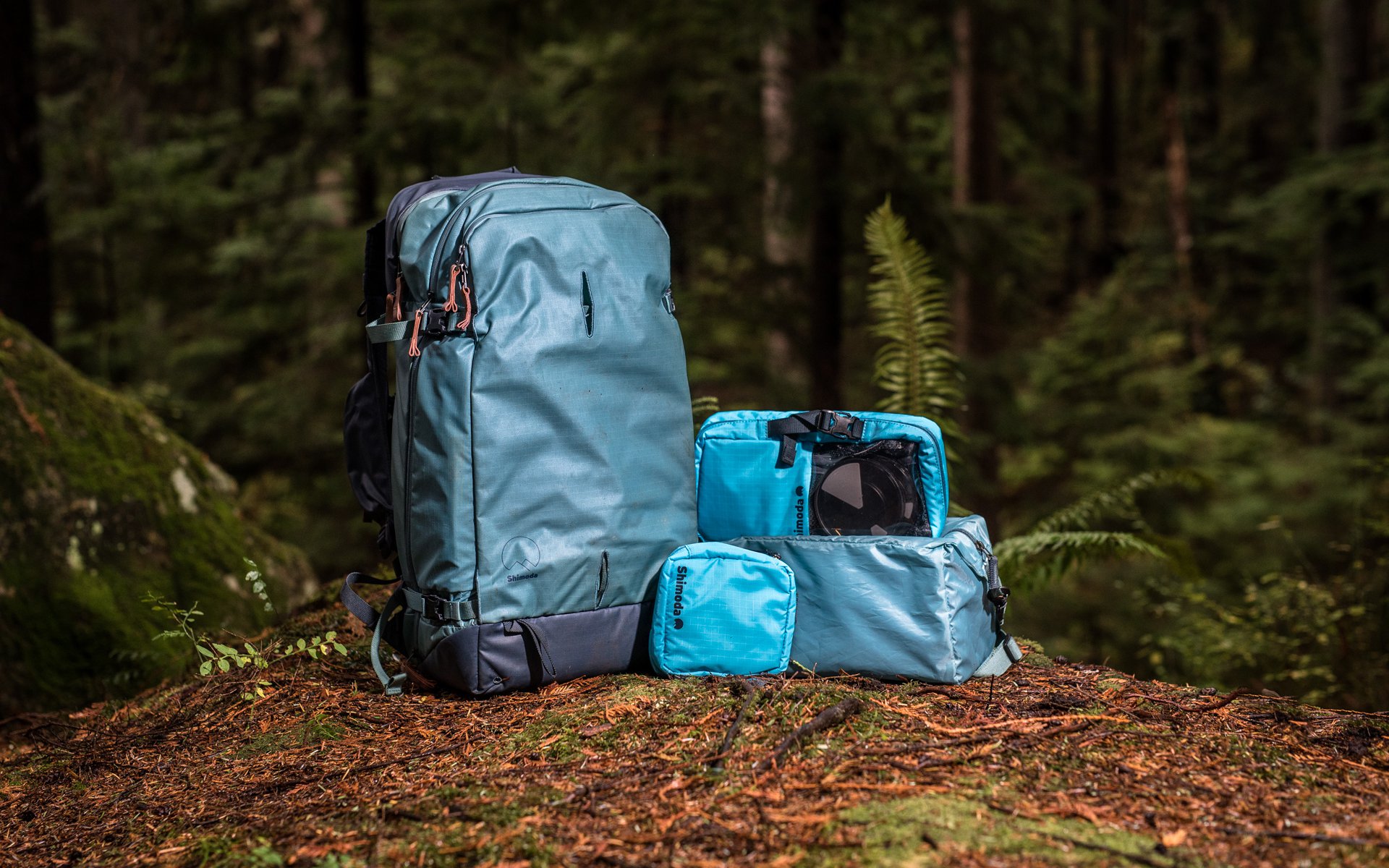 Gear Review
Shimoda Designs Explore 40 Camera Pack: Shore-tested
Years before I decided to turn my photo-hobby into a full-time job, I used to listen to the photographer that I worked with complain incessantly about his camera bags. He would complain about everything from the shape of shoulder straps to the length of the zipper pulls to the lining of the padded block and I would think to myself - this guy sure does complain a lot about a lot of tiny things. While he prattled on about having to fool with the rain cover, I quietly wondered why it was so hard to find a pack to suit his needs. Fate, as it tuns out isn't without a sense of irony, so some years and more than a few pounds of camera upgrades later I found myself wondering why someone couldn't make a camera pack for adventure photographers. I was specifically looking for a minimalist pack in the 30-40 litre range, that was weather-proof and most importantly, worked for mountain biking specific applications, aka riding my damn bike - enter Shimoda Designs.
The man behind Shimoda Designs is Ian Millar, formerly the Creative Director and Lead Product designer at F-Stop Gear and more distantly the editor of both Modest Bike and Mountain Biking magazines. Transplanted from Ontario to Whistler and eventually to Japan he has spent the last 10 years designing packs specifically for the demands of adventure photographers. Now based in Hakuba, Japan, (land of the fabled Japow!) Shimoda is his new technical camera pack company whose new line of products is focussed on professional adventure sport photographers and cinematographers. The community of photographers being small and leaky as a chocolate teapot on Instagram, I heard through the grapevine that Millar was developing a new camera pack and after some back and forth, he agreed to send me one of his new 40 litre bags to test on rough and tumble slopes of the North Shore.
First Impressions
When the bags arrived from Japan the first thing I noted was the size. At 40 Litres, the Shimoda was at the top end of the range I consider optimal for riding but has been stripped down for travelling in the mountains while still remaining functional. The pack itself features 3 main compartments; a lid pocket with mesh pouches to hold keys and personal items, the main panel where the gear the block and misc gear lives; and a large front panel pocket that can hold a water bladder, avalanche equipment or even a laptop compartment provided your computer has a padded case.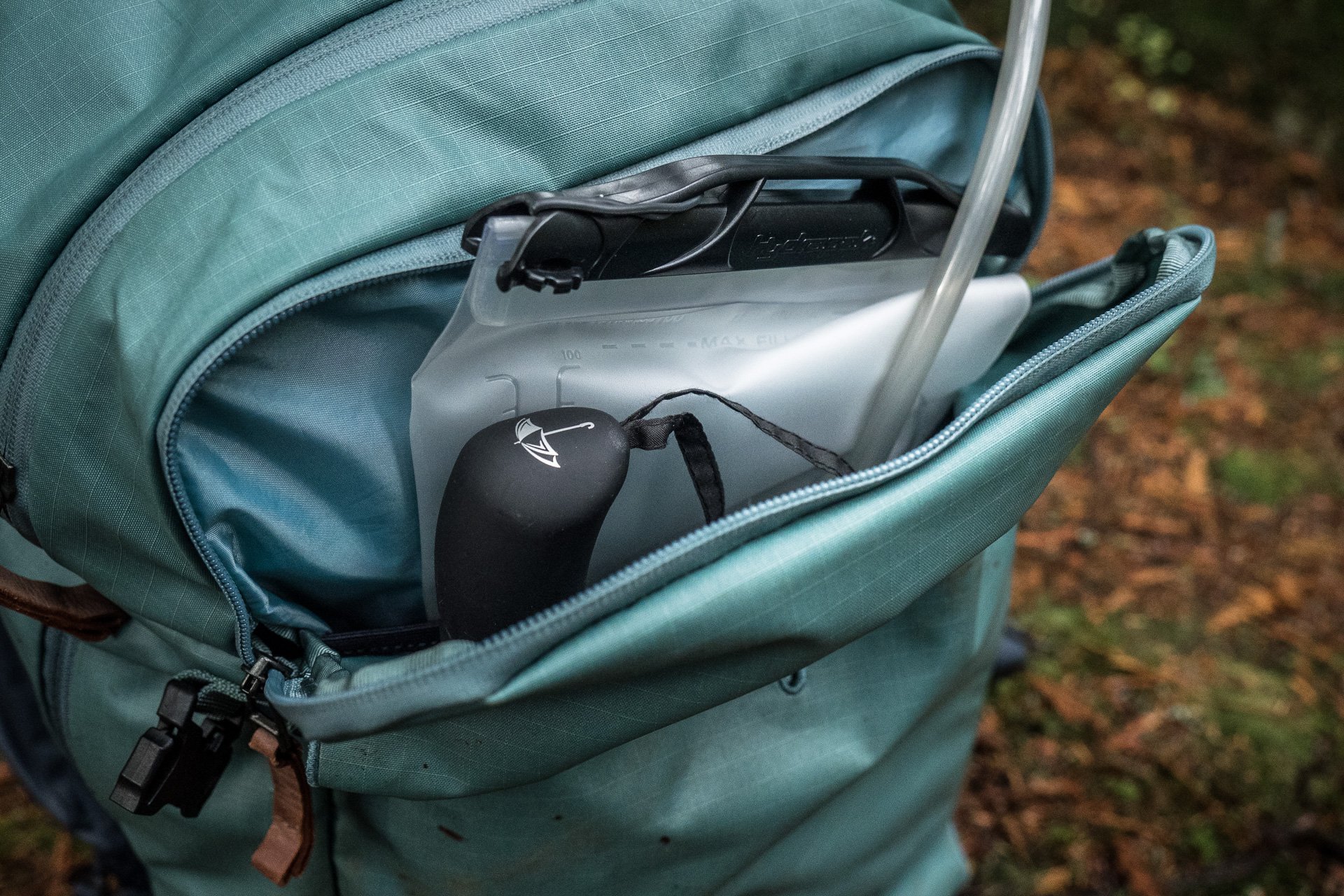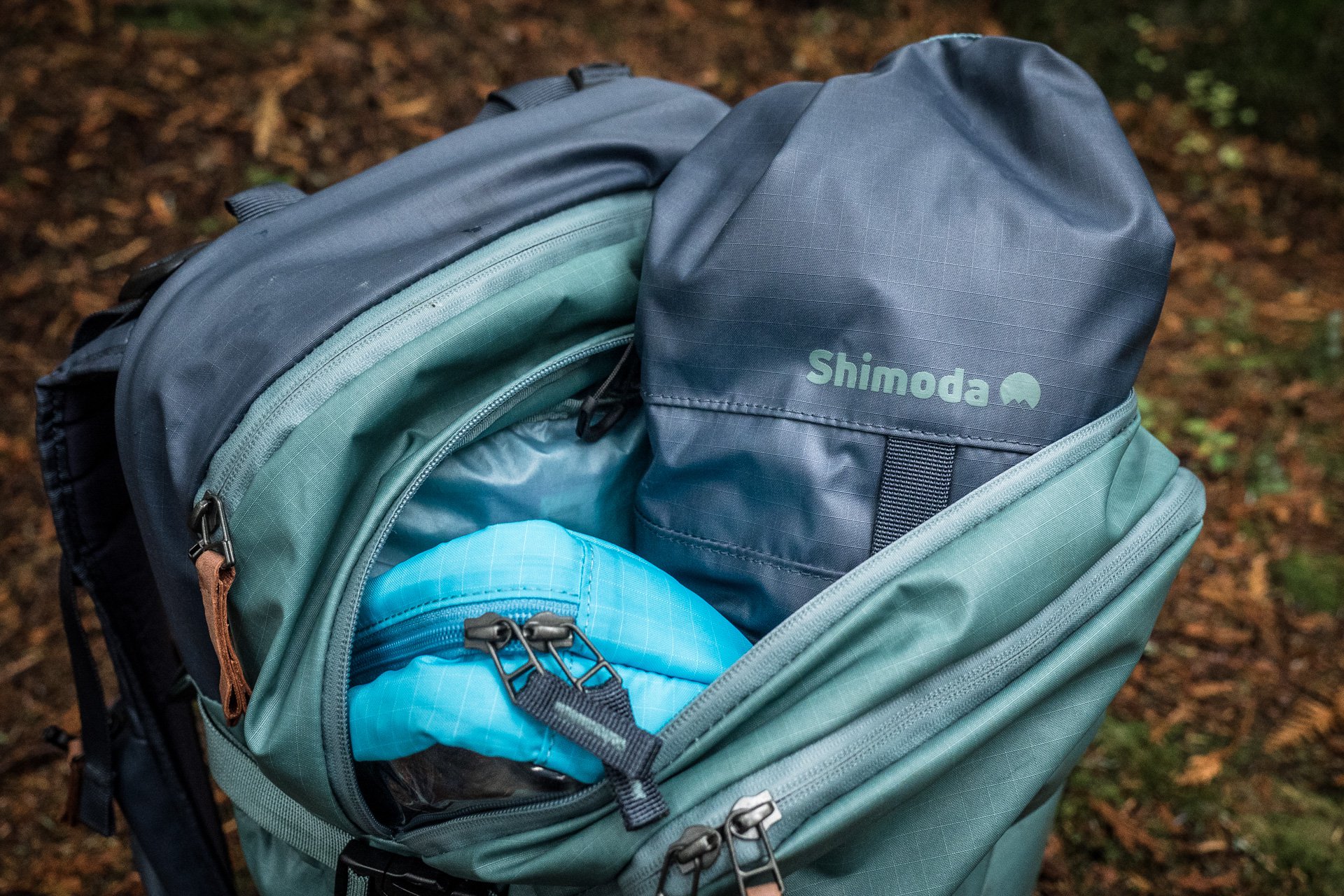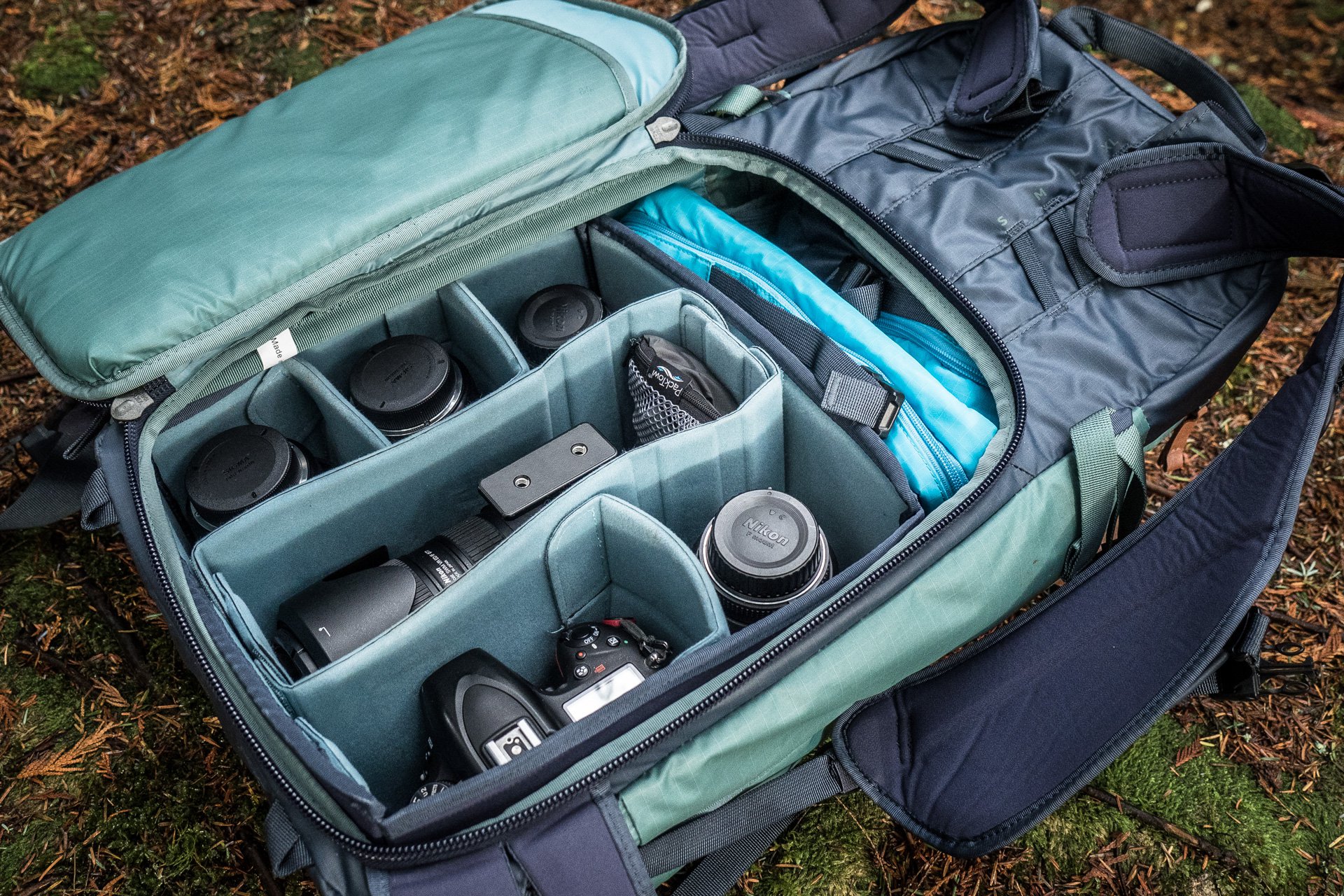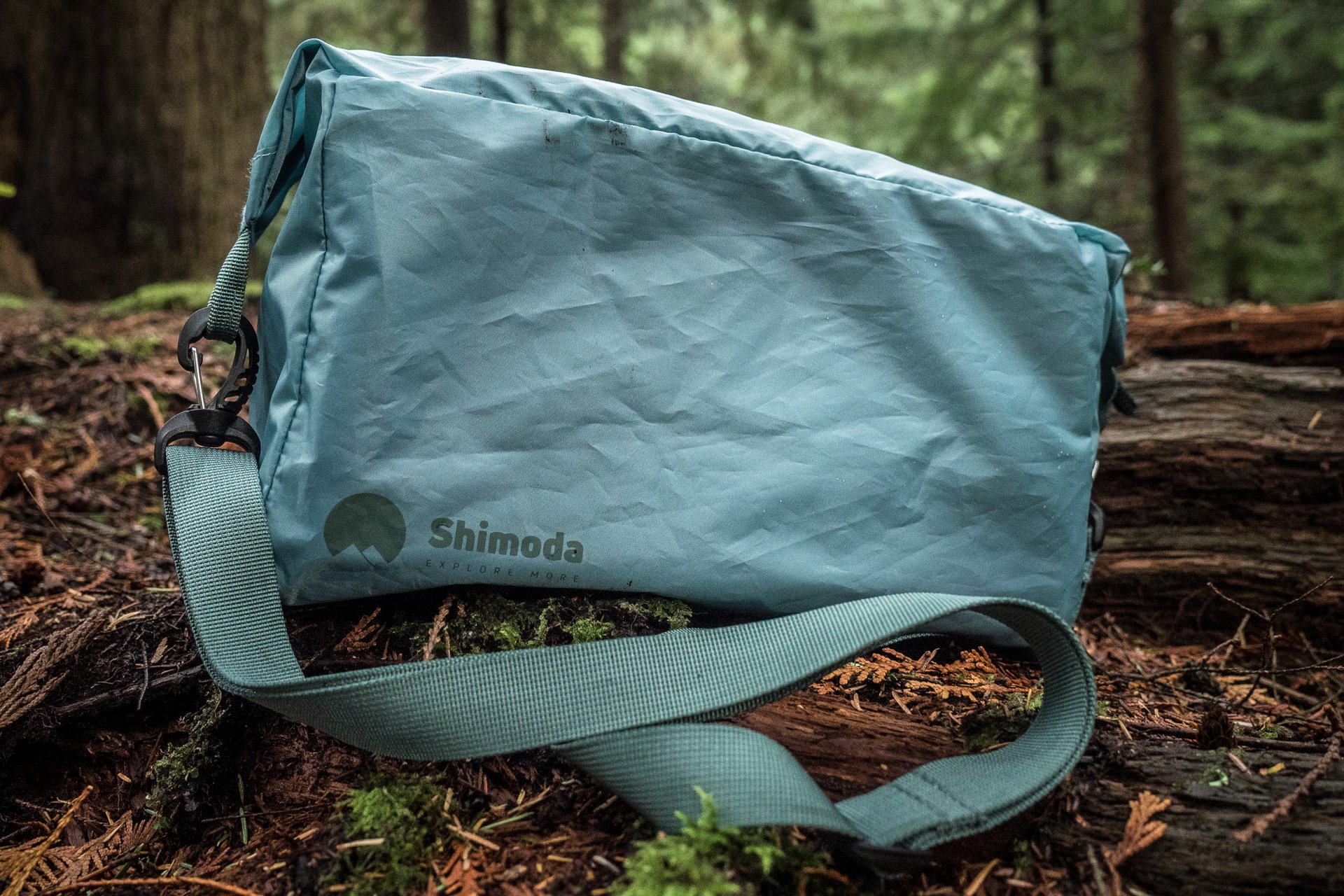 Included with the pack were larger Core Unit that would carry my camera body and lenses, two smaller camera blocks designed for mirrorless systems and accessory cases that I intended to try the very next day. I spent about an hour configuring the foam Core Units, figuring out what would best suit my needs and opted to use the larger or what Shimoda refers to as their Medium-sized unit that is designed to fit most gripped DSLR's. I then turned my attention to the first of the three items on my checklist of must-haves on any camera pack - adjustable fit.
Fit and Adjustability
A photographer himself, Millar while serving as creative director and lead product designer at F-Stop Gear would often go out into the field with pros to see how their products performed in the wild. On these trips he was able to observe where photographers struggled, devise ways to help them get their jobs done and develop solutions that would leave photographers to be creative without having to think about their gear.
Professional Details
With Shimoda, Millar has taken the requests of his pro team seriously by integrating their feedback into his designs. From side access, to a pocket for radios, to space for avalanche gear, he was able to put everything he ever dreamed of in this bag. He was in essence designing this pack for himself and people like him who work exclusively in the outdoors. One request that he took to heart was from photographers who desired an adjustable fit and at 6'2", I would agree that this has historically been a want of mine. While most packs have a measure of adaptability, the Explore 40's fully adjustable shoulder straps will fit most torso sizes from Small, all the way up to XL sized bodies. As it turns out I am a svelte XL by virtue of being a mountain biker where being hunched over the bars requires a little more room for my helmet. A simple loop and velco strap combo let you move the shoulder straps vertically to fit and after a few minor tweaks I was able to figure out where the pack might ride best on my back - now I just needed to get it out into the dank.
Weather-Proofing
To get those iconic images of mountain biking on the North Shore it means that you have to go out when it is raining - and raining hard. Given the typical days that I like to work in, weather-proofing is the first thing I look for to protect my gear and if at all possible I'd rather not have to mess about with a rain cover in the field. Materials-wise, the outer shell of all Shimoda's packs utilizes a nylon Carbonate Ether resin-coated material that is applied to the pack's high-density ripstop nylon shell giving the bag water resistant qualities. In response to my question about whether this pack would be Shore-proof, Millar was quick to say that no bag will be completely waterproof, as almost all materials will wet through, but their process is as water resistant as they could make it. When I got the pack, I was initially worried about the lack of taped zippers but the only way to get over it was to get out amongst it and see what this bag could handle.
Living and working on the Shore, I spend a lot of time heading out into storms because that's usually when I get the best images and the late fall here in North Vancouver has been wonderfully dark and dreary. I have packed the Explore 40 out into everything from a light sprinkle to a torrential downpour and the outer shell seems to be as watertight as a frog's hind-quarters. My concern about the zippers has yet to be borne out and the only moisture that ever got into the bag was from pulling out and putting away gear. Long-term, I will be interested to see how the Carbonate Ether coating stands up to repeated abuse but Shimoda pros like Tofino-based photographer Jeremy Koreski have been using the bags for months with no issues.
Ride Quality
The next time you see a photographer sweating mightily on the way up but at the same time keeping up to some pinner-athlete you will tip your lid in her/his direction because climbing with 25LBs+ on your back always sucks. To their credit, Shimoda staff have done their best to design straps and a hip-belt to displace some of the forces created by riding under load. On my first day riding, I purposefully packed more gear than I am used to and after several hours of riding was surprised to feel minimal strain on my lower back and shoulders. With the climb over, it was on the descent that I discovered my first and only issue with this pack, albeit short-lived.
Descending steep, greasy, technical trails on the Shore with a heavily laden camera pack usually results in at least one harrowing near-OTB-to-death experience per ride. It was under these conditions that I discovered navigating steeper terrain resulted in the aluminum frame hitting me in the back of the neck and/or helmet and prevented me from looking very far ahead. Since 90% of the riding on the Shore is of the gnar variety this was definitely going to be an issue but the solution turned out to be fairly simple.
At Millar's suggestion, I first tried to resolve the issue by reversing the direction of the kinked-frame to face away from my head which definitely helped but in really steep terrain it was still causing me some trouble. Ultimately, I simply removed the frame altogether and discovered that it not only solved my problem but it also improved the ride quality. Once adjusted, the Explore 40 has become the best riding camera pack that I have used in technical terrain. By allowing the weight of my gear to rest firmly on my hips and snug up to my back I was able to ride quite confidently. Combined with a better body-fit, the shoulder straps kept the bag from moving while riding or even hitting the occasional drop. After a few weeks, I feel like this larger bag feels more secure than smaller bags that I have used which all had a tendency to pitch and roll on my back like a ship in rough seas. Further proof that Shimoda is listening to photographers, Millar is now in the process of developing a frame that will sit lower in the pack and out of the way of the rider.
The Core Units
Since no two photographers carry the same equipment, Millar has designed adjustability into every facet of their system - especially their Core Units. Currently, Shimoda offers two sizes of Core Unit; a Small and a largish Medium. The smaller CU is designed to hold either an ungripped full-frame DSLR mounted to a 24-70mm lens or a slightly smaller camera like a Sony A7 with a 70-200mm. I have yet to try this configuration but you can pair two small units; one to hold lenses while another you can turn sideways in the pack and get to it via the side access. I primarily used the Medium CU to carry my Nikon, as I typically shoot with a single body, a few fast prime lenses and a 70-200 zoom. I don't have much to report here - the CUs are easily configurable, well-made and the bright blue colour of the interior also makes finding small things relatively simple for tired eyes. Each unit also comes with a removable Skin which can be used as dust-proof storage cases when your camera gear is not in use. On the mountain, the skin's shoulder strap also conveniently allows you to remove the smaller core-unit from the larger pack and use it like a shoulder bag which is ideal if you like to use prime lenses when you work a in a single zone.
Accessories
With an end-to-end system in mind, Shimoda has also developed a line of accessory cases to help photographer manage their bits and bobs. Both the medium and small cases featured a clam-shell opening that exposed their individual pockets and pouches. I found the clear plastic windows handy for quickly finding little objects and the mesh pouches neatly held camera stuff (batteries, cleaning kit, blower). The smaller case I reserved for all of the things I might need to change a flat but can also see myself using it to carry my ND filters.
Final Thoughts
It's generally considered bad form to gush about products in reviews but I really like this pack. To me a good camera pack is as important as my bike in the field and I often ask a lot more of it. The Shimoda Explore 40 met every criteria I have for a piece of technical gear - it's well made, weather resistant and designed to be used in the mountains.
So, is this the best camera pack on the market? It certainly has an impressive laundry list of features and the overall adjustability is among the best packs of any kind that I have ever used in the mountains. While I can't call this a minimalist pack with that long list of details, the Shimoda is still significantly lighter and more durable than other camera packs of this size. To me, the standout feature of the Explore 40 remains the fit - the shape of the shoulder straps and adjustability translates to impressive stability and after minimal adjustments the ride quality is something I have come to expect from a bag half the size. The water-resistant materials used on Shimoda's bags are also impressive in their ability to shed water and keep it away from camera gear which is essential to me working year-round on the Shore.
While geared towards the wants of professional shooters like Paris Gore and Mattias Fredriksson, Shimoda maintains that these bags are for any photographer who spends significant time in the outdoors and wants something designed for those environments. At 40 litres, this bag will be too large for most pro-sumer level photographers and on a daily basis, I would definitely prefer a slightly smaller pack in the 25 to 30-Litre range, but it's my understanding that Shimoda will be releasing two smaller packs in their line in late 2018/early 2019. These endurance sport based bags are sure to answer the needs of adventure photographers who either use a smaller mirrorless or micro 4/3 systems or, like me, just want to carry a more minimalist set-up. When that day comes I may have found the pack that answers all of my wants but for now, the Shimoda Explore 40 is the most adjustable and best riding camera pack I've ever used mountain biking.
According to Millar, funding has been secured and a solid production and distribution network is in place with the help of his partners at the Mamiya America Corp (MACgroup). The first run of product should drop in early 2018 and a Kickstarter campaign was recently launched to help get the word out to consumers. Within the first 24 hours over a hundred people had helped Shimoda reach their projected goal and it's still has a month to go. For a limited time, Shimoda products will continue to be available online at reduced pricing and tiered packages for those who pledge. Go give it a look to check out the options for their backers.
Details:
Explore 40 Backpack – $279.95*
Explore 60 Backpack – $319.95*
Watch Shimoda's product video for more information on their Explore 60 pack.
Core Unit Small – $49.95*
Core Unit Medium -$74.95*
Watch Shimoda's Core Unit product video for more info and configurations.

Explore Carry-On Roller – $299.95*
Watch Explore Carry-on Roller product video (not reviewed).
Accessory Case Small – $24.95*
Accessory Case Medium – $29.95*
Accessory Case Large – $34.95*
Watch Shimoda's product video for more info on their line of accessory cases
*ALL PRICES IN USD

** Initially, Shimoda intended to launch with a single bag and grow from there but in the end was determined to launch with a more complete system. Alongside the Explore 40, a larger 60 Litre version and a Carry-on roller bag are joined by a small line of accessories.