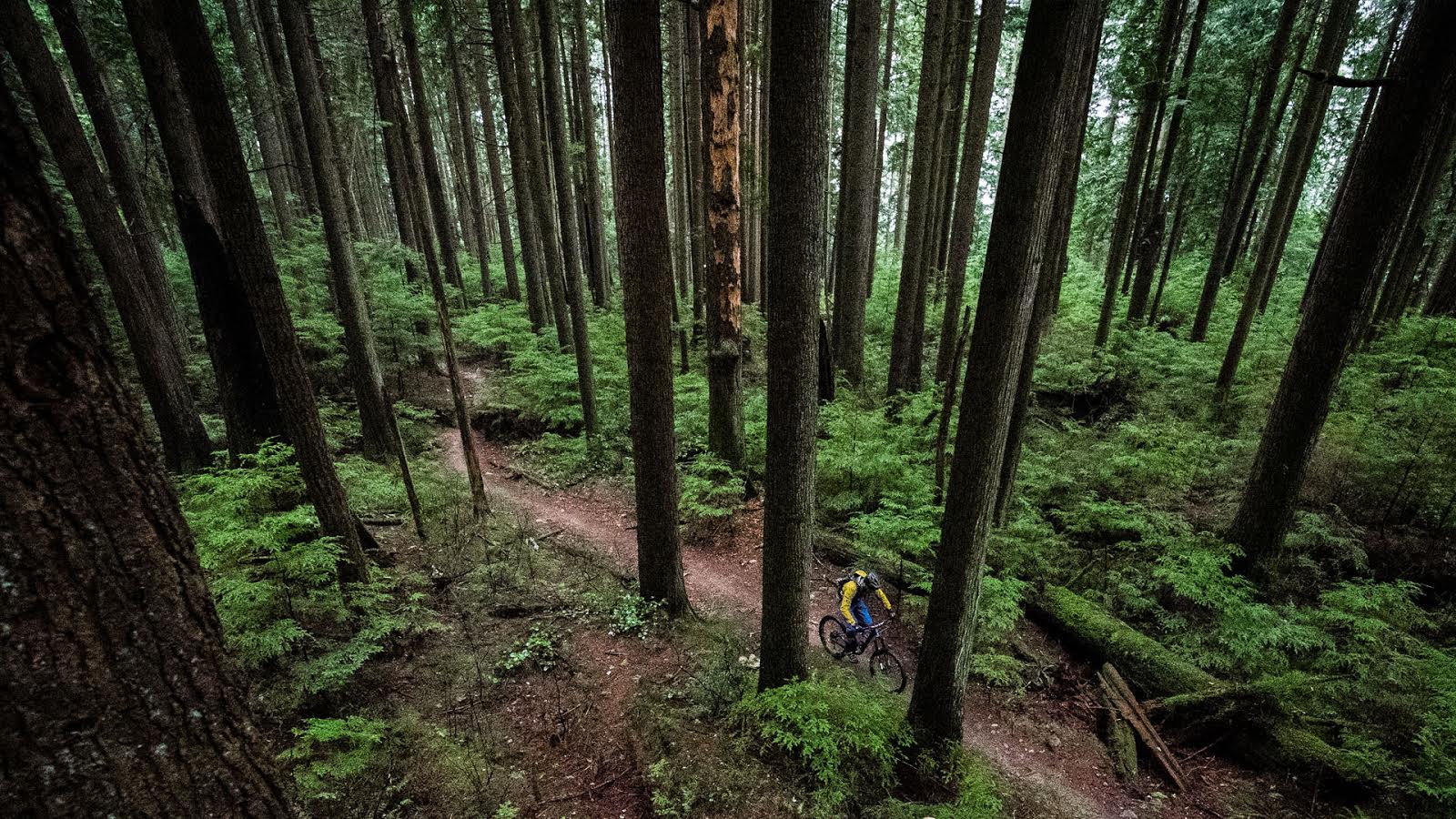 Shimano Deore XT Di2 Launched
Shimano Deore XT Di2
When Shimano XTR Di2 debuted, it marked a natural point along the progression of Shimano's electronic shifting technology. Since being launched in conjunction with Dura Ace in 2009, and Ultegra a few years later, it was clear that the next big target was to bring the technology to the dirt. Like Dura-Ace, XTR Di2 is pricey, so it was always going to be the XT version of Di2 that would be of greater interest to the bike-buying public.
That day has come. With a lot of the trickle down tech you would imagine, this latest iteration of Di2 comes with a few new advancements as well: there is a wireless receiver inside the display unit now, giving riders the chance to tweak their Synchronized Shift functions on the trail with a smartphone. It also means that if you don't own a PC or PC tablet (like me – and many other people I know), you're no longer obligated to knock on your neighbour's door to borrow their computer in order to format your derailleur settings. There is a lot to unpack with Di2. The engineering behind it is impressive, and the options and control over your drivetrain – particularly if you run 2x – is in a different league. You can now adjust your derailleur on the fly in case you mangle it in the middle of a ride – and it'll go right back to the original position once you bend it back into place later. Do you need electronic shifting? Of course not. Does this announcement represent another important leap in drivetrain technology? You betcha. We're not at the point where everyone will be shifting with wires and batteries in 2017, but Shimano MTB product manager Matt Robertson made an interesting point during his presentation: in the mtb world, it takes about 10 years for major technologies to become established to the point of ubiquity. As examples, he used carbon frames, disc brakes, and clipless pedals. By that logic, we're still about 8 years away from knowing just how good – and accepted – electronic shifting will be. Fully wireless shifting will be a major frontier, but that has to be several years away yet.
We didn't get a lot of time with this info before the embargo lift time, so other than the text in the captions, the copy below the jump is the release sent by Shimano. It's not our favourite way to release information, but for now, that's what we've got. In the upcoming months, we'll have hands-on details and impressions.
We have some rough pricing information as well, and we're going to have to update it later, but for now I can say that an XT Di2 1x complete group (drivetrain and brakes, no wheels) will run about $1360 US. What'll that 1x group weigh? About 2,820 grams.
---
Shimano DEORE XT Di2 M8050 Delivers Precision Trail Performance with Wireless Customization
Today Shimano releases the highly anticipated follow up to the revolutionary XTR Di2 M9050 component group. Combining proven electronic technology and the legendary value of Shimano DEORE XT, new DEORE XT M8050 opens up Digital Integrated Intelligence to even more trail riders at a more affordable price. With the addition of Shimano E-Tube Wireless connectivity, handheld customization of a Di2-enabled bike is now a reality via a smartphone or tablet computer. Shimano DEORE XT M8050 Di2's seamless performance, refined ergonomics and programmable shift logic can be tuned for any rider—elevating control and freeing the rider to focus solely on the trail ahead.
Shimano DEORE XT M8050 Di2 electronic shifting integrates with DEORE XT M8000 mechanical components in either a 1×11 or 2×11 drivetrain configuration. With increased precision, efficiency and customization of the Di2 electronic system, the original mountain bike component group reinforces its legacy of premium performance and value.
DEORE XT SW-M8050 FIREBOLT Shifter
With its advanced ergonomics and shift logic, the new DEORE XT SW-M8050 Di2 FIREBOLT shifters deliver seamless control and instant response. Free from mechanical limitations, FIREBOLT's rotary switch design follows the rider's natural hand movement and features customizable lever ergonomics. The short stroke levers provide light action with a vivid indexed feel to improve shift accuracy even in the roughest trail conditions, while the versatility of Di2's programmable shift logic allows the rider to custom tune the system to their riding style.
Ergonomic rotary shift lever design matches natural hand movement
Short stroke, perfect click levers provide faster, more accurate shifting
Programmable, multi-shift and Shimano Synchronized Shift functions
Dual-directional wire exit cap for versatile routing options
Weight: 90g (pcs)DEORE XT Di2 FD-M8070 Front Derailleur/ RD-M8050-GS Shimano Shadow RD+ Rear Derailleur
The new DEORE XT Di2 M8050 derailleurs blend powerful performance with precise shifting that remains crisp and consistent over time. Featuring auto trim technology and an optimized cage design, the DEORE XT Di2 front derailleur tracks the movement of the rear derailleur and delivers perfect shifts from every gear combination. The Shimano Shadow RD+ low-profile geometry and chain stabilizer ensure drivetrain security while the electronic wire transmission maintains consistent performance in all weather and trail conditions.
For riders who want expanded gear range while maintaining a simple rider interface, Shimano Synchronized Shift mode controls both derailleurs via a single Di2 FIREBOLT shifter. The system selects efficient gear combinations between the front and rear so riders just concentrate on pedaling and controlling the bike.
DEORE XT Di2 FD-M8070 Front Derailleur
More powerful shifting for reliable gear changes
Optimized Di2 cage profile and gear tracking improve stability and reduce driving noise
Optional synchronized front and rear shifting via a single FIREBOLT shifter
Modular mounting structure
Weight: 150g (w/ bolt and D adapter)
DEORE XT RD-M8050-GS Di2 Shimano Shadow RD+ Rear Derailleur
Shifting motor responds instantly to rider input
E-Tube electric wire transmission guarantees consistent performance in all conditions
Accurate chain position in every gear
Programmable, multi-shift and Shimano Synchronized Shift functions
Low-profile design keeps derailleur safely away from trail obstacles
Shimano Shadow RD+ chain stabilizer with easy adjustment
Compatible with CS-M8000 11-46t cassette (1×11) and 11-40/11-42 (2×11)
Weight: 329gWireless E-tube connectivity delivers handheld customizationShimano's DEORE XT M8050 Di2 shifting system uses the exclusive E-Tube digital platform, now with integrated ANT private and Bluetooth connectivity via the SC-MT800 Information Display. Utilizing wireless communication, riders can now set up, customize and monitor their Di2 system using Shimano's expanded E-tube software via a smart phone or tablet computer. ANT private connectivity also facilitates communication with a growing list of cycling computers for a streamlined experience. Mounted to the handlebar, the SC-MT800 is the central rider interface of the XT Di2 system. From the System Information Display, riders can monitor important information such as battery level and toggle performance functions, as well charge the system.The E-Tube platform is programmable, customizable and allows for expansion and further system integration. Wires are offered in a wide variety of lengths for bikes of all sizes and shapes and cable routing options will connect the various junction points.
SC-MT800 System Information Display
Identify system status of: battery level, gear position, shift mode and FOX iRD suspension position; all at a glance
Provide audible shift notification chimes
Toggle between three Shimano Synchronized Shift modes available (S1/S2/Manual)
Digitally adjust front and rear derailleurs and provide numerical adjustment indicator
Wireless communication (ANT private/Bluetooth low energy) allows for easy to set up, customization and data utilization in the field with a smartphone, tablet, and other mobile electronics
Battery charging port
3 E-Tube ports
---
At the new lower cost of XT, does electronic shifting become a bit more interesting?