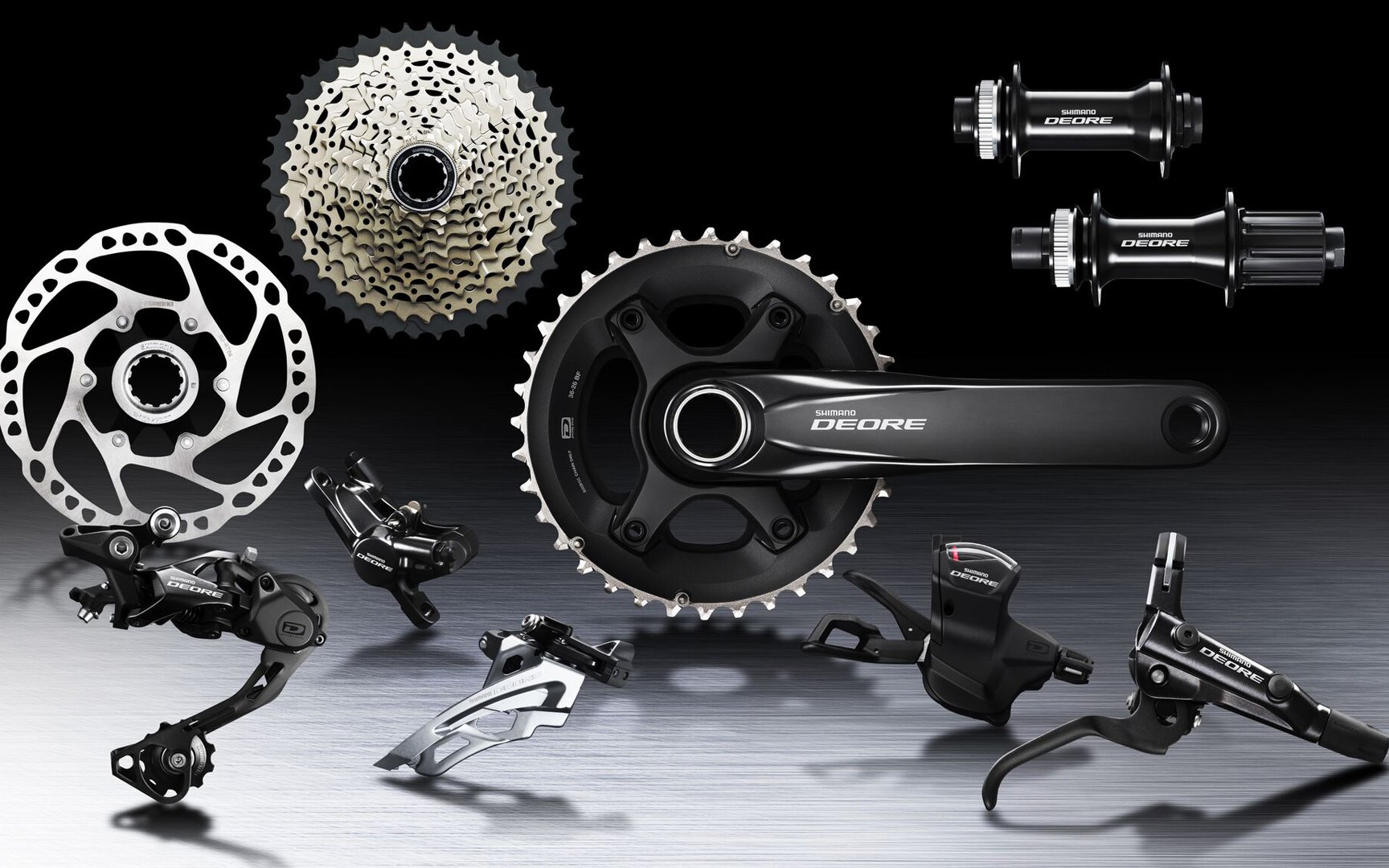 INDUSTRY NEWS
Shimano Trickles Down 11-46, Boost
It was only a matter of time before Shimano released updated versions of a number of their products, and their announcement today brought a number of notable changes across multiple groupsets.
The first of the news from Shimano is the introduction of Boost hubs on their XT wheelsets. The new wheels will be both front (110 x 15mm) and rear (148 x 12mm) Boost-compatible and laced to either a 27.5 or 29″ hoop. Rim widths measure 23.9mm external/20mm internal for the 8000-series "Race" version, and 27.9mm external/24mm internal for the 8020-series "Trail" version.
Top: The Shimano XT 8000 Race wheelset. Bottom: Shimano XT 8020 Trail wheelset.
Expect to see the 29″ wheels in your local bike shop in May of 2017, with the 27.5 version coming in June. Pricing for the pair is 549.99 USD, for all versions and sizes.
Further down the component line, the SLX groupset gets a new 11-46 tooth 11-speed cassette. Riders who go through their rear cogs quickly will be happy to hear that the cassette will retail for $74.99 USD, and will be available starting in May.
Shimano's new 11-46t SLX Cassette. Good news for anyone that doesn't want to pay an arm and a leg for a consumable.
Finally, the Deore groupset sees a number of aesthetic changes to match with the rest of Shimano's lineup. It's still only 2×10, but a new 11-42 tooth cassette means riders still holding onto their 10-speed setup will have another option when their current kit wears out. Also new in the Deore lineup is the PD-ED500, which brings an updated version of Shimano's SPD pedal to the Deore level. Like everything else, expect to see it go live in May.
The New Deore M6000 lineup. Still no 1×11 option, but there's a wide range 11-42t cassette at least.
Below is the full release from Shimano, with more details about their new Deore 6000 lineup.
---
DEORE M6000 series
Designed around the concept of performance and recreation, new Deore M6000 is for trail riders and MTB enthusiasts, MTB commuters and outdoor recreational riders who need daily durability to cope with rough roads, rain, sand and the worst that nature can throw at you.
Deore M6000 remains as a 10-speed groupset but with some innovative features for confident, smooth, flexible riding with limitless possibilities.
The 2×10 drivetrain (FC-M6000) adopts the family look of XTR, XT and SLX drivetrains with a sleek four-arm Hollowtech II one-piece composite design in 3 size options (38-28T, 36-26T, 34-24T) and an alternative 3mm outboard Boost version.
Meanwhile the 3×10 drivetrain takes on a unique, aggressive look offering 40-30-22T for a wide range of riding styles. Both drivetrains combine with a new wider range 11-42T 10-speed Dyna-Sys cassette (CS-HG500) as well as three other 11-36/34/32T cassette options.
2×10 and 3×10-speed gear changes are handled by a Shadow RD+ derailleur in the rear (RD-M6000-GS) offering improved chain stability and retention. Up front, three derailleur swing options (top, down and side) can be combined with five types of mount options (high, low, direct mount, e-type and a new mid-type) to offer cable routing and/or satisfy new manufacturing requirements such as rear suspension or tire clearance.
Shifting operation comes from Rapidfire Plus shift levers (SL-M6000) with a visual display for gear choice. Control also comes from new hydraulic brakes with Servo wave high power levers (BL-M6000) and heat insulated calipers (BR-M6000) designed to accommodate Ice Technologies brake pads.
Hub sets (HB-M6000/10, FH-M6000/10) complete the group with a 100 x 15mm E-Thru axle option at the front and centre-lock mounts for easy rotor installation.
Non-series MTB additions
Wheel lineups are expanded with two new 29" and 27.5" Deore XT B-spec wider e-thru O.L.D. options. Now with a 110 x 15mm e-thru front and 148 x 12mm rear-axle Boost specification, the new wheelsets increase stiffness. New rear e-thru axles (AX-MT700 and AX-MT500) are also added with smaller housing, lighter weight and greater clearance for frame and brake calipers.
In terms of drivetrains, designed at SLX level is a new wide range 11-46T cassette (CS-M7000) for 1×11 set-ups. At a similar grade to the new Deore group comes a new 2×11 two-piece 36-26T front crankset (FC-MT600) with abrasion-resisting teeth and Dyna-Sys shifting in Boost and Standard dimensions, as well as a new closer step 2×10 FC-MT500 36-26T front crankset (FC-MT500). Combined with the FC-MT500 crankset is a hydraulic disc brake set (BR-MT500) offering a non-series version of the Deore BR-M6000 hydraulic brakes. New pedals (PD-ED500) offer a Deore-grade double-sided light action SPD model.
---
Champagne styling on a PBR budget sounds appealing, but the lack of 1×11 at the Deore price point is still a bit of a head-scratcher. Perhaps they're saving something for Sea Otter?