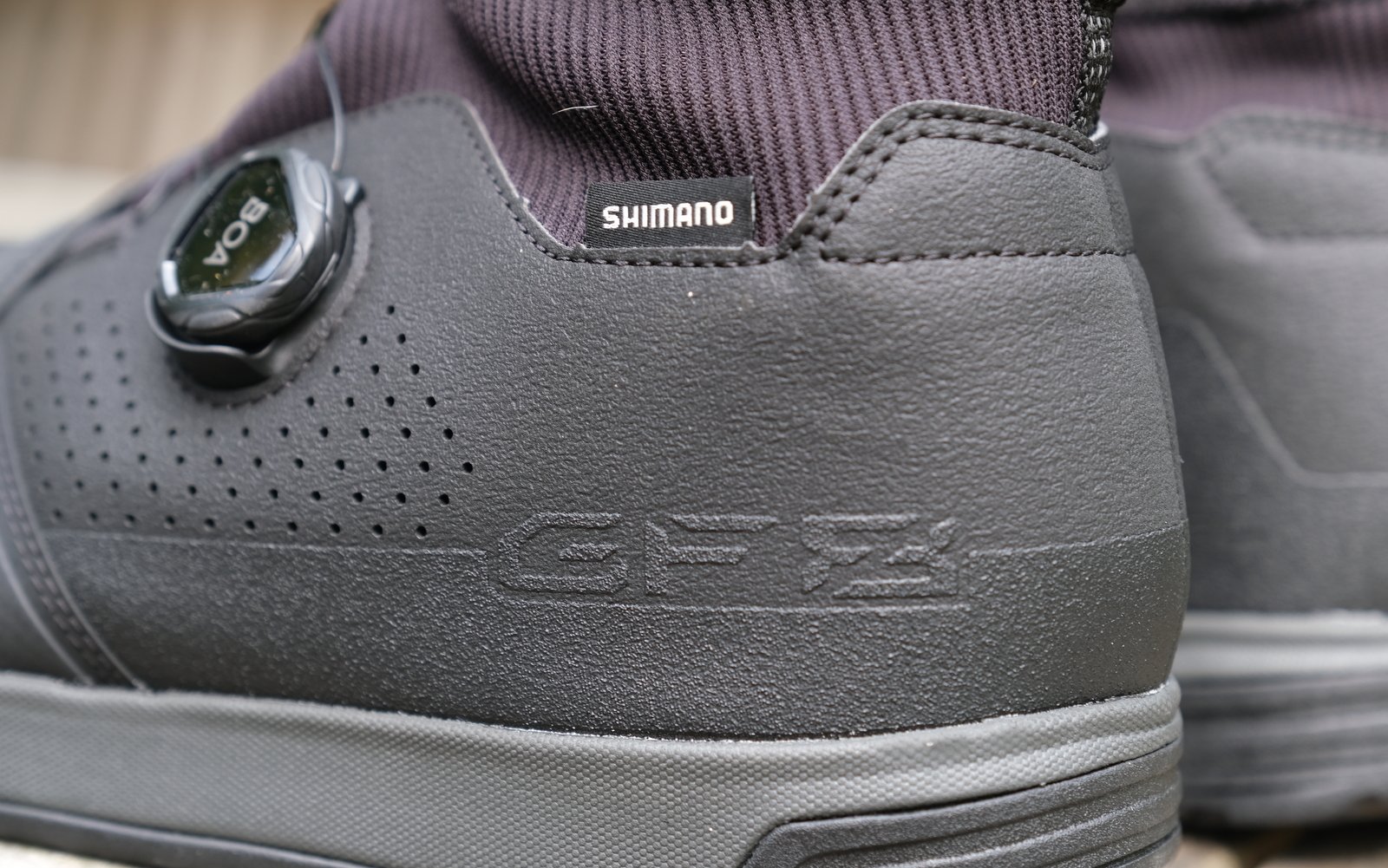 Go for a ride with a bunch of NSMB contributors and you can gauge your place on the pecking order based on the quality of the goods of others, relative to what you are wearing. Pete and Cam roll up head-to-toe in Rapha, 7 Mesh or Patagonia (The Top Dawgs). Trevor and Deniz are generally rocking fresh, solid, but utilitarian garb (The Lieutenants). Graham could be in anything from torn sweatpants or brand new head-to-toe NF, depending on how long it's been since he offended somebody in the Whatsapp chat (The Wildcard). You'll usually find me in some off brand European kit or hand-me-downs sourced from the back of the workshop (The Outcast).
What this teaches you is that if you're not at the front of the line, you have to work hard for what you get. No. That's not right. You definitely don't have to work hard. You have to be vocal and you have to be fast and you have to be lucky. When I saw the press release for these newly launched waterproof Shimano flat pedal shoes (the SH-GF800 GTX, as it were), I just about broke my keyboard hammering out an e-mail to make sure I got to the front of the line. There just aren't that many waterproof flat pedal shoes available on the market, and I really wasn't in the mood to fork out for a pair of Five Ten Trailcross.
First Impressions
Back when I was a clipless rider, way back at the turn of the millennium, I owned many, many pairs of Shimano shoes. Always solid, always predictable, always a safe bet. Then I found the gospel of flats and Five Tens and barely looked back. I did try a pair of Shimano flat pedal shoes a few years back, to mixed results. Ummm…let's be honest. To poor results. I found that those shoes looked great, were solid and well built, fit just fine, but suffered in the grip department.
Pulling these out of the box, they carried all of the positives of the AM7's I tested way back when. They are clean looking, solid and well put together. Putting them on my feet they also felt very similar. On my feet, Shimano shoes feel a little bit boxy and a little bit flat. Not to speculate, but if your feet are a bit girthy, you'll probably be happy.
Then there are the features; uppers are synthetic, and then you've got the Boa closure system. You've got the little booty bit and the little flappy bit over where the tongue should be, both in the name of keeping water out. Underneath it all is hiding some Gore-tex. How much? Where? Who knows.
Sole stiffness is medium. Not too stiff or too soft to notice one way or another, but I'm not too particular about that sort of thing.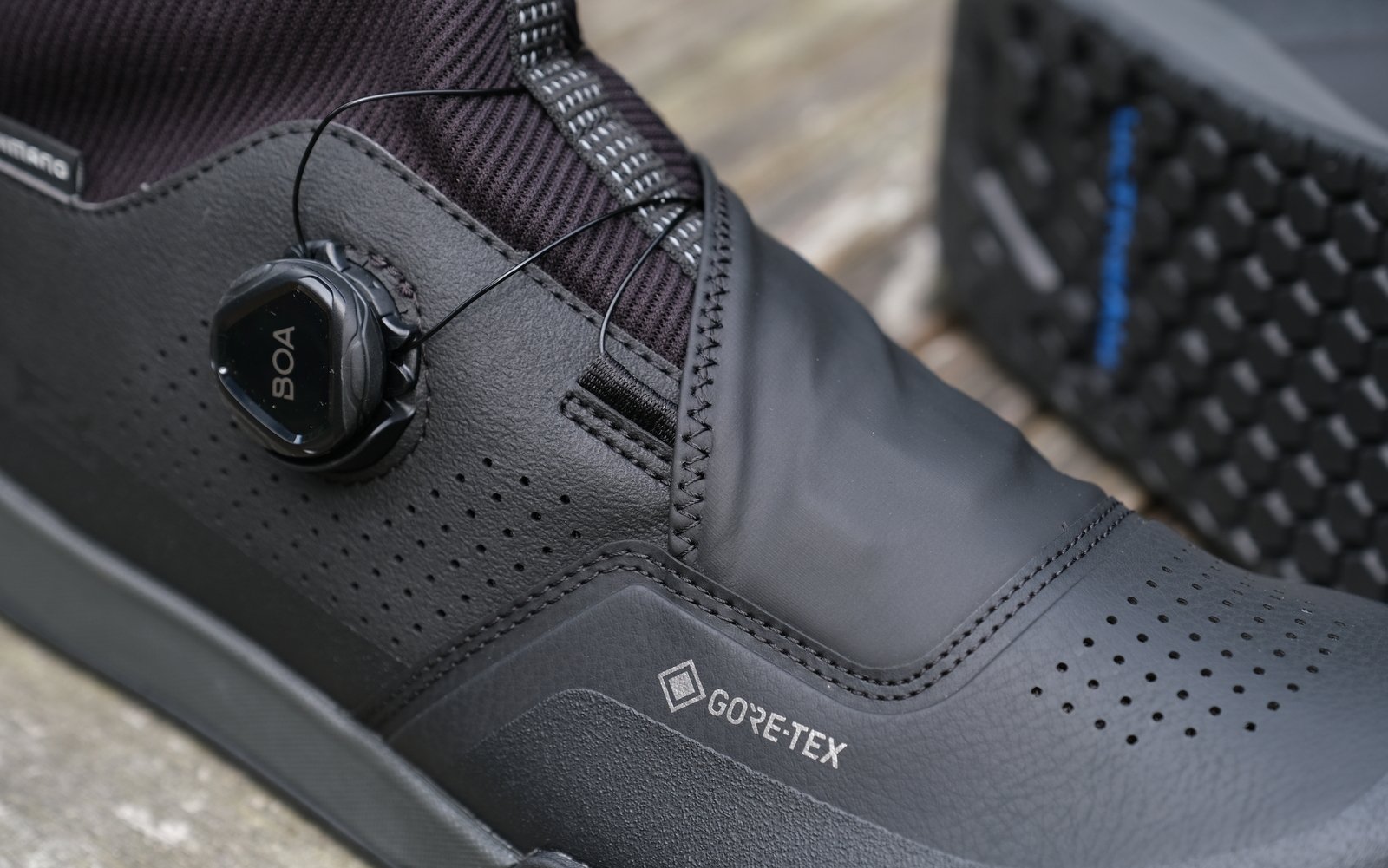 Riding in the Dry
My first few rides were typical fall shoulder season near Vancouver – a little bit cooler, mostly dry but with the threat of rain. In these conditions, these shoes are fabulous. They have lots of grip and breathe really well. Now, saying that, there are better shoes in both of these categories. Your typical summer riding shoes are going to breathe better than these, but my feet were pretty un-clammy by the end of my rides. Grip wise, most Five Tens are going to give you a teensy bit more grip, but these are easily in line with any of the good non-Five Tens I've ridden in the last few years (RC, Northwave). I would happily ride in these shoes all day, every day once things turn autumnal.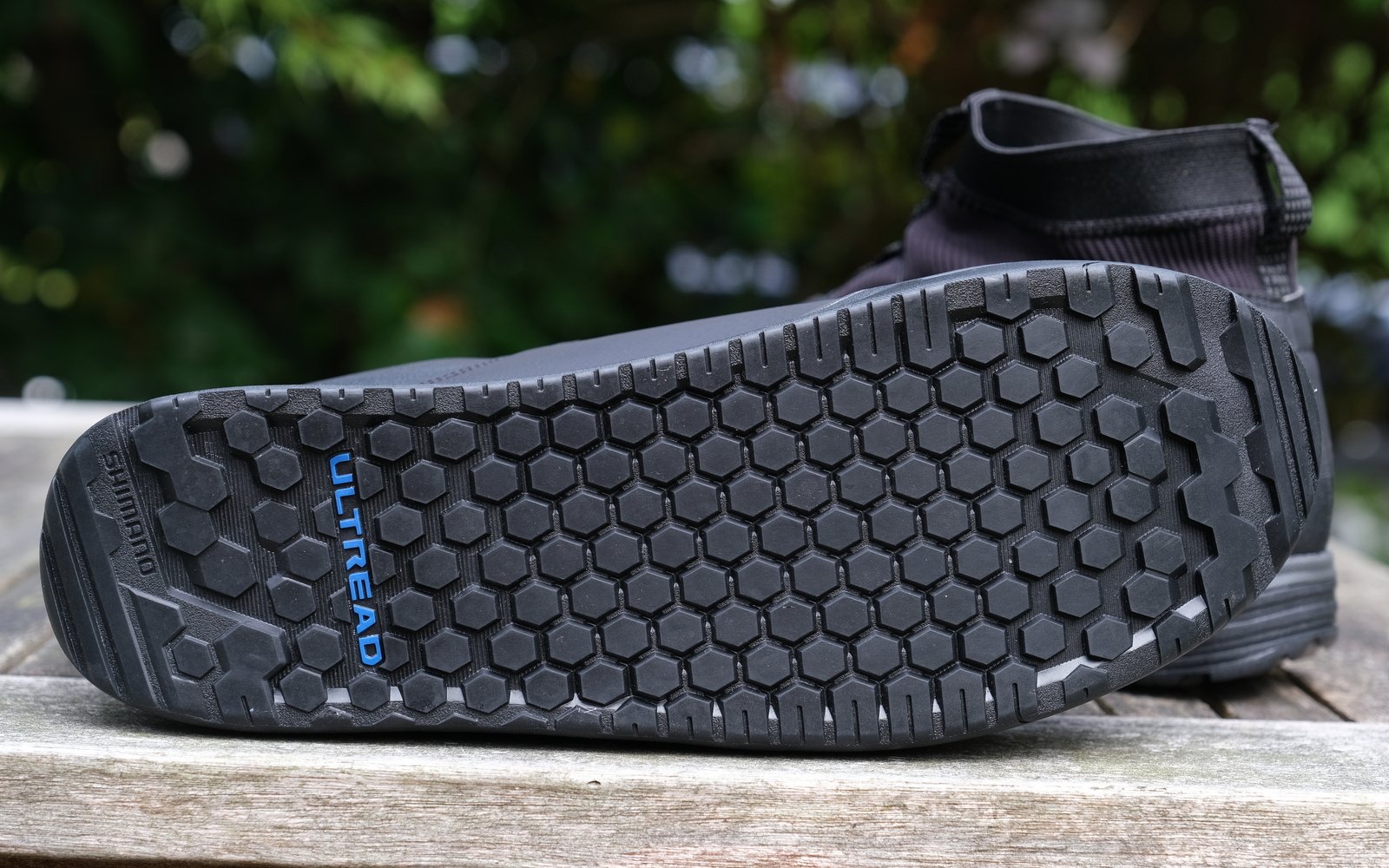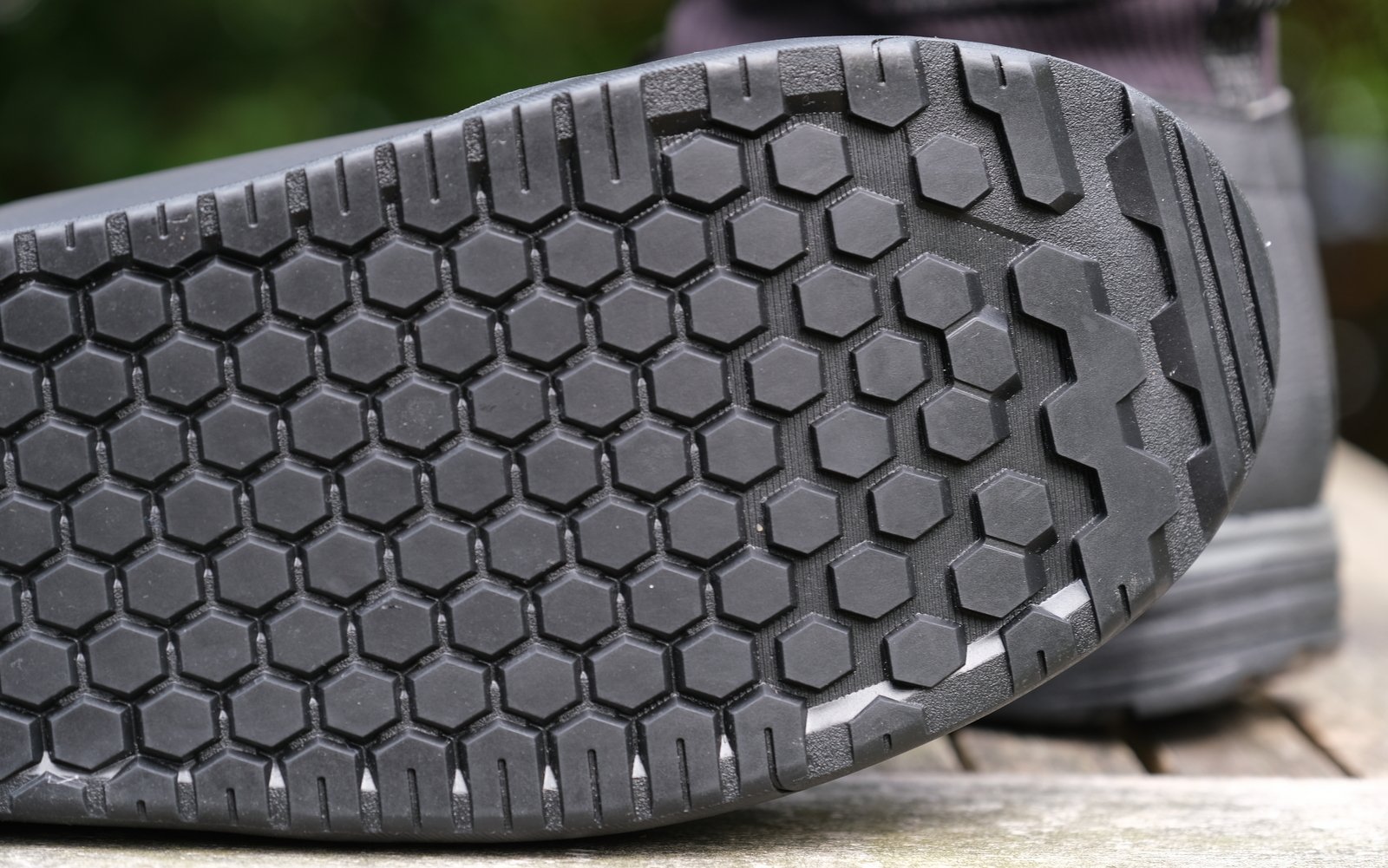 Riding in the Wet
Of course, you don't fork out for Gore-tex shoes based on their dry weather performance. Lucky for us, I think these shoes are even more impressive in the wet. Somehow, grip seems better! I don't think this is actually the case, but the amount of drop off in grip when wet is so minor that it fools your brain into thinking the grip has gotten better. For me, this is super impressive, especially considering how terrible the AM7's were (I know I'm beating a dead horse here, but those shoes were hard to ride in. I still own them, for some reason. I never wear them). Shimano claims the rubber is "cold weather optimized," and I think I just might believe them.
The shoes also do a very, very good job of keeping the water out. So far, I've worn them on a handful of wet mountain bike rides (nothing crazy, but wet), a bunch of really, really wet bike commutes, and even some wet mushroom foraging adventures. In all cases, my feet finished up much drier than I was expecting. Long after my pants and jacket had soaked through, the shoes were still going strong and my feet were still happy. Now, like anything Gore-tex, they're going to soak through at some point, and that's going to depend on any number of factors. I've held off from getting entirely stupid about things, but these shoes have kept my feet dry after facing every challenge that I have thrown at them. Water just doesn't get into these shoes very easily. Not from my front tire blasting water at my toes, or from water cascading off my soaked through pants, or from stepping in deep puddles or mis-judging a jump over a stream.
Just to be incredibly thorough, in the name of science, I filled up a tray full of water and then stuck my foot in it (shoe on, of course). The water came up to the midpoint of the Boa closure and I left it sitting there for a couple of minutes. The result? Immediately, not much. The outside was cleaner and my foot was still dry. I did find that a few hours later, some water had seeped through and the footbed area was damp. Perhaps some water was held between the various layers of the shoe and eventually soaked in? This supports my conclusion that short term, your feet are going to stay dry and long term, everything eventually succumbs to water.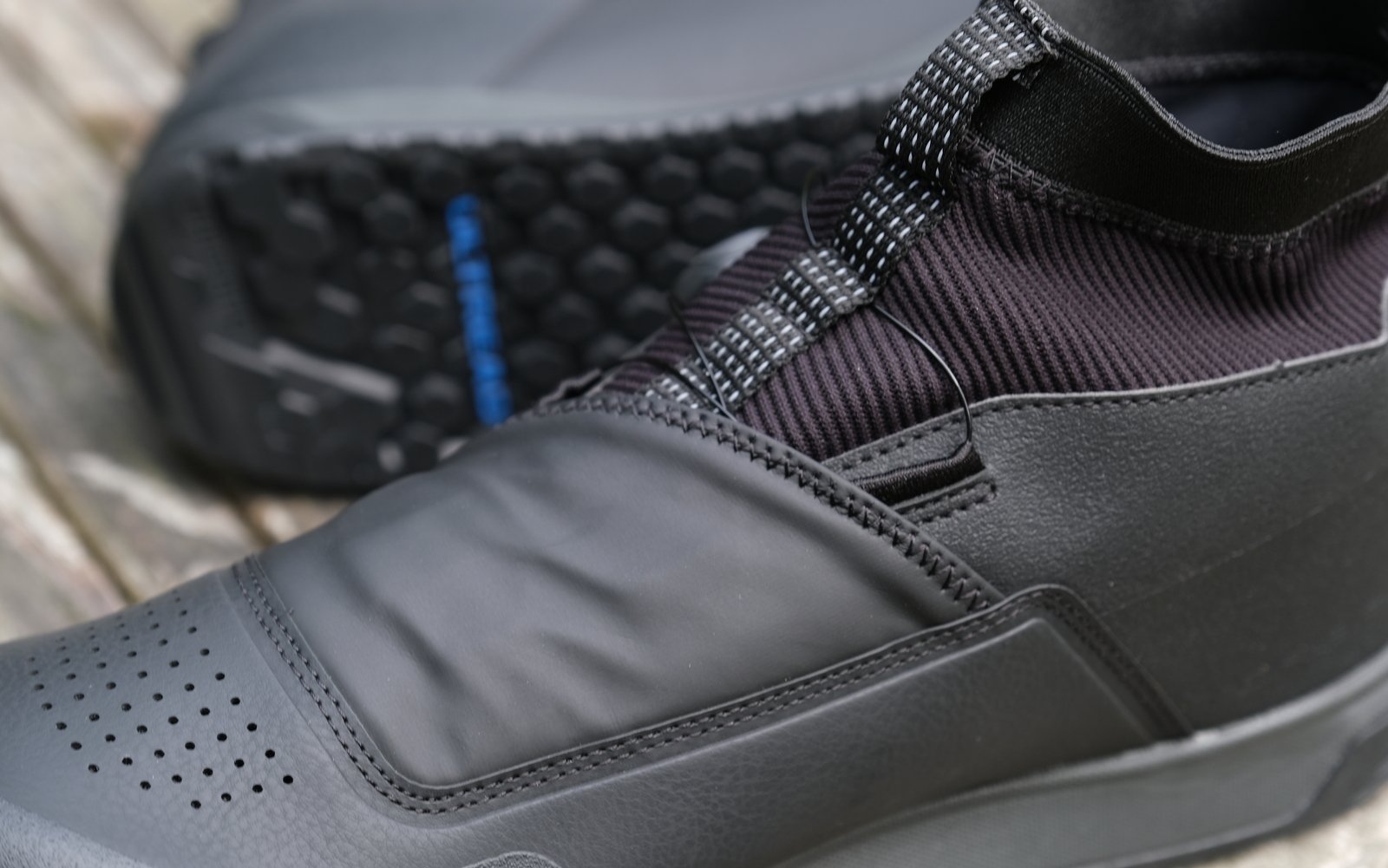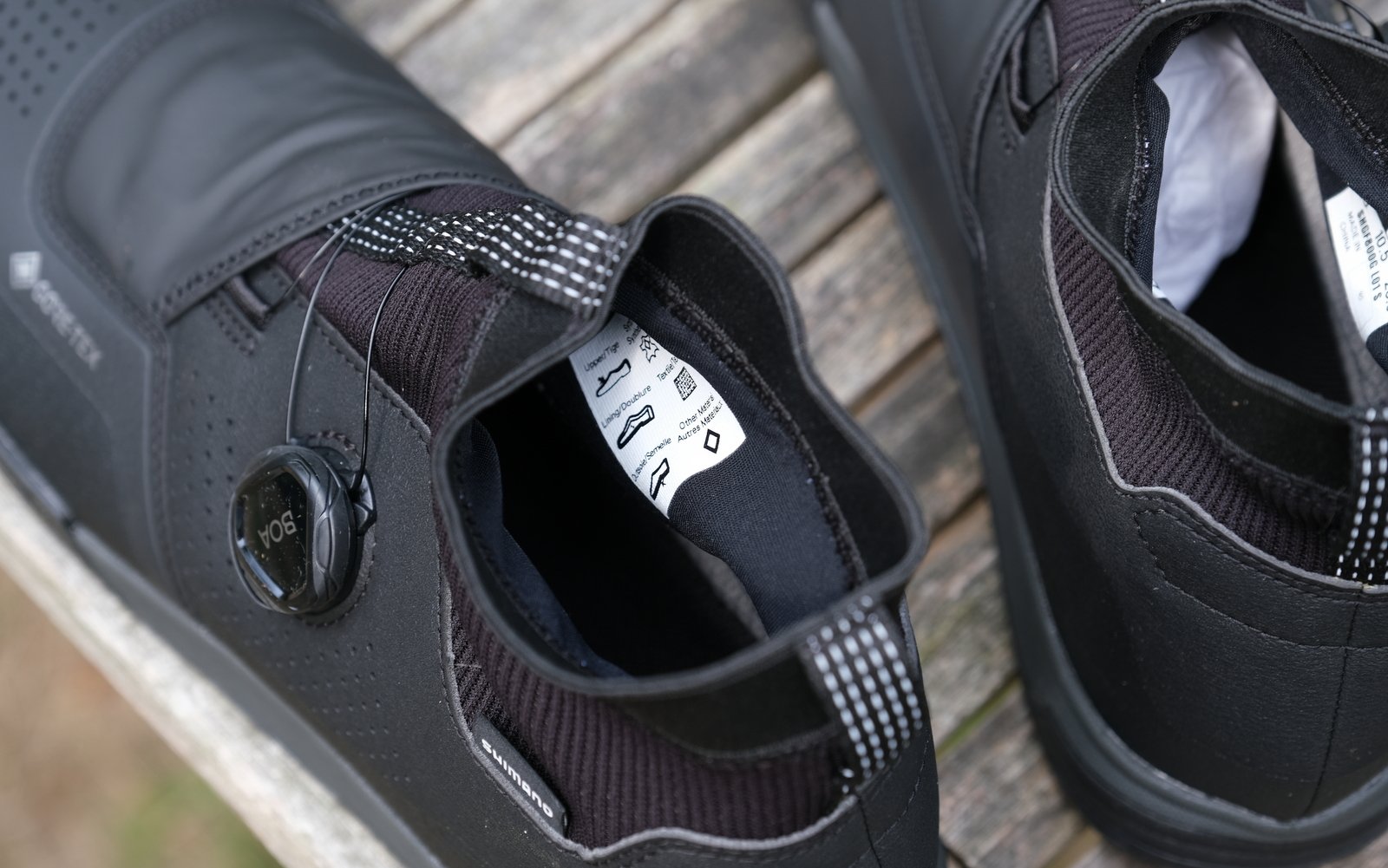 The Nitpicks
My only real nitpick is that these shoes are not easy to put on. Even if you get your shimmy just right, it takes a bit of wrestling to get them over your heel. Yes, the booty style of this shoe does a great job keeping water out and I don't want them to change anything with that. But would it kill them to make the pull tabs just a bit longer? Call that a free tip from the land of Blundstones.
Final Thoughts
There are going to be some jealous folks on my next NSMB group ride. These are a really great product, almost without fault. They work really well, whether it's raining outside or not. Grip is great. Breathability is great. Water resistance is great. Indeed, I'm pretty much wearing these shoes every time I head into the woods right now, whether a bicycle is involved or not. I give them a solid 9 out of 10, but that's only because I'm leaving room for shoes that are further down the start list, just in case.
Many of you will wonder if you should buy these or the Five Ten Trailcross Gore-tex. Now, I haven't worn those shoes, largely because when I wanted to buy a pair last winter, nobody had them in stock. Taking a quick look around, you could probably find a pair for slightly cheaper than the 220 USD/300 CAD that Shimano is asking for. It seems like if you're willing to spend that sort of money on a pair of Gore-tex shoes you probably can't go wrong with either. I'd suggest picking whichever pair suits your use case and fit your feet.
Now, how fantastic is it now that flat pedal riders have not one, but two choices in shoes once the rain starts to fly? . It will be interesting to see how they hold up long term (and it will likely be worth a follow up). Yes, this is a lot of money for shoes but for anybody planning on spending much time riding in the rain, I would view these as a good investment.