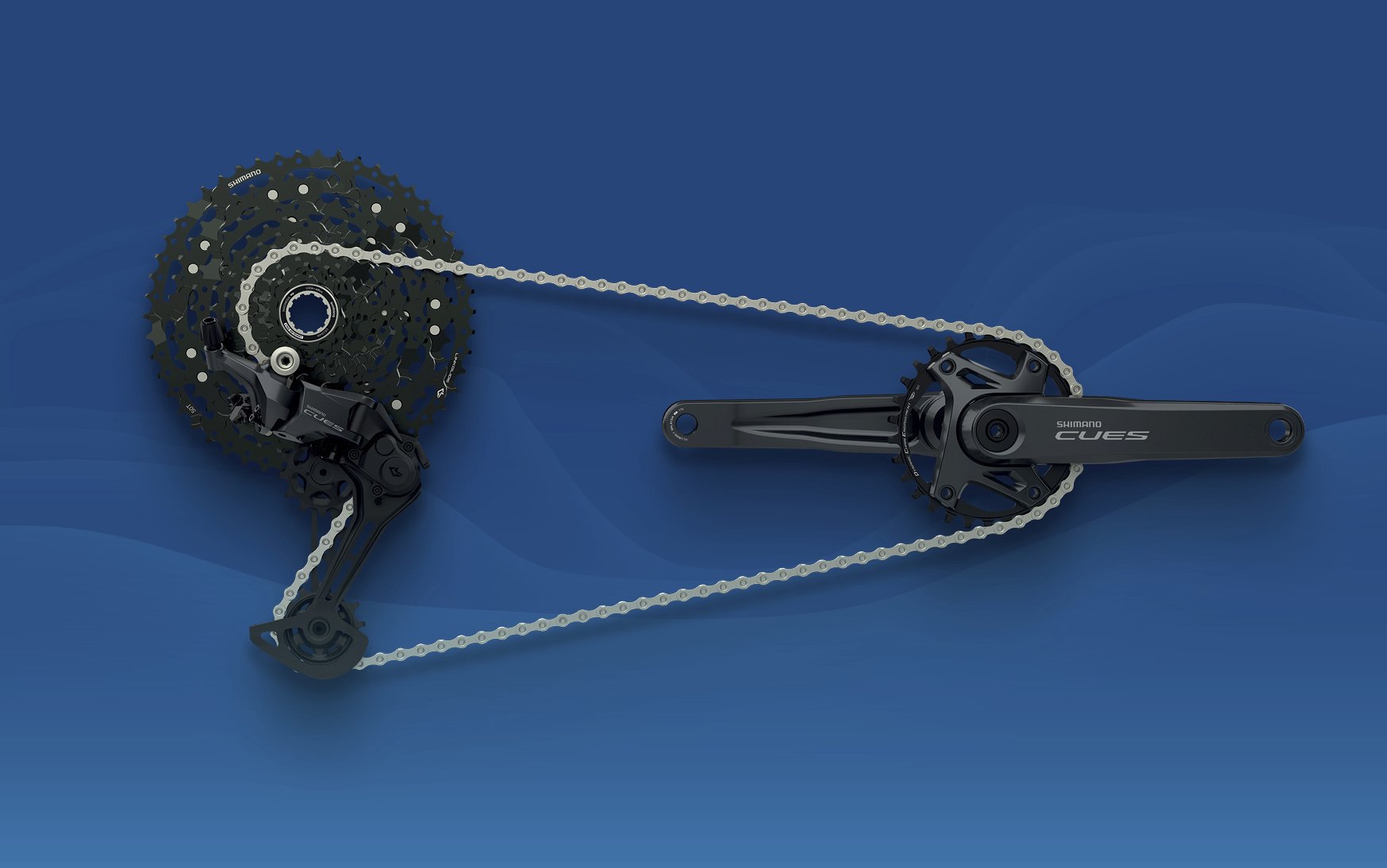 PRODUCT RELEASE | EDITORIAL
Shimano Introduces the CUES Ecosystem
Happy CUES Day
If you're reading this then it's sometime after 9am on Tuesday, February 28th, and the bikernet is absolutely clogged with information about Shimano's new CUES drivetrains.
What is CUES? At the simplest level, it's a streamlining of multiple Shimano component groups into three series with high intercompatibility. CUES U4000, CUES U6000, and CUES U8000 replace the ages old monikers of Altus, Acera, and Alivio, Deore HG, and Shimano's 'Trekking' components.
For our purposes here, this is the first and last time I'll mention CUES U8000. This more refined-looking CUES lineup acts as a replacement for the T-8000 Trekking group. Mountain bikers looking for a higher level setup than CUES 6000 will graduate to Deore M5130 LinkGlide. Likewise, while the highest-level CUES has a Di2 Auto-Shifting option, I'm focussing on what this groupset means for the budget conscious cyclist looking to min-max their drivetrain.
Further to this, one key driver of the CUES drivetrain community is bringing high performance shifting, excellent 1x chain retention, and Shimano-level drivetrain reliability to lower bicycle prices than Shimano has in the past. I'm certain Shimano would not call it a 'MicroShift Killer,' so I'll do that for them. Of course, Shimano will do Shimano things, so there's a massive assortment of front derailleurs and double crank options with CUES as well. This will be the last time I'll mention front derailleurs in this piece, aside from the caption below.
I know that for many mountain bikers, the CUES U4000 and CUES U6000 drivetrain community is only of interest for a commuter bike application, a kids' bike, or maybe for a friend fresh into the activity. Aside from that, Shimano does have some history of trickle-up in their components.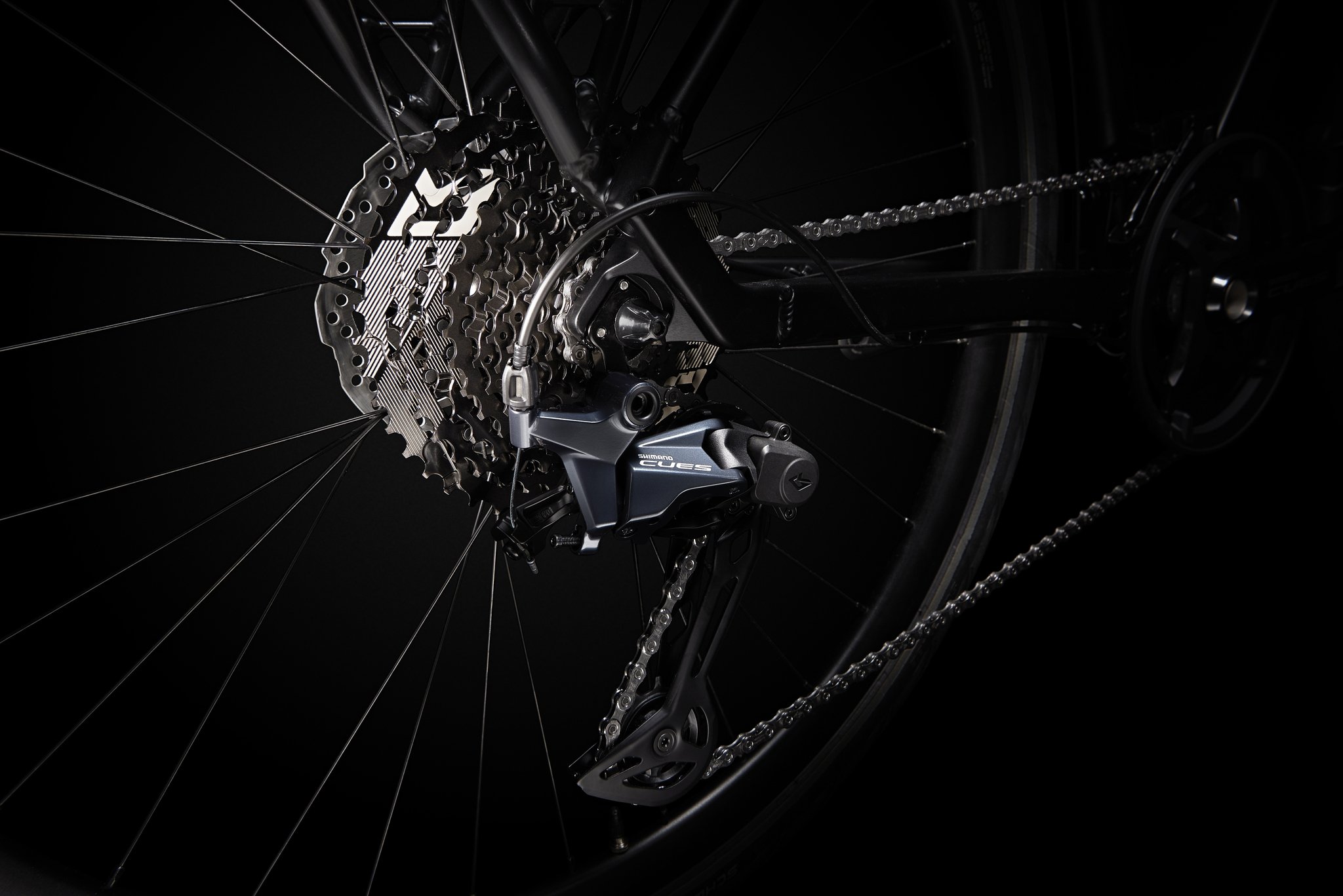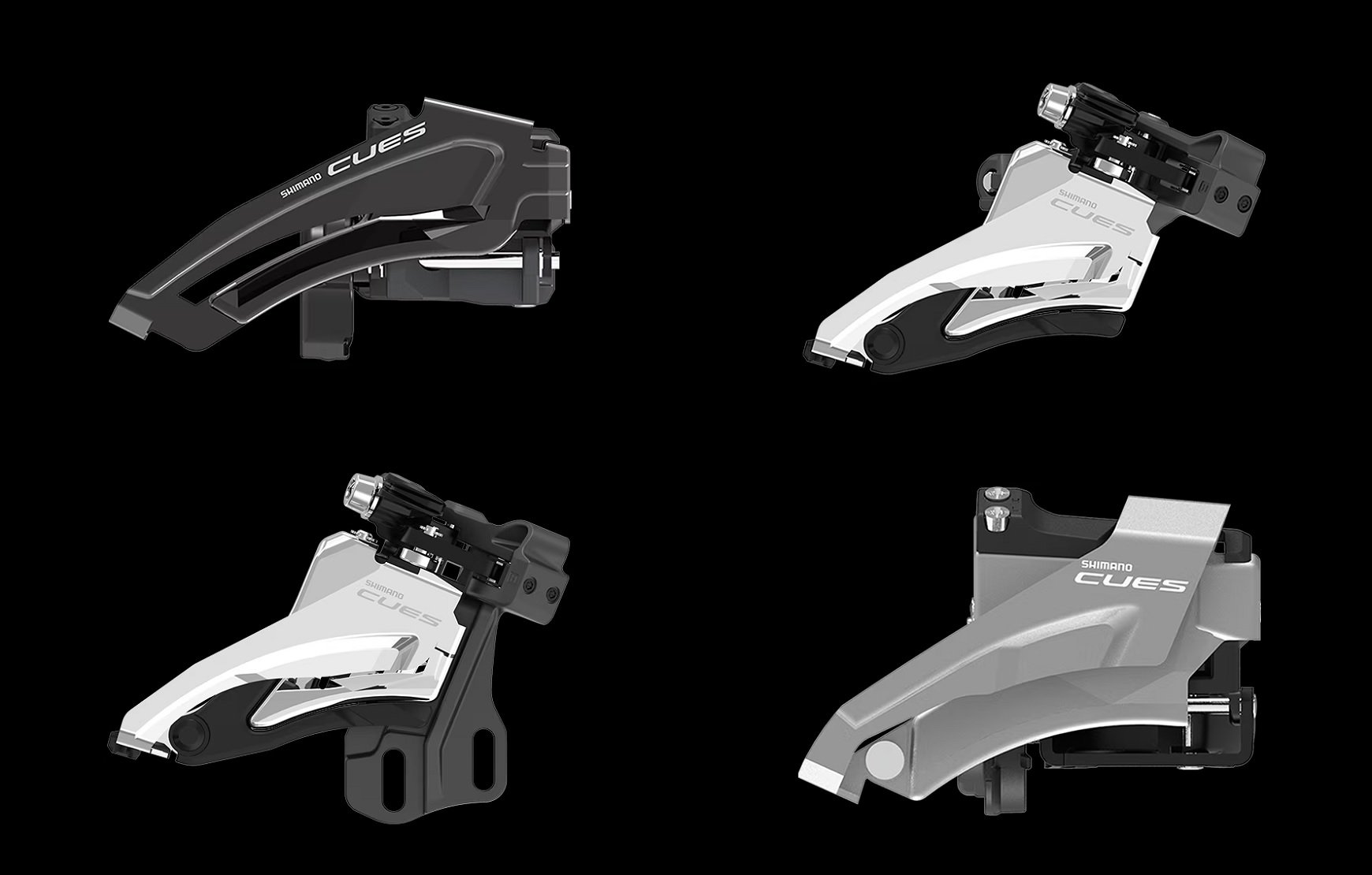 CUES LinkGlide
CUES U4000 is a 9-speed group. CUES U6000 is a 10 & 11-speed group. Both use 11-speed chains and Shimano's newer LinkGlide (LG) shifting. This means that the cassette pitch and cable pull ratios make them inter-compatible with Deore M5130 and XT M8130 LG drivetrains.
The easiest way to think about CUES in terms of the legacy groups dying off in this extinction event is that CUES U4000 replaces Altus and Acera while CUES U6000 replaces Alivio and Deore HG. This is a long overdue de-muddling of the Deore moniker. CUES U6000 replaces Deore 10/11-speed HG and Deore 11-speed LG is going to murder the sale of Shimano's M5100 12-speed HG+ group. I predict within a year that when we're talking about a new bike with a 'Deore drivetrain' it will strictly refer to M5130.
To continue a conversation we started last week with XT M8130 LinkGlide, the CUES drivetrain uses the new cable pull/derailleur motion ratios and cassette pitch of Shimano's LinkGlide system and is not considered compatible with any past systems. Essentially, the eleven cogs of the LG cassette occupy the same amount of space as the twelve cogs in an HG+ system and the LG derailleur and shifter are optimized for the new wider and more durable teeth on each cog.
All LG drivetrains use any brand's 11-speed chain and any brand's narrow-wide chainrings. The LG specific components are the cassette, where all the magic happens, and the shifter and derailleur.
I'm eager to ride CUES (U4000 & U6000), and even more eager to ride Deore M5130, but at this time my only LinkGlide experience is with XT M8130. Early days, but it's easily the best XT group Shimano has made. Having not ridden the lower end groups, I can only guess at their comparative performance.
I have plans to play with more mix-matched options since Shimano has a history of saying things are incompatible when in fact they mean not 100% optimized, but today I can speak to mating an HG drivetrain with an LG cassette and vice versa. In a bike stand, both drivetrains will shift the incompatible cassettes through their full gear range. Out in the parking lot however, the shifting isn't great.
In a pinch, I wouldn't think twice about mix-matching HG and LG but when buying a new cassette, those with an HG drivetrain will want to purchase an HG cassette. Besides Shimano, I've had great results with SunRace.
For all the 'HyperGlide forever' folks (I love my Zee drivetrain too), I hope you get a chance to ride a LinkGlide drivetrain for comparison. The way the chain walks up and down the cassette, instead of 'jumping' between gears is impressive. The XT LinkGlide that I'm on shifts significantly better than HG, up and down, and more positively than HG+, in both directions as well.
One Ratio To Rule Them All
I'm going way off script here, diving straight into the crystal ball, but my bet is that the only cable pull ratio in Shimano's current component lineup by next year will be LinkGlide. LinkGlide for mountain biking, LinkGlide for commuting, and LinkGlide for the road. All beautifully inter-compatible in a way that has not existed since I used to mix-match Shimano 9-speed road and mountain groups.
Please note, I'm not predicting the demise of the smooth and light Hyperglide+ (HG+) shifting you'll find on DuraAce, Ultegra, XTR, and XT, just the idea that there will be cable-actuated versions of these drivetrains. For simplicity's sake, cable drivetrains will be LG and HG+ will be the realm of Di2 electronic shifting - wireless or semi-wireless.
Goodbye Altus, Acera, & Alivio
Shimano will continue to manufacture HG drivetrain components for the legions of bicycles out in the wild, and they do have an excellent reputation for supporting legacy drivetrains. Clearly, the Deore name will live on with M5130, which may really be the only drivetrain that matters, or at least in competition with CUES U6000 for that crown, but in terms of new bikes, it's goodbye to the three 'A' groups, which will be joining STX-RC in the annals of Shimano history.
I suspect we'll be saying adieu to the SLX moniker as well, with Shimano paring down their lineup. In the current HG+ world, it's an unneeded middle point between Deore and XT, and Shimano has skipped it wholesale with LinkGlide. This gives a better idea of what a big shift is occurring with the the introduction of CUES.
Clutchless For Claire
The most likely place that I think we'll see trickle-up is the CUES U4000 rear derailleur. Shimano notes that this derailleur is only compatible with CUES 9-speed cassettes, but you can run it with any LinkGlide shifter just by limiting out a couple of clicks.
What's unique about CUES U4000 is that it doesn't have a clutch, but unlike going 1x with a current Alivio or non-clutch Deore derailleur, it's not a matter of relying on smooth pedaling and a narrow-wide ring for chain retention. Shimano has used a clever spring configuration such that, while it's not quieted like a clutched drivetrain, the un-clutched CUES U4000 derailleur provides excellent offroad chain retention.
The lighter shifting of an un-clutched derailleur makes it ideal for road bikes and kids' bikes. Yes, it's easy to de-tune the clutch on Shimano derailleurs but a clutch-less derailleur that contributes to 1x chain retention will be simpler, weigh less, and cost less.
On my daughter's mountain bike, we're running a 2005 X0 drivetrain for this reason, and the same rationale had me mount a 9-speed XTR M970 on my commuter. In both cases, I rely on the narrow-wide ring alone to keep the chain on and usually it works fine. In both cases, I'd choose CUES U4000 or the clutch-less U6020 for my rear derailleur.
In both cases, I'd also choose a CUES U6000, or Deore M5130, a 10-speed shifter with one gear limited out. Not that I've tried a CUES U4000 shifter, but it's only available in a version with Shimano's gear indicator window. I don't know why Shimano has clung to gear indicators all these years, but CUES U6000 at least provides the option.
HG Happy
For folks that were disappointed to see XT M8130 LG cassettes coming for HG drivers only, it probably makes more sense now. All LinkGlide cassettes from CUES U4000 to XT M8130 use the same cassette pitch (cog spacing) and the classic HG interface for maximum intercompatibility.
Why not MicroSpline (MS) for everything? The freehub drivers and cassette bodies are significantly more expensive to make. Further, most e-bikes are coming with steel freehub drivers and many brands of aftermarket hubs now have an e-bike-friendly 'heavy duty' version that uses a steel freehub body. Also, plenty of folks have had issues with the MS cassettes, particularly the lockrings.
I'm not going to predict the outright abandonment of the MicroSpline freehub standard but road groups are still HG, all the LinkGlide cassettes are HG, and if Shimano did decide to start producing HG+ mountain bike cassettes for the HG format, the marketing department could just say "now all our cassettes go to eleven" and most folks would be just fine with that.
11-45 For Alex
As is typical of Shimano, LinkGlide, and as such CUES, has a range of cassette options. The most exciting new option isn't CUES at all, but rather an 11-45t version of the LG700 cassette, which, though non-series, is an XT M8130 level product.
A note here that Shimano does not sell box drivetrains, but rather encourages riders and purchasers from bike brands to mix and match within their budgets. Those buying complete bikes will want to keep an eye on cassette and chain specs for the typical hidden downgrades. I'd expect most Deore M5130 and CUES U6000 bikes to be running LG400 cassettes.
LinkGlide cassette options breakdown as:
LinkGlide 300 9-Speed
11-46t (11-13-15-17-20-23-28-36-46)
11-41t (11-13-15-17-20-23-28-34-41)
11-36t (11-13-15-17-20-23-26-30-36)
LinkGlide 300 10-Speed
11-48t (11-13-15-17-20-23-28-34-41-48)
11-39t (11-13-15-17-20-23-26-30-34-39)
LinkGlide 400 9-Speed
11-46t (11-13-15-17-20-23-28-36-46)
11-41t (11-13-15-17-20-23-28-34-41)
11-36t (11-13-15-17-20-23-26-30-36)
LinkGlide 400 10-Speed
11-48t (11-13-15-17-20-23-28-34-41-48)
11-43t (11-13-15-17-20-23-26-30-36-43)
11-39t (11-13-15-17-20-23-26-30-34-39)
LinkGlide 400 11-Speed
11-50t (11-13-15-17-20-23-26-30-36-43-50)
11-45t (11-13-15-17-20-23-26-30-34-39-45)
LinkGlide 700 11-Speed
11-50t (11-13-15-17-20-23-26-30-36-43-50)
11-45t (11-13-15-17-20-23-26-30-34-39-45)
Regarding upgrades and downgrades, there are both clutched and non-clutched versions of the CUES 6000 rear derailleur. The clutched version is called Shadow RD+, rather than Shadow RD, and most mountain bikers will much rather have the RD+ version. It's definitely something to keep an eye on when comparing spec sheets.
Minimums
Shimano has a couple of nice looking 1x cranksets in the CUES series. The CUES 4000 crankset, it should be noted, is square taper while the CUES U6000 crankset uses an external bottom bracket. The CUES LG drivetrain, and all LinkGlide drivetrains for that matter, consist of a cassette, rear derailleur, and shifter and Shimano doesn't force companies to buy crate drivetrains, so I don't know how much crank spec we'll see out in the wild, versus brand managers min-maxing their own mix.
I do expect we'll see a large number of CUES U6000, Deore M5130 LinkGlide, and XT M8130 LinkGlide bikes coming complete with RaceFace cranksets and chainrings, which has been common with HG and HG+ bikes as well.
Shimano does have one 'LinkGlide' chain, the LG500, which I'm running on the M8130 drivetrain, but most bikes running LG, and especially CUES LG, will be spec'd with 11-speed chains. Here again, Shimano doesn't force companies to purchase their chains, so while we'll likely see a significant amount of HG 11-speed chain spec, it's likely that KMC and other brands of 11-speed chains will be well-represented, especially on CUES U4000 bikes.
Winning CUES?
All in all, it's going to be interesting to see what brand managers do with LinkGlide. Every kids' rig that comes with CUES U4000 is getting a huge upgrade in chain retention and shifting quality over Altus, Acera, and even Alivio drivetrains. Despite their pending demise, these drivetrains remain remarkable in terms of how long they last and how well they run with bent hangers, mangled cages, and half-seized cables and housing.
It's strange that Shimano is making front derailleurs for the CUES group when there's a focus on not forcing new riders to learn on 2x and then "graduate" to 1x drivetrains, but in terms of spec, I'd guess from kids' rigs to mountain bikes and commuters to e-bikes, it'll be 99% 1x spec.
How well do the more basic CUES LinkGlide drivetrains change gears and hold up? Is even the most basic LG setup 3x more durable and 3x smoother than legacy products? I don't know, since I've yet to see one in person. Based on Shimano's historic dominance of the low-to-mid-level drivetrain markets, and the performance of LinkGlide XT, I'm excited about this massive shift in their catalog. I understand why they feel it's worth it to move from HyperGlide to LinkGlide.
I'm hoping to be able to report back soon on both CUES U4000 and CUES U6000 and how they compare to the higher-end LinkGlide drivetrains. In the meantime, I'm watching for ride reviews as this stuff arrives in the real world.
While unit pricing isn't available yet, Shimano has provided these estimates for the cassette, rear derailleur, shifter, and chain (no crank or BB). These prices are with the largest cassette gear range for each group:
CUES U4000 9-speed: 151 USD
CUES U6000 10-speed: 187 USD
CUES U6000 11-speed: 214 USD
XT M8130 11-speed (for comparison): 362 USD
For a complete breakdown, check out Shimano CUES.