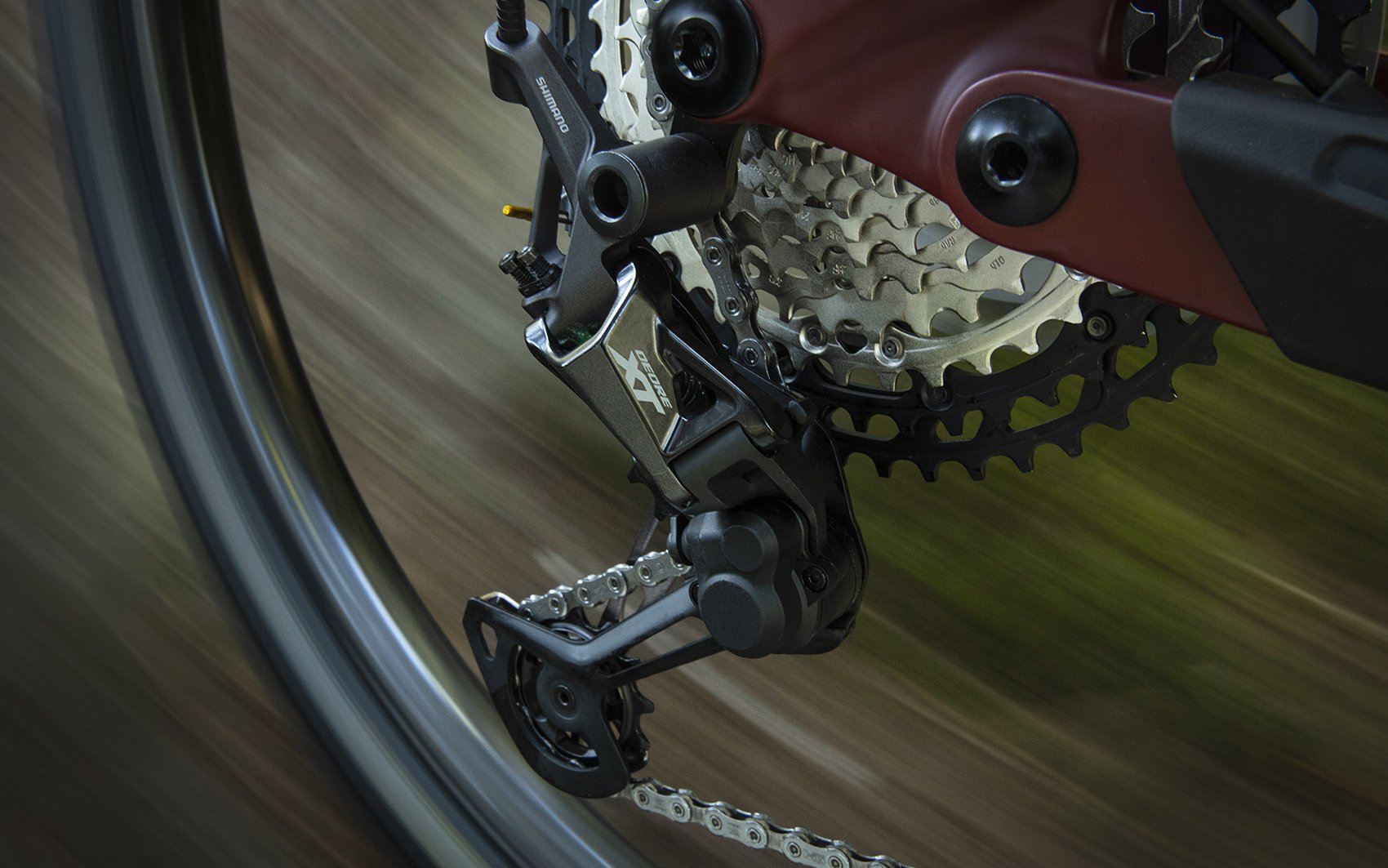 Riding 2020 Shimano XT in Bellingham
Shimano Introduces 12spd XT and SLX Groups
It's no secret that SRAM has devastated Shimano in the high end original equipment market on the mountain side in recent years. SRAM's 1x systems were good to begin with but Eagle took the product far beyond Shimano's reach. Eagle is light, reliable, durable and simple and the vast majority of keen mountain bikers have a SRAM 10-50 cassette on their bikes. This success has come about despite Shimano's big head start. And partially thanks to Shimano's big head start.
Shimano launched the very first mountain bike group in 1983 while SRAM wasn't founded until 1987 and didn't launch a rear derailleur until 1995. Shimano has dominated the mountain bike market for much of that time, and continues to dominate cycling overall, but SRAM was playing a long game, acquiring Sachs in 1987, Rockshox in 2002 and both Avid and Truvativ in 2004. And yet much of SRAM's success has come about by piggy-backing technology introduced by Shimano - albeit with strong innovation and excellent engineering and R&D work.
The Japanese brand invented index shifting and launched SIS in 1984, but first the free hub had to come along* which Shimano debuted in 1978. SRAM's first product of note was of course Gripshift, but the company wasn't yet making a rear changer (and fronts would come even later) so the product was mainly used with Shimano derailleurs. In 1997 SRAM got into the complete drivetrain game by introducing the PowerGlide cassette, which employed shift ramp technology similar to Shimano's Hyperglide which hit the market in 1987. Even the cable housing needed to make index shifting work was introduced by Shimano.
*Freewheels and their threaded hub interface were not manufactured accurately enough for index shifting because they tended to wander during rotation
Shimano tried to get ahead of the curve by introucing Di2 electronic shifting in XTR and XT trims, but these groups didn't gain much traction or spec, and now SRAM has blown the lid off that niche with the wireless AXS group.
You can imagine that SRAM must seem a bit like a disrespectful upstart to Shimano brass, and being slapped down in the most prestigious end of a market Shimano helped create, and dominated for many years, likely goes down like ketchup on sashimi.
Which means a response was inevitable, and the XTR group was aimed squarely at becoming an alternative to SRAM's top Eagle groups; 12 speeds, 10-51 range, narrow wide rings. But Shimano went further, introducing a new free hub standard (Microspline), Hyperglide +, which allows shift ramps to come into play on both upshifts and downshifts, as well as refinements in virtually every area of the group.
Aside from the seemingly short-sighted decision* to keep the Microspline cassette standard closed to all but a very small number of licensees, XTR has been well-received by press and others who have had a chance to ride it. Unfortunately there have been production delays for cranks that forced Shimano to supply disguised XT cranks with XTR groups and the heralded Scylence free hub mechanism has been shelved indefinitely. It must really suck to mothball a product you invented a word for.
*This may turn out to have been a savvy business move for Shimano in the OE market - but not for after market or market saturation in general.
Despite these issues you have to imagine Shimano is breathing a massive sigh of relief now that XT and SLX have been successfully launched. I use the past tense because the product has been shopped around to product managers for long enough that we'll see spec. on 2020 model year bikes as early as June 14th - two weeks from now. That's also when XT will be arriving in bike shops, while SLX is expected in early July. I was unable to get specific numbers or brands, but Shimano employees have told me they are very pleased with the market share they have already regained thanks to the impression the three new groups have made.
But the people who should really be chuffed are consumers. It seems you will be able to choose between models running NX, SLX, GX, XT, XO1, XTR, XX1, and AXS from many larger brands, which will hopefully exert some welcome downward pricing pressure on SRAM, and weaken its virtual monopoly at pricing levels from teacher to dentist.
But don't worry, SRAM should still clean up with tech-savvy early-adopting hedge fund managers who want their components to speak to their phones.
Shimano XT M8100 On The Trail
Shimano invited a group of journalists to ride XT groups in Bellingham, Washington earlier this month so we'd be able to give on trail impressions for today's launch. Bellingham may not be exotic, but if you've been there you know the trails more than make up for the absence of tropical water, tradewinds and snooty waiters who treat you with contempt. And the weather was about as perfect as you could ask for. Every time I visit I like the place more.
If you have read up on XTR, or if you have ridden it, there isn't much here that will surprise you. Both groups will have 1x 10-51 12-spd drivetrains (although the front derailleur and dual chainrings aren't dead yet) and the trickle down has turned into a downpour. In fact what surprised me most is how great both component groups look. To be fair the finish level of XT groups remained at a high standard even after the release of XTR, but the bike snob in me has never been impressed with SLX groups - until now. The new components would not look out of place on the nicest carbon frames being made today.
The best thing I can say about Shimano XT 8100 is that I didn't notice much of anything at all. I went from a ride on the XTR 9100-equipped Yeti SB150 test platform back home, to the identical frame shorn in XT gear in Bellingham, and without back to back runs I'd be hard pressed to tell you which one is superior. I never had to think about my braking or shifting or dropper engagement and virtually everything was flawless. I think I prefer the XTR lever blades because, while similarly hooked, it seemed to me that the XT blades aren't quite as wide which suits me less ( I did not measure so this is entirely unscientific).
Shifting action was as quiet and effortless and the issue I have been having with excess force required to upshift using the dual action trigger/push paddle was not noticeable on the XT version. That's about as thinly as I can slice it. The brakes were flawless. The bite point was consistent, free stroke nice and light and one-finger power was as good as anything I have ridden recently - or anything I can remember. Modulation was better than I have experienced on Shimano brakes in the past as well and I rarely skidded unexpectedly - despite sub-par Vittoria tires.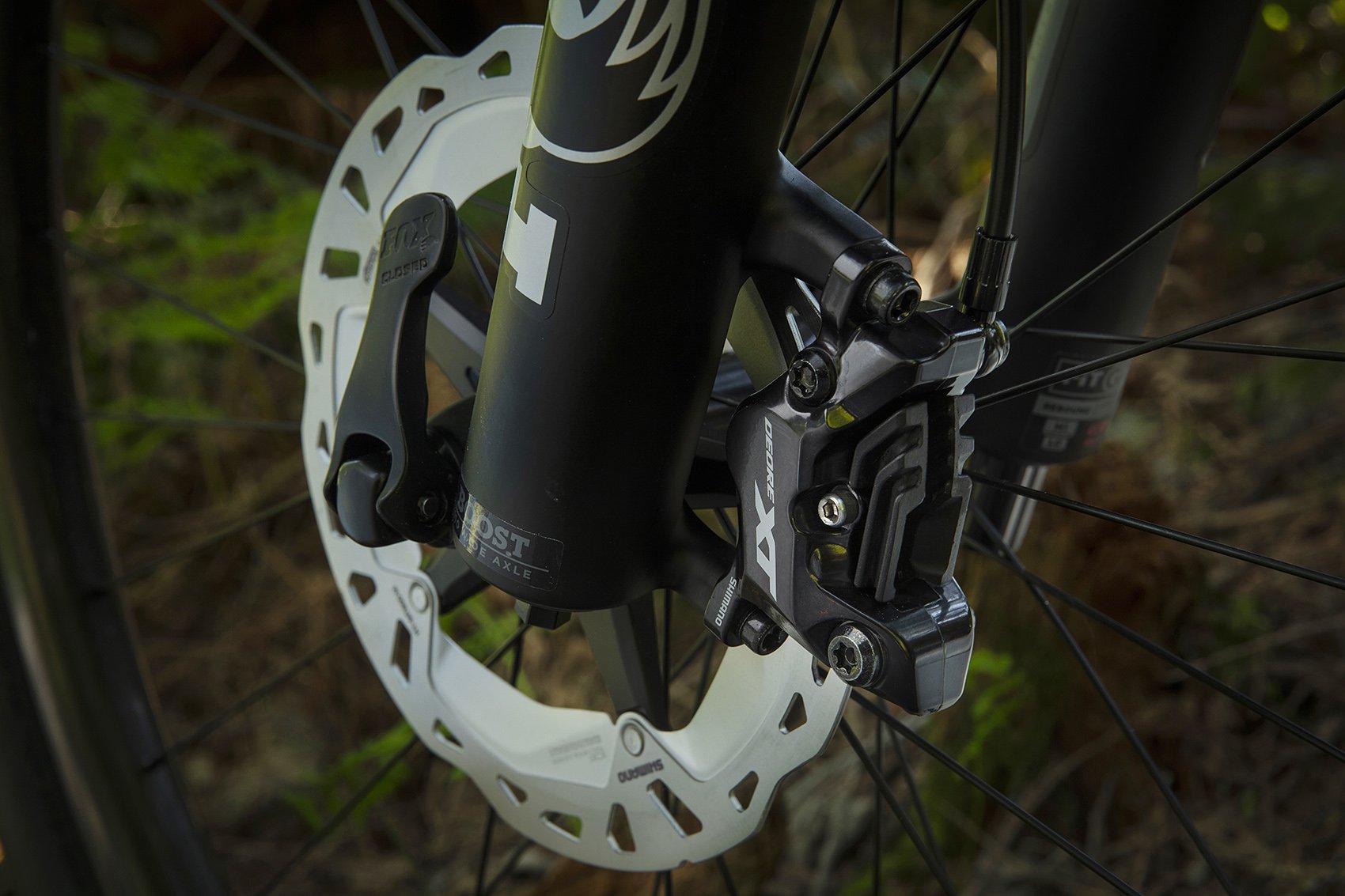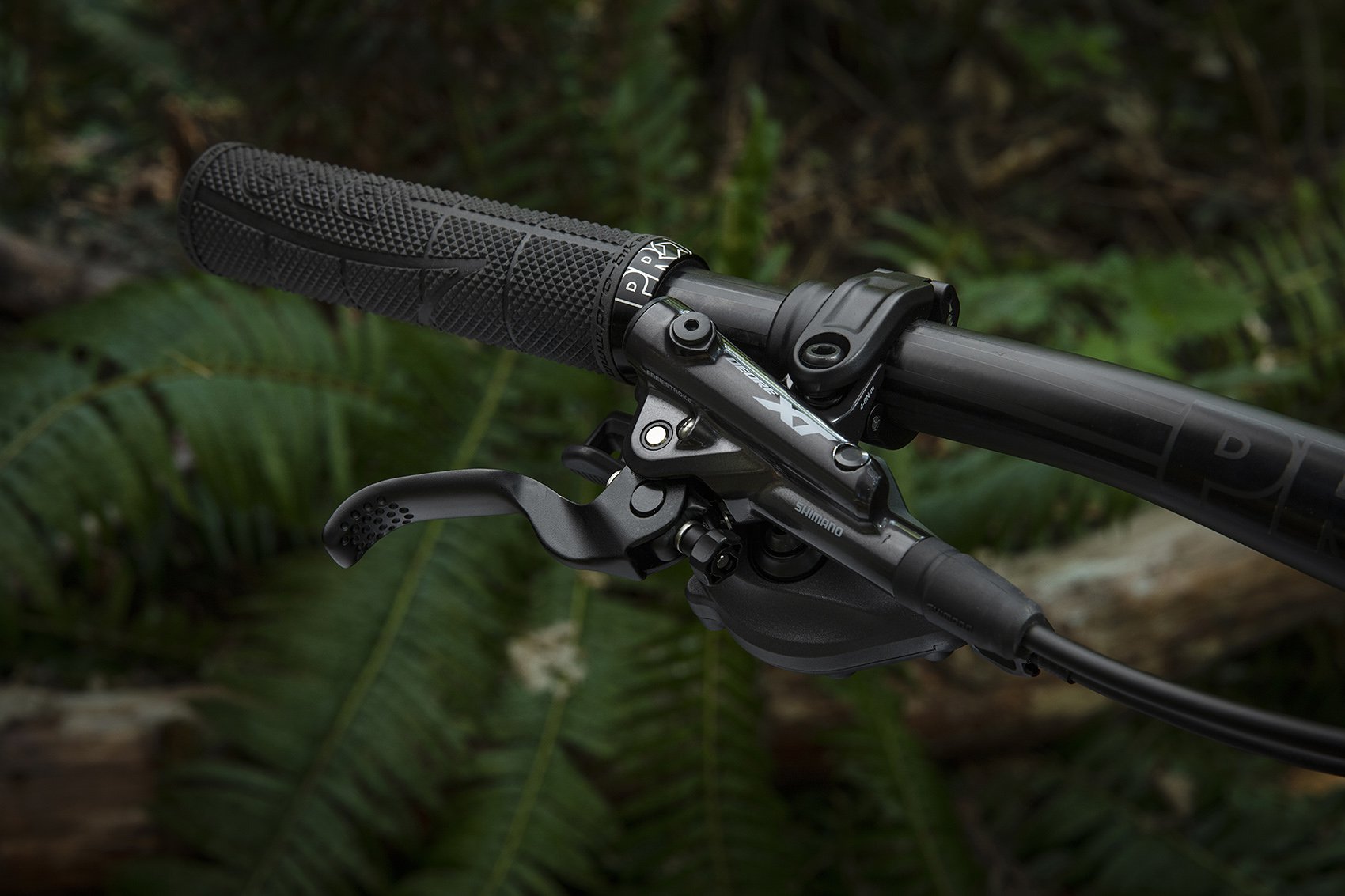 Shifting under power was boringly easy and while I generally haven't noticed a huge difference up shifting using Hyperglide+, when I do notice the shift is surprisingly silky without the pleasing but inefficient clunk.* Minus the Scylence hub, my experience riding XT in Washington was much like my experience riding XTR in Colorado last year; everything simply works so you can focus on the riding or enjoy the sounds of the forest.
*I did a deep dive on HG+ when I spoke about XTR after visiting Shimano in Japan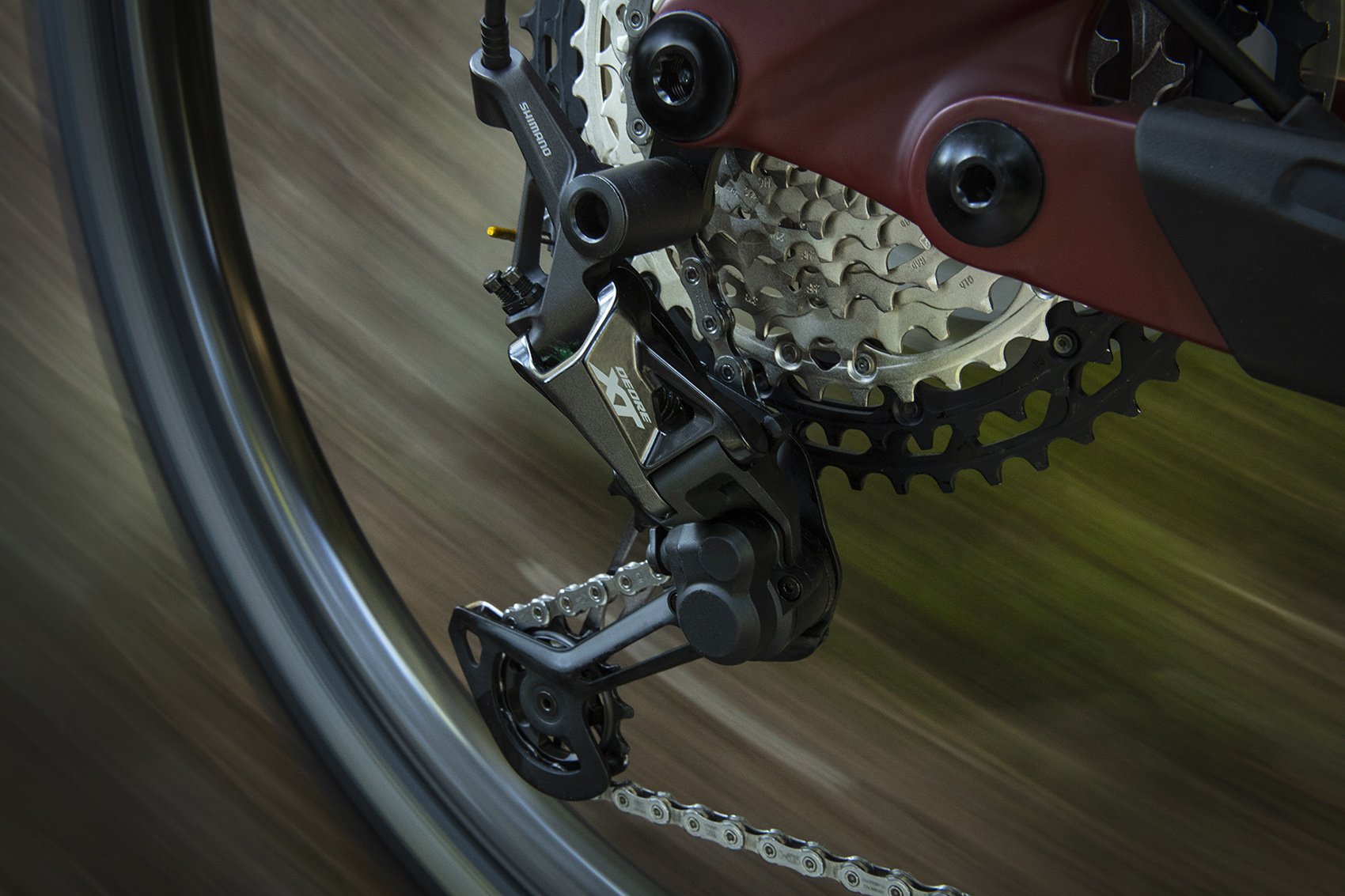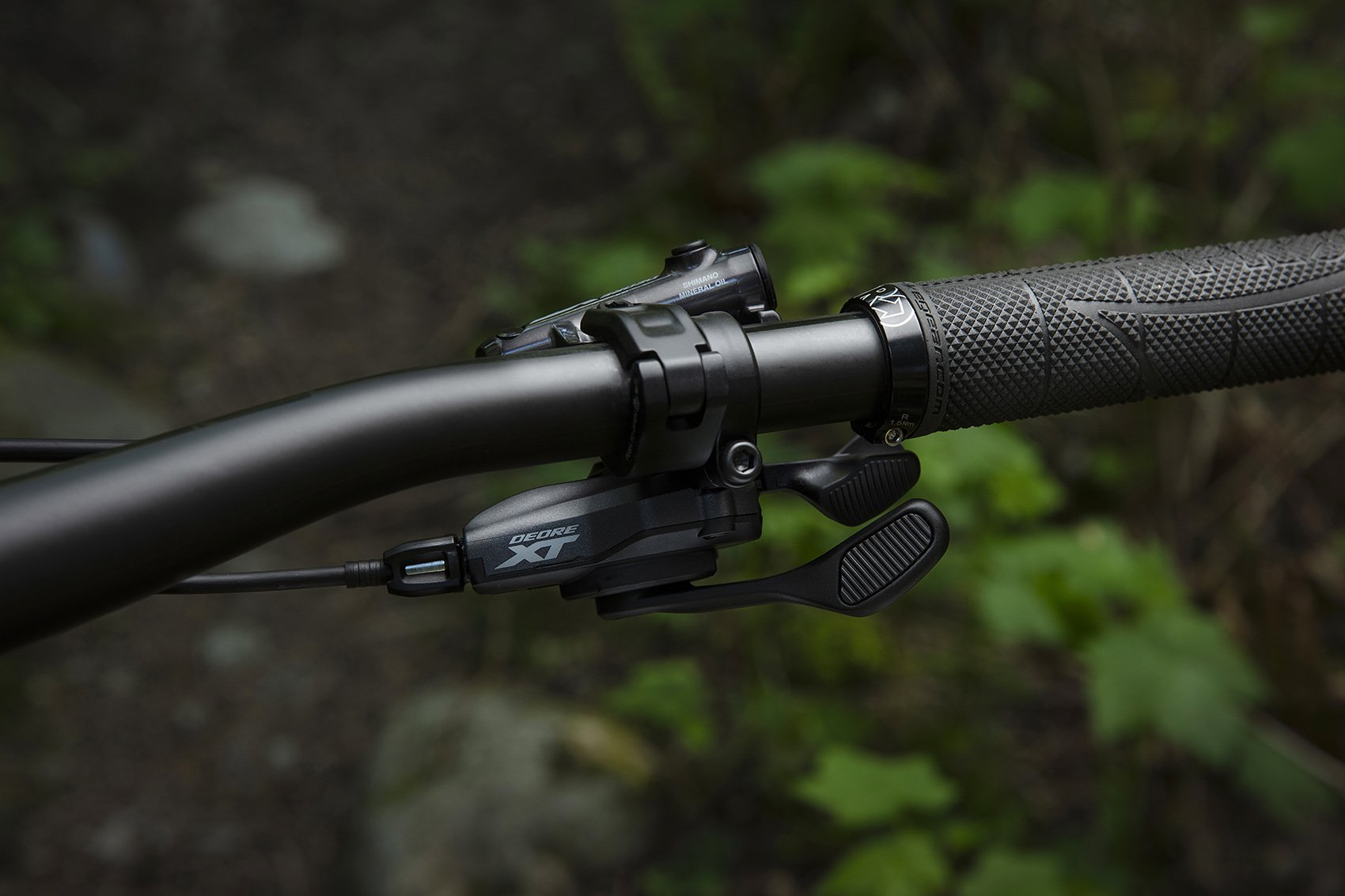 One product I am on the fence about is the Shimano dropper remote. While the action is excellent, the placement of the lever may be less than ideal. It would make sense if the lever mimicked the placement, leverage and action of the cable pull lever on the shifter. Instead it's pushed a little forward between where the push lever and the cable release trigger sit, and with a shorter arm than the the downshift lever, while being tucked very close to the grip. I have to admit that I didn't even recognize this as an issue until it was pointed out to my by Jason Sumner of MTBR, but since that time I have come to the conclusion that it would be even better with a few minor changes. As it stands adjustability is excellent and everything works just fine.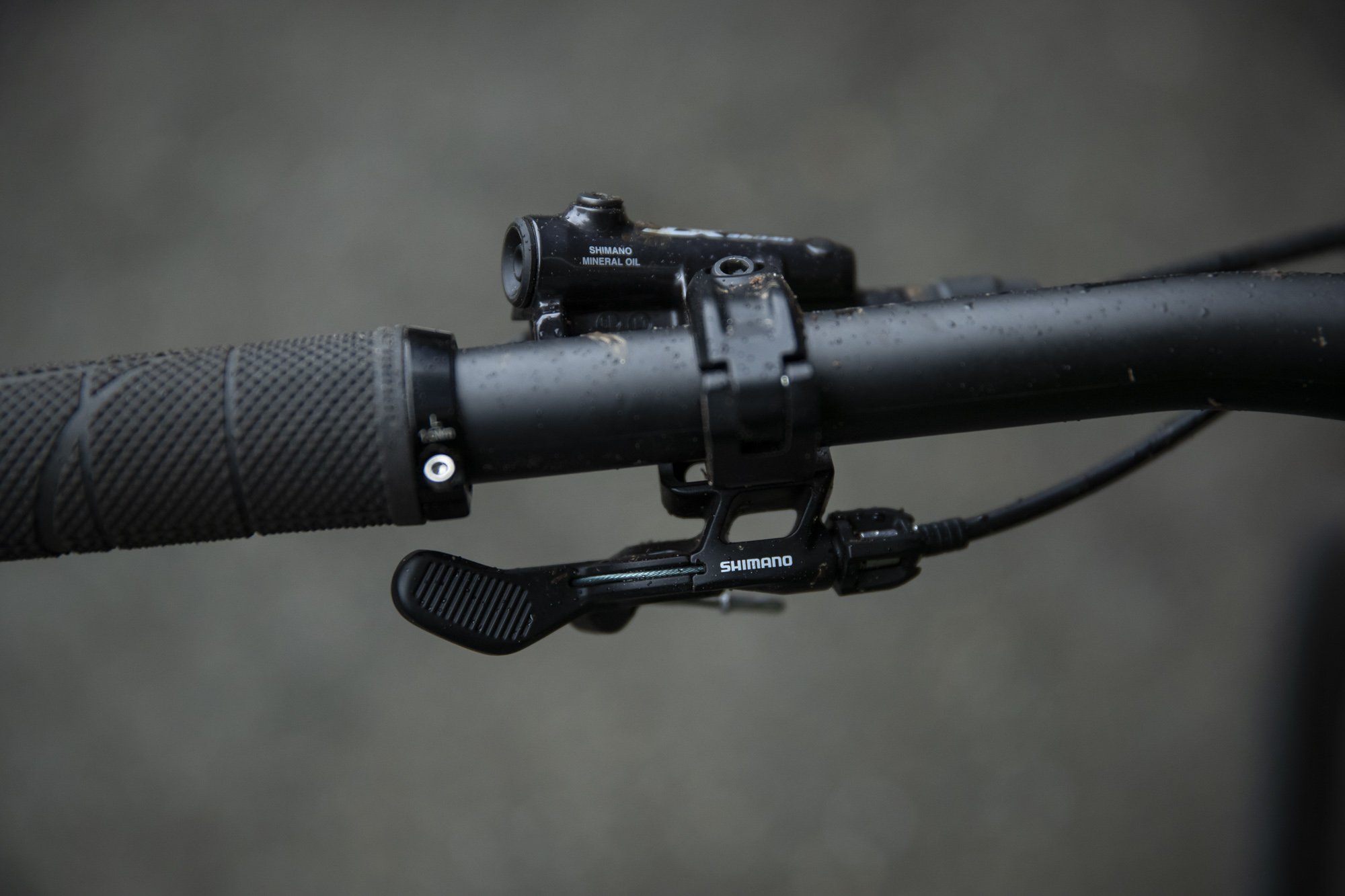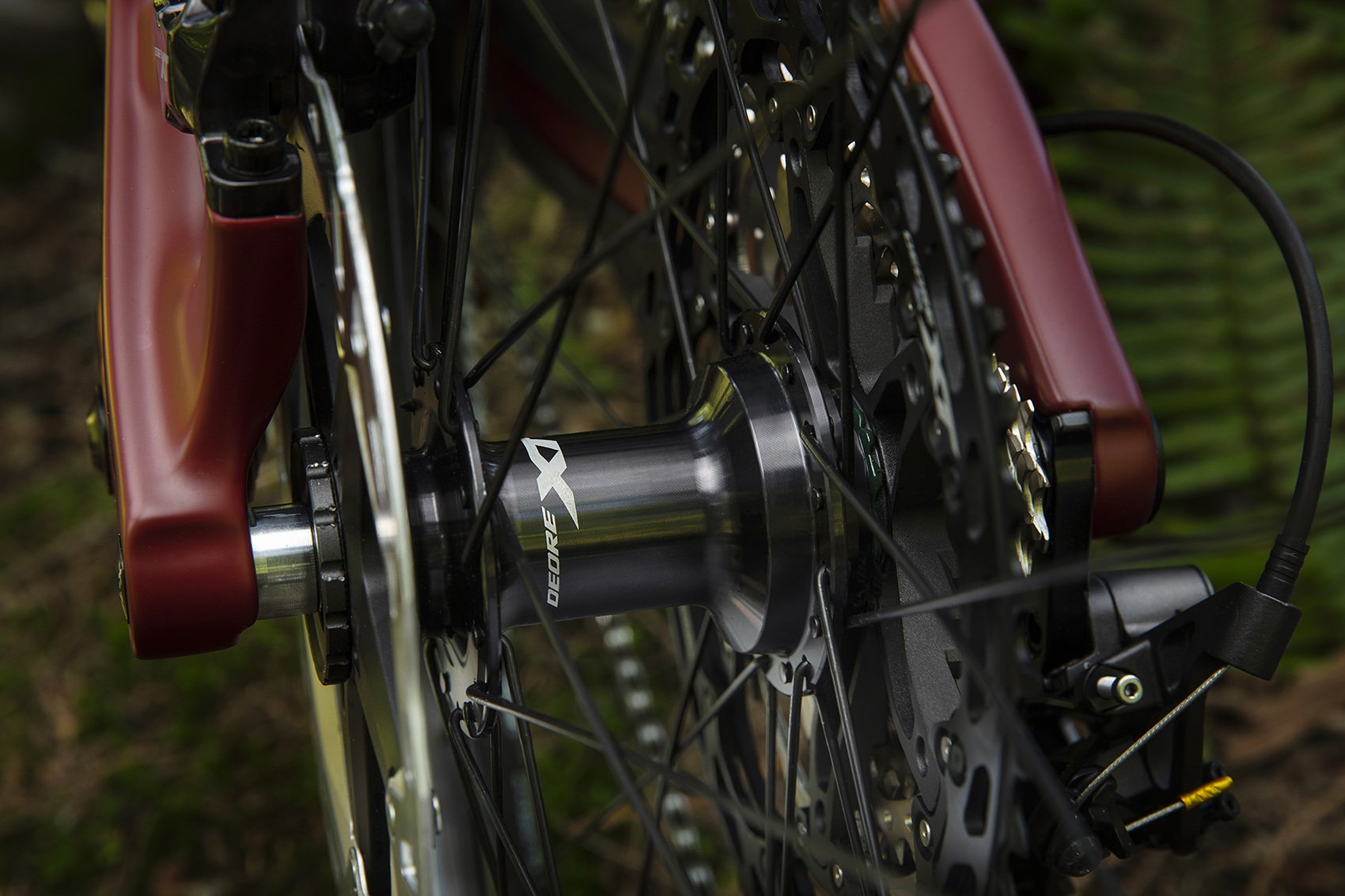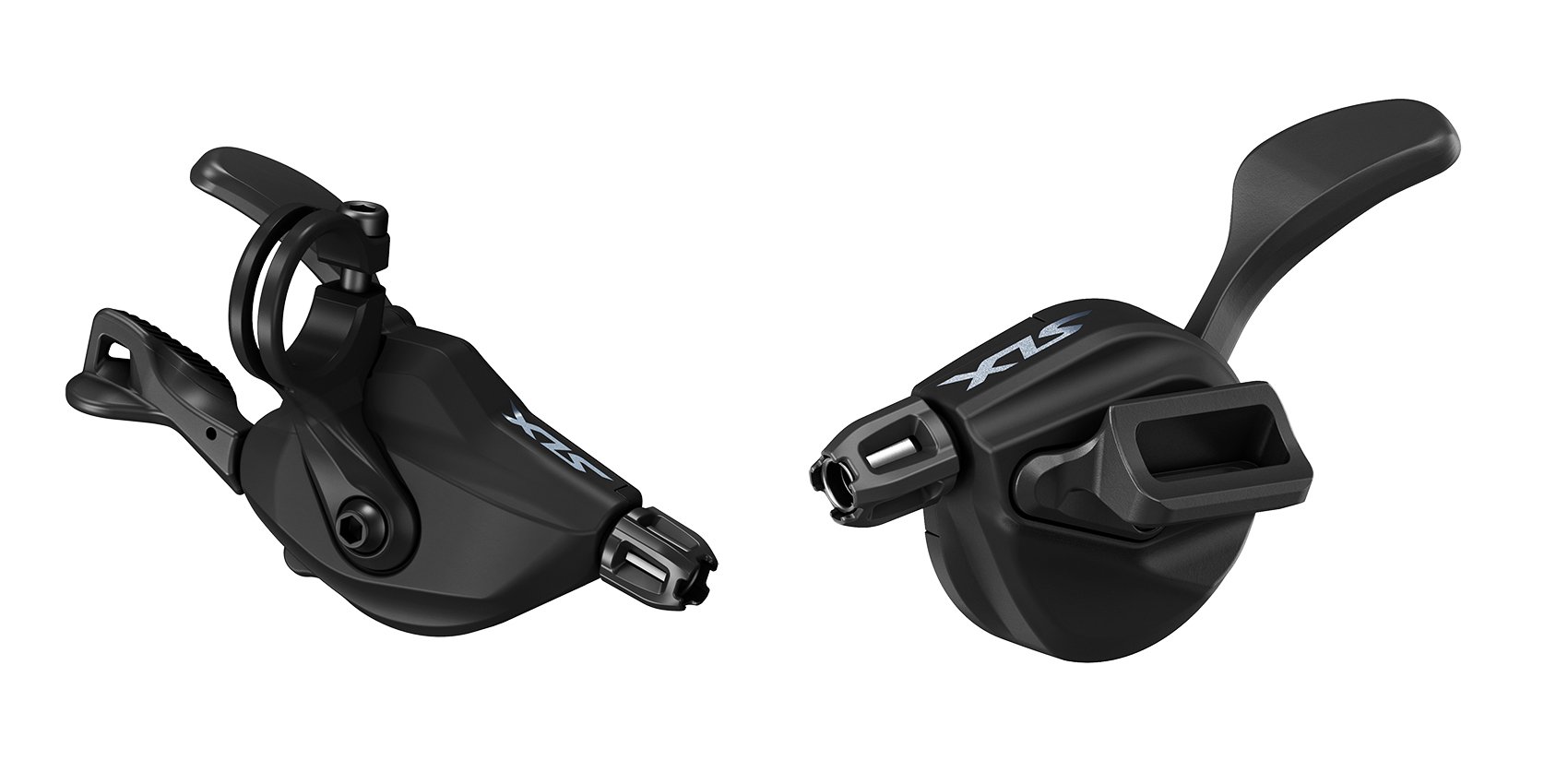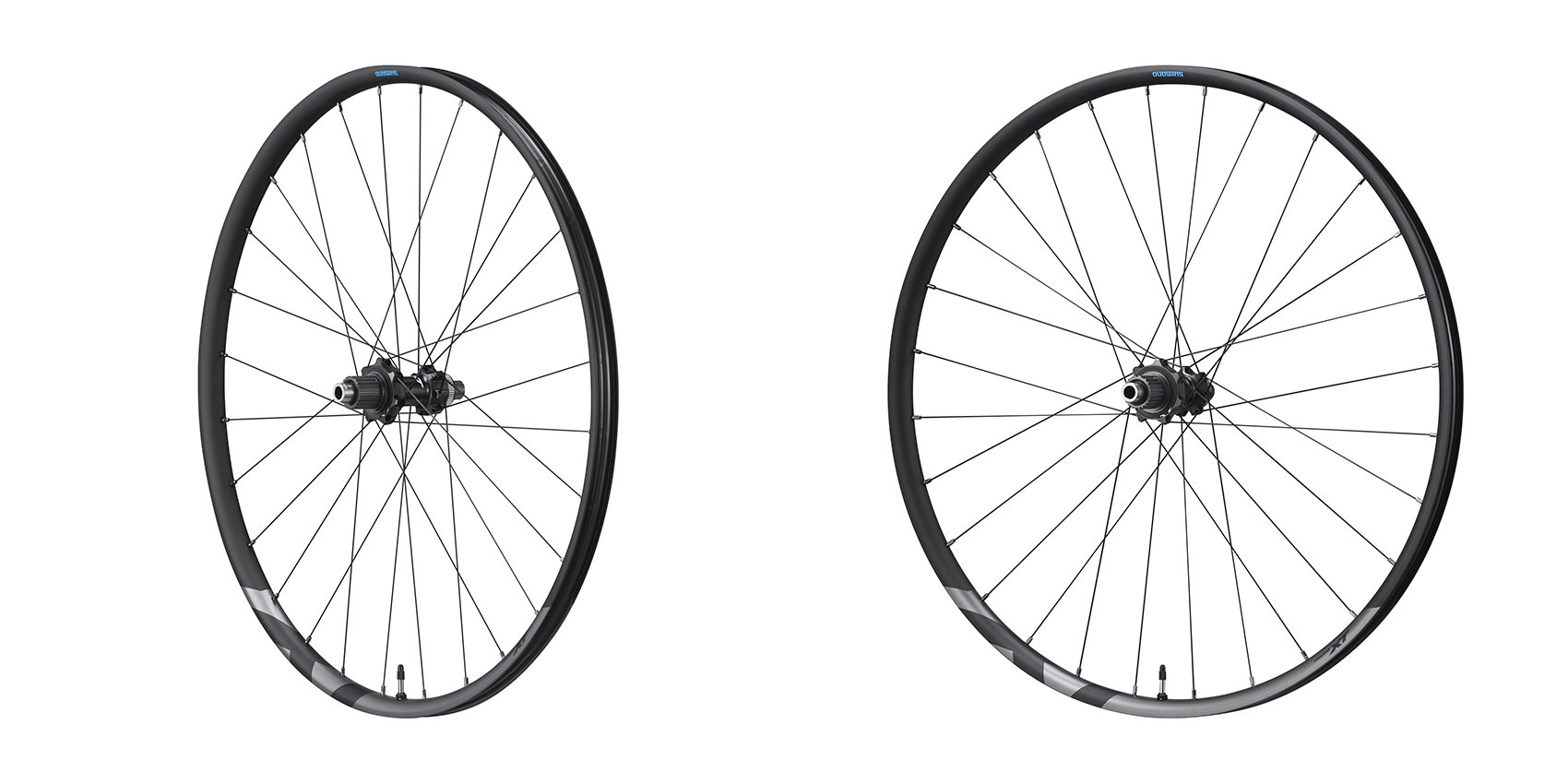 SLX is the Sleeper
Shimano's third tier group packs a wallop. Bryn Atkinson was the only pro athlete on SLX I believe and he admitted that he wasn't all that fond of the idea at first. After a few days he was well impressed with the group and was all smiles.
The brake levers lose a contact adjustment but retain a tool free reach dial. As with XT you can choose between two and four pistons and the architecture of the system appears identical. Rotors have the steel aluminum sandwich but without the Freeza component, which describes the aluminum portion that is drawn out from between the steel plates for extra coolness.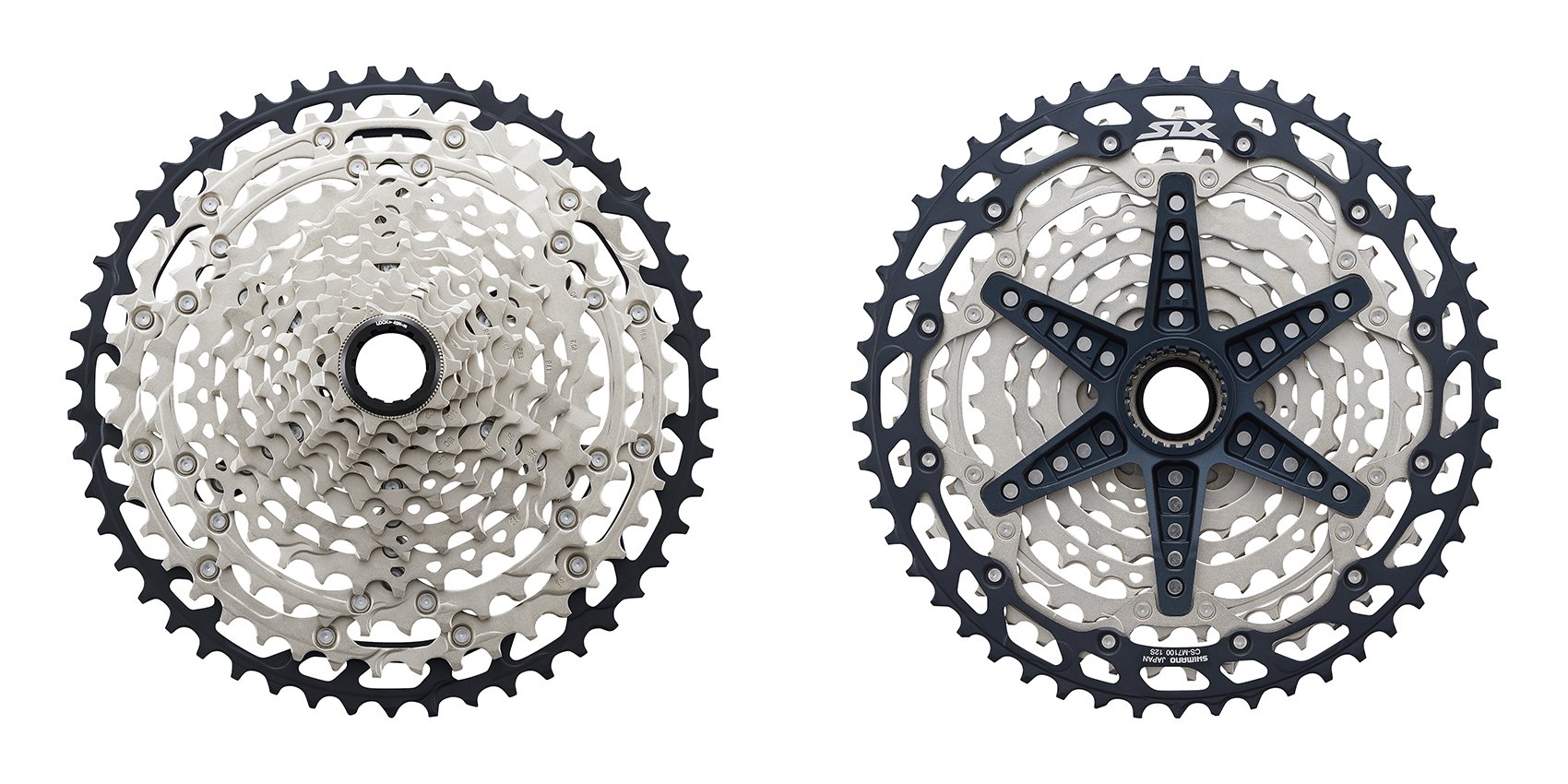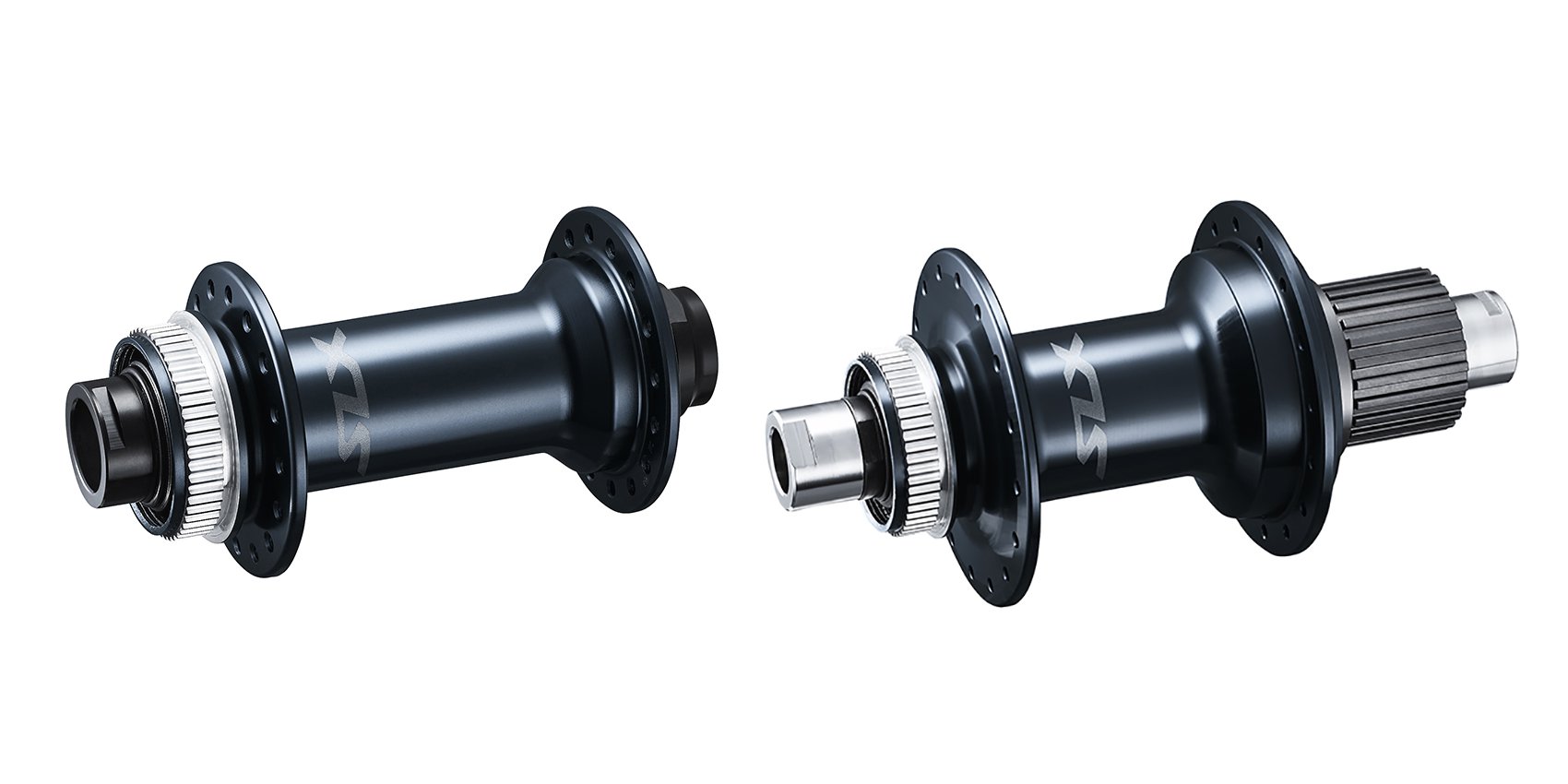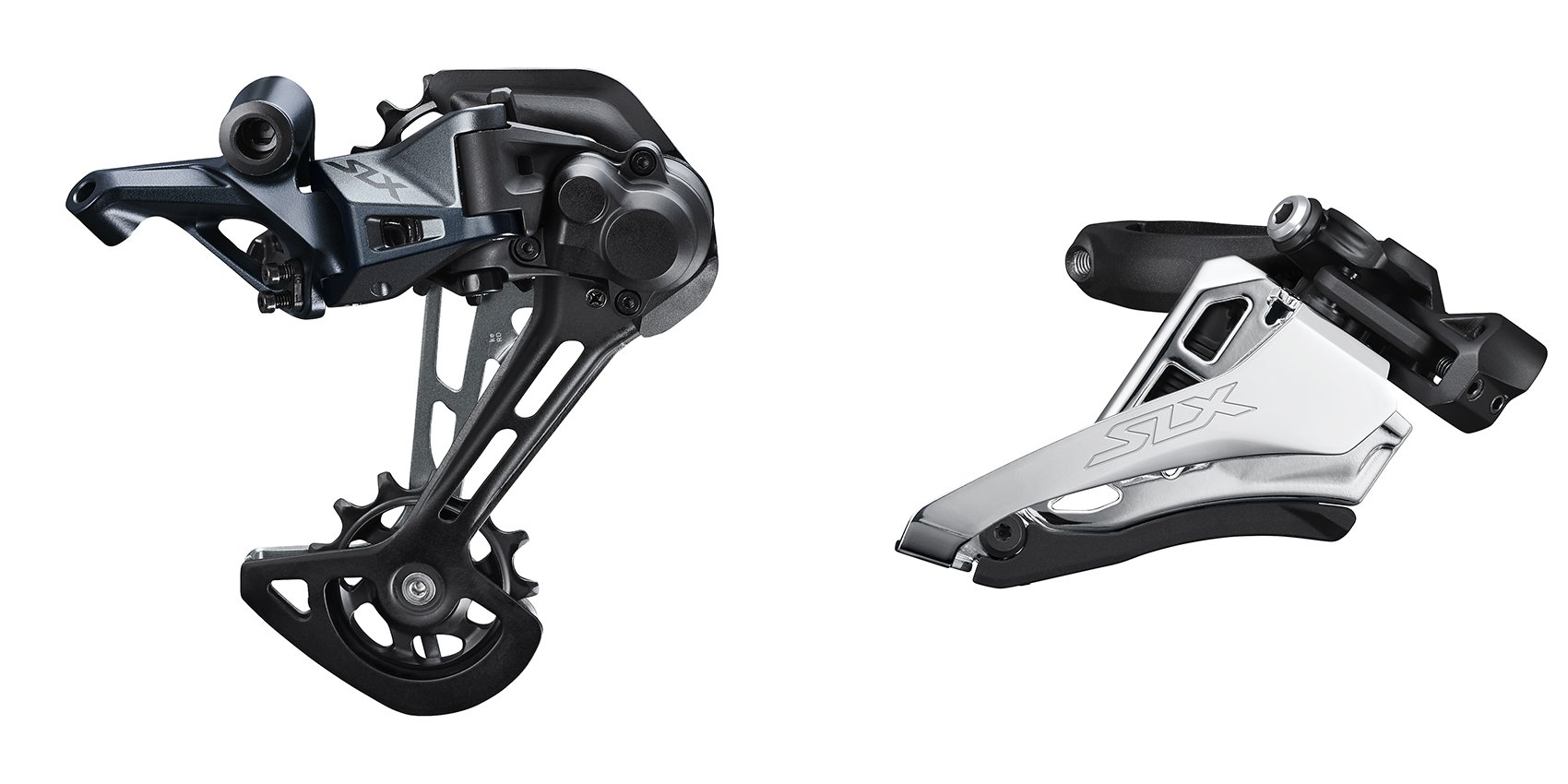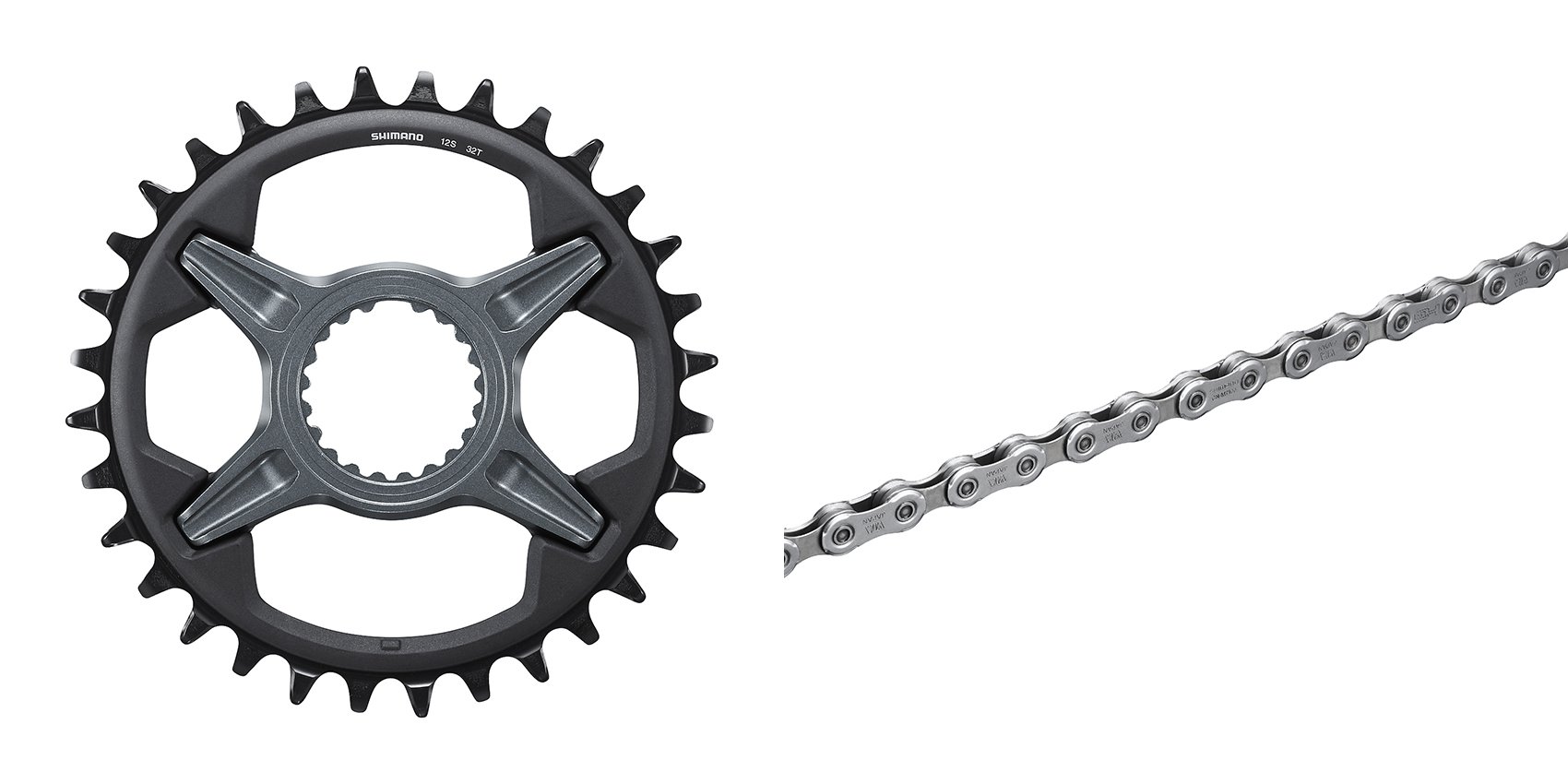 Cash Money
From the outside it seems that Shimano builds the product the engineers and product managers want and then figure out what it costs later, and yet the pricing of these groups seems to be tiered perfectly to compete with SRAM for spec. We don't know if the prices below have a direct relationship with the pricing Trek or Transition might pay to outfit a bike model, but if it is proportional for both companies, Shimano has sandwiched SLX and XT in excellent positions to nab some market share. At retail the MSRP for an XT8100 drivetrain costs 575 USD less than an XO1 group. It's also 300 grams heavier which will be significant for some riders. SLX looks like good value as well at $85 less than GX, while XTR is just above XX1. If the pricing of XT and SLX had been equivalent to SRAM's groups it would have left product managers to choose between SRAM and Shimano. Instead they are able to offer tiered models that present solid value. At the top end price is likely somewhat less important.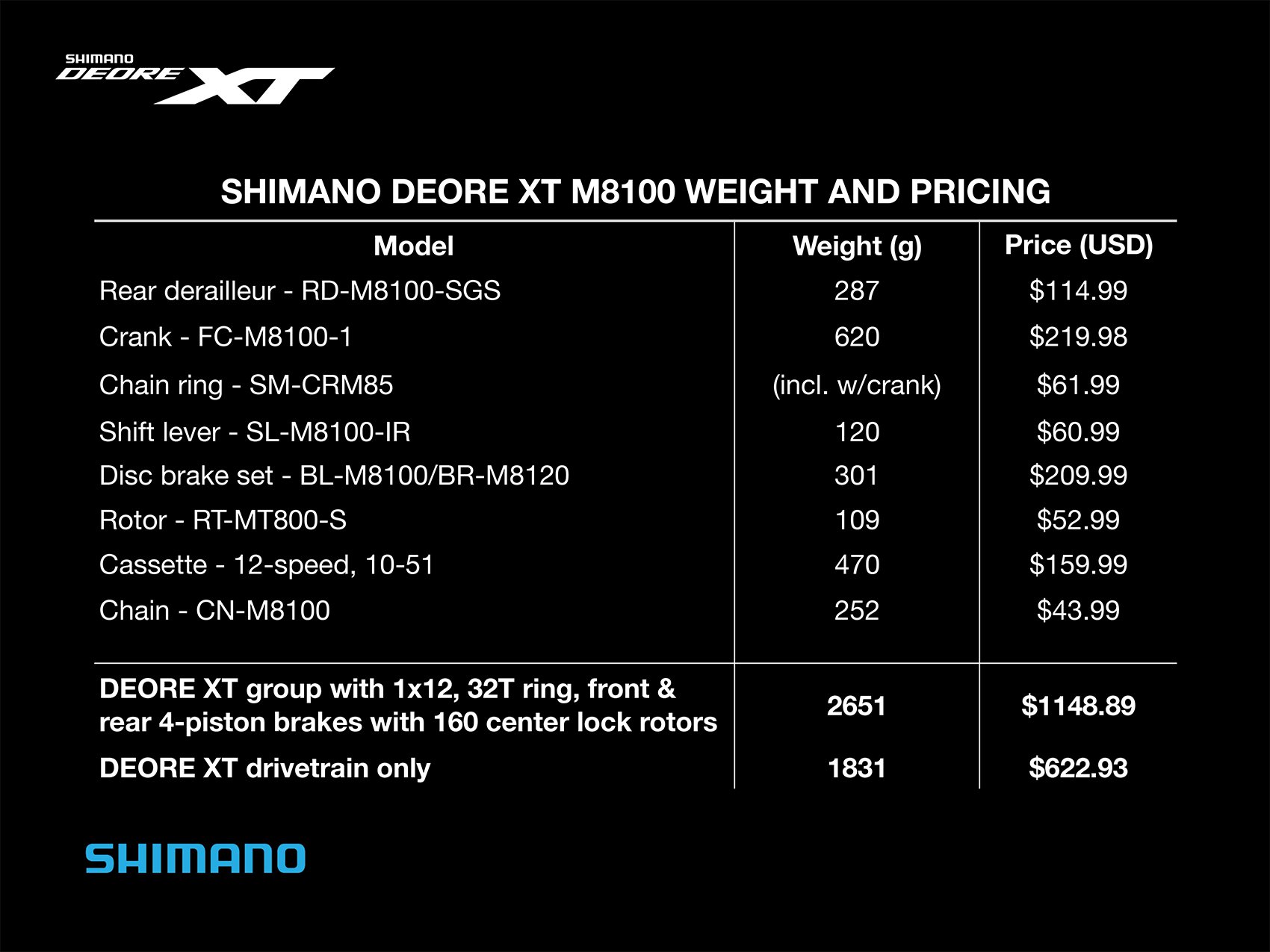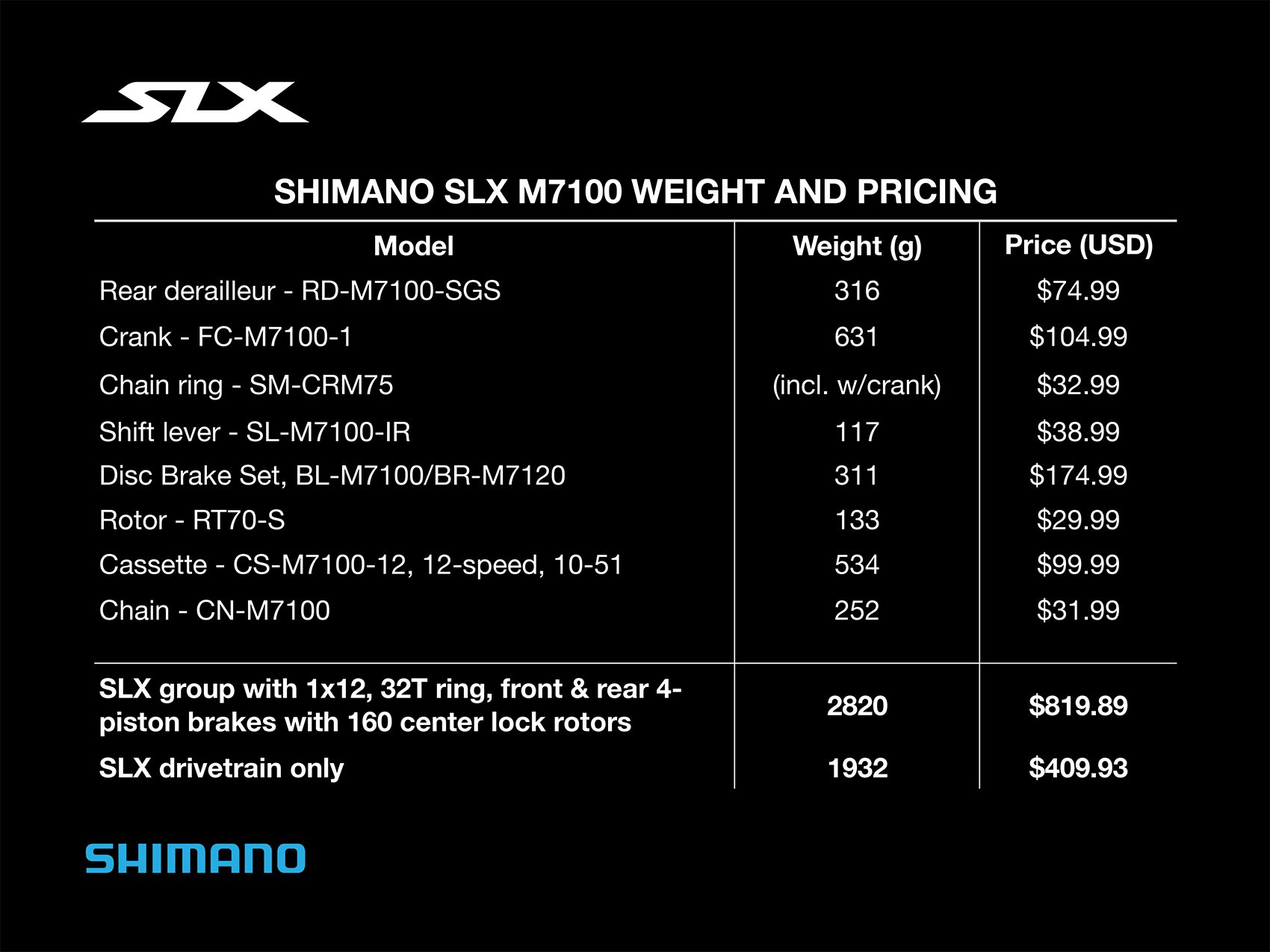 While things looked promising after XTR, if these new groups live up to their early promise, and assuming there aren't many more production issues, it will be easy to declare that Shimano is back. Expect to see a lot more Shimano high end componentry on your local trails this time next year!
Have a look below for videos and official press releases from Shimano. Or click here to go to Shimano's just launched website for the two groups
Bryn Atkinson Rides SLX
SLX Product Video
XT Product Video